O'Brien excited by Derby bid
Australia was on the drift for the Investec Derby with one major bookmaker on a busy morning of Epsom news but the favourite's jockey Joseph O'Brien remains excited about his prospects.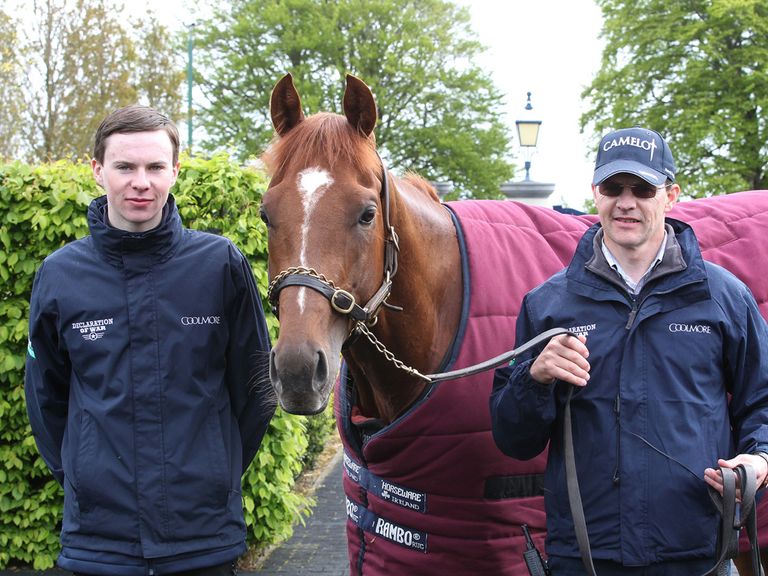 O'Brien and his father Aidan became the first father-son combination to win the Classic in 2012 with Camelot, and Guineas third Australia heads a four-strong team from Ballydoyle on Saturday afternoon.
Paddy Power had eased Australia to a best-priced 5-4 but O'Brien jnr said: "I'm really looking forward to it. Ever since he came into the yard and started working he's always been a good horse.
"He's bred to stay the trip, bred to handle the track and bred to win the Derby which is what you need going to Epsom. It's the ultimate test of a racehorse.
Epsom Derby Tickets
Tickets for the Investec Derby Festival are now on sale - prices from just £15, only with Sky Tickets


Click here

"You need to have a horse with pace, balance and that will get the trip. It's a funny track to ride at times, with Tattenham Corner and all the different things running down into the straight, it's the ultimate test of horse and rider. It's the race every jockey wants to win.
"He's got plenty of pace, hopefully he'll get the trip but it's an unknown, his mum and dad handled the track well. We're looking forward to it."
In other Derby news, Frankie Dettori could still be available for a spare as it is looking likely he will be action on the undercard for his retained owner Al Shaqab Racing.
"I've been told they are thinking of running Baitha Alga in the Woodcote on Saturday so he could be at Epsom," said Dettori's agent Ray Cochrane. "That's possible at the moment, but things can change in racing."
Epsom clerk of the course Andrew Cooper said on Tuesday evening: "We're going to leave it as good at close of play.
"There was some light rain in the area this morning, just enough to wet the grass, and the going stick is at 7.8, which is an indication of good ground.
"We are forecast showers, maybe starting at 2am or 3am and going on for most of the day. It sounds like they are going to be light, possibly five millimetres, so it's not a deluge. If that's what we get, the ground's not likely to get worse than good.
"Thursday is dry and then it gets warm and more humid, which does leave the chance of rain by Saturday. So we'll see what we get tomorrow and play it by ear."