Investec Derby: The key quotes
Will Hayler reminds us what the trainers have been saying about the principal contenders for Saturday's Investec Derby.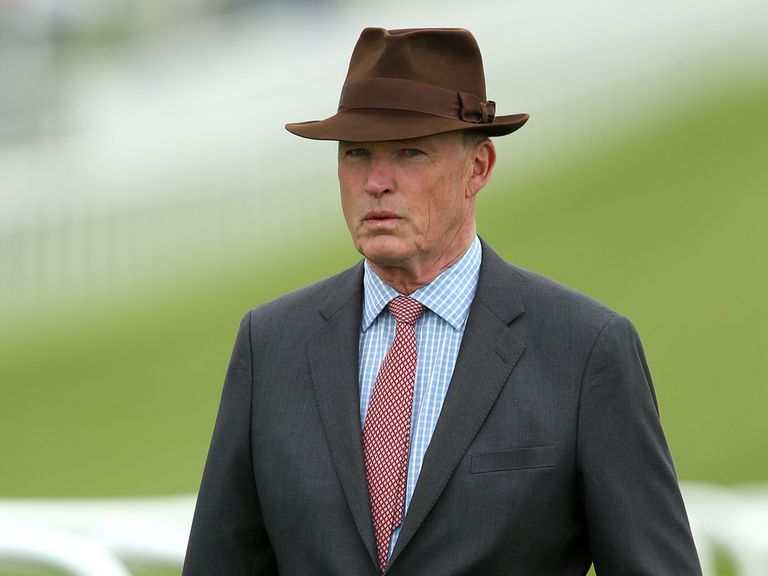 Australia. Trainer Aidan O'Brien - Sky Bet price: 11/10
"He is still very babyish. He was slow away again and he seems to go asleep in the stalls. We will take our time with him. He could be anything as the penny hasn't really dropped with him yet. He has a lot of talent." O'Brien, July 2013.
"We always thought the world of him, even the lads thought the world of him when they bought him at the sales. He could go any way as he has plenty of speed as well. He could be a Dewhurst type or anything. He has some pace and he really turned it on." O'Brien, September 2013.
"Everyone probably knows we always thought he was the best horse we've ever had. I don't want to be blowing up the horse but he was always doing things no two-year-old has ever done before." O'Brien, September 2013.
"Joseph was very happy with him there - he hated the soft ground and Joseph said whatever you do, don't run him on soft. I made that mistake with Camelot and I don't want that to happen again. He is the second-best horse I have ever trained and the best was not a Flat horse - the great Istabraq. I stand by everything I said about this horse last year." O'Brien, March 2014.
"He's a Derby horse we've not had the like of before. I thought Camelot was the best horse we had for the Derby, but this horse is another step up. The very first time he worked as a two-year-old we knew he was exceptional and the lads always rated him. I've never had a horse like this. I'm not trying to blow him up, I'm just saying how it is. For a horse by Galileo to be doing what he's doing, we've never had that before." O'Brien, May 2014.
Geoffrey Chaucer. Trainer Aidan O'Brien - Sky Bet price: 8/1
"We had to get a run into him if we were going to get to Epsom, but it's a shame that we learned nothing. Things just didn't go right for him. Joseph had to go up the inside having been drawn where he was. He didn't want to ask him to quicken up suddenly and he was just slowly accelerating when the horse on his outside got him. Then he was staying on again when the same horse came off his inside and he had nowhere to go." O'Brien, May 2014.
"We're very happy with the way he's progressing. For a Montjeu he's showing us plenty of speed." O'Brien, March 2014.
"He didn't learn much the first day and we were hoping there'd be more pace today, which there was. He learned nothing in front the first day, but I'd say he learned plenty today and he was still a bit green when he hit the front." O'Brien, September 2013.
Kingston Hill. Trainer Roger Varian - Sky Bet price: 8/1
"Our first reaction after the Guineas was slight disappointment. But on reflection it was a pretty good run, particularly looking at it as a Derby trial. He fluffed his lines at the start then lost ground when the field split, and against those speedier types that was one thing he couldn't afford to do. He was staying on really well at the end and will certainly appreciate the step up in distance. The form seems to be the best among three-year-olds of the season and I suppose that points to Australia having a huge chance in the Derby. But we'll be happy to take him on again, and we won't mind at all if the ground comes up soft." Varian, May 2014.
"He's such a good-moving horse and well balanced. What I've seen of him on better ground excites me. He's got a tremendous attitude, and he doesn't waste energy. He operates when he needs to." Varian, March 2014.
"We'll have to see how he winters and what he's like in the spring. People have said is he a 10-furlong, mile-and-a-half horse, and he will be talked of as a Derby horse. but he has the pace for a mile and travels so well. He has good acceleration and will be in everything. You've got to have an open book with him. He's always looked good but I tend to be pessimistic until they do it on the track. What is encouraging is how far he's come in six weeks and he has the shape to be better next year." Varian, October 2013.
True Story. Trainer: Saeed Bin Suroor - Sky Bet price: 12/1
"We need to forget York, as I believe he is much better than that. I always have believed in him, since he was a two-year-old. He is a much-better horse than what he has showed. A mile and a half will be no problem for him, and neither will Epsom." Bin Suroor, May 2014.
"I'm not surprised by that at all. I think a mile and a half will be his best trip and he has shown that he has improved since last year." Bin Suroor, April 2014.
"He'll go up to a mile now and a mile and a quarter next year. He could be Listed class now.'' Bin Suroor, July 2013.
Western Hymn. Trainer: John Gosden - Sky Bet price: 14/1
"He is a young horse and has only had three races. The first was at the backend of last year at Kempton Park. People decry All-Weather racing but when the ground has gone in the autumn and you want to get a two-year-old out, there is no better place than Kempton or Lingfield on Polytrack. He did that and won well. Then obviously, he ran a nice race first time out this year at Newbury. He had to slog a bit in heavy ground at Sandown when winning the Classic trial but won well. Having had those two races, I did not want to have a hard race at York in the Dante so we missed that and instead took him to work at Lingfield. I was very pleased with his work there – he did a mile in 1m 37.2s. Then he has come here today [to Epsom] and rather enjoyed himself. He handled the hill well, switched his legs properly, went over the crossing and did not jump the road. The head carriage was better and he is growing up all the time. Western Hymn has got a lot of personality – the whole family does, but then High Chaparral gives that to them. High Chaparral nearly got beat in the Breeders' Cup Turf because he had to get there at the last moment." Gosden, May 2014.
"It probably looked a bit workmanlike but I think it was more him hitting the front and then saying 'Where am I?' It's hard to look impressive in this ground. I ran a horse in the first, a nice horse, he couldn't go in it. It's nobody's fault but we've been training on good, good to firm and suddenly we're running on soft. But I'm pleased he's come here and passed his test. I was thrilled that he handled the ground, thrilled he handled the trip on the ground. I didn't know how he'd handle a mile and a quarter on this, you know, and he showed to me that he's got the stamina as much as the resolution." Gosden, April 2014.
"He was green, but this colt has got it all." Jockey William Buick, December 2013.
Arod. Trainer: Peter Chapple-Hyam - Sky Bet price: 14/1
"There are very good vibes about Arod but he needs good ground. He won't run if the ground is as it is today. Good to soft maybe but no worse. The Dante was only his third race and the whole idea was to teach him. Pete's instructions were to show him how to run through horses and he did it well. It looks like he'll need a bit further so Epsom will be perfect for him. He comes here with a lively outside chance. The Derby is high up there in the list of our ambitions and a race we want to be winning," Owner Sheikh Fahal Al-Thani, May 2014.
"Faster ground will suit him, as will the step up to a mile and a half. Whether he's good enough to win the Derby, we'll find out on the day. This horse still has to go and prove himself, in some ways, and he's been a bit slower to mature than the other two (Derby winners), but he'll get there." Chapple-Hyam, May 2014.
"He needs to grow up a little bit more, he's still like me, a bit of a child, but he'll get there," Chapple-Hyam said. "His next run will tell us everything, where we'll go. We'll have to find out whether it [Arod's Derby entry] is daft or whether it's not. He's one of 300 in there, so we'll see. Let's not big him up just yet." Chapple-Hyam, April 2014.
Ebanoran. Trainer: John Oxx - Sky Bet price: 14/1
"It's true the owner isn't into running no-hopers and neither am I. We think this is a colt worth sending to Epsom. He's very well bred. We can't be sure about him staying the mile-and-a-half but that isn't the worst complaint. You would rather that than going there with an out-and-out stayer. Epsom is a test of stamina and speed." Oxx, May 2014.
"On what he has done so far he would have a rating of 113, and he needs to be around 120 to be certain to be placed in the Derby. But he might just find the 7lb. Unfortunately nothing he has done at home would ever indicate that, because he is like his mother Ebadiyla. He is unspectacular in his work." Oxx, May 2014.
"He has a mix of speed and staying in his pedigree but seems to have inherited the speed bit anyway. We´ll see later on about how far he gets." Oxx, October 2013.
Fascinating Rock. Trainer: Dermot Weld - Sky Bet price: 14/1
"The Leopardstown is always a good classic trial for Epsom and I think that will prove the case this year. Although there was a muddling pace early on, I think the first three home are very good. He's come out of the race well, he's put his weight back on and I'm pleased with him. Australia is a very worthy favourite, the 2000 Guineas form was a very good classic trial. I'm very happy with my horse. He's adaptable and I expect a big run." Weld, May 2014.
"Pat got further back than he ideally wanted to get. He's a big, long-striding horse and just off the home turn they quickened and he loses his hind-end momentum. Excellent jockey that he is, Pat had to sit and get balanced, and the other horse has gone. 'd say Epsom is pretty definite, and he'll have learned a lot today. I've been teaching this horse to settle to try to make him into a mile-and-a-half horse, so the first time he was asked to really sprint, it just took a few strides to get the hang of things. He has a lot of pace, you only saw it late on today but once you have that, it's a big help in any race." Weld, May 2014.
"He wouldn´t have worked on that type of ground but he has wintered very well. I expect him to do better on better ground." Weld, March 2014.
Orchestra. Trainer: Aidan O'Brien - Sky Bet price: 16/1
"He travels well and I know Ryan was very happy with him at Chester, which isn't always the case. If anyone had seen him there, they'd have seen that he had a bit of a tummy on him, and he'll come on for that. He has been a bit of a baby but he's coming there now. I wasn't sure going into Chester that he'd get a mile and a half, even though his pedigree is quite stout, but I'm more inclined to think he will now after that race. I think Ryan thought that he'd gone for home a little too soon at Chester but the gap opened for him and he didn't have any choice but to take it." O'Brien, May 2014.
"We are very, very pleased with that. He was a bit keen for a little stage, but Ryan got him into a nice rhythm and travelled into the race. Ryan was very happy with the horse. He's a fine, big type of animal and typical of a Galileo. To do that around Chester, we have to be pleased. It was only his third career start and Aidan was happy with him at home and was looking forward to seeing how he got on here." Owners' spokesman Kevin Buckley, May 2014.
"A fine big colt who won his maiden after finishing second to Free Eagle at Leopardstown first time out. He'll go for one of the Derby trials and, hopefully, will progress through the year." O'Brien, April 2014.
Snow Sky. Trainer Sir Michael Stoute - Sky Bet price: 20/1
"We were delighted with him at Lingfield. He handled the track well and we're happy with his preparation at the moment. He's a solid horse and we'll look for him to get in the frame. We're entitled to be there but we're just hopeful. He won on very soft ground at Salisbury although didn't handle the Doncaster soft for some reason. But I wouldn't be concerned about ground conditions for him. He had a good piece of work yesterday morning, he'll work again on Saturday and then have a breeze on Thursday. Australia is by a Derby winner out of an Oaks winner and has run the best trial of all so he's the one to beat. But the places are up for grabs." Stoute, May 2014.
"I've never sat on the horse but I have seen him before. He wasn't doing an awful lot in front and I was impressed with him. He was in front two and a half down and he could have done with a bit of company. It's up to connections (if he goes to Epsom) but he's a classy horse and he went round here so Epsom wouldn't be a problem." Jockey Jim Crowley, May 2014.
Romsdal. Trainer John Gosden - Sky Bet price 25/1
"William [Buick] was happy enough with him, Romsdal can be lazy in his work and was just playing around, tending to lean towards the other horse, but that doesn't bother me. He ran great at Chester and belongs in the race if we think he's in top order." Gosden, May 2014.
"He will work at Newmarket and the owners will decide what they want to do. It's their decision, not mine." Gosden, May 2014.