GC: 20 Derby questions
Star Racing UK and Channel 4 analyst Graham Cunningham answers the big Investec Derby questions.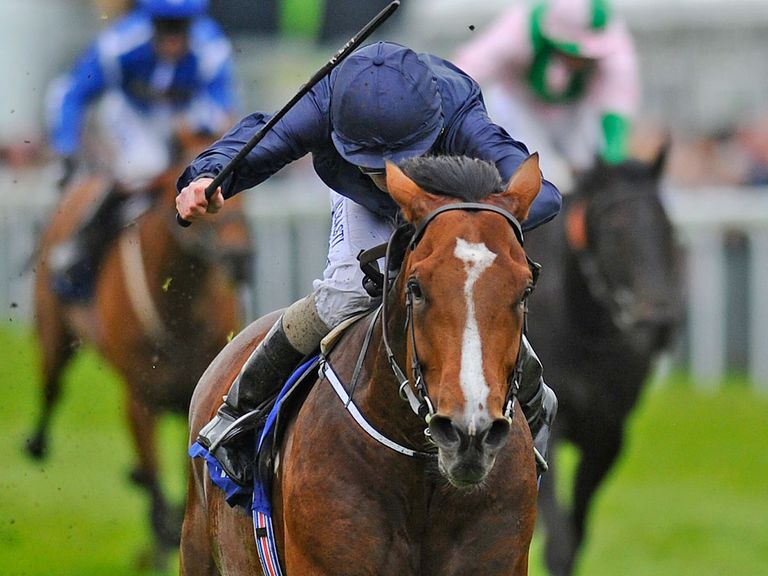 1: Straight to the point: Australia - how much of his short price is due to hype?
That depends on your viewpoint.
If you were of a cynical bent perhaps you would hint that Coolmore must be keen to find a replacement for their ageing superstar sire Galileo at a time when most of the other elite stallions in Europe are now controlled by either Darley or Juddmonte.
And maybe you might follow up by suggesting that the relentless promotion of Australia as a superstar before he has a single G1 success to his name might have at least a little to do with a desire to lay the foundations for him to take over from his dear old dad down the line.
Aidan O'Brien talked the talk as long ago as last September by saying that Australia "was doing things no two-year-old has ever done before" and that "we always thought he was the best horse we've ever had." 
Such extravagant claims certainly add spice to the mix, but Saturday will be the test of whether the deeds can finally match the words.
2: And how much of his price is due to what he has achieved on the track?
Put it this way, is there another horse in this field who could have come close to replicating what Australia achieved in the 2,000 Guineas?
The answer is almost certainly no and anyone who argues that Australia is all sizzle and no steak needs to re-examine the video of that race here...https://www.youtube.com/watch?v=7boqDEAvvic.
The runner-up Kingman and the fourth Shifting Power have already franked that form by dominating last Saturday's Irish Guineas, while The Grey Gatsby has won the Dante and the Prix du Jockey Club having finished only tenth at HQ.
Add in the fact that the stands' side group Australia forged clear of contained Toormore, Kingston Hill and War Command - all Group 1 winners at two - and it's beginning to look like this year's Guineas was a very deep renewal.
3: How well will Australia handle the twists and turns of Epsom?
Very well indeed in all probability. Australia's sire Galileo glided through his Derby like a ballet dancer while his dam Ouija Board scooted down the hill before powering clear of her Oaks rivals.
Add in the fact that Australia is a fluent-moving colt who kept ramrod straight both into and out of the Dip at Newmarket and it's easy enough to conclude that Epsom will play to his strengths as opposed to exposing any weaknesses.
"Add in the fact that Australia is a fluent moving colt who kept ramrod straight both into and out of the Dip at Newmarket and it's easy enough to conclude that Epsom will play to his strengths as opposed to exposing any weaknesses."

4: Are there any possible chinks in his stamina for a mile and a half?
Now here's an interesting one. 
Australia's sire and dam won the Derby and the Oaks by a combined total of over 10 lengths and have since proved powerful influences for stamina during their stud careers.
But Aidan has been regaling the media with tales of how Australia has been making sparks fly from Ballydoyle's sectional timing system by clocking four consecutive eleven second furlongs.
If those reports can be taken on trust - and the if is sizeable - then Australia might just be a genuinely brilliant colt who will take this Derby field apart.
Alternatively, it could mean that he could be a potentially suspect stayer once he squares up to a trip and track which place a very high premium on stamina, especially when there is plenty of give in the ground.
As ever, you pay your money and take your choice. Australia is priced up as if he is a proven stayer. But, at this stage, he still has that key question to answer.
5: And is there any chance the draw could be a factor?
Logic suggests that stalls position shouldn't be important in a twelve furlong race but Epsom's history tells a different tale with horses drawn in stalls 1 and 2 faring very badly.
It's a big thank you to ATR's Hugh Taylor for reminding me that, since 2000, the two lowest-drawn horses (after NRs are excluded) in fields of 10 or more over 12 furlongs at Epsom are a miserable 2-188.
As so often in the past, Coolmore's block booking policy means they have the ability to shape the race tactically if they so desire.
But even Aidan and The Lads can't shape the draw ballot and Australia's chance certainly won't increase if he ends up hard on the inner this weekend.
6: Get off the fence then: Are you with or against Australia?
It's the norm nowadays for raging ante-post favourites to drift appreciably come the big day and this could be another case in point.
Regular readers of the regular Friday chat on this site will be well aware that I thought Australia was very tight at 4/5 and I wouldn't even think of backing him unless he goes longer than 6/4.
That's by no means impossible if all his main dangers stay healthy.
However, the opportunity for me to back Australia came last September when I wrote in my influential and much-missed Racing Post column that "I'm happy to believe the finest 2014 Derby prospect in Europe is Australia."
I didn't step in to take the 8/1 last year. And it's unlikely I'll weigh in at much shorter in a biggish field containing possible traffic trouble and a clutch of potentially dangerous rivals.
Epsom Derby Tickets
Tickets for the Investec Derby Festival are now on sale - prices from just £15 with Sky Tickets


Click here

7: How strong is the opposition from Australia's own stable?
Ruler Of The World wasn't the shortest-priced O'Brien colt last year; High Chaparral was second-favourite to stablemate Hawk Wing in 2002; and unheralded Ballydoyle beasts like Treasure Beach (25/1), At First Sight (100/1), Masterofthehorse (16/1), Dylan Thomas (25/1) and The Great Gatsby (25/1) all outran market expectations in a major way to finish placed in the Derby.
History clearly shows that Aidan trains the type of horses who can blossom for the unique test that Epsom throws up and it would be folly to assume this year's Coolmore challenge rests solely on the hot favourite.
That said, it's hard to make a strong case for Kingfisher, Granted, he toughed it out in an ordinary-looking Dee Stakes at Chester but he was blown away by Australia last year and Fascinating Rock at Navan this spring. Logic suggests this Kingfisher is flying too high.
8: And what about fellow Chester winner Orchestra?
Now this is much more like it. Orchestra began this season an unknown quantity with just a Tipperary maiden to his name but he took a major step forward in the Chester Vase, travelling powerfully and handling the bends very smoothly for such a big colt before holding off the strong challenge of Romsdal by a nose.
It's hard to know how good Romsdal is but the fact that John Gosden has supplemented him in a year when he has another live hope is noteworthy and the first two in the Vase pulled a long way clear of three proven useful colts.
In summary, it's possible to be confident or very confident about several things with the handsome Orchestra.
First, he's a guaranteed stayer; second, he looks very well balanced for Epsom; third, he probably has scope for a fair bit more improvement; and fourth, he seemed to leave a very positive impression on Ryan Moore at Chester. All in all, his each-way prospects look rosy.
9: Is the gamble on Geoffrey Chaucer built on solid foundations?
There is an Alan Brazil-style "Two Versions" debate raging around how to pronounce this colt's name in Ireland with Chowser and Choicer running evens each of two depending on whether you listen to Aidan or assorted media characters.
Debate as to how well he will go at Epsom is equally keen for the simple reason that he didn't get the chance to show what he could do when hampered at two vital stages on his Leopardstown reappearance.
The trip won't be a problem on Saturday and the gamble which started a couple of weeks ago might just continue if Ryan Moore opts for him. But it is worth remembering that Geoffrey is currently trading at half the price of two colts who finished ahead of him in the Derrinstown Trial. And that suggests the best of the value has gone.
10: Has Leopardstown's Derrinstown Stud Derby Trial been under rated by bookmakers?
You can judge for yourself here - http://www.youtube.com/watch?v=jKTGfuH4woc - but this was a very tough trial to read given that it developed into a dawdle followed by a messy three-furlong dash for home off the final bend.
It's possible to argue a case for each of the first three, but my gut feeling is that this was one of the better trials and it will be surprising if at least one of the main players doesn't have a say in the finish this weekend.
11: Were the stewards right to reverse the placings of the first two?
Most definitely. Fascinating Rock finished strongly to get within a head of Ebanoran at the line and clearly lost more ground than he was beaten by in being carried off his racing line.
It's purely academic to debate whether British stewarding panels would have reached a similar decision. Logic suggests most of them would have done the right thing. But then you think of On His Own staying on relentlessly despite being carried right to get within a short head of Lord Windermere in the Gold Cup. And you wonder.
12: How good a prospect is Fascinating Rock?
Many people thought Free Eagle would be Dermot Weld's Derby horse this year but Fascinating Rock has thrived in that colt's absence and the way he quickened from the rear in the Derrinstown was impressive.
Epsom Derby Tickets
Tickets for the Investec Derby Festival are on sale with Sky Tickets - prices from just £15!

Click here
He's an athletic colt with a very relaxed manner, but can a son of the brilliant Aussie sprinter Fastnet Rock really have the stamina for such a demanding mile and a half? 
That question will only be answered on Saturday but Fascinating Rock will travel much better than most for a long way and those who fancy him at a big price might just be able to lay off at much shorter odds in the run.
13: And is Fascinating Rock sure to beat Ebonoran without the assistance of the stewards on Saturday?
This return match probably revolves around stamina and the ability to run home straight and true.
The female side of Ebanoran's pedigree is rammed with good stayers and he showed a good turn of foot off the bend at Leopardstown, but he also drifted left and then right in the closing stages.
A third Derby win for gentleman John Oxx would be great to see and I like Ebanoran's chances of running well. But I'd like him even more had he not shown those erratic tendencies off the bridle when things got tough last time.
14: Can Kingston Hill emulate High Chaparral, Motivator, Authorized and Camelot?
The Racing Post Trophy has a storied history when it comes to producing Derby winners and Kingston Hill crowned his juvenile campaign with a commanding Donny success - https://www.youtube.com/watch?v=vTy2okaShZs - from a field which included The Grey Gatsby and Snow Sky.
Many of his fans are happy to give him a pass for finishing only eighth in the Guineas and it's true to say that he missed the break on ground that may have been faster than ideal.
But every time I watch the Guineas replay I struggle to come up with a convincing reason for Kingston Hill to reverse the form with the colt who finished over four lengths ahead of him in third.
Middle distances ought to suit and further rain will probably help Kingston Hill run a belter. But even if he does just that, logic suggests Australia will probably have his measure again.
15: Is Western Hymn the ideal type for the test that Epsom presents?
Here's a tricky one. Western Hymn's head carriage certainly isn't one for the purist and he can't afford to repeat the immaturity he showed when wandering in front on a foul day at Sandown on his latest start.
And yet there is a flash of brilliance about this unbeaten colt. Don't be surprised if he ends up a fair way back early on; don't be surprised if he makes an impressive move up the straight; and don't be surprised if the camber poses him problems when it comes to crunch time.
In short, he's a hard one to be confident about. But he's a dangerous floater if he channels his energy properly at Epsom.
"Don't be surprised if he ends up a fair way back early on; don't be surprised if he makes an impressive move up the straight; and don't be surprised if the camber poses him problems when it comes to crunch time."

16:  Why should Snow Sky beat Western Hymn having played second fiddle to him at Newbury?
His supporters will argue that he hit a new high with a decisive Lingfield Derby Trial success which can be viewed here https://www.youtube.com/watch?v=QvhujQIBmfI.
And his detractors will point out that he had his limitations exposed when Western Hymn forged past him at Newbury.
On balance, I'm inclined to row in with the latter group. Snow Sky is progressive and likeable but he didn't appear to have a massive amount in hand of the exposed 99-rated Hartnell at Lingfield and Saturday's competition is vastly stronger.
17: Can True Story be forgiven his Dante defeat?
Kieren Fallon thinks so on the basis that the ground was too dead and there is no doubt that True Story looked a potential Group One colt when trouncing useful rivals at Newmarket on his reappearance.
But can this colt really be excused his York defeat behind The Grey Gatsby?
Sunday's French Derby has cast The Grey Gatsby in a very different light and True Story would have been the best part of a length closer on the Knavesmire had he not been checked in the straight.
But Workforce (who had an excuse in that his bit slipped at York) remains the only horse to follow Dante defeat with Derby glory.
The Fallon factor and events at Chantilly have predictably seen True Story warm up in the market again. 
But Saturday's Derby looks to have much more depth than the French version. And the current weather forecast suggests the Epsom surface could be at least as holding as the one True Story encountered at York.
18: Is Arod progressing fast enough to make a mark?
It's hard to be confident on several levels.
First, Arod was beaten fair and square by The Grey Gatsby in the Dante and, although that form looks better after Sunday, it's still some way removed from what will be needed to win at Epsom.
And second, Arod is a free goer from a speed oriented family who is no good thing to relish a severe mile and a half. Granted, he settled much better at York than he had when bolting up in a Windsor maiden.
However, that tendency to take a strong hold could result in wasted energy in the early stages this weekend. And, unless you are a freak like New Approach, wasted energy in the Derby tends to take a hard toll late on.
19: Wrap up the longshots in 150 words or less
Impulsive Moment and Red Galileo have been put firmly in the shade by Western Hymn and Snow Sky, while Our Channel needs to improve massively on what he showed to score at Epsom in April.
Pinzolo also has plenty to find, while stablemate Sudden Wonder was beaten fair and square by Snow Sky at Lingfield and shouldn't reverse the form.
Strong stayer Romsdal looks more interesting having been supplemented after his fine Chester Vase second. But perhaps not as interesting as the colt who beat him on the Roodee.
20: And the value bet for the 2014 Derby is?
Australia is drifting on the exchanges in the way so many ante-post favourites tend to do as the big day approaches and it would come as no surprise to see him nudge 7/4 by Saturday.
That's more like his correct price than even money in my view, but there is still time for others to shorten appreciably and the 16/1 about Orchestra will disappear very quickly indeed if Ryan Moore rides him.
Moore was clearly impressed by Orchestra at Chester and the fact that he has never ridden Geoffrey Chaucer either at home or on the racecourse means that advice from Aidan O'Brien could play heavily.
If Europe's best jockey is aboard so much the better, but Orchestra makes much more appeal than most of those trading at double-figure prices and he appeals as a sporting option both in the each-way and place-only markets.