Chrome on course for the Crown
California Chrome took the second step towards becoming the first horse since 1978 to win the US Triple Crown with victory in the Preakness Stakes at Pimlico.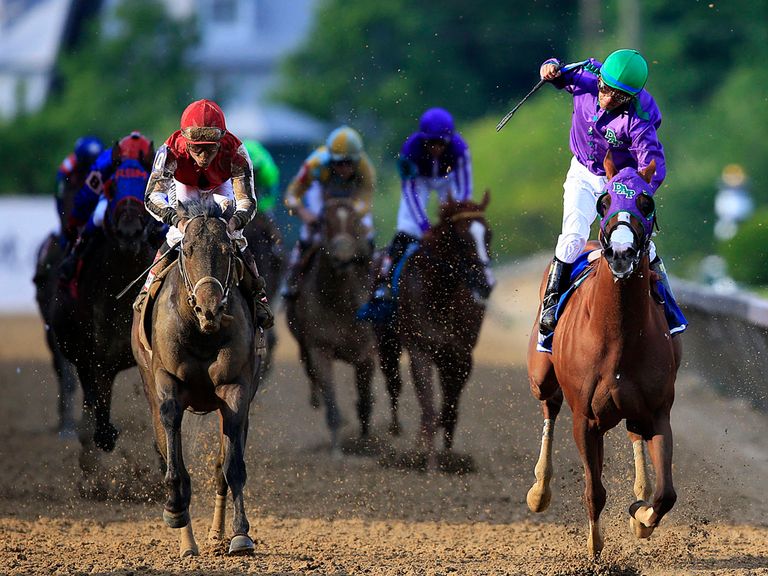 Things didn't go entirely to plan for the 1/2 favourite, who broke well but found himself slightly swamped on the first turn when a couple of rivals made their way past to the front.
Jockey Victor Espinoza switched to plan B and sat further back and wider than he might have hoped, yet as he came to make his move around the final turn, Social Inclusion suddenly drew up on his outside and threatened to seize the initiative.
Espinoza was forced to commit at that stage of the race and although California Chrome quickly turned away that rival, the patiently-ridden Ride On Curlin suddenly emerged from the rear to throw down a challenge under Joel Rosario.
He closed up considerably on the favourite a furlong out, however the gap between the pair was maintained from that point on with California Chrome staying on strongly to score by a couple of lengths.
"He is just an amazing horse," Espinoza told NBC. "I got more tired mentally than physically, riding him. But it worked out well.
"I knew they would want to get to the front, so I was going to sit second, but the next time I looked another one had gone past, and I had to do something different from that point.
"I had to use my brain, but I got in the clear and it worked out fine.
"When the 8 horse [Social Inclusion] moved in at the half-mile, I thought it was a little bit soon, but I had to go with him, and it worked out."
Asked about the possibility of succeeding where so many horses have failed in the final leg of the Triple Crown, the Belmont Stakes, in three weeks' time, Espinoza said: "You never know until he runs, but it seems like he's going to be all right. There's a little bit more time, he'll get back his energy and - you know what - we'll get it done."
Winning trainer Art Sherman is also all too aware of the task still facing his horse in the Belmont.
"For me, coming back in two weeks [since his Kentucky Derby win] I was a little concerned, but I'll tell you one thing he's a real racehorse.
"I'm hoping that the mile and a half is up his alley too because he's a very good horse.
"Victor rode him perfect. I couldn't tell how much horse he really had. Everybody was cheering and jumping up and down right in front of me, so I couldn't see, but when I looked up at the board and saw him starting to move away, I felt really good then."
Utley, third in the Free Handicap when trained by John Gosden, took the preceding contest, the Grade Two Dixie Stakes. He remains in the colours of George Strawbridge and is now trained by Jonathan Sheppard in the US.