Our Aidan O'Brien stable tour
Our man Will Hayler was at Ballydoyle to get the latest on Aidan O'Brien's stable stars - and some dark horses too.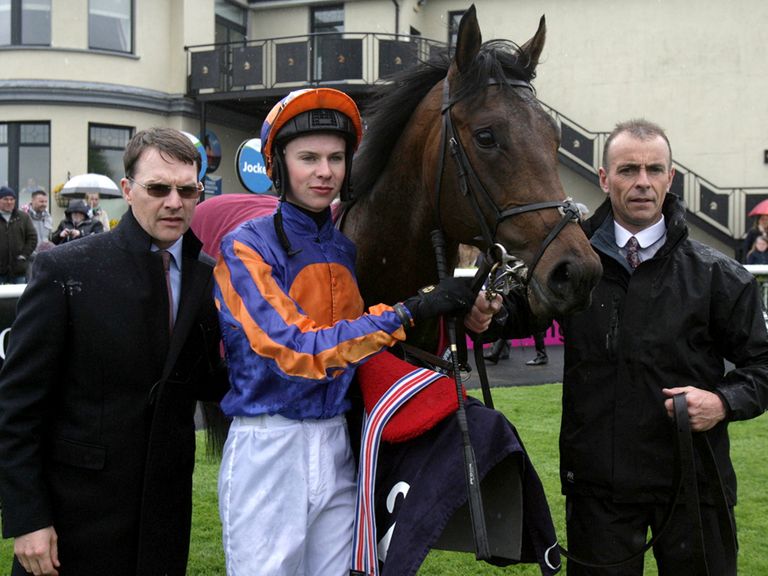 Older horses:
Kingsbarns: I should never have run him at Leopardstown on ground that testing. I wanted to get a run into him with an eye on the Lockinge but it was a mistake. He'll now have the mid-summer period off before coming back for an autumn campaign. Going doesn't really matter to him as long as it's not really testing.
Leading Light: The plan is for him to run at Navan next weekend, before going for the Saval Beg at Leopardstown and then on to Ascot for the Gold Cup. He's ready to rock and should be a nice staying horse this season.
Ernest Hemingway: He was going to go to Chester or possibly York but the ground's gone against him. He wants fast ground. He's a real fast-ground horse, in fact, and we'll plan things around that. He's in the mix for the Saval Beg and those sort of races.
Magician: Joseph managed to just drop him in front on the line at the Curragh last week and that was what we wanted as we didn't want him to have too hard a race. He goes for the Tattersalls Gold Cup and then possibly on for the Prince of Wales's Stakes too. He stays a mile and a half but he's got speed and a mile and a quarter is probably his trip.
Ruler Of The World: Dubai was a bit of a chance. I'd say that maybe I hadn't had those horses as ready for Dubai as might have been the case in the past. They went healthy without maybe having been as fit as I would have liked. The surface might not have suited him either. He did his first piece of work since the other day and we're very happy with him again. He'll go back to Epsom for the Coronation Cup. Knowing that he handles the track certainly isn't a disadvantage for him. He can go over a mile and a quarter or a mile and a half and there are a lot of options for him, probably ending up in the Arc again.
Venus De Milo: She's a big mare and I'm finding it hard to get her fit. She really is as big as a bull. When we get nearer, we'll start thinking about where to run.
Verrazano: He'd want the ground good or quicker and I just don't know if we'll get that at Newbury for the Lockinge. We could do with getting a run into him if we're going to go for the Queen Anne as we could do with learning some more about him. It's all well and good watching the videos, but we need to find out a bit more tactically, and that's why you'd want to run him if you could. That's what happened with Declaration Of War, who it turned out we did everything wrong with at Newbury, but at least we were able to sort those things out in time for Ascot. If we don't go for the Lockinge, we'll be looking at all of the other options. The alternative is to go for a gallop at Dundalk. He has half-speeded here and looks very good. He's exciting. He could well end up back at the Breeders' Cup again. He's a big powerhouse, but also a lovely straightforward horse.
Chicquita: She's on a little break at the moment. I don't have a particular race in mind for her, but she'll have an autumn campaign and could be an Arc contender. She was trained by a very good trainer [Alain de Royer-Dupre] last season and I've got something to live up to there.
Cristoforo Colombo: He's ready to run again over six and seven furlongs in Listed and Group Three races. He's been a little bit lame since his last run, but I think he's all right again now.
Eye On The Storm: As he has no left eye, he's probably better going right-handed, so that will influence our plans. He's another one for those staying races and he could go to Navan at the weekend for the Vintage Crop Stakes and he's in the Gold Cup at Ascot.
Festive Cheer: He was third in the Irish Derby last year, then went to Dubai where I hoped he might go well, but he came back lame. I had hoped I might be able to get him back in time for the Hardwicke at Royal Ascot but we're a little up against it. A mile and a half is his trip on good ground.
Three-year-old colts:
Adelaide: I thought he ran well in France and if he doesn't make it to the Derby, he could go to Ascot.
Australia: We were excited by Australia ahead of the Guineas as he had really come on and treated his lead horse Oklaoma City with total contempt. He's done nothing since the Guineas but I couldn't be more pleased with him. He is a very natural horse and has a great mind so he is like both his dad and his mum in that respect. He is a horse that has always excited us. When he turned up in the Guineas, he ran well – there were just so many variables in that race. He might be best at a mile and a quarter but there's certainly reason for thinking that he will stay a mile and a half. He's a Derby horse we've not had the like of before. I thought Camelot was the best horse we had for the Derby, but this horse is another step up. I've never had a horse like this. I'm not trying to blow him up, I'm just saying how it is. For a horse by Galileo to be doing what he's doing, we've never had that before. He's a very relaxed horse. If you put him in the starting stalls, he'd happily stand there all day.
"He's a Derby horse we've not had the like of before. I thought Camelot was the best horse we had for the Derby, but this horse is another step up. I've never had a horse like this. I'm not trying to blow him up, I'm just saying how it is."
Aidan on Australia
Blue Hussar: He ran well at Lingfield but Ryan thought he might be too babyish for a Derby and he could wait for Ascot.
Century: I think he wants better ground than he had at Chester and we'll probably stay at a mile and a quarter. Ryan liked him but said he was a bit of a baby.
Cougar Mountain: We still haven't managed to get a run into him, but I think he's a very good horse and he has all of the entries. He could be very smart. I had hoped to run him in a maiden and then go for the Jersey, but we're slightly running out of time.
Giovanni Boldini: He wants fast ground and to take his time over a mile. He didn't run a bad race in the French Guineas, considering that a couple of things went against him. He travelled all right.
Indian Maharaja: He came home stiff after running poorly in very soft ground last time out. He stays and could be a horse for the Great Voltigeur.
Johann Strauss: He'll probably go for a maiden next. He has some very good form but might appreciate getting his head in front - it's just been a bit difficult with him. He's not there yet, but hopefully we'll go there.
War Command: Before Ascot last year [the Coventry Stakes] we debated as to whether we should put blinkers on him. When he won, we didn't talk about it again, but he is a very lazy work horse and it might just be that we try him in some sort of headgear at home and if that goes well, run him in them in the Irish 2000 Guineas. There's a chance of that. We'll know more later this week. Ryan said the same at Newmarket. He said 'He just didn't wake up for me' and it was the same when Joseph rode him in the Heinz last year. He just needs something to shift him up.
Kingfisher: He's a very solid horse, a straightforward horse, and he could go for the Derby. He's a solid Group Three horse, who likes to race handily and we could have him up there at Epsom.
Michaelmas: A nice horse who ran well in the Tetrarch. He'll go for the Irish Guineas.
Annus Mirablis: Could make his debut at Naas this week. He'll win a maiden. He works a little bit lazily and I think he might just be better than he has been showing.
Bazaar: A nice Galileo colt, unraced but he'll win his maiden. His main job at the moment is leading Johann Strauss.
Darwin: He's going to be interesting. I don't know how good he could be as a sprinter, but he could be very good if he can handle going back in trip. He doesn't want soft ground so won't go to York, but could run in the Greenlands Stakes on Irish Guineas day.
Geoffrey Chaucer: We had to get a run into him if we were going to get to Epsom, but it's a shame that we learned nothing. Things just didn't go right for him. Joseph had to go up the inside having been drawn where he was. He didn't want to ask him to quicken up suddenly and he was just slowly accelerating when the horse on his outside got him. Then he was staying on again when the same horse came off his inside and he had nowhere to go. He's fine though and the Derby is still the plan.
Juniper Tree: He's a grand horse who ran well first time out behind Australia then fractured his cannon-bone at Naas. He's on the way back now and should win a maiden over a mile and a quarter before we look further forward.
Mekong River: We were a bit mystified by his run at Lingfield but when he got back into the unsaddling area we found the blinkers had fallen over his eyes and he'd effectively been running blind. You can see if you watch the replay that he takes a few false steps around the bend and it's no surprised when you know why! We might bring him down in trip next.
Orchestra: He travels well and I know Ryan was very happy with him at Chester, which isn't always the case. If anyone had seen him there, they'd have seen that he had a bit of a tummy on him, and he'll come on for that. He has been a bit of a baby but he's coming there now and Ryan might well ride him again at Epsom. That's always the thought when you put Ryan up in one of those trials. I wasn't sure going into Chester that he'd get a mile and a half, even though his pedigree is quite stout, but I'm more inclined to think he will now after that race. I think Ryan thought that he'd gone for home a little too soon at Chester but the gap opened for him and he didn't have any choice but to take it.
"I wasn't sure going into Chester that he'd get a mile and a half, even though his pedigree is quite stout, but I'm more inclined to think he will now after that race."
Aidan on Orchestra
Table Rock: I'm inclined to miss the Dante now with the ground having gone soft. I think he wants the step up in trip at some stage, but if he misses the Dante he might just run in the Irish Guineas instead.
Three-year-old fillies:
Bracelet: It just didn't go for her at Newmarket. We said to Ryan to drop her out and she never got into the race. He said afterwards to try her at a mile and a quarter or a mile and a half and she'll probably be trained for the Oaks.
Tapestry: I worked her with Bracelet before Newmarket and I probably shouldn't have done. She just came up a little bit light there and she empted out, but Joseph was easy on her as he didn't want to give her a grueller. She looks an Epsom filly as she's light and lean.
Marvellous: She might run at Naas this week in a Group Three. She'd be a possible for Epsom.
Dazzling: She's in the same race at Naas and I liked her win at Navan. She or Marvellous might have run in the Musidora but soft ground isn't in her favour so we've taken them out. She's in the mix for Epsom.
Terrific: She's a bit of a strange lady, who gets intimidated by other horses, which is why we ran her in the blinkers at Chester. She missed the break a bit and I don't think she was ever going after that, but we'll sort her out. We might go back in trip with her next, but we'll see. If she'd run as we expected her to at Chester, she'd have been right in the Oaks picture, But she didn't.
Just Gorgeous: She could run at Naas on Wednesday. She's a lovely Galileo filly and we think she's very nice.
Palace: I thought she ran a very good race at Leopardstown on Sunday, especially as saddling her beforehand she was showing plenty of signs of being in season. Joseph said that in the stalls all she wanted to do was lean back into them, so in the circumstances I was pleased with her run. She could run in the Irish 1000 and the Oaks - I think there's two weeks between them again, which gives you enough time to do both if you want.
Wonderfilly: She ran respectably from a bad draw in the French Guineas. She needs to step up next time, but I didn't think it was a bad run at all.
Two-year-olds:
Dick Whittington: He could run at Naas this week. He's a Rip [Van Winkle colt] and as a group I like them a lot. They're sharper than you might have expected.
John F Kennedy: He's a full brother to Tapestry and he's ready to rock.
Ol'Man River: He's Finsceal Beo's second foal. He's in full work and doing everything right.
The Great War: He's won both of his starts in good style and he could go for the Marble Hill next before Royal Ascot. It wasn't necessarily the plan to run him three times, but he didn't learn much first time out and I wanted to get a little more experience into him.
Timbuktu: She just got beaten at Naas on her first start, but she runs at Naas this week and she'll be hard to beat. She's a lovely filly.
War Envoy: He's a Royal Ascot possible. I think he'll run at Naas this week and hopefully he will win again.
Unnamed (Galileo ex Love Me True): He is a full-brother to Ruler Of The World and a half-brother to Duke Of Marmalade and he's showing some promise at home. He might just have the same sort of talent as his big brothers and he's going nicely.