The racing review: Cheltenham
Sky Bet's Michael Shinners joins the Sporting Life team answer some of the questions to emerge from Cheltenham.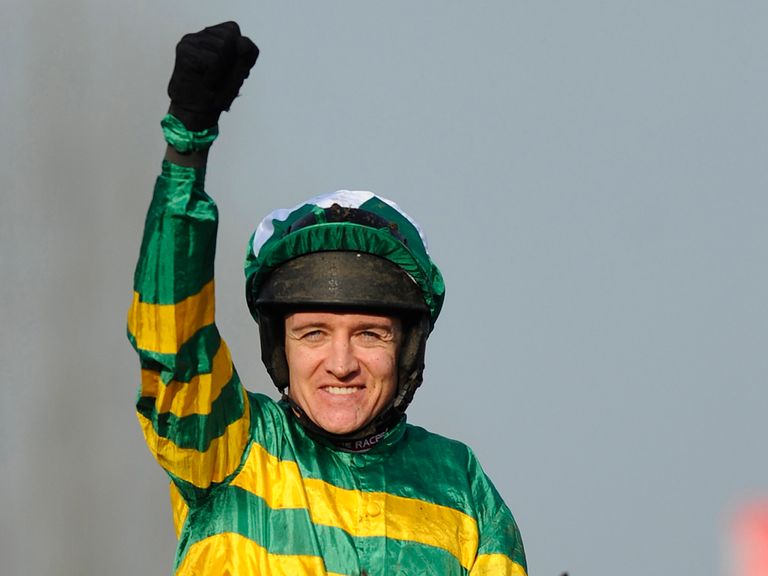 The Champion Chase field had its knockers and there were 'surprise' winners of the other three Championship contests - can you see any of the protagonists playing a leading role again in 12 months' time?
Michael Shinners: The Champion Hurdle had a particularly unsatisfactory feel after the terrible fall of Our Conor and the The New One being badly impeded. However, you can't take away from Jezki the performance he produced, with Barry Geraghty giving him a perfect ride. The New One is the obvious one to take from the race and must hold a massive chance in next year's race. Sire De Grugy was very good and given an excellent ride from Jamie Moore. Of course you can argue that it wasn't the strongest field, but the way he travelled into the race was incredibly impressive. More Of That was brilliant in the Ladbrokes World Hurdle and probably hasn't had the credit he deserves. The 4/1 offered after the race looked very tempting. The Betfred Gold Cup was one of the most exciting races I have ever seen. It's fair to say that the big two in the betting didn't run up to their best form and I would be surprised if Lord Windermere retained his crown next year.
Ben Coley: Starting at the top, it's difficult to see Jezki winning the Champion Hurdle again next year as, without even considering the novices, I would expect The New One to beat him. I also get the distinct impression that The New One's connections are desperate to prove that Tuesday's defeat was an unfortunate one which should ensure that he runs here and not over further or fences. Sire De Grugy was excellent and with the Arkle not likely to prove any sort of guide it's difficult to see where the dangers come from bar of course Sprinter Sacre - it's to be hoped he is sound next year and we're served up a fascinating battle. More Of That could definitely come back and win another World Hurdle - in fact I'd say he will do just that - and Lord Windermere's Cheltenham record means he can't be ruled out, even if he meets something a little classier next year. Like Champagne Fever, perhaps?
Ben Linfoot: All four should be respected given they are the reigning champions, but two in particularly look sure to play major roles again next year; More Of That and Sire De Grugy. It was a weak renewal of the Champion Chase, but Sire De Grugy was clearly streets ahead of his opposition and with Champagne Fever set to go up in trip very little from the Arkle looks like making an impact on the division next season. Who knows what will happen with Sprinter Sacre, so SDG could well reign again. More Of That was the most impressive champion of the week for me. He maintained the unbeaten start to his career from a fantastic runner-up in the style of a very good horse. This division has a habit of throwing up multiple winners and I'd want to be on the right side of him for next year. The Champion Hurdle and Gold Cup were unsatisfactory contests with winners who look unlikely to back up next year. The New One was extremely unlucky in the Champion and I think he would've won fairly easily but for being hampered by the fall of the ill-fated Our Conor. Jezki did well to see off My Tent Or Yours, but things went very smoothly for him and I'd be surprised if he won it again. The Gold Cup was a thrilling race, but I'm still wondering what to make of it. Lord Windermere was beaten over the distance off a mark of 154 in the Hennessy and had looked an average winner of the previous year's RSA. He outstayed them, but it's hard to think of too many worse winners in the last 30 years and I couldn't have him on my mind to back up - he was fortunate to win this year's given the interference late on. This season's RSA looked a good race and a fresh injection of blood in next year's Gold Cup could see a completely different result.
Will Hayler: More Of That is quite a big horse and I suspect he might not have been entirely straightforward to train - even though his trainer has never admitted as much - given the way he is ruled out and then back in for the World Hurdle every few days during the final weeks of build-up. That said, he's got an obvious chance of repeating presuming connections decide to stay over hurdles as the form of his victory stacks up very well.
Annie Power - Champion Hurdle? Mares' Hurdle? World Hurdle? Arkle? RSA? How would you map out her 2014/15 campaign?
MS: She is so keen in her races that there would be a worry she would properly stay the trip in an RSA unless she learnt to settle properly. If Quevega retired, the Mares' Hurdle is the obvious option otherwise perhaps the Arkle might be the target.
BC: I would be surprised were she to line up in the World Hurdle. It's not that she doesn't get the trip - clearly, she got home well enough - but that she's going to be more effective over shorter. With Hurricane Fly most unlikely to win a third Champion Hurdle and Vautour set to go over fences, I imagine Willie Mullins would love to campaign her for a Champion and she'd be a major player in that given her allowance. However, if I owned her and her alone, her size and style of racing would lead me to fences. She could be something else over them - particularly if they help her to settle - and it'll surely be difficult for connections to resist that temptation even if it does mean a potential clash with Vautour.
BL: It depends on where she slots in compared to Willie Mullins' other stable stars, but if she were campaigned independently of her stablemates I'd go chasing with her. If she takes to fences then the JLT looks an obvious race with the view to stepping her up in trip as she gets older and learns to settle better. Her second to More Of That was a fantastic effort and she remains a mare with an extremely bright future.
WH: She's not over-big, but Annie Power does look to have the right shape and certainly the right attitude to go to the top over fences. As Ben says above, she'll need to slot in around her stablemates, especially Briar Hill and Faugheen, so I'd be tempted to throw her into the mix against more experienced rivals after a couple of novice chase spins rather than staying in novice company all season long. What I do suspect though is that Rich Ricci didn't necessarily get things the way he would have preferred when she ran in the World Hurdle and I reckon he'll be more firmly in the driving suit regarding future plans from now onwards.
A feature of the week was the performance of Willie Mullins' novices. Were you particularly impressed with any of the winners (or losers)?
MS: I thought Vautour was awesome in the Sky Bet Supreme. He takes lengths out of his rivals at his hurdles and looks an incredible talent, whichever race he targets next year I will be cheering him on!
BC: He would be my favourite for the Champion were I certain that was to be the target, but fences were talked about quite strongly afterwards so it's hard to justify a bet at this stage. I love the way he got from one side of a hurdle to the next and personally I'd love to see him kept over them for now, even if the two-mile novice chase division could be a weak-ish one. On a side note, fair play for team Mullins for keeping secret the fact that he was in a "different league" to Faugheen, because literally nobody appeared to know and he went off 4/1 to Faugheen's 6/4.
BL: Out of the two obvious ones I was taken by Faugheen who just looks an absolute machine. I can't believe how easily he won by considering his mistakes at the fourth last and third last. He winged the final obstacle and he's going to be some chaser - as long as he treats fences with more respect as he surely will.
WH: Even if you accept that Noel Meade's horses were out of sorts at the time, it's hard not to think that Briar Hill would have gone close in the Albert Bartlett on his earlier form with Very Wood. He could be an RSA Chase horse next season. I can't disagree with any of the above comments though. Vautour and Faugheen were both highly impressive.
Did either Triolo D'Alene or Teaforthree enhance their Crabbie's Grand National claims in the Gold Cup?
MS: Not really. I thought they both had hard races, particularly Teaforthree who mixed it with On His Own for a good part of the race. The horse that may have gone under the radar was The Package who ran really well in the Festival Handicap.
BC: I don't think so really, although nor did they diminish their credentials. Of the two, Triolo D'Alene arguably ran the more encouraging race although clearly, Teaforthree gets to run off a good mark at Aintree and is proven over the National fences. Prices of 10/1 about Teaforthree don't appeal but he's a worthy favourite, no doubt about it.
BL: Both ran well and out of the two Teaforthree looks the more likely to play a big part at Aintree. He's already been there and run a blinder in the big one and his effort in the Gold Cup just shows he could well be feasibly treated - and it was further evidence that he loves jumping and galloping on good ground.
WH: Had Teaforthree been ridden more conservatively, he might well have been in the reckoning for the places, but connections of course weren't to know how the race would pan out. In the circumstances, I thought he ran well. I'd backed Triolo D'Alene for the National before the Gold Cup, but didn't actually take much encouragement from his run. He looked a bit laboured from the second last and gave the final fence a hefty clout, which McCoy did quite well to survive.
Champagne Fever was beaten by an outsider in the Arkle. Do you believe he can go on to win a King George or Gold Cup as connections hope?
MS: He must be a player in the King George, although whether Kempton would be his track is open to debate.
BC: Absolutely, but there's a danger we underestimate Western Warhorse. Clearly, he surprised connections but he appears a horse with a good deal of latent ability and will arguably have been more inconvenienced than Champagne Fever by the two mile trip of the Arkle. In terms of the King George, again it's important not to forget that this race hasn't been much of a speed test in recent years so Champagne Fever would have to prove that he gets home. That being said I don't envisage it being a problem and at 10/1 or thereabouts he appears fairly - if not spectacularly - priced up. I'd rather be on Silviniaco Conti even at 6/1, though. For the Gold Cup, the only one I'd consider backing right now is O'Faolains Boy but he'll probably available at a much bigger price at some point next season.
BL: I think he has a very bright future stepped up in trip and the way he jumped at speed in the Arkle bodes well. He was mugged, but history shows defeat in the Arkle is no barrier to top stayers and those two targets look obvious options. I'm sure he will win or go close in at least one of them at some point in his career.
WH: I genuinely still have no idea how he got beaten. I can't explain it in any way. It's possible you might find me in an old peoples' home in about 40 years' time sitting there, still shaking my head and wondering. Indeed, I'm too bewildered to try and answer the question.
What was your favourite performance/moment of the week (human, equine or anything else?
MS: Sheikh Mirdad rode the perfect tactical race in the charity race and was unlucky to only finish third!
BC: I'll go with a Friday treble for Davy Russell. It's been a rough year but to my eye he's remained professional, dedicated and, above all, one of the most dependable riders in the weighing-room. In a rough-and-tumble week, he represents a triumph for the understated, hard-working jockey and fully deserved his day in the limelight.
BL: I did enjoy Jim Culloty-cam during the closing moments of the Gold Cup. He went from little hope, to faint hope, to we-could-nick-a-place, to we-could-win-this, to pure unbridled joy in the time it took Lord Windermere run the last quarter-of-a-mile. The joys of racing in a nutshell.
WH: Sire De Grugy and Jamie Moore. "Everyone seems to hate Ryan, but he's not that bad. They like the rest of us anyway." Enjoyable stuff.
One horse, one race, one bet for the 2015 Cheltenham Festival please.
MS: Taquin De Seuil, Gold Cup.
BC: More Of That, World Hurdle.
BL: My Tent Or Yours, Arkle.
WH: Le Bec, Gold Cup
---
New Sky Bet customers: Free matched bet up to £30
---