Time to have faith in the Fly?
This is no time for fence-sitting. For Desert Orchid and a couple of other notable exceptions aside, Cheltenham does not really do grey - it is a place for opinions coloured only black and white.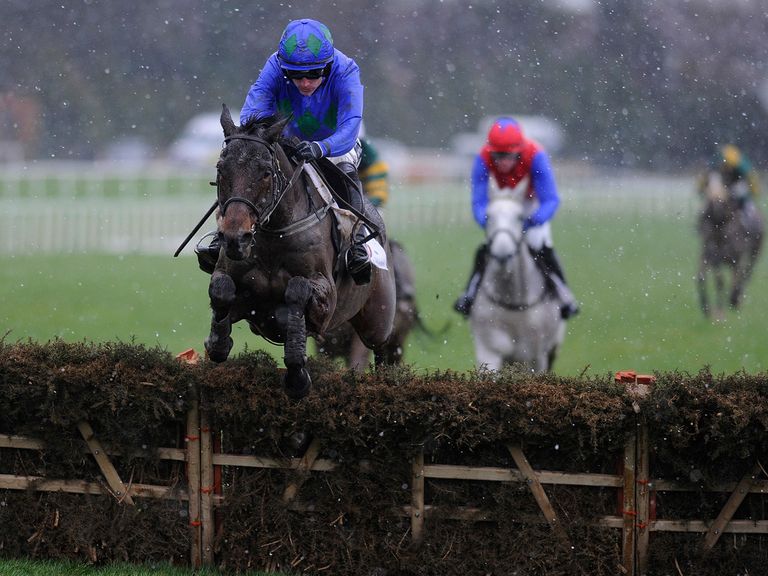 The Stan James Champion Hurdle is, I have been told, the race of the meeting, the contest of the year, possibly the greatest and most exciting renewal in generations.
The BetVictor Champion Chase, on the other hand, is a shocker, featuring a weak and over-rated favourite. Among his opposition, Captain Conan mopped up a couple of Grade Ones before fading into fifth in last year's Ryanair Chase. For that single crime, he is the very weakest of finishers, a disappointing horse who hasn't delivered on the big stage.
Big Buck's is, we hear, totally past it. Annie Power is a Gold Cup winner in waiting. JP McManus will have the bookmakers on their knees. The going is always given as good to soft. The Guinness tastes like nowhere else in the world and the food disgracefully expensive. No other human could ride Cheltenham like AP McCoy. Nobody deserves a Champion Hurdle like the Twiston-Davies team. No horse has a bigger heart than Bobs Worth, or jumps as magnificently as Last Instalment. The longest-ever queues ever for the toilets, the tallest tales, the worst hard-luck stories, the strongest Irish bankers. You get the idea.
Success is all that matters, whether you are having a 10-pence Placepot perm, or have spent £200,000 buying the winner of an Irish point-to-point at a racecourse that may not actually exist. Only in this great game could a man or woman in full grasp of their senses spend a quarter of a million pounds in order to win £50,000 and weep like a baby with joy afterwards.
Let's hope we, as punters, can produce slightly better returns as we head into battle for the first day. The bookmakers are certainly playing their part by producing a dazzling array of offers to compete for our pound. Of course the theory is that by winning your custom from the start, you'll be sticking with them for the rest of the week. Nevertheless, it's nice to be wanted.
Hurricane Fly is a somewhat curious case. Although I don't share Willie Mullins' slightly uncomfortable view that the horse has been wrongly under-appreciated by the sport, I can admit that my personal view of the horse has probably (subconsciously?) been influenced by the fact that I've never yet got him right in the Champion Hurdle.
A 19-times Grade One winner and dual Champion Hurdle hero who comes into this race having to fight for attention alongside the young pretenders to his crown? Well, that's just logical isn't it? After all, he is 10 now. He faces stiff opposition and might just be happier with a little more cut in the ground than he will enjoy today (Graham Cunningham made a fascinating point in Monday's live chat about the winning times he clocked in victory being respectively seven and nine seconds slower than the year in between in which he was beaten).
But there's something about Mullins' immovable and almost stubborn confidence in the horse that is threatening to draw me into a bet. We assume that Our Conor will improve for his recent second to Hurricane Fly in the Irish Champion Hurdle, but who's to say that the winner doesn't also have a little something more up his sleeve?
Likewise confidence is also being exuded over Vautour in the opening Sky Bet Supreme, although it might be dangerous to assume that Wicklow Brave - whose owners don't share the spending power of Rich Ricci, but could just have a horse as good as many of his - is not at least his equal in the pecking order.
It says much for the respect bookmakers and punters alike have in Mullins that Champagne Fever is such a solid favourite for the Arkle Chase despite his campaign having quite clearly not gone to plan in recent months, both on the racecourse and in terms of his preparation for this contest.
And this is all even before Quevega bids for a record-breaking sixth success in the OLBG Mares' Hurdle. I can't lie and say she faces a particularly tough task in the race compared to some of her previous achievements at Punchestown, but nevertheless victory should see her cheered to the rafters.
It's no mean feat to train any horse to win any race six years running, but some achievement to do it with a mare who clearly has her bad days as well as her good ones. Her trainer's talent has been to manage the difficulties without getting bogged down by them.
My best bet for the first day of the Festival? Vino Griego can be backed at around the 40/1 mark for the Baylis & Harding, but has the talent to win, if perhaps not always the application. His form clearly shows a preference for the sort of decent ground he will get here though.
Has he the resolution to win as competitive an event as this? Well, yes. Yes, I'm sure he does. This is no time for fence-sitting.
(Original selection Baby Mix is a non-runner. If it's no time for fence-sitting, it's certainly no time for taking the money back from a non-runner and putting it back in your pocket!).
---
Open a Sky Bet account through us and claim up to £150 in free bets!
---