Donn McClean: Big names on board
Tony Martin remembers Xenophon well. You never forget your first.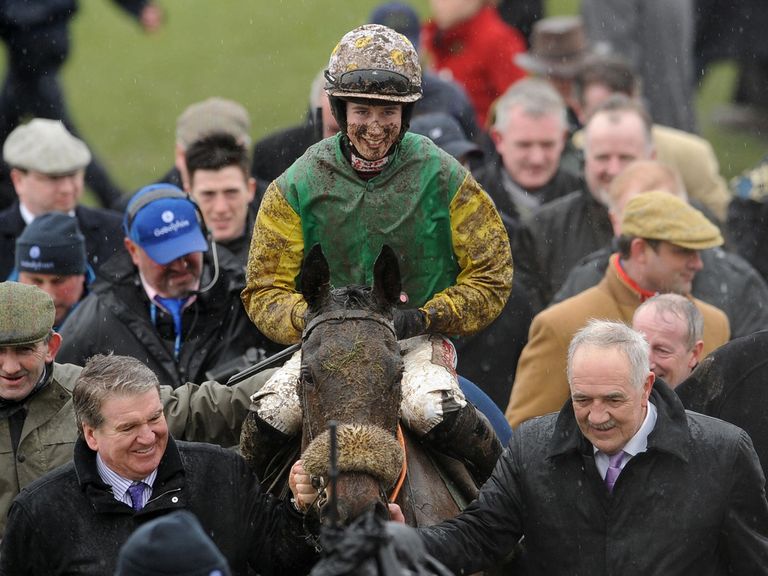 "Xenophon was something else," the trainer is saying from the top of his straight gallop, the thud-thud-thud of hoof on ground gradually growing louder, woolly hat pulled down low over his ears, offering protection from the County Meath morning.
"Xenophon was all class. He could have been anything."
Xenophon was something though, a Cheltenham Festival winner, Martin's first Cheltenham Festival winner. In the winner's enclosure at Leopardstown in January 2003, after Mick Fitzgerald had dismounted after winning the Pierse Hurdle on him, Martin asked his rider in which race he thought they should run him at Cheltenham.
"It doesn't matter."
Before the 2003 Coral Cup, Martin gave Fitzgerald his instructions: don't hit the front too early. A 27-runner handicap, one of the most competitive handicap hurdles on the racing calendar, and the rider's only directive from a Cheltenham Festival virgin is not to hit the front too early. Fitzgerald didn't, he waited until after the final flight, and he and Xenophon bounded clear.
You can detect a hint of sadness in Martin when he speaks about Xenophon. He should have been an even better chaser than hurdler, but his hocks weren't great and he never really got it together over fences. It all came to an end prematurely in the 2004 Irish Grand National, he was just making progress going to the second-last fence when he got the fence wrong and came down. There's the sadness.
Dun Doire was different. He was a handicapper through and through, not a Grade One horse. When he won his first handicap chase at Wetherby in November 2005, he was rated just 79.
Four runs and four wins later, he won the Thyestes Chase at Gowran Park, but he won it off a mark of just 115, carrying 9st 10lb and sneaking in on the morning of the race as first reserve. So he still had a mountain to climb to win the William Hill Chase at the 2006 Cheltenham Festival off a mark of 129. Lucky, as it turns out, that the mountain was there, because he needed every yard of that hill and every ounce of Ruby Walsh's brilliance to get up.
Martin couldn't have known it at the time, but he was going to have to wait seven more years for his next Cheltenham winner. Actually, not many people in Ireland could have predicted what was going to happen over the next few years.
Ireland's economy went wallop. All plans out the window. The excesses-fuelling property bubble didn't so much deflate as explode. Most Irish racehorse trainers suffered - you can easily file racehorse ownership under luxury, not necessity - but Martin had a higher proportion of syndicates and property people than most on his books, and consequently suffered more than most.
Not only that, but the downturn in the national economy coincided with a downturn in the form of Martin's horses. It wasn't all bleak, he still won a Cesarewitch with Leg Spinner and a Northumberland Plate with Arc Bleu, but his horses under-performed for a few years, no exaggerating.
Eventually, after much digging and soul-searching, it was discovered that pyrite had got into the horses' drinking water, caused by some building work, and that that was affecting their performance. Once that issue was sorted, Martin got back on track.
"Honestly, I thought about chucking it," says the trainer. "It was just so frustrating. The horses weren't sick, they just weren't running well. I thought about going and just getting a job with a good trainer and riding good horses. Thankfully it didn't come to that, and we're going okay again now."
Actually, it's far better than that. Martin has moved to the next level. He used to be known as a former top amateur rider, an astute judge who did well with handicappers. Now he is known as a top-class trainer who can compete at the highest level. Plans coming to fruition.
The silks of some of the top owners in the country - the green and gold of JP McManus, the Gigginstown House maroon and white, Barry Connell's yellow and navy - hang on hangers here, and Martin has never had a better group of horses in his yard than he has now. Last March, in the space of two days, via Benefficient and Ted Veale, he doubled his Cheltenham Festival tally. Two became four and Martin is rolling.
This year, his Cheltenham team is shaping up to be his strongest yet.
"That fellow was brilliant last year," Martin says, nodding at Benefficient as he leads Ted Veale in a circle around the yard. Last year's twin heroes. "And he's in great form now. He did a piece of work on The Curragh the other day, and I was very happy with him. He won the Dial-A-Bet Chase at Leopardstown over two miles, but he won the Jewson last year over two and a half, so the Ryanair is the plan with him this year, although I have left him in the Champion Chase just in case."
Ted Veale was on track for the Grand Annual, but he has been harshly handicapped in Martin's eyes.
"The Grand Annual was the plan, but he has been given a rating of 146. He won the County Hurdle last year of 134, and he only just got home. He's 12lb higher now over fences, and he has been beaten in all three chases in which he has run this season. It doesn't make sense."
The Barry Connell duo, Golantilla and Sraid Padraig, are next out.
"The plan was to go novice hurdling with Golantilla," says Martin, "but he was just a bit late getting going, so we decided to keep him to bumpers again this year, protect his novice status over hurdles for next season. He was third in the Champion Bumper last year, and that is the target for him again. We know that he handles the track and he is in good form now."
You hadn't fully appreciated Sraid Padraig's exaggerated dimensions before. He's 17hh if he's a foot, says the trainer.
"He hasn't run since November, we have had a few little problems with him, but he's very well now. He's in three of the handicaps, he's in the Kim Muir and the Festival Handicap, but he could run in the Byrne Group Plate."
Martin was hoping that Oscars Well would qualify for the Pertemps Final on his first run for him at Punchestown three weeks ago, but he could only finish ninth in the qualifier, and only the first eight qualified to run in the Final. So it could be Plan B, the Coral Cup.
"He's obviously a talented horse, and we have been happy with how he has been progressing. We'll see how he goes."
Quickpick Vic could still make it to the Neptune Novices' Hurdle.
"It was trainer error the last time," admits Martin. "I probably ran him back too quickly in the Deloitte just two weeks after he had won his maiden in a good time. He's a talented horse."
Savello maybe in the Grand Annual, Living Next Door in one of the four races in which he holds an entry, Wrong Turn in one of the five. Several plans still to be nailed down, but you know that they will be.
Plans for success.
• For more of Donn's thoughts, visit www.donnmcclean.com.
---
New Sky Bet customers: Free matched bet up to £30
---