Fever has all the options
Champagne Fever remains entered across the distances for the novice chases at the Cheltenham Festival at the latest forfeit stage, despite trainer Willie Mullins confirming that he is still leaning towards the Arkle with last year's Supreme Novices' Hurdle hero.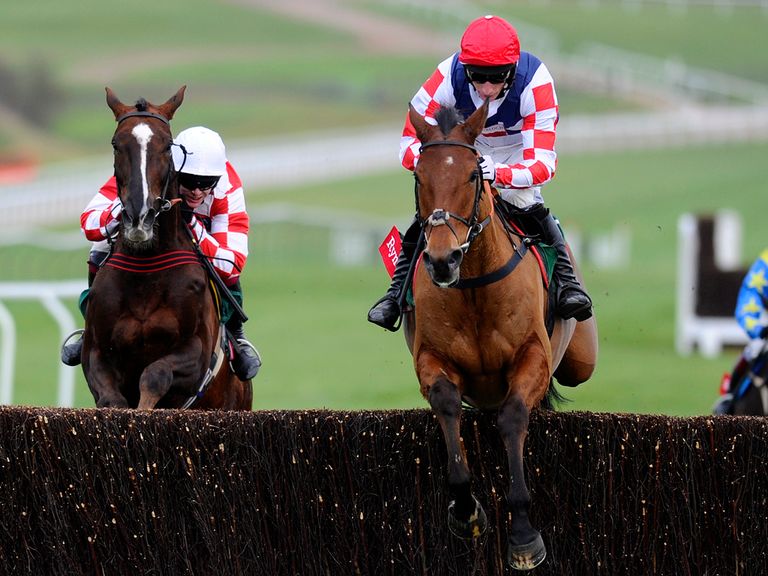 The name of the gallant grey appeared on Wednesday among the 24 left in the Racing Post Arkle Challenge Trophy on the opening day of next month's Festival, along with Wednesday's RSA Chase, for which 35 horses have stood their ground, and the JLT Novices' Chase, in which a total of 33 horses remain.
There is considerable duplication between the contests, with trainers understandably keen to keep their options open, and also between the RSA Chase and the four-mile Terry Biddlecombe National Hunt Chase, in which no less than 54 horses remain.
Paul Nicholls has withdrawn Sam Winner from the National Hunt Chase, in order to focus upon the RSA Chase with the recent Newbury second, but has kept Black Thunder both in that contest and the four-miler.
Also among those taken out of from the RSA are Mendip Express, Balnaslow and Benvolio, all three of whom remain in the National Hunt Chase, while the JLT Chase withdrawals include Road To Riches, Minsk, Mr Mole, Close House and Many Clouds, the last named of which will be aimed at the RSA.
Irish-trained entries remain predictably strong, with Mullins keeping his options open in most contests, while the likes of Dessie Hughes, Gordon Elliott and Henry De Bromhead also figure among the lists.
Racing Post Arkle Trophy
ARNAUD (IRE)
ART OF LOGISTICS (IRE)
BALDER SUCCES (FR)
BALLYCASEY (IRE)
BRICK RED
BRIGHT NEW DAWN (IRE)
CHAMPAGNE FEVER (IRE)
CLARET CLOAK (IRE)
DJAKADAM (FR)
DODGING BULLETS
DON COSSACK (GER)
FELIX YONGER (IRE)
GRANDOUET (FR)
HINTERLAND (FR)
MOZOLTOV
NEXT SENSATION (IRE)
RAYA STAR (IRE)
ROCK ON RUBY (IRE)
SHRAPNEL (IRE)
TED VEALE (IRE)
TRIFOLIUM (FR)
VALDEZ
VUKOVAR (FR)
WESTERN WARHORSE (IRE)
JLT Novices' Chase
ANNACOTTY (IRE)
ARNAUD (IRE)
ART OF LOGISTICS (IRE)
BABY SHINE (IRE)
BALLYCASEY (IRE)
BALNASLOW (IRE)
BRIGHT NEW DAWN (IRE)
CAID DU BERLAIS (FR)
CAPTAIN OCANA (IRE)
CAUSE OF CAUSES (USA)
CHAMPAGNE FEVER (IRE)
COLOUR SQUADRON (IRE)
DJAKADAM (FR)
DON COSSACK (GER)
DOUBLE ROSS (IRE)
EDUARD (IRE)
FELIX YONGER (IRE)
MOZOLTOV
MULLAGHANOE RIVER (IRE)
NEXT SENSATION (IRE)
O'FAOLAINS BOY (IRE)
OFF THE GROUND (IRE)
OSCAR WHISKY (IRE)
ROCK ON RUBY (IRE)
SHRAPNEL (IRE)
SIZING GOLD (IRE)
SOME TIKKET (IRE)
TAQUIN DU SEUIL (FR)
TRIFOLIUM (FR)
UP AND GO (FR)
UXIZANDRE (FR)
VUKOVAR (FR)
WONDERFUL CHARM (FR)
RSA Chase
ANNACOTTY (IRE)
ARDKILLY WITNESS (IRE
BALLYCASEY (IRE)
BLACK THUNDER (FR)
BRIGHT NEW DAWN (IRE)
CARLINGFORD LOUGH (IRE)
CAUSE OF CAUSES (USA)
CHAMPAGNE FEVER (IRE)
CORRIN WOOD (IRE)
DJAKADAM (FR)
DON COSSACK (GER)
DOUBLE ROSS (IRE)
FOXROCK (IRE)
GEVREY CHAMBERTIN (FR)
GREEN FLAG (IRE)
HOLYWELL (IRE)
JUST A PAR (IRE)
LE BEC (FR)
LE REVE (IRE)
MANY CLOUDS (IRE)
MORNING ASSEMBLY (IRE)
MULLAGHANOE RIVER (IRE)
O'FAOLAINS BOY (IRE)
SAM WINNER (FR)
SAMINGARRY (FR)
SHRAPNEL (IRE)
SHUTTHEFRONTDOOR (IRE)
SI C'ETAIT VRAI (FR)
SIZING GOLD (IRE)
SMAD PLACE (FR)
SPRING HEELED (IRE)
TAQUIN DU SEUIL (FR)
UXIZANDRE (FR)
VIA SUNDOWN (FR)
WONDERFUL CHARM (FR)
Terry Biddlecombe National Hunt Chase
ACCORDING TO TREV (IRE)
ADRENALIN FLIGHT (IRE)
AIBREAN (IRE)
AMERICAN SPIN
BALLYCASEY (IRE)
BALNASLOW (IRE)
BEEVES (IRE)
BENVOLIO (IRE)
BLACK THUNDER (FR)
BRASSICK
CAUSE OF CAUSES (USA)
COOLKING
CORRIN WOOD (IRE)
DON COSSACK (GER)
DUNGEEL (IRE)
DURSEY SOUND (IRE)
EDMUND KEAN (IRE)
ELY BROWN (IRE)
FAULTLESS FEELINGS (IRE)
FIRM ORDER (IRE)
FOXROCK (IRE)
GRAND JESTURE (IRE)
GUESS AGAIN (IRE)
GULLINBURSTI (IRE)
HEATHFIELD (IRE)
HERDSMAN (IRE)
HIT THE HEADLINES (IRE)
HOLYWELL (IRE)
HUNTING PARTY (IRE)
JUST A PAR (IRE)
LE REVE (IRE)
LIVING NEXT DOOR (IRE)
MENDIP EXPRESS (IRE)
MERLIN'S WISH
MIDNIGHT PRAYER
MILBOROUGH (IRE)
MORNING ASSEMBLY (IRE)
O'FAOLAINS BOY (IRE)
ROGUE ANGEL (IRE)
SHARNEY SIKE
SHOTGUN PADDY (IRE)
SHRAPNEL (IRE)
SHUTTHEFRONTDOOR (IRE)
SI C'ETAIT VRAI (FR)
SLEW CHARM (FR)
SPRING HEELED (IRE)
STANDING OVATION (IRE)
SUNTIEP (FR)
SWATOW TYPHOON (IRE)
THE JOB IS RIGHT
TOBY LERONE (IRE)
TOUCH THE EDEN (FR)
WHATS HAPPENING (IRE)
WRONG TURN (IRE)
---
New Sky Bet customers: Free matched bet up to £30
---