Lydia Hislop's Road To Cheltenham
Lydia Hislop has gone full circle on Big Buck's as she reviews the action from the weekend. Read her latest column here.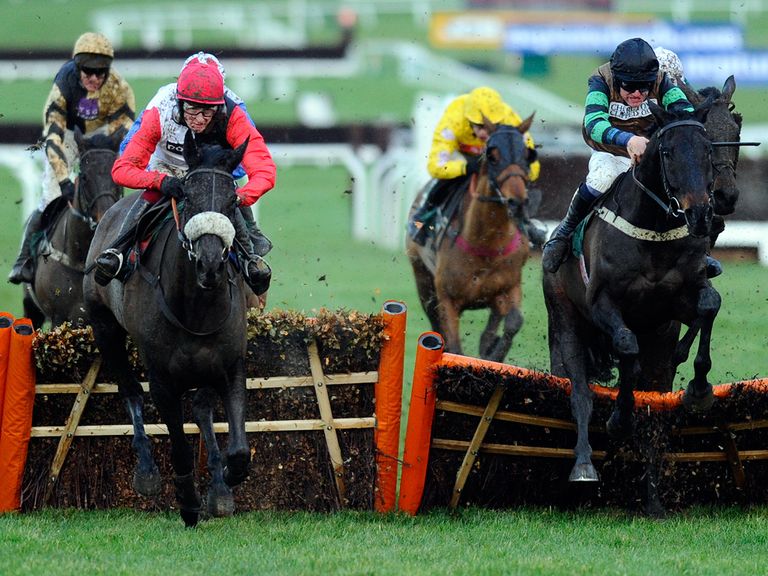 In a week when two hurdling greats took to the turf after setbacks of differing magnitude and with contrasting results, the novice rankings over fences and hurdles started to become clearer.
---
---
The moment for which the racing world had been waiting 420 days occurred at Cheltenham on Saturday when Big Buck's made his comeback from an injury to his near-fore tendon. As it turned out, his performance did little definitively to answer the questions raised by his absence.
The result of the Cleeve was a 66/1 shock win for fellow 11-year-old Knockara Beau, beating young pretender At Fishers Cross by a short-head, with Big Buck's three-quarters of a length behind in third and Reve De Sivola best of the rest, a further seven lengths adrift. The winner received 4lbs from the second and 8lbs from the third, so Big Buck's was the best horse at the weights.
On The Morning Line that day, trainer Paul Nicholls had said he was worried about match-fitness and would have liked to have got another racecourse gallop into Big Buck's prior to this reappearance. But, asked about what ability the horse appeared to retain, he added: "I don't think he's very different."
After the race, he declared himself pleased with the performance and stressed how much the horse would improve for that run. He then mentioned for the first time that he'd considered withdrawing due to the heavy ground but had concluded a run was required for a World Hurdle preparation. He also added that the likely better ground in March would suit Big Buck's far better.
It's easy to agree with the going point. Big Buck's has always been a better horse on a sounder surface - his best Liverpool and World Hurdle victories tell you that, on paper and to the eye. Heavy ground did not suit him on Saturday; the winner and second reveled in it.
Given that Big Buck's is trained by Nicholls and that even the most positive interpretation of the Cleeve doesn't have him running within a stone of his best, the nebulous 'bounce factor' is less likely. He will almost certainly - with the provisos being he is an 11yo and has had an injury - show improved form in the World Hurdle.
But how much does he need to improve? That depends on two imponderables. First, what did he achieve on Saturday? Second, will Annie Power run in the World Hurdle? You could throw in a third: if she runs, will she stay? (There is also a fourth, which I will visit last.)
What did Big Buck's achieve? The most positive interpretation of the Cleeve has Knockara Beau running to his absolute best over hurdles, something he has not done since 2011 (although there are also some creditable runs in early 2013).
However, he is a thorough stayer and conditions on Saturday would have maximized his chances of running to that best. He won the race in that manner, unable to hold his position and then staying on strongly. He had also benefitted from a breathing operation since his previous start.
That logic has Reve De Sivola and Boston Bob running poorly and shockingly respectively. It also has At Fishers Cross putting up a near career-best effort despite jumping moderately which, given how close he remained to Reve De Sivola's at that horse's favourite Ascot on their previous start when jumping atrociously, is not impossible.
The worst-case scenario has Knockara Beau running to his recent three-mile hurdle form, Reve De Sivola running shockingly, Boston Bob abysmally, and with At Fishers Cross no better than in two starts this term.
So, at best, Big Buck's ran to about 160 and, at worst, mid-150s. He has been rated 174 since winning his first World Hurdle in 2009. To win an ordinary World Hurdle (such as his 2011 one), Big Buck's would need to improve, at best, about 5lbs and, at worst, about 12lbs.
Personally, I've done a full circle on this: going from thinking he'd run well enough in the circumstances immediately afterwards, to doubting the form on the drive home from Cheltenham and then finally settling on the best-case scenario after watching the race many times since.
But, if Annie Power runs (and stays), then Big Buck's would need to be as good as he has ever been. That's because she is very smart and, as a mare, would receive 7lbs from geldings like him. Whether you like the logic of the gender allowance or not, dems da facts.
Reluctantly, my working hypothesis is that Big Buck's - one of the greatest hurdlers in history in his pomp and the best staying hurdler ever - is unlikely to hit the 170s again.
Does the combination of an underwhelming Cleeve and Annie Power's stablemate, Hurricane Fly, winning at Leopardstown on Sunday make it more likely she'll run in the World than the Champion Hurdle? Possibly.
"But, if Annie Power runs (and stays), then Big Buck's would need to be as good as he has ever been. That's because she is very smart and, as a mare, would receive 7lbs. Whether you like the logic of the gender allowance or not, dems da facts."

A half-brother showed his best form at 2m5f and you can argue that her sire offers superior staying genes. Yet she was typically buzzy prior to winning at Doncaster on Saturday and that's far from ideal for a stayer.
Given this, a fourth imponderable has crossed my mind. Specifically, that Mullins keeps Annie Power away from The Fly and at a more suitable trip by contesting the OLBG David Nicholson Mares Hurdle and runs Quevega, who's proven over three miles, in the World Hurdle.
The lure of an unprecedented sixth straight Cheltenham Festival victory for Quevega in the undoubtedly easier mares' race might be too tempting, but Mullins has cards to shuffle. Is Ruby Walsh's availability a factor? He appears on Racing UK's Half-Term Report this Tuesday, so I'll ask him.
In the absence of a Mullins-trained mare, either Big Buck's or JP McManus wins the World Hurdle. At Fishers Cross did not make a healing-hands visit to Ireland after all, but did receive attention at home. However, if connections believed the source of the problem was purely physical, why was the horse wearing cheekpieces on Saturday? If they helped, will they again?
Whatever, the net result was improvement and this young horse is likely to make further progress. His jumping remains of concern in top company, especially if the ground is on the sound side (although trainer Rebecca Curtis believes the contrary). The clock said even his Aintree victory last April was on ground softer than the official 'good-to-soft'.
His Cleeve performance probably means his owner-companion, the young and lightly raced More Of That, is less likely to run. World Hurdle vibes have been cautious at best from the Jonjo O'Neill yard.
You will have noticed I haven't discussed the view that Sam Twiston-Davies rode Big Buck's badly. That's because it's pants. Twiston-Davies was riding a stayer and a horse that went on at the third last under Ruby Walsh when winning the World Hurdle last March. Pants.
---
---
The precariousness of sustaining brilliance in the thoroughbred - too easily taken for granted in the equine greats - was highlighted by Willie Mullins' comments about Hurricane Fly's preparation prior to winning his fourth Irish Champion Hurdle and, in doing so, his 19th Grade One.
Quoted by Greg Wood in Monday's Guardian, Mullins said of last week's gallop: "It was terrible, the worst bit of work ever. I was so disappointed. I said to myself coming down off the gallops, maybe the dream is over, maybe the horse is at the stage when he's had enough.
"Thankfully, that night we found a bruise in his foot. We poulticed it and he seemed fine the next morning and he's seemed fine since, but that bit of work stuck in my mind all week."
Mullins is mindful that, one day, Hurricane Fly might not be willing and/or able to reproduce his best form - a cloud that crosses the mind of the trainer of every great horse and one that will be preoccupying Nicholls currently, no matter how outwardly positive he must rightly be.
Given his imperfect preparation and that he jumped the last at Leopardstown less well than strong-travelling runner-up Our Conor, this was yet another top-drawer performance from Hurricane Fly. Yes, he was well positioned but he is impossible to knock and is rightfully favourite in most books.
You can argue that he won't arrive at Cheltenham with as strong a set of figures from his prep runs as in the previous two seasons but that may well underestimate those races. I don't go for the 'he's not as good at Cheltenham as he is elsewhere' argument. Like Big Buck's, this horse has both class and fight. He will be tough to take down but does face the strongest and broadest challenge of any of the returning champions.
"I don't go for the 'he's not as good at Cheltenham as he is elsewhere' argument. Like Big Buck's, this horse has both class and fight. He will be tough to take down but does face the strongest and broadest challenge of any of the returning champions."

Having deemed him the least credible of those challengers previously, I can't now have Jezki on my mind after Sunday - although I don't understand why he was ridden for a turn of foot and ignored his own pacemaker, like his two opponents. He pulled too hard early, was too far back and not good enough. Tony McCoy will surely now partner My Tent Or Yours, as most expected.
Our Conor took a step forward here, building on last month's comeback run. He loomed up as the likeliest winner at the last but Hurricane Fly tenaciously shook him off as the line approached. He shaped like a young horse that will make further inroads in March and that rates him a serious contender.
If you haven't had a bet in this race yet, I could not put you off Our Conor each-way. I haven't played and suspect I won't. It's almost too good a race to takes sides. (By the way, the times suggested Leopardstown was more akin to good-to-soft at worst, rather than heavy, over hurdles on Sunday.)
Annie Power (and her stablemate Un De Sceaux) are the jokers in this division. The mare looked very well suited to two miles at Doncaster on Saturday, pulling away from a decent (and potentially underestimated) rival in Doyly Carte and with Fighting Fifth runner-up Cockney Sparrow under some pressure when falling at the second last.
The winner made a mistake at the final hurdle, possibly lacking concentration when she had already pulverized her field, but otherwise jumped slickly. Again, if you want to back her each-way NRNB in the Champion Hurdle, I could not argue. She is very good indeed.
---
---
In the Argento Chase, The Giant Bolster enhanced his New Course record over fences at Cheltenham to read 11241, compared with his Old Course form figures of FUU - a statistic highlighted in week 2 of these columns. That second and fourth came in the last two Gold Cups respectively.
Garnished with both a hood and a visor for the first time, he took the Grade Two his career merited on Saturday and will no doubt run well, without winning, in his third Gold Cup in March.
Rocky Creek's stamina again seemed to give out late on, as it had done in the Hennessy. He misses the Gold Cup. Harry Topper is too slow for this grade at this trip and that makes him clumsy. Champion Court still doesn't stay three miles and makes decreasing appeal for the Ryanair, too.
Shock Cleeve Hurdle winner Knockara Beau is entered only in the Gold Cup so far, having finished sixth in Synchronised's year of 2012 and fourth to Weapon's Amnesty in the 2010 RSA Chase. It's impossible not to think he's had his day in the sun.
Nicholls stated on The Morning Line that Al Ferof is more likely to run here than in the Ryanair, which reflects the fact that he stayed on resolutely - although distantly - in the King George. He was clearly unsuited by right-handed Kempton and promises to run well in the Gold Cup, albeit that he has a tremendous amount to find with Bobs Worth and stablemate Silviniaco Conti.
---
---
Bryan Cooper has made an instant impact as the retained jockey to Gigginstown House Stud. He chose and rode wisely in the Irish Arkle on Sunday, sitting off the headstrong pace set by scrappy-jumping Defy Logic on Trifolium until taking over and moving on from the third last.
The horse had promised to be a decent chaser in the making when, looking raw by comparison, finishing third behind Cinders And Ashes and Darlan in the 2012 Supreme. He was unfortunately then beset by a series of problems, including with his wind, and only ran twice the following season. He's been improving steadily over fences this term, however, and the cheekpieces that were refitted last time were discarded here.
Trifolium may have been flattered by the ride and left without much to beat in the circumstances, but is worthy of his place in the Arkle.
Felix Yonger again shaped like he needs further and better ground - the chase track at Leopardstown appearing to have been softer than over hurdles. This was a serious reversal of his form against an aggressively ridden Trifolium at Navan. It will surely be the JLT over two-and-a-half miles for him, if he runs at the Festival. He is not one to give up on.
His performance also put Champagne Fever back at the top of Mullins' Arkle candidates (if, indeed, he was ever not), with Walsh reportedly keen on that trip despite that horse's entry in the Grade One Dr PJ Moriarty over 2m5f at Leopardstown on Sunday week.
Further behind Trifolium, the inexperienced Mozoltov jumped right at times and Defy Logic broke a blood vessel. However, Mallowney was yet to make his move when falling two out and Ted Veale ran eye-catchingly on ground that would not have suited, having jumped slowly early on.
Tony Martin's charge showed greatly improved form on the Flat in 2013 and is likely to be a major player in the Grand Annual. Ted Veale would be chasing that race as the winner of the previous season's County Hurdle - a double that Alderwood managed to bag last season.
Djakadam continues to impress me no end with the way he travels and jumps. He won a Grade Two at Leopardstown last Saturday, beating an admittedly awkward looking Bright New Dawn, who was wearing a first-time hood and attempting to give the winner 11lbs.
Mullins mentioned the JLT Novices' Chase afterwards, although he's also entered him in the Arkle and RSA Chases. Ultimately, I see this horse as a Gold Cup type but I can understand why Mullins favours the intermediate trip at this stage in his career. 16/1 about Djakadam with Victor Chandler's non-runner-free-bet offer is too tempting to resist. This is a good horse.
"Tony Martin's charge showed greatly improved form on the Flat in 2013 and is likely to be a major player in the Grand Annual. Ted Veale would be chasing that race as the winner of the previous season's County - a double that Alderwood bagged."

On this side of the Irish Sea, Valdez maintained his position as a valid, if not leading, Arkle contender. Bar for standing too far off the first and landing awkwardly, he jumped well enough and less right-handed than at Newbury in November. He might be learning but the tighter Old Course at Cheltenham will be a sterner test.
He had to work to wear down the free-going, bold-to-reckless jumping Arnaud - who might have won with a bit more circumspection and will be interesting at Aintree. Fox Appeal clipped the top of the first and took a serious peck of turf. He was conceding 3lbs to the first two, but lacked pace at the critical juncture. God's Own needs a right-handed track and Caid Du Berlais was the first beaten.
At Cheltenham, Indian Castle paid a hefty compliment to Many Clouds by winning Saturday's novices' handicap chase at Cheltenham. Previously, in a three-runner race highlighted as strong form in this column four weeks ago, he had finished a respectful 16-length second to Oliver Sherwood's charge.
Donald McCain, Indian Castle's trainer, believes his horse was below his best at Wetherby but it seems likely that he also (or instead) ran into a good horse. (Sue Smith, trainer of third-placed Pinerolo, needs to get that horse out soon, having been left on a gift of a mark in 112.)
Indian Castle, an excellent jumper, would be of interest stepping up in trip for one of the handicaps at Cheltenham, perhaps the Kim Muir. Both he and Many Clouds (entered in the JLT and RSA Chases) must prove they are as effective on a sound surface.
Annacotty, runner-up to Indian Castle, proved his Grade One Kauto Star Chase win was not a one-off, cheekpieced, make-all wonder. At Cheltenham, he helped set a strong pace and battled hard when the more patiently ridden winner came to claim him. He'll benefit from a return to three miles also.
It's interesting that RSA and National Hunt Chase entry Shutthefrontdoor has been clipped from 20/1 to 16/1 with one bookmaker for the day one Festival Handicap over an extended three miles. Entries for the handicaps will be announced on Thursday 20 February and the weights six days later.
---
---
Red Sherlock and Rathvinden drew clear of a decent horse in Aubusson to win the Grade Two hurdle at Cheltenham on Saturday.
The former is unbeaten in three bumpers and as many hurdles to date, a son of classy dual-discipline mare Lady Cricket and a half-brother to Betfair Hurdle third Swing Bowler. He flashed his tail when feeling the whip on Saturday but found plenty for pressure.
Trainer David Pipe mentioned the Neptune and Albert Bartlett, but the yard has Kings Palace for the latter and Red Sherlock looks more suited to the former anyway. The Mullins-trained Rathvinden jumped better than at Warwick (bar a slow one), was conceding 3lb to the winner and might be more of a player in the Albert Bartlett.
Urban Hymn bravely edged out Blakemount in Doncaster's Grade Two novices' hurdle over three miles on Saturday in a superb duel. The winner will reportedly be entered in the Neptune and Albert Bartlett but this was a real slog for two relatively inexperienced horses.
Sure Reef did well to win a Leopardstown Grade Two, having been shuffled back on the home turn but - with no discernable concern from Walsh - finishing strongly, having been switched to the outside, to win. Mullins spoke of the Albert Bartlett afterwards but I'd be more interested in one of the Festival's handicap hurdles over shorter.
"Le Rocher enhanced his reputation further, following his Grade One Finale win at Chepstow over Christmas, by again leading home Kentucky Hyden in Cheltenham's Grade Two on Saturday. He is clearly the best juvenile in Britain at the very least."

---
---
Le Rocher enhanced his reputation further, following his Grade One Finale win at Chepstow over Christmas, by again leading home Kentucky Hyden in Cheltenham's Grade Two on Saturday. He is clearly the best juvenile hurdler in Britain at the very least.
Afterwards, trainer Nick Williams backtracked on ducking the Triumph and was also far less dogmatic about whether the horse needs testing ground. He rightly stressed that a juvenile needs to stay very well, as Le Rocher does, in order to win over 2m1f on Cheltenham's New Course.
Vicenzo Mio seemed beaten without excuse in third and Goodwood Mirage's jumping let him down badly, but not unexpectedly.
Trainer John Quinn, who won the Triumph in 2012 with Countrywide Flame, has another useful juvenile on his hands in Pearl Castle. That horse won by 16 lengths at Doncaster but will need some more experience between now and the second week in March. Sound conditions are likely to suit him best.
This market remains notably immature.
---
New Sky Bet customers: Free matched bet up to £30
---