Harley rides to Rockfel glory
Ian Ogg blogged live from Dubai Future Champions Day at Newmarket as Al Thakhira put down a Guineas marker.
1000 Guineas Antepost: Al Thakhira 16/1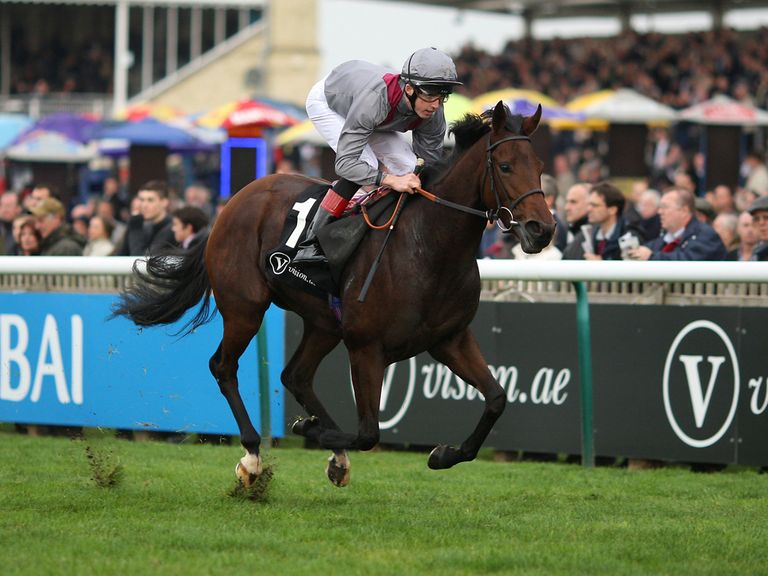 1753 What a game as people are wont to say. Winners at 66/1 and 25s with favourites turned over at 2/1, 8/11 and 6/5 but the day did get off to a decent start (for some) with the victory of the well backed Fiesolana.
It was a wonderful day for Kevin Ryan with a one-two in the Middle Park but both look like sprinters rather than Classic winners and it's notoriously hard for three year olds in that division.
The turnout for the Dewhurst left many people underwhelmed and the race itself had the same effect. Connections of War Command were pointing to the ground as the reason but is it going to be any faster come March?
One firm even reacted by cutting stablemate Australia for the Guineas while leaving War Command unchanged. Kingston Hill's win was taking but Al Thakhira produced the visually most impressive of the day.
She may not have beaten a great deal with the hot favourite disappointing in a rough race but she couldn't have done it any better. Her trainer has already cast doubt as to whether she'll train on and the Breeders' Cup remains an option.
A future champion? I'm not so sure. We saw three Classic winners on this card 12 months ago and this year's crop will do remarkably well to match that tally but that's for the future.
Today, for connections at least, is about celebrating victory and dreaming of what might be. One thing it did do is help seal the burgeoning relationship between Marco Botti and his newly appointed stable jockey Martin Harley; two stars of the game that are firmly on the rise.
1735 A thriller to close the day with and another fine result for the bookmakers as the game Highland Knight makes the best of his way home on the golden highway alongside the stands' rail.
He returned at 25/1 with the short-head second, Tales Of Grimm at 16/1 with Chapter Seven (14/1) running another terrific race in third. He deserves to win one of these. Short Squeeze came there with every chance but just didn't seem to last home but it's been a terrific season for the beaten favourite.
1722 While the runners head to the start, a word from Roger Varian about Kingston Hill although he's not giving too much away!
"He was going from a maiden to a Group race. He had to step up but I thought he did it really well. It's nice to go into winter with a horse of potential. He might well be up to competing in good races over a mile next year. Otherwise I'd wouldn't be surprised if he got a bit further."
That won't exactly have you rushing out to snap up the 25s!
1719 Short Squeeze has been dotting up in handicaps but he's short enough for me on this step up to Group company.
It's fascinating to see Tullius as short as he is on this first start for 422 days while Tales Of Grimm looks a big price at 14s. I'm going to take a flyer though and side with Amralah who has a mountain to climb on form.
It may or may not be relevant that Mick Channon is prepared to risk ruining a potentially attractive handicap mark of 89 but his colt is a progressive individual who could just go well at a big price.
Yes, it's true, I'm clutching at straws. They're on the way to post.
1713 We'll hear from winning trainer Roger Varian shortly but we've got one more to come at Newmarket this afternoon with the Darley Stakes.
The field is vastly reduced but Short Squeeze is still in there despite Hugo Palmer saying on his blog: "My only reserve is the weather has gone and the vast majority of my horses' coats have changed overnight.
"They haven't gone long and shaggy but you can just see the change. They go a slightly different colour. There's no reason why that should stop them running well but when something changes in a horse's life, it gives their trainer cause for concern. They're all eating incredibly well, they look well and their lads say they feel better than they've ever felt."
1710 A couple more Epsom Derby quotes for Kingston Hill with Sky Bet going 20/1 and Stan James 25s.
1707 Kingston Hill is the second Group Three winner for Mastercraftsman in his progeny's first season on track, following in the steps of Amazing Maria.
He doesn't have any fancy entries at the moment but William Hill have handed him a quote of 25/1 for the Epsom Derby. He's a half-brother to Ramona Chase so should certainly stay at least another quarter of a mile and connections must be hopeful that 12 furlongs is within reach.
God Willing ran an encouraging race out in the centre of the track; he may well need the winter to strengthen up before he can show his best and it wouldn't surprise to see him fulfil the promise of his winning debut at Newbury next term.
1700 A nice performance from Kingston Hill (15/2) in winning the Autumn Stakes coming from the rear of the field, to challenge between runners and pull away in quite taking fashion.
Oklahoma City (6/5f) ran his usual honest race in second with the progressive Truth Or Dare (16/1) running a blinder in third.
1656 They are almost at the post for the Autumn Stakes and, although I didn't catch all of the runners on my previous foray to the paddock, I did see a decent handful and I liked what I saw.
God Willing and Kingston Hill appear to have plenty of size and scope but I was particularly taken with Mount Logan who looked well muscled up. There's no encouragement in the market behind his chances though as Oklahoma City dominates the betting.
1654 A trip to the Breeders' Cup could be on the agenda for Al Thakhira although trainer Marco Botti isn't convinced.
"She won her maiden at Yarmouth and we thought quite a lot of her, but with stepping up to seven furlongs, the question was whether she would get the trip.
"She's a straightforward filly. She doesn't seem to have grown much so she's probably set. The questions for next year would be whether she will train on and get further. The owner is keen to go to the Breeders' Cup. We will see how she comes out of the race and we won't rule it out, but it could be premature."
1648 We'll have Marco Botti's thoughts shortly but an interesting move from Ladbrokes in relation to the 2000 Guineas.
War Command remains unchanged at 10/1 with the Magic Sign but they have cut Australia to 5/1 from 6s. That's lateral thinking for you.
1641 More bookmaker reaction to Al Thakhira's victory and quotes for the 1000 Guineas and there's quite a difference in opinion.
William Hill have gone in at 12s but BetVictor make her just a 20/1 chance with Miss France remaining the 5/1 favourite.
1639 While we wait for further reaction from the bookmakers and Marco Botti to that performance, we'll take a word from Mark Johnston following the victory of Scatter Dice.
"She's had a long, hard season but has run well on so many occasions. She's going to retire at the end of the year, that was the plan anyway, so I suppose this was her last chance.
"She's run a couple of strange races recently, dropping herself out, so I was a bit concerned in the first half of the race that she was all right but then I saw her hanging in with the pack. I saw her coming from a quite a long way out."
It was a third winner of the Cesarewitch for Johnston.
1637 An easy winner of a Yarmouth maiden, Al Thakhira has been introduced into the betting for the 1000 Guineas at 14/1 by Sky Bet and that's not a price that I'm going to quibble with.
I certainly don't think Lightning Thunder ran up to her best but Valonia appears to be a pretty decent yardstick and she beat her comfortably and Just The Judge won this race at a similar price last year before going on to win the fillies' Classic.
1633 It was a horrible run for Lightning Thunder in the Rockfel but I'm not sure she'd have won anyway as she didn't look to be travelling as well as she can.
I'm sure connections will be keen to put a line through her performance but Marco Botti is sure to be delighted with Al Thakhira who breezed clear of her rivals in the style of a smart performer to win by over three lengths at 5/1.
It was tight for the places with Lightning Thunder just missing out (this pot could be huge if you're still in it!) as Blockade took second at 33s ahead of 7/1 chance Valonia who ploughed a lone furrow down the centre of the track for much of the race.
1625 This does look to be all about Lightning Thunder though. Why didn't I just double her and War Command? It seems such an obvious thing to have done.
She's not won yet and I didn't get a decent look at her. I wasn't taken by what I could see of second favourite Al Thakhira but Ventura Mist appears to be taking her racing very well.
1624 The atmosphere seems a little subdued outside, presumably not too many people collected the £1,500 exacta!
It's started to rain which doesn't help and it certainly didn't help my paddock inspection as I sheltered underneath the beech (I think) tree at the top end of the ring with most of the horses well rugged up and a good smattering of horses from the sixth race among them.
1604 Pallasator edged out Oriental Fox for fifth. That's probably not ideal for the bookmakers but somehow I don't think they'll care!
1602 Domination ran like a drain so now the question is do we go chasing or do we pull up stumps?
Chasing's always more fun right? I'm off to the pre-parade ring to take a look at Lightning Thunder. Back shortly.
1602 Well, it's fair to say that I didn't see that one coming.
It all looked so good for punters when Tiger Cliff hit the front but the remarkable Scatter Dice came through to take the spoils at 66/1 for Mark Johnston and Silvestre de Sousa in the Cesarewitch.
There was a big priced runner in second too with Waterclock (that was as close as I got) edging out Lieutenant Miller with Chiberta King in fourth.
The fifth home is, as yet, unidentified but rest assured you'll be getting paid out with most firms on the place part of the bet if you backed him/her.
1553 The runners are loading for the Cesarewitch. What price the big priced outsider you've backed finishing sixth?
I've dodged that particular bullet by not backing one. Come on Domination, it's time to head outside and watch the race...........or at least wait for them to come into view.
1548 There's some support on course for Oriental Fox. I shouldn't have left him out of the forecast combo should I? He was a short-list horse on the stats profile. Sugar.
In other news, there was a sting in the tail for Neil Callan following the Middle Park as the stewards suspended him for six days as follows: Saturday 26, Monday 28, Tuesday 29, Wednesday 30, Thursday 31 October and Friday 1 November 2013.
The ban was for using his whip above the permitted level and down the shoulder in the forehand position.
1544 Looking ahead to the last and there are two more non-runners, both due to the ground.
Fantastic Moon and Farraaj have come out taking the total of absentees to five leaving 13 to go to post.
1543 A word from some of the beaten connections from the Dewhurst.
Cable Bay's trainer Charlie Hills said: "He ran another great race and he's been very consistent. How he hasn't won a Group race, I don't know. We've been beaten just over a length by a good horse and hopefully he can keep progressing next year."
In contrast, Charlie Appleby was a little downcast after the run of Outstrip: "We're a bit disappointed as he didn't pick up like he did at Doncaster. Maybe it's just the year getting to him now. I think we'll put him away and if he can furnish and develop, hopefully we can see him as a Guineas horse."
1540 Tiger Cliff heads the market despite the wide draw. Can he overcome the stats? I think that's enough to side against him at the prices.
Pallasator looked such a large horse (on the tv screen) that it's easy to see him being better suited by this track than the tight turns of Haydock while that outing will surely have done him the world of good. He's well drawn but has only had five starts. Will his inexperience prove to be his undoing?
1536 There's some 10/1 available about War Command for the 2000 Guineas and Joseph O'Brien is convinced that he is a Guineas horse.
He doesn't say which Guineas though.
Here's the winning rider: "The ground was plenty slow for him. When he got to the front he was idling like mad. He was waiting for a horse to come to him but did enough. I think he's getting more professional with each race. He's definitely a Guineas type. I think he will have no trouble getting a mile and I think the faster the ground, the better he will be."
His father was also, understandably, happy with the performance: "I'm delighted with the horse as I was very worried about the ground. He's a good-actioned horse and when it was very quick at Ascot, that was what he wanted. There is only one Dewhurst and we had to get him out. I'd say he's done for the year now and I think he'll get a mile next season."
Time will tell.
1533 Don't forget to check in with our experts if you haven't done so already.
You can find the thoughts of Simon Holt, Ben Linfoot and Will Hayler may help if you're still trying to reach a last minute decision.
1530 In the meantime, we'll turn our attention to the Cesarewitch where there are five places on offer.
It's Domination for me who has gone into a speculative forecast with Recession Proof (well handicapped on his old form and shaped well on his pipe-opener) and Waterclock (unexposed at the trip, could improve for cheekpieces, decent apprentice booked and, being a Notnowcato, could improve for getting a little more cut in the ground) with the less speculative Pallasator and Big Easy.
Five horses and still probably not close to the winner. Such are the charms of the Cesarewitch. Bring it on!
1526 Worth bearing in mind, I suppose, that Cable Bay may have been at an advantage in running against the rail. We'll find out what the connections have to say in due course.
1519 Outstrip appeared to be ill at ease on either the track or the ground but came home well as did Anjaal who was under pressure from a long way out but kept on well enough as he had when winning the July Stakes.
Joseph O'Brien rode a sensible no-frills race, making sure that he had plenty of room to launch his challenge and he was the best horse on the day but I wouldn't be surprised if there were more to come from Outstrip in the long run.
On this evidence, there's little threat to Toormore, Kingman and Australia but you can't have a Frankel and Dawn Approach every year.
1516 There's a nominal change from Sky Bet in the ante-post market for the 2000 Guineas with the winner being cut to 8/1 from 10s. He is unchanged at 8s with William Hill so there's a consensus of sorts.
1515 War Command duly wins the Dewhurst but he was made to work quite hard and you'd have to say that the proximity of Cable Bay - admirable sort though this good yardstick is - in second doesn't do a great deal for the form.
1510 The market suggests that he does too. He's gone odds-on now; an encouraging sign. Let battle commence..........in the race for the cheesiest War based pun.
1508 I don't believe in these things but I told the family yesterday that the only horse they should be backing today was Naughty Molly as it was the first birthday of the latest addition, named Molly.
8/1 she won at. These things aren't supposed to happen. They make a mockery of this great game.
Really, I'm just prevaricating to prevent myself being tempted into backing War Command. I think he wins.
1507 The runners are on their way down to post for the Dewhurst but a word from Neil Callan about the performance of Astaire.
"He seems very tough and genuine. I've not sat on him since the Gimcrack and I said to his lad he'd grown and was a stronger horse. All credit to Kevin. He jumped and travelled good and all he was doing was looking at the camera and that's why he drifted. Each run, he's become more relaxed."
I've already dismissed his Guineas chances but it seems that Kevin Ryan still harbours hopes that he has a Classic contender on his hands.
"In fairness, it's a shame one had to get beat. I thought going into the Dip that Hot Streak might pick him up, but Hot Streak got a bit warm today and maybe he's had enough for this year.
"He's a lot more relaxed even though he was making the running and from that draw (13) Neil was always going to make it. At home he sits-in in all his work and is a relaxed horse.
"Five furlongs is probably Hot Streak's trip so we will be looking at sprinting with him next year and I'm sure Astaire will get seven furlongs or a mile. They are two exciting horses for next year."
1502 War Command was the last to come out of his saddling box but he was worth the wait. He had two handlers but walked around calmly; he looked very well in his coat and powerfully built.
Outstrip looked well but I thought that he was less the finished article than either the favourite or Anjaal who was I particularly taken with. I saw Cable Bay make his debut at Leicester when he stood out in the paddock but his year group appear to have caught up with him now.
None of that really helps very much but you'd be disappointed if the main protagonists for a feature Group One didn't turn up in tip-top shape.
1448 Reaction to follow shortly. An early Guineas quote of 20/1 for Astaire from the man sitting next to me. That doesn't make a modicum of appeal and nor does the 33/1 from Sky Bet.
I just don't see him as a Classic winner.
1445 I think I'm right in saying that the only other horse to do the Gimcrack Middle Park double was also trained by Kevin Ryan. Amadeus Wolf ran with credit at three but only won one more race; Ryan will be hopeful that Astaire fairs a good bit better.
He was well beaten behind Anjaal in the July Stakes. Is that a boost for that one's chances ahead of the Dewhurst or did Astaire just not do his running that day?
1442 Coincidence or otherwise, the first two there raced hard against the stands rail throughout with the third not very far away from it. The fields for the Dewhurst and the Rockfel aren't as large though so perhaps it won't be as significant.
1440 We haven't seen a Guineas winner there but we have seen a very fast and speedy juvenile as Astaire fights hard to see off the challenge of Hot Streak and make almost every yard to win the Middle Park with Justice Day back in third.
It's a one-two for Kevin Ryan with the SPs 8/1, 5s and 22/1.
1431 As far as the paddock 'notes' are concerned, Hot Streak was the one for me. He was proving to be a bit of a handful for his handler but he did look impressive.
Great White Eagle had a rug on but he didn't appear to be such an imposing individual - that hasn't stopped him on the track so far though.
1430 A very good afternoon to Mike from Mexico who has been in touch on the old e-mail.
"Hi Ian.
Mike here, was in Cameroon but now in Mexico. Would back Tiger but think weight and draw might be to much but he will be a Cup Horse next year. I've gone for Earth Amber, big price and if the rain comes even better. Had a few quid on theBalding horse as well as he well so well last week and I have his winnings to play with. Watch England win and then Mexico the women go crazy here when their team win, what a night!!!!!!!!!!!!!!!."
Mexico sounds intriguing Sir but I think we'd best leave it to everyone's collective imaginations about what that involves! Best of luck with the Tiger. He's been put up by Pricewise today and well backed as a result.
1427 The winning time of the first was 1.24.24 which is roughly a couple of second outside standard.
For those of you with a couple of quid to spare she's going to the Sales before the end of the year, she'd make you a lovely broodmare!
A delighted Willie McCreery said: "That was absolutely fantastic. I'm delighted. Mares like that are hard to replace, she's beaten the lads there. She's in the December Sales and I don't think there's anything else for her after this."
It was a first winner from a first ride at Newmarket for Billy Lee who revealed: "She's done it well. They went a good gallop, She settled well, she was going easily but doesn't do a lot when she gets to the front so I bided my time, then she picked up great. She doesn't do a whole lot but if they come to her, she'll find more. She's been great to me this year."
Peter Schiergen said of the runner-up: "The last two times he didn't travel well in his races, but today he did and he showed the form from Haydock [when winning the Group 3 John of Gaunt Stakes in June].
"He has had a good season and will hopefully stay in training next season."
1413 I'll be back to bring you some reaction from the winning connections but I'm going to head back down to the pre-parade ring for a look at the Middle Park field. We go without three here but the market leaders have stood their ground.
1410 Well, the pot goes down with a whimper (plus ca change) despite an admirable effort from Gabriel's Lad who briefly gave a glimmer of hope before weakening into fifth while Lockwood trailed home in last.
A nice performance from Fiesolana who won a shade cosily from Amarillo with Libranno running a blinder in third. There was late support for Willie McCreery's winner who was returned the 3/1 favourite with the placed horses coming back at 8s and 20s.
1403 Runners are on their way down to the start. Lockwood heads the market in the absence of Darwin (ground) although looking at the pictures on the screen, he seems somewhat reluctant to head to post with Silvestre de Sousa jumping out of the saddle and leading him behind the stalls. He's back in the plate now and it won't be long.
1358 A former colleague Jon Ivan-Duke (who listeners of Sportslive Radio will fondly remember I'm sure) has plonked himself down in the chair next to me.
He now parades as one of William Hill's Press Officers and he's shoved a couple of market movers in front of me. Highland Colori has attracted support (even allowing for the absence of Darwin) in the first while War Command is strong in the Dewhurst and Recession Proof popular in the Cesarewitch.
1355 I'm back from a quick jaunt to the pre-parade ring. I must stress I'm far from well versed in judging the well-being of the equine form but my eye kept coming back to Fiesolana.
Most of the runners were all rugged up but Ansgar appeared to be getting a little warm down the neck; whether this is a trait of his or not I don't know. Either way he didn't go in the pot; that dubious honour went to Lockwood and then I panicked and put in Gabriel's Lad. I tried to explain it earlier but I'm not sure I can now.
1327 Reports coming through that Darwin has been withdrawn from the first! That shakes things up in no uncertain terms.
No reason given as yet but presumably it's the ground given that Aidan O'Brien was out walking the course.
1326 One decision has been made. It's time to pot; it would be rude not to wouldn't it?
That means a stretch of the legs and a walk down to the pre-parade ring and hopefully to catch a glimpse of Darwin who will shortly be stretching his own legs there.
Can he bounce back from that surprise defeat behind Brendan Bracken and the re-opposing Ansgar? It's not long until we find out.
Good luck.
1316 Mukhadram is in the process of having a racecourse gallop to set himself up for his run in the QIPCO Champion Stakes at Ascot.
My inexpert eye can offer little in the way of insight on that but I'm sure we'll have some reaction shortly.
He's not been out since winning the Sky Bet York Stakes in July (after a busy first half of the season) and is a general 8/1 chance. I think he's interesting at that price with a fair few above him in the betting far from certain to line up at Ascot.
1311 Flitting about like a butterfly in a flower meadow in mid-summer and it's back to the opener and an interesting line from Richard Hannon on Trumpet Major.
"Trumpet Major has had a wind operation since he last ran in the Summer Mile at Ascot in July, but he has looked a different horse since he resumed fast work, and going back to seven furlongs is not a problem as he won the Champagne Stakes over this trip as a two-year-old."
Richard Hughes rides Libranno though and I can't believe he's good enough while the Major has a penalty to cope with; that should surely put paid to his chances.
1306 And what of the 2000 Guineas market?
None of the first three in the betting for the season's first Classic are at Newmarket today but the next two are and both War Command and Great White Eagle could be significantly shorter by the close of play while Outstrip has been nibbled at a little over the course of the past 24 hours with the 25s gradually ebbing away.
1302 A brief break for lunch did much to silence the general chatter in the press room as the atmosphere notably changes as the time of the first race approaches.
Just over an hour until Dubai Future Champions Day gets underway with less than that until the first contest on the Knavesmire.
To pot or not to pot? That is the question that currently occupies the mind and whether to side with Darwin if doing so. The addition of cheekpieces is an interesting one given the yard has enjoyed plenty of success in applying headgear to their runners this season.
With all due respect to his opponents, he is the one runner in the field with the potential to develop into a Group One performer and you'd want to see him win this and win it well despite that defeat at the Curragh.
A general 4/1 chance, scanning the Oddschecker grid I see that Ladbrokes are only 3s. Do they now something? They often do.
1238 Short Squeeze is all the rage in the Darley Stakes but he's getting to the sort of price now where I'd be keen to take him on.
What with I'm yet to decide. Tullius is interestingly short in the market which I hope is a reflection in the confidence behind him rather than being reflective of the lack of realistic opposition.
Amralah is dropping back markedly in trip but he's a progressive horse who bumped into a good one at Doncaster before winning here last time.
Plus at around 33s he's the sort of price that I may need to get out of trouble come the end of the day!
It's not too long now until the opener so it's time to make some decisions. Best of luck whoever you're siding with on a terrific card.
This year's winners on Future Champions Day have a fair bit to live up to with Classic winners Dawn Approach, Just The Judge and Trading Leather all winning on this card 12 months ago. There'll be plenty to ponder both before and after the last race has been run.
1227 Sir Jack Layden is out of the Autumn Stakes leaving just the eight runners which is rather a shame as I thought he had an each-way shout.
I thought Oklahoma City was opposable at the prices and I could be tempted to give another chance to God Willing who was pretty impressive on debut but I'd like to see if there's any support for the likes of Mount Logan and Kingston Hill.
I'm easily swayed and it won't take much for me to change my mind in this heat.
1220 Four races in and I've finally nailed down a bet and, if Domination lives up to his name, then it could be time to re-invest some of that money on Lightning Thunder in the Rockfel.
The form of this filly looks rock solid and, although there's a worry that horses can go over the top at this time of year, the shade of odds-on really doesn't look to be all that bad a price to me.
The form of her Newmarket conqueror Miss France was franked on Arc day at Longchamp and this contest appears to lack some strength in depth.
There's Al Thakhira who is something of an unknown quantity after hosing up at Yarmouth but Valonia appeared to be beaten on merit at Ayr and the remainder don't appear good enough.
A semblance of a plan is beginning to form.
1210 Moving on to the Cesarewitch where the majority of firms are paying five places each-way.
That's probably just as well with 33 runners to sort out and Will Hayler took on the unenviable task of providing a horse-by-horse guide to the runners.
As for me, I thought Domination looked rock solid. A lot of the fancied horses have less racecourse experience than your typical winner and Charles Byrnes' charge has looked a perfect fit for this since winning last season's trials.
He's improved steadily ever since, arrives in form and is versatile in terms of ground conditions. Recession Proof interested me at a bigger price while Ben Linfoot makes a case for Sohar in his Value Bet column.
I can't see it myself but he is a wizard (or at least some form of fantasy character according to the boss as regular readers will be aware) and there's a good reason he does that job and I don't!
1201 On the subject of racing elsewhere, it's worth mentioning that today is Jump Legends Raceday at Chepstow in aid of Bob Champion Cancer Trust and Spinal Research.
The day features a Jump Legends charity Flat race at 1.55pm and a parade of equine legends as well as the eight races. The charities are raising money from online donations, a raffle and bucket collections.
1157 A few market movers to pass on from across the road, only a couple of which are here at HQ.
They are Pricewise selection Tiger Cliff in the Cesarewitch (7s from 9s) and the ultra-progressive Short Squeeze in the finale.
Hugo Palmer is fairly confident, telling his official StanJames.com blog that: "He looks in great nick but it's a massive step into the unknown and we have the opportunity to see how good he is. I've always been sure he's good enough and I hope he'll prove it today but he may well not and we may well have to wait until next year for him to prove it."
"He's hugely up in grade - he's gone from a Class Two handicap to a Group Three. He's running over a trip that he hasn't won over - he's only won over a mile and we're giving him an extra 200 metres. He's running a straight track and he's always run round a bend. It'll be the easy side of good, probably good to soft, and if it rains a lot this morning it might end up soft in places. I think he could handle that but it's an unknown. There's a lot of unknowns."
Elsewhere, there are hugely competitive cards at Chepstow and York with Handazan well backed at the former venue while Newmarket raider Strictly Silver has proved popular at double figure prices on the Knavesmire.
1145 Then it's on to the Dewhurst where only three of the six runners appear to have any sort of chance.
I was lukewarm about War Command initially but I can't shake the memory of how impressive he was in the Coventry. I know the race hasn't worked out all that well but he did fairly dot up and it could be worth forgiving him that Phoenix Stakes defeat.
With Great White Eagle and Darwin vying for favouritism in the first two, it could be another huge day for the O'Brien family and our friends across the road at Sky Bet are offering 5/1 about a Joseph O'Brien treble.
Stan James are sweet on Outstrip, however, with Rory Jiwani reporting:
"War Command has been popular with Outstrip his main market rival and we've been keen to keep Charlie Appleby's Champagne Stakes winner on side. We're 16/1 that War Command wins today and next year's 2000 Guineas with Outstrip 33/1 to do the double."
Outstrip, though, did make Toormore work at Goodwood and the Hannon's horse went on to beat Phoenix Stakes winner Sudirman impressively next time which gives him obvious claims on that line of form.
I'm not sure I'm getting any nearer to making up my mind and that's before I've even got to Anjaal who has had this race as his target ever since winning the July Stakes.
1132 News of another non-runner from the Middle Park with Bahamian Heights joining Saayerr on the sidelines.
That still leaves 11 to go to post with Great White Eagle heading the betting. He's looked good in winning both starts for Aidan O'Brien and could be a bit useful. Sudirman sets the standard having finished second to Toormore in the National Stakes while Richard Fahey seems sweet on Supplicant who was supplemented earlier in the week.
Hot Streak was hugely impressive at Ascot but it's the favourite for me.
1123 A word from Michael Prosser, head of racing for the East region of the Jockey Club, on the going which is good to soft, good in places.
He said: "The going stick reading was 7.0 at 10.00am. We had 3.5mm of rain overnight, but it has not rained since 7.00am and we are forecast to be bright and dry for the rest of the day."
1115 So where does that leave us? Three year olds have won five of the last six renewals. There's only one this year and it's the Aidan O'Brien trained Darwin whose reputation preceded him to the track having impressed Todd Pletcher.
It could really be that simple despite a less than impressive performance last time with the drop back to seven expected to suit although I'd like to see a little more confidence in the market than there appears to be.
Lockwood looks rock solid, Fiesolana has improved in leaps and bounds - winning four times without ever been sent off favourite - while Highland Colori has to be on the short-list.
I thought Amarillo could place but he really doesn't appeal for anything other than speculative (are there any other sort?) combination bets.
All in all, I'm leaning towards Lockwood. He looks solid but I'm not completely sold.
1103 I had thought of playing a joker in the Challenge Stakes but I don't think there's been enough rain to seriously consider backing Gabriel's Lad.
The thinking was that he was a shorter price than Highland Colori for the Ayr Gold Cup and, although he clearly didn't run anywhere near as well as the winner, I'd question whether they should be as far apart as they are today.
He handles some cut, has a decent track record and has often been backed as though connections believe he's better than a handicapper.
It was also in the belief that he might handle conditions better than a few of his rivals if the ground was testing but that doesn't look likely to be the case and he does have plenty to find.
1043 I'll run through the card shortly (for what it's worth) but before I start to witter on do check out our one-stop-shop for all of today's previews.
You can do that by clicking here where you'll find Ben Linfoot's Value Bet, the views of Simon Holt our Catching Pigeons column not to mention the column of our star columnist Richard Fahey.
1030 Good morning and welcome to the blog for Dubai Future Champions Day. Against all the odds, having driven through wind and rain on the journey to Newmarket from the West Midlands, the sun is shining and the temperature is pleasant.
There were dire forecasts for overnight rainfall but there have reportedly been 3.5mm of rain overnight with the going changed to good to soft, good in places.
That really isn't too bad and it will be interesting to see how it's riding after the first. Trying to turn my attention to form study last night, I was prepared to be greeted by a plethora of non-runners and going ranging from soft to heavy but those fears are more or less ungrounded.
There are three non-runners so far with Saayerr missing from the Middle Park, Thecornishcockney out of the Ces with Boom And Bust and Feuerblitz out of the last.
So, we're all set. Please fire your e-mails in to the address at the top of the page and we'll hopefully manage to squeeze out a few winners around the country through the course of the day.
---
New Sky Bet customers: Claim free £5 bet every week
---