McCririck 'alienating to audiences'
Flamboyant racing pundit John McCririck was dumped from a high-profile role on Channel 4 because he was "alienating" and "very offensive", an employment tribunal has been told.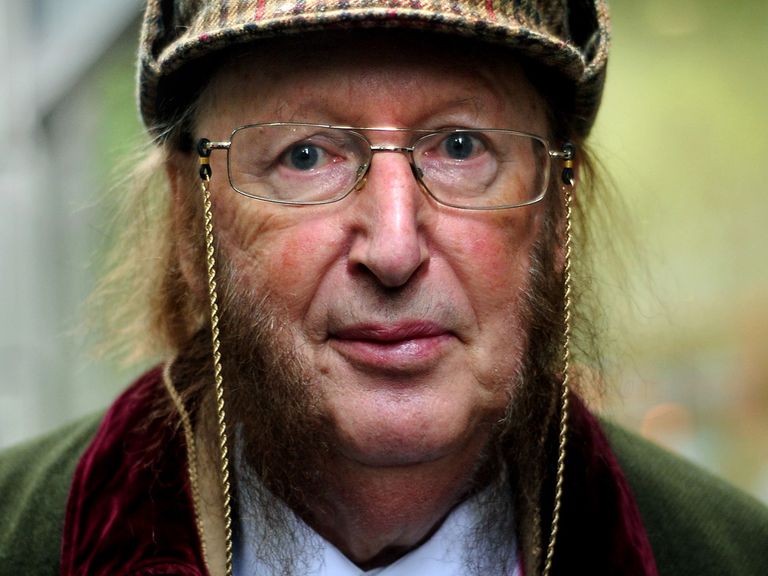 Jay Hunt, Channel 4's chief creative officer, said a talent tracker study on how he went down with audiences was "one of the worst pieces of research I have ever seen regarding a presenter".
McCririck, 73, who was dropped from Channel 4's revamped on-screen line-up, is accusing his former employers of age discrimination.
Channel 4 and IMG Media deny the claims.
Ms Hunt told McCririck's central London employment tribunal that the audience research on him was "one of the most dispiriting" documents she had seen, particularly as the broadcaster wanted to freshen up its racing coverage and appeal to a wider audience.
The figures showed that 58% of the general public "regarded Mr McCririck as Channel 4", the tribunal heard.
Ms Hunt went on: "When you consider the views he had been shouting from the rooftops on everything from women to low-level misogyny - I found it slightly depressing."
She said she was "gobsmacked" to hear that McCririck insisted on calling a colleague "the female" and that his headline-grabbing appearances on reality TV shows such as Big Brother and Celebrity Wife Swap were potentially damaging his image as a sports presenter.
There were the "reverberations" from his controversial reality TV appearances, his desire to "continue to say more outrageous things" and the fact that he had become "unpalatable to a large number of viewers" to consider, she said.
The outspoken and controversial McCririck - known for his flamboyant clothes, tic-tac gesturing and gold jewellery - believes he was "sacked by anonymous suits and skirts" because of his age.
Channel 4 secured the rights to broadcast all UK horse racing for the following year, including "crown jewel" events such as Royal Ascot and the Grand National in March 2012.
Ms Hunt denied that age had anything to do with McCririck's departure, saying that younger audiences liked his outrageousness.
She noted: "Larger-than-life characters do cut through better to 16 to 34 (year-olds)."
McCririck spoke to fellow racing presenter Clare Balding after he discovered he no longer had a job at Channel 4.
Balding, who was headhunted as part of the dream team of presenters for the new line-up, later contacted Ms Hunt and said she had "some sympathy" with McCririck.
She told Ms Hunt "he made some pretty dodgy decisions" in going on the reality shows but he did it believing that Channel 4 wanted him to, the tribunal heard.
Ms Hunt claimed that his appearances on the programmes were not the problem but it was the way he behaved that was the issue.
Ms Hunt worked for the BBC when presenter Miriam O'Reilly, who was in her 50s, was dropped from the Countryfile programme. Ms O'Reilly went on to win an age discrimination case against the BBC.
Ms Hunt said: "I am absolutely clear that age absolutely was not part of Mr McCririck's future involvement in the programming.
"This was a merit-based set of decisions and it was Mr McCririck's alienation and, on occasion, slightly obnoxious presenting style which were part of this decision."
Jennifer Eady QC, for McCririck, suggested that, in light of the O'Reilly case, Ms Hunt was showing "breathtaking arrogance" in not keeping her notes linked to the decision which brought a halt to McCririck's career at Channel 4.
Ms Hunt said this was "categorically untrue".
In her statement to McCririck's tribunal, Ms Hunt hit back at 'false allegations' by the presenter which suggested she had made decisions about on-screen talent based on their age.
This included the decision of newscaster Moira Stuart to leave the BBC while Ms Hunt was the BBC's Controller of Daytime. Ms Hunt said she had no involvement in the Stuart decision.
Her statement also noted: "John McCririck's allegation that I am a 'serial age discrimination offender' is untrue.
"I have been responsible for a channel or part of a channel for the past eight years.
"In that time, hundreds of on-screen talent decisions have been run past me by those making them. Only one of those decisions has ever led to a claim of age discrimination and, contrary to what John McCririck says, I have learnt from that case."
She also said she had instigated voluntary training courses on discrimination at Channel 4 after she joined from the BBC in light of the O'Reilly case.
Ms Hunt admitted there could have been "more compassion" in the way the career-changing information was handled with regard to McCririck.
She said there was "a lot of anxiety" to try to ensure that people were told in the right order of the decisions regarding the revamped Channel 4 racing show so that information did not leak to the press.
She told the tribunal she "regretted" that the concertina effect meant we "did not display as much compassion to a long-serving member of the Channel 4 family as we might have done - it is understandable but perhaps lacks warmth in its execution".
The hearing was adjourned until Monday at 1.30pm when submissions will be made.