Martin Dwyer ban reduced
Martin Dwyer has had an eight-month riding suspension reduced to 56 days at an appeal hearing in India on Saturday.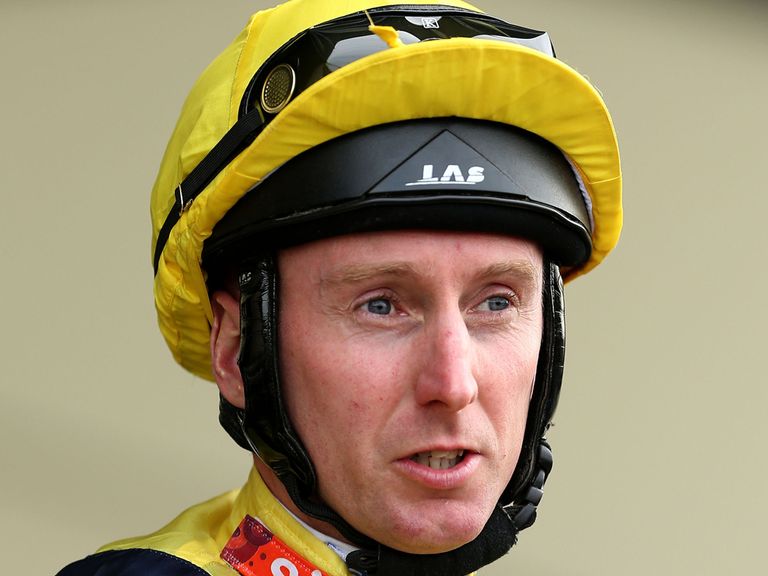 The Derby-winning jockey, 38, finished a narrow third on market leader Ice Age at Mahalaxmi racecourse in Mumbai on February 17, a ride which prompted an angry response from racegoers.
He was initially suspended for 56 days, but the stewards of the Royal Western India Turf Club concluded in August that Dwyer should be given a far stiffer punishment after he was adjudged not to have ridden the filly on her merits.
However an appeal board of the RWITC has now shown some leniency by reducing Dwyer's ban at the jockey's hearing at Pune racecourse.
Dwyer intends to appeal to the British Horseracing Authority not to reciprocate the revised suspension.
Paul Struthers, Chief Executive of the Professional Jockeys Association, said in a statement: "We will be lodging an application with the BHA on Monday asking them not to reciprocate the penalty imposed and also asking that they stay the penalty pending any hearing. He will be respected by Graeme McPherson QC.
"Whilst Martin is obviously relieved not to be facing eight months off, he is both bitterly disappointed and immensely frustrated by today's proceedings and there can be little doubt that he hasn't had a fair hearing.
"His grounds of appeal were very strong and it is our view that no fair and reasonable panel could have found against them.
"His first ground of appeal was that Ice Age bled in her race on the 3rd February and even though the rules require the trainer, Khuji Katrak, to have reported that, he failed to do so. Their Rules are unequivocal on this subject - a horse that bleeds in a race, whether profuse or a streak, will be banned from running for 28 days. According to their rules this meant Ice Age was not qualified to start and their Rules dictated that the horse "shall" be disqualified.
"Instead, some members of the Appeal Board argued over the grading of the bleed, but it is absolutely clear and there can be no question that their rules unequivocally state that any bleed shall result in a horse being banned from running for 28 days.
"To make matters worse, and as further evidence of the unfairness of the whole procedure, one of the Stewards of the RWITC presented a certificate deeming Ice Age fit to have raced on the 17th February. The existence of such a certificate had never once been mentioned during this entire affair despite the issue of the bleeding being raised in all of the previous hearings and we have significant doubts, to say the least, about the validity of this certificate.
"His other grounds focused on the unfairness of the whole process, attacked the Stewards findings of Martin's riding in the race in question and pointed to numerous examples of the problems suffered by Ice Age, including that she'd barely been out of her box since her run on the 3rd February and an admission from the trainer at a previous enquiry three months earlier that Ice Age was "...very weak and still not matured. Further, he cannot give her hard work since she tends to go off feed..."
"When factoring all those points in, and combined with expert veterinary evidence about the impact of bleeding and the fact that she bled in three consecutive races, there is absolutely no doubt in our minds that Martin is the victim of a blatant miscarriage of justice and we can only hope that this is rectified by the Disciplinary Panel of the BHA.
"Whether or not jockeys go out to ride in India this winter will be a matter of personal choice for them. However, any jockeys that have been approached to or are considering doing so should at the very least be very cautious indeed about who the are riding for and they are strongly advised to contact the PJA before making a decision about going out there."
Dwyer, who won the 2006 Epsom Derby aboard Sir Percy, flew out to India on Friday morning and is due to return to England on Sunday.
The BHA said Dwyer has until Tuesday to apply to the racing authority to ask not to reciprocate the suspension.
A statement read: "BHA director of raceday operations and regulation Jamie Stier has been in regular contact with Dwyer and the PJA since being informed that the suspension imposed had been increased to eight months on August 13, 2013.
"The purpose of this contact has been to clarify the processes that would need to take place should his appeal be either unsuccessful or partially successful and he subsequently wishes to make an application that any suspension not be reciprocated by the BHA.
"Under the rules of racing, Dwyer has 48 hours, starting from the day following any suspension imposed by a recognised racing authority, to make an application that the suspension should not be reciprocated in Great Britain.
"Sundays are not included in this 48-hour period, so Dwyer has until the close of business on Tuesday, September 10 to lodge his application.
"At the same time as lodging this application, Dwyer may also make an application that the suspension imposed by the RWITC does not commence in Great Britain until the date that his application for non-reciprocation is heard.
"Both of these applications would be considered by the disciplinary panel of the BHA.
"Being aware that the situation may arise whereby Dwyer might make such applications, the BHA has ensured that the necessary disciplinary process is in place to consider any applications at the earliest possible opportunity.
"BHA's rules on reciprocity are clear and reflect those recommended by the International Federation of Horseracing Authorities (IFHA) for best practice in such circumstances.
"The appeal process in the jurisdiction issuing the penalty had to be exhausted before an application not to reciprocate could be considered.
"The fact that the RWITC is not a signatory to the IFHA's International Agreement is not relevant in this context, and any application will be considered in line with the BHA's rules of racing."