Flying filly silences York
Replay Ben Linfoot's blog as Jwala caused a huge upset when winning the Nunthorpe Stakes at 40/1.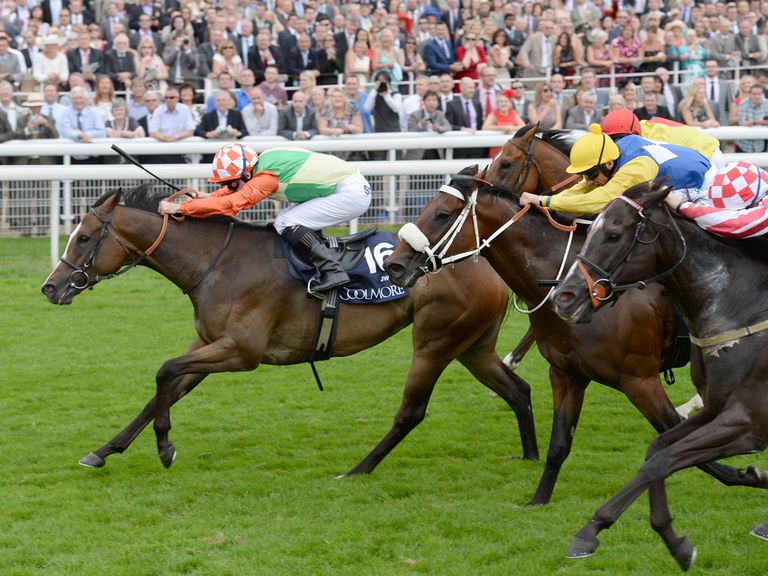 1700: Always nice to end with a winner, and what a winner as Short Squeeze hoses up in the last under Martin Dwyer. And with that, I'm hot-footing it to the bar before I lose all those lovely winnings at Goodwood this evening. Thanks for your emails, we are blogging again tomorrow on Ebor Day with Will Hayler back in charge of the wheels of steel. Have a very pleasant Friday night....
1655 Result: 1st 17 Short Squeeze (IRE) 5/1
2nd 11 Equity Risk (USA) 14/1
3rd 1 King George River (IRE) 20/1
1640: The finale. It's down to the Nationwide Accident Repair Services Stakes to save the day. How did it come to this? Short Squeeze, it's over to you.
1633: OMG as the kids say, Ord is interviewed on the big screen by Graham Orange. Introduced as a 'fairly famous blogger' - fairly famous because he hasn't done one for about a year - Ord gets in all the soundbytes in a professional display. Think he's had a few bottles of wine though.
1630: Another win for Godolphin as Golden Town reverses Goodwood form with Tahadee, improving in taking fashion to land the prize. A prize that will be given out by our very own editor Dave Ord. Simon Crisford is a lucky man - he's met Michael Shinners AND Ord today. A day he'll never forget.
1620 Result: 1st 4 Golden Town (IRE) 4/1
2nd 6 Red Galileo 15/8 f
3rd 1 Bow Creek (IRE) 33/1
1614: Of those with experience, I like Tahadee who ran very well on debut in a good Goodwood maiden. It's hard to ignore the money for Derbyshire though.
1613: Drama as Lynngale gets loose in the parade ring and she almost escapes before being halted by four brave souls. I would've been cowering under the rail, so well done.
1609: In the King George Stakes at Goodwood, Moviesta was first with Jwala last. In the Nunthorpe today, Jwala was first with Moviesta last. What a game this is at times!
1602: Six fillies were declared for the Nunthorpe (five ran after Miss Lahar didn't come under starters orders) and females have won it three years running after Margot Did and Ortensia.
1600: A jubilant Robert Cowell says: "She's got a couple of really good ingredients in that she's super fast and she can quicken off a pace like that. She was game, she's quality."
1555: Steve Drowne was described to me as one of the 'nicest guys in the weighing room' only earlier today and that's a welcome success for him after all his problems. He says: "I wouldn't blame them [the York crowd] for booing me after beating the favourite and the second favourite."
1553: If you backed Hamish McGonagall each-way with Sky Bet, you'll get a return. He ran a blinder in fourth and almost hung on for a proper place.
1550: One for the bookies in the Nunthorpe as another filly causes a huge upset in the Group One. It's Robert Cowell's Jwala who gets home at 40/1 from the two market leaders, Shea Shea and Sole Power. She was last at Goodwood last time but had excuses after bashing herself on the starting gates. Cowell said she might've been dizzy throughout the race and the run had to be ignored. Of course, this information would've been more useful before the race but I've only just remembered. Anyway, she's fast, she's first and not many people backed her judging by the smattering of applause as she parades in front of the stands, York punters already at the bar or studying the form for the Convivial - good luck with that.
1540 Result: 1st 16 Jwala 40/1
2nd 6 Shea Shea (SAF) 3/1 f
3rd 8 Sole Power 4/1
1538: They're loading for the feature, best of luck with your bets.
1534: They're all going down now and Shea Shea is the 7/2 favourite with money for Harry Redknapp's Moviesta who is into 6/1.
1532: John M says: "Hi Ben. Stupid this whip ban for excessive use. How can rules be allowed to be broken so consistently and the people who keep the sport going be the ones who come away empty handed as always. I'm not saying that the race should automatically taken away from the winner but a jockey ban is insufficient. If someone breaks the rules on a racing track the driver faces a time penalty. Perhaps a fraction of a second should be deducted from the winners time for each extra whip? At least then there is a proper rule of law by which to judge a tight finish on. PS. Yes, I was on Simenon, and no, he might have never gone back past."
1530: Hamish McGonagall, Kingsgate Native, Shea Shea and Bungle Inthejungle have gone down early. I was interested to hear Robert Cowell say the first-time hood employed on Kingsgate Native today was more to help him with the prelims than anything in the race itself. Always had a soft spot for Kingsgate Native so I hope he goes well - even though he doesn't carry any of my cash. Yes, it's true.
1525: When the sun was out earlier I had a bullish bet on Sole Power thinking the ground would be 'Good' by now and he'd get away with it. I don't think he will now. It remains 'Good to Soft' and the time of the first race suggests it could be even be a tad slower than that. With this in mind, I've added Swiss Spirit to the Nunthorpe portfolio.
1515: That's a double for 'Sizzling Silvestre', Godolphin and one each for Saeed and Charlie. The boys in blue camp is a happy one, as they so often are on the Knavesmire.
1510: City Style, who I marked in my paper as '9-furlong specialist' but didn't consider as a likely winner, edges home under sizzling Silvestre by a neck from the running-on Danadana. The latter's charge was late and true but he couldn't quite reel in the winner who kicked for home two-furlongs out.
1505 Result: 1st 3 City Style (USA) 9/1
2nd 1 Danadana (IRE) 8/1
1500: Two-day ban for Silvestre de Sousa for excessive use of the whip in the Lonsdale. Don't think he'll be too bothered after lifting the prize.
1450: Sky Bet Strensall Stakes next and key horse of the day (for me) in Pavlosk who I could really do with winning if I'm to treat myself to a KFC family bucket or equivalent on the way home. I'm most wary of Archbishop who will be a major threat if not inconvenienced by his long absence.
1440: Nice little form boost for Goodwood Cup winner Brown Panther there who readily brushed aside Ahzeemah at the Glorious meeting.
1435: Ahzeemah wins the races with a battling success over Simenon who tried his best to battle back under Murtagh once headed, but, alas, lost out by a head. Times Up travelled well but didn't make the lengths up he needed to when they quickened and had to settle for third.
1430 Result: 1st 1 Ahzeemah (IRE) 4/1
2nd 6 Simenon (IRE) 15/8 f
1420: Researching for tomorrow's preview and the weather could trhow a spanner in the works. Here's the forecast: "Rain front arriving through region later on Friday afternoon / evening, thundery rain possible overnight. Saturday morning - showers clearing by lunchtime to leave cloudy, largely dry afternoon, 20 degrees." There seems to be lots of rain-a-coming pre-Ebor.
1415: Lonsdale Cup next and here's the case for Times Up: Last year's winner has never run a bad race at York and though he ran poorly last time in the Ascot Gold Cup, he was heavily eased once his chance had gone and with 64 days off the track he's been freshened up nicely for this. He easily beat Simenon in this contest last year and I just wonder if this will be sharp enough for the favourite. I think the main danger could be Caucus who was progressive at the trip before a lacklustre display at Goodwood - but hey - we can forgive a horse that can't we? Times Up for me though. Apparently he's been working very well too, which is the kind of rumour you want to hear when you're financially involved.
1400: David O'Meara's good run continues as Chancery travels all over them before pulling clear late on. Rio's Rosanna ran well as anticipated after last night's rain while Kiama Bay edged out White Nile for the final place. As for the bets, I got the pace angle right and thought for more than a moment that Scatter Dice might just get away from them in the straight but it wasn't to be. Need to crack the Melrose or the Ebor, though, to avoid a blank week for the Value Bet. Which isn't ideal.
1355 Result: 1st 3 Chancery (USA) 7/1
2nd 14 Rio's Rosanna (IRE) 9/1
3rd 11 Kiama Bay (IRE) 8/1
1340: Placepot on. Singles on. Cheeky double on. Contemplated a Johnny Murtagh multiple but refrained (cue Murtagh four-timer lights up York headline later). They're parading for the opener.
1335: Today's bets: 1.55: Scatter Dice, Tepmokea, 2.30: Times Up, 3.05: Pavlosk, 3.40 Sole Power, 4.55 Short Squeeze.
1320: Niclas from Sweden is about to pour himself a glass of red wine to enjoy with this afternoon's action. He says: "Pleased to announce that I got a gig as solo singer in a boys-choir after taking another steel-toed kick in the nuts after my failed bets at York. The Gambling Gods are a vicious lot, which your Bogart-Baccarat-story from Wednesday just confirms. Anyway, Placepot is the name of the game, and any sane person reading this could comfortably rely on dismissing some of my selections. Rio's Rosanna, White Nile and Scatter Dice is a total stab in the dark in leg 1. Simeon will be my banker in the second, likes the ground and seem in good form, unlike many of his rivals. Archbishop, Gabrial and Pavlovsk ought to be enough in leg 3. I think Dettori could mess up on Shea Shea, so Slade Power, Spirit Quartz and Swiss Spirit will join him on my slip. Master Of The World, Red Galileo and the well-punted Derbyshire in the 5th and finally Hay Dude and Secret Art in the last. That's the donation to my fellow punters, have a great day at the track, Ben!"
1315: Chopper Harris is playing in the Nunthorpe: "Afternoon Ben. What a great picture you have on the blog, Sole Power with the mud flying in the background. Bet of the day as ground is softer on the standside, Shea Shea and sole drawn on the far side 7/4 coupled. You heard it here first lol."
1310: I will endeavour to find out for you MC. With all this money for Derbyshire in the Convivial we may be speaking to Mr Ryan later on.
1305: M Craven has altered his punting strategy today. He says: "Hi Ben, Mr Fallon saved my bacon yesterday and today looks difficult so I'm reduced to small e.w. bets. Scatterdice/Chancery in the first, Danadana in the Strensall, Ladies are Forever/Jwala in the Nunthorpe and the Charlie Hills pair in the last. Ben I wondered if you had any news about Kevin Ryan's horse Bapak Chinta? I intended to follow him this season but he seems to have fallen off the radar. Any news would be appreciated, great blog, good luck to all."
1300: Johnny Murtagh's done two laps of the track in his sweats to my knowledge. That's at least four miles and it's pretty hot too. He could have a very good afternoon couldn't he?
1255: Richard, these dastardly bookies can do what they like unfortunately. But, fear not, there are some good guys in this game. Sky Bet, for example, are paying FOUR places on the Nunthorpe.
As for Danadana, I don't know. He's lost his way since Chester and is back down in trip today. The return to York needs to revive him in a big way.
1250: I wrapped a pork pie in roast beef as part of lunch. Don't tell me I don't know how to live. Richard from Leighton Buzzard says: " Hi Ben. What are your thoughts on bookies only offering 3 places on a race like The Nunthorpe? Surely it should be a minimum of 4 so punters are given a decent opportunity to make some place money. Aside from that little moan I think Danadana is a huge price at 8/1, what are your thoughts?"
1230: While I nip off for a spot of lunch I'll leave you with today's Sky Bet market movers and my concise thoughts. After the success of when I mocked the money for 12/1 winner Bahamian Heights the other day this must go well:
15:05 York - Pavlosk (7/4 from 9/4) Yep, everything looks set for a big run today and she'll probably win. Her price has gone though.
15:40 York - Slade Power 8/1 (from 9/1) Ooh, he's thriving and the rain will suit but is he fast enough? Is not is he? Is he?
16:20 York - Derbyshire 3/1 (from 13/2) Aye, shrewd money this. Ignore at your peril.
1210: If Graham Lee can jump him out of the gates well, TC, then he has a chance. But his slow starts have become a problem and trying to work out when this quirky creature is going to put his best hooves forward is difficult. But, with G Lee up for the first time, perhaps today is the day.
1205: Thomas Cranmer is enduring a tough week. He says: "Morning Ben. Terrible week for me so far - I've had more seconds than a clock it feels like!! Can't help think that Gabrial has been overlooked in the Group 3 Strensall Stakes later on - admittedly hasn't performed in a while but thought of as a potential G1 3yo last year and the booking of Graham Lee can only be a bonus. Could have done with the ground being a bit firmer but still overpriced I think."
1200: The Borderlescott heart over head bet won't be coming in, as he's a non-runner. Due to the ground apparently, which is a tad baffling. He used to love a bit of cut old Border, and here at York too.
1156: Good work, Lauren. I just hope you're prepared for what might happen if Sole Power wins despite the rainfall (and it's drying all the time... I predict heartbreak. Your relationship might not make Christmas).
1155: Wedding bells might be in the air for Adam Moxon in Shirebrook after an act from his girlfriend (not one of those) that suggests true love between the pair. He says: "Having left for work this morning I was happy with my selection of Sole Power in the Nunthorpe and left my girlfriend my pre-written slips which were a single, a double and a Lucky 15 which all included Sole Power as I was still thought it was rattling fast ground -Panic set in when I checked in on your blog about 30 minutes ago to see the ground was now good to soft, obviously i put work on hold and got in touch with her with that all important question HAVE YOU PUT MY BETS ON YET? The answer was no not yet, delightedly I said change all bets with Sole Power in to Slade Power, which she has done without even a moan, surely that deserves a mention ( her name is Lauren)."
1150: Thanks Steve. You know I like Pavlosk and I like Short Squeeze too. He pulled so hard at Goodwood last time but still did the business and a 7lb-rise might not be enough with this bigger field and stronger pace likely to help him settle.
1147: Steve C in Swansea offers his selections for the day: "Morning Ben. Here goes: Winterlude, Ahzeemah, Pavlosk, Sole Power, Red Galileo, Short Squeeze & Sun Central in the Ebor. Have a good (& profitable day)."
1142: Thanks Francis, you are right to consider tomorrow's weather forecast. By all accounts, it could be nasty and we might need to brace ourselves for a pretty severe going change by the Ebor. That said, Guarantee has disappointed a couple of times since he was gelded which makes me think his problems lay deeper than just being a bity colty and I couldn't have him on my mind.
1140: Francis looks ahead to tomorrow and says: "Hi Ben, with the ground changing and more rain tipped for Saturday I fancy Guarantee in the Ebor as long as it is good to soft, what do you think?"
1132: I like it, JP, I like it. I'm considering chucking a few quid at Hamish McGonagall myself in the Nunthorpe. Loves York, third in it last year, vital bit of rain form him and a nice price at 33s. Mind you, I can't resist the 160+ on Betfair about dual winner and old favourite of mine Borderlescott either. Hands up, this is a heart rather than head bet which I don't mind indulging in now and again.
1130: Right. Let's catch up on some emails before we crack today's card. JP in sunny Paris says: "Hi Ben, hope yesterday was profitable both on and off the track...was may be a bit too flamboyant yesterday with my selections...so trying to be a bit more down to earth today...then may be not...my selections are : siding with you on Tepmokea with a White Nile saver in the 1st, dodging the Belgian Agatha Christie for Ahzeemah in the next, Red Avenger in the 3rd, Hamish McG and York Glory in the Nunthorpe, Sir Charlie Kunz in the 5th and Equity Risk in the lucky last...best of luck to all."
1115: Plenty of racegoers trickling in already after the 'gates open klaxon' sounded. From my perch in the press room I can see plenty making their way to the inside of the course where you can buy an ice cream, Fosters, Strongbow, have a bet and watch the Ashes on the big screen. What more do you want for your £8? Value hunters.
1101: The stewards' inquiry alert sounds. Relief all round as I feared there might be one focusing on the sportinglife team's (Hayler's, not mine) aggressive performance in the buffet queue this week - but it's just to alert us that we are ready for action. Get those turnstiles open ladies and gentleman!
1100: Message for racing chat fans: If you're tuning in for the regular 11am slot with Graham Cunningham, fear not, it hasn't been cancelled. It's merely been moved half an hour to 1130, but if you've got a question for GC post it now, right here.
1055: With Hanoverian Baron just sneaking in the Ebor he's a non-runner in the first today and that means we're down to 15 runners for the opener. Tepmokea, who I've backed each-way, will now almost certainly come fourth. Not too pleased about the rain for him, but if it remains 'Good to Soft' by the opener it might just help Scatter Dice, who ran so well at Chester last time on such going. So, swings and roundabouts.
1045: Sky Bet have priced up their Jockey Specials and I see Ryan Moore is a 5/1 chance to ride a double. Of his rides, Gospel Choir has a chance in the opener, Rosdhu Queen less so, you would think, in the Nunthorpe, but I really like the chances of Times Up in the Lonsdale and Pavlosk in the Strensall. I might just have a cheeky double on those last two myself.
1040: Cheers John. I also backed Nurpur instead of Dutch Rose in the last so I called it wrong all round with O'Meara's yesterday! I had a good, long look at Rio's Rosanna myself and with the rain at least taking the sting out of the ground she should go well.
1035: John C has Declaration of War winnings to play with and he says: " Morning Scoop. A tricky day today with the ground change. Was all over Sole Power on fast ground but market drift and softer conditions are a little off putting. Have backed Rios Rosanna in the first as I think the ground is in her favour. Hard luck yesterday with your value bet. Right angle but wrong one of the five O'Mearas horses. #frustrating! Be lucky today."
1032: Thanks Al. I must admit I've no strong view at the moment on the Nunthorpe but it is hard to get away from the claims of Shea Shea who looks to have all the tools to thrive over the fast five here. One thing I would say is I wouldn't be over-reacting to the going change. It's very hot already and drying all the time, it really wouldn't surprise me if we were at least 'Good' by the first race.
1030: Good morning to Al C who says: "Hi Ben. The rain has put a slight "dampener" on today's predictions, but I'm with the consensus that everything is setup perfectly for Shea Shea today. Fast 5, flat track and drawn with the pace. The rest of the tv races appear to be incredibly difficult to work out. Other selections are 155 Gospel Choir/Tepmokea 230 Ahzeemah/Times Up 305 City Style/Archbishop."
1020: Steps To Freedom is a non-runner in tomorrow's Betfred Ebor due to the change in the going. For today's non-runners go here.
1005: Thanks Hadley, best of luck in your battle with the bookies. Out of your selections I like Pavlosk and if I could only have one bet today - thank goodness I can have more mind - I would take her. Lightly-raced, all the allowances, goes well here, the 20mm of rain perfect for her and apparently she's been working very, very well. What's not to like?
1000: Hadley Fox is the first to offer his selections. He says: "Good morning Ben. I attended Wednesday and will be back Saturday, so far for the week I am 5 from 10, so literally 50% even with our book making friends.... Today I feel another Wednesday success though and will be cheering for Gospel Chior, Simenon, Pavlosk (nap), Tickled Pink (nb) - you only have to have had 50% vision to see with a clear run she would have just lost or just beat moviesta last time.....will you be cheering the same ones along Ben? Will hit the post with his one of the day questions...Windhoek, narrowly failing, what's your one of the day if you could only have one? Who out of the contingent can I offer a cold real ale to Saturday?"
0945: Good morning and welcome to York for day three of the Ebor Meeting, or Nunthorpe day if you like. We've had 20mm of rain overnight following a bit of a thunderstorm and the ground is now Good to Soft all round. However, it's glorious now with visible streaks of sweat already making there way down my back (I can't take my jacket off yet as the creases won't have fallen out of my shirt - was in a rush this morning) and it feels like it could be a hot one. So, the ground will be drying and we could even be 'Good' by the time the Nunthorpe comes around. Showers are forecast today, but much later on. Right, what do you fancy? Emails to ben.linfoot@yahoo.co.uk please.
---
Sky Bet Free Bet Club: £10 free bet - £5 free every week
---