Replay the Cheltenham Day One blog
Re-cap the action from day one of the Cheltenham Festival on Will Hayler's blog, as Willie Mullins and Ruby Walsh dominate proceedings.
Cheltenham Festival. Click here to bet.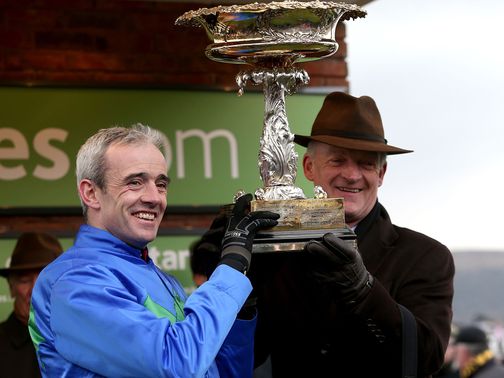 1745: Who would have imagined at the start of the day that Quevega and Hurricane Fly would both win their races, but both only after looking in serious trouble three out? Both needed to get down and fight and both did themselves proud - as did stablemate Champagne Fever. As for Simonsig, he lacked a bit of sparkle, but still got the job done - and for his backers, that's all that mattered. Will Sprinter Sacre have to work as hard to win for Henderson tomorrow? Tune in at 9am on Wednesday morning to join me and we will find out together. Feel free to get your early emails to will.hayler@gmail.com.
1740: That last result will give bookmakers a boost after the well-backed wins of the Mullins/Walsh trio and Simonsig.
1733: Sam Waley-Cohen on his victory and on Long Run's prospects: "He was brave, courageous and he tried all the way to the line. He's a home-bred horse and what could we sweeter than riding a winner for your Dad that you bred yourselves at the Cheltenham Festival? You're as good as your last ride. That's the way it has been and always will be. The challenge for any amateur is just to go out and give everything the best ride that you can. Going into Friday on the back of a win is as much of a confidence-boost as you could hope for."
1730: If you think the victory gives a boost to the prospects of Long Run on Friday, you can back him at 11/2 right here.
1725: Nicky Henderson gets on the scoreboard for the first time this week - but not with stable jockey Barry Geraghty. Instead it's a welcome boost for Sam Waley-Cohen 72 hours ahead of his ride on Long Run in the Gold Cup as Rajdhani Express (16/1) takes the Rewards4Racing Novice Handicap Chase.
1718: They're off for the last - the novice handicap chase.
1715: Our very own Graham Cunningham agrees with you Mark - he's been comparing the finishes of the Champion Hurdle and the Supreme Novices' Hurdle and found that by comparison, the Champion was run almost at slow-motion on the run to the winning post - about 12 lengths slower from the final flight. That would certainly suggest that they'd all done enough running in the middle stages of the race.
1710: Did Rock On Ruby go off too fast? To some extent I agree with Mark from Perth in that it was a curious decision to put blinkers on a horse who is already such a 'giver' for the first time today. But I don't necessarily agree that the horse necessarily pulled too hard in front - it looked like a conscious decision to go off at that sort of fast pace, presumably in the hope of stretching the stamina reserves of his rivals, or maybe forcing a jumping mistake or two out of them. In any case, even if the blinkers did partially backfire, we can agree that the horse ran a blinder to hold on for second. Trainer Harry Fry reported after the race that the horse could go over fences next season. The two-and-a-half-mile Aintree Hurdle is not on Rock On Ruby's agenda, but it is on the cards for third-placed Countrywide Flame.
1700: If there's one consistent theme today, it's that winning trainers and jockeys have been failing the ground as being wonderful and lovely and like a carpet and losing trainers and jockeys reckon it to have been tacky and sticky and gluey. Willie Mullins, who was at the track all day yesterday, must be loving the place - and hopefully he'll have a beer waiting for clerk of the course Simon Claisse after his work in getting the covers down to save the meeting from the weather.
1650: "It's just a hell of a day," says Willie Mullins as Quevega returns to the winner's enclosure. If anything, Ruby Walsh looks even happier than after the Champion Hurdle as he beams to the crowd, who are chanting 'Ruby, Ruby, Ruby'. Just as is in the Champion, Quevega looked in trouble when a sudden injection of pace saw her drop back after the third-last flight, but Walsh knew his mount had more to give. She steadily picked her way between rivals and, responding to pressure, the 8/11 favourite gathered in French raider Sirene d'Ainay with 100 yards to run and scored by a length and a half.
1640: And so to Quevega, another potential history-maker, as she bids to win the mares' race for a fifth time.
1637: A quick email from Fred in Mustique (I don't know where that is but it sounds hot). He says he hopes all the horses return safely to their stables tonight, which is an admirable sentiment and prompts me to say that I too hope the fallers in the Champion Hurdle all right. I will endeavour to find out now.
1635: Just grabbed a beef pie and mash. I like to eat at the times others don't as you get bigger portions (there's a pro tip for you).
1620: Mullins said his confidence in Hurricane Fly had never wavered. "It wasn't a surprise. He won the best trials. His trials were the ones that counted. We've been saying all along that if we could get him here in the form he was in at home, that would be good enough. I think the team are in much better form than they were last year. Hopefully it will last for another three or four days!"
1615: So much for the forecast lack of pace in the race. Rock On Ruby set off at a good clip in first-time blinkers - too quick, reckoned Willie Mullins, but it's not as if he dropped right away at the finish. Mullins said: "I thought when Ruby started niggling along that they had to be going too fast and I reckoned we could get back into it."
1610: No doubt about the biggest roar of the day. Cheltenham loves its old favourites and Hurricane Fly now fits firmly into that category after emulating Comedy Of Errors and regaining the crown. Sky Bet offer 5/1 that he does it again next year.
1605: Well, shut my mouth. You just can't crab that, can you? Hurricane Fly was asked the question and answered it. Very impressive. Rock on Ruby and Zarkandar repeated their performances in last year's race, Countrywide Flame stepped up to the plate, but Hurricane Fly (13/8 favourite) was up to the task.
1550: They're parading. And I've just had another bet - Countrywide Flame to beat Cinders And Ashes in a match. Countrywide Flame is such a terrier. I hope he sits second or third and then kicks on three out. It all seems easy when you're sat up here.
1542: It's nothing personal against Hurricane Fly, but I just can't see it. Horses do defy the history books, but my gut feeling is that both he and Binocular will struggle to regain the hurdling crown against younger, up-and-coming rivals.
1537: Colin Tizzard on Golden Chieftain. "I didn't know he was going to run until he got in right at the bottom. I had to shout out to the blacksmith 'Plate that one up too, now - he's going to run'. It's funny how these things work out."
1532: And so to the Champion Hurdle. What a funny old day it's already been. McCoy beaten again, Simonsig scrambling home, unconsidered horse wins JLT. What will be the next story today?
1527: Ah dear old Fruity. You barely managed to jump a fence without some sort of mistake, but toughness saw you home fifth. What a trooper. I suppose I should mention the winner - but then it's not as if anyone else did at any stage before the third-last fence. It's the unheralded 28/1 chance Golden Chieftain, last of the 24 to get into the race, who lands the spoils under Brendan Powell junior. What a game.
1518: They're at the post for the JLT. Come on Fruity old friend. One more big run from you please.
1512: Donald McCain on Overturn. "He's fine, but he just couldn't get out of the ground - that's all it was, just the ground."
1510: Another hammer blow. My blueberries have gone mouldy. They looked fine when I took them out of the fridge this morning. Why does this game mock me so?
1508: Tom in Reading reports that AP McCoy has now finished second in the Supreme Novices' Hurdle five times in the last eight years - all in the colours of JP McManus. I bet he's not in a chatty mood in the weighing room.
1505: I'm loving listening to all of the tv and radio pundits trying to find reasons why Simonsig is still the greatest horse in the world, despite the proximity of Baily Green and His Excellency. Brilliant horse he may still be, but that wasn't a brilliant victory. And I'm not just talking out of my pocket.
1500: Two races in to the 2013 Cheltenham Festival and I am already on the chase. This is going to be like the Sussex National - never-ending and requiring plenty of grit.
1455: From a personal financial point of view, it was a bad result. Not that I would expect any of you to be bothered, of course. But a hard-fought victory like that was not what I wanted. Trying to look forward, I wonder if His Excellency might turn up again in the Grand Annual on Friday.
1450: Nicky Henderson is slightly muted in his post-race celebrations, but makes it clear that Simonsig won't be going over two and a half miles - or at least not for the foreseeable future. Let's hope that we get a championship clash between this horse and stablemate Sprinter Sacre over two miles in 12 months' time.
1445: Simonsig survives some messy jumps to win the Racing Post Arkle Challenge Trophy. The 8/15 favourite was far from foot-perfect, but nor were his rivals. In the end, he scrambled home by two and a quarter lengths from outsider Baily Green. If you backed the winner, you'll be pleased. But let's call it as it was - the hotly-touted head-to-head between Simonsig and Overturn simply didn't happen today.
1440: Such a shame that aren't eight runners in the Arkle for each-way purposes. Not that I haven't already had enough bets. Simonsig looks very, very well.
1435: Champagne Fever's trainer Willie Mullins confirms that it wasn't until the decision was made to cover the track, that connections even looked at the Supreme. But the owner didn't want to run him against Ballycasey in the Albert Bartlett and suddenly the two-mile contest came on to the radar.
1430: Considering that Ruby Walsh didn't seem to be going that great a pace in the early stages, the winning time of the opener suggests that the going may not be as soft as feared. Time for a re-think maybe if your portfolio is geared heavily around mudlarks for the rest of the week.
1425: The cross-country race will not now take place today, but be put back to 5.15 on Thursday and staged before the charity race. Final declarations will stand. I wonder if that decision hasn't been taken with an eye on getting all available manpower to get the covers down as soon as possible after the novice handicap chase this evening.
1420: While I might feel a shade anti-climactic about the winner, given that he wasn't even running until Friday night, it's the right horses who were involved at the finish and my gut feeling is that the first three are all very good horses. My Tent Or Yours could have done with a faster pace to track, while Jezki might have been second if he hadn't stepped at the final flight just as Robbie Power was winding him up.
1415: For those who played the offer with the sponsors, Un Atout finished fourth and Puffin Billy, who made a mistake two out when just creeping nearer to the leaders, held off Pique Sous for fifth.
1410: It's Champagne Fever in the William Hill Supreme Novices' Hurdle. Ruby Walsh sensed that there might not be much pace in the race, sent his mount to the front from the start, and they saw off every challenger to win at 5/1. The two McManus-owned runners, My Tent Or Yours and Jezki, loomed up on either side going to the final flight, but neither could get to the winner who found more close home to score by half a length. "What a relief, what a relief," said winning trainer Willie Mullins. Plenty of punters will be celebrating too with Champagne Fever having been well backed throughout the last 72 hours, ever since his participation - and the jockey booking - was confirmed.
1405: There's still no spine tingle like it. They're off for the 2013 Cheltenham Festival. Good luck one and all.
1400: I was hoping someone might price the match bet up between the 250/1 shots, Fire King and Ostentation, because the latter is surely going to have the edge. There are some real speed horses in this line-up, but none like Fire King, who wants seven furlongs and Brighton. If he finishes, he's done well.
1355: What an exciting start to the greatest week in the racing year. The amazing performance of My Tent Or Yours in the Betfair Hurdle about to be tested by the untapped potential of so many other exciting your horses. Brilliant stuff.
1340: Sorry, I just got distracted looking at tomorrow's card. Some interesting horses in the handicaps. Meanwhile, my thanks to Darren Gray for confirming that Come Dine With Me will still be shown this evening - crucial news for Darren's viewing plans having earlier reached a contra-deal involving him watching the racing and then making the tea while his wife got to watch Come Dine With Me. Now it's time for the racing. Oh yes. Oh yes, oh yes, oh yes. Let's unwrap those wonderful presents.
1320: Meanwhile, on Festival Radio, jockey Mattie Batchelor - a guest pundit for the week - has just revealed that having set off from home at 9pm last night to try and beat the worst of the weather, he ended up sleeping in his car overnight on the A23 before arriving at the track this morning. He's not the only one - I saw another tweet from conditional jockey Tom Garner saying that it had taken him more than 12 hours to get back from Plumpton.
1315: Don't forget you can listen to live streaming from Festival Radio here throughout the week. If you have earphones and/or an understanding boss, that is. I remember listening to Jodami winning the Gold Cup during a Geography lesson, using a radio and a discreetly-placed earpiece. All credit to my bookmaker, Paul Saffer, for paying me out in full. I wonder where Paul is now.
1310: Greetings to two of my former colleagues, Jon and Graham, who have both independently emailed me. Worryingly for Jon, I have backed the same three horses that he has today. Worryingly for Graham, one of those three is the one that he has backed too. What a game. Great minds and all that.
1305: Fresh from hoovering up the different headline special offers from around the different bookies, Daztron is ready to sit back and enjoy the racing. And why wouldn't you? If they want to bend over backwards to accomodate you in the hope that you will bet the same amounts on the other 361 days this year, then let them! His best bet of the week is Golantilia in the bumper.
1300: "I can't believe some of the negative comments I'm reading on Hurricane Fly," writes Anthony Hewison. "Since the unfortunate incident with darlan there has been only one winner for me. Hurricane fly to win smartly !!!" But he's a nine-year-old, Anthony. A nine-year-old who wasn't quick enough to win (and admittedly overcome a poor ride) as an eight-year-old.
1255: Today's Market Movers from our friends at Sky Bet can be found here. It's all about Simonsig and Champagne Fever. How I ummed and ahhed over the 12/1 on Champagne Fever on Saturday. What a fool am I.
1250: With reference to Simonsig/Overturn, Donald McCain has just been interviewed at the track and said that Nicky Henderson was "so lucky that even the going has gone his way". But with conditions seemingly improving (as evidenced by the going change), I have now committed financial suicide by also backing Overturn (5/1!!!) as well as my earlier bet on Simonsig to win by five lengths or more. If this doesn't guarantee that Simonsig will win the Arkle by four and a half lengths, I don't know what does.
1245:Tom In Reading has his say. "Just a quick point on Glenn's email re pacemakers," he writes. "The examples he gave (Frankel / Bullet Train and Ballydoyle) don't work in this instance because we're talking about putting horses in as pacemakers who aren't in the same ownership. I'm pretty sure a trainer would soon find himself with one less owner to cater for if he blatantly used a lesser horse from his stable to act as a pacemaker. Mr Hales evidently threw his toys well and truly out of the pram the other year at the suggestion Neptune Collonges had set the pace for Kauto and Denman (which he clearly hadn't as, if I remember rightly, he was well fancied himself that day and that's just how he ran his races back then). Anyway, it's all a moot point, Zarkandar will win by a length. (ps. I will eat my hat, and any others I find, if Overturn gets within 3 lengths of Simonsig).
1030: I hope the Tote computers can cope with races being run out of order and manage to run the Placepot and Jackpot as usual. Following the running totals could be interesting i.e. impossible.
1025: I was expecting something more than to have it announced on Twitter, but there you go. Racing is ON, albeit delayed by half an hour, pushing the start time for the Supreme Novices' Hurdle back to 2.05pm. The Cross-Country race will now take place at the end of the meeting, if at all, with an inspection of that track to take place at 215pm.
1020: It's an impressive sight to see the cover-removing operation in full flow. People are running around like they really care. Like it matters. These people are heroes for racing.
1015: My colleague Dave Ord is just back from the first-aid facility, where he became the very first customer of the Festival as he had his poorly hand re-bandaged. He reports the going on the lawn to be presently unraceable. But then, the lawn wasn't covered.
1012: Simon Harris says he doesn't want to set off from home until he's year the racing will be taking place. I fear he might not have the choice. Meanwhile, the covers are starting to come off. Ooh the excitement. If Cheltenham is Christmas, then this is the unwrapping of the presents. Or something like that.
1010: Greetings to Brian in South Korea, who - like me - is banking that past Cheltenham Festival form will pay off with Fruity O'Rooney and A New Story. It really wouldn't surprise me if both make the frame again in their respective races today. "Hoping that course and distance form of last year holds up with Fruity ORooney and A New Story going one better this year," he writes. "I believe it's the most open Champion Hurdle in a long time and if you had belief that the ill-fated Darlan was in with a big shout, surely Cinders and Ashes (if revitalised) must enter calculations. Good Luck All." Rumour has it, Brian, that Cinders and Ashes has undergone a breathing operation since last seen, something which Donald McCain may or may not have forgotten to mention to the press at his stables a couple of weeks ago. We shall see.
1005:: The weather does seem to be brightening up a bit, although the temperature remains incredibly cold. The odds as to whether racing will go ahead or not continue to fluctuate wildly without much actually happening. It isn't until they start peeling the covers off in half an hour's time, that they will have even the vaguest idea of prospects. I'd be betting on a second inspection.
1000: Lest we forget, our generous sponsors at Sky Bet are also rolling out a barrel or two by offering four places for each-way punters on the Supreme Novices' Hurdle and five places on the JLT Specialty Handicap Chase. I'm not going to rattle the bucket all day long, but if you are thinking of placing a bet and you're not fussed about which bookmaker you use, you know it makes sense to click on the links above. That's all. I've said my piece.
0950: I have been unable to resist William Hill's offer of 15/8 about Simonsig winning the Arkle by five lengths or more. Much as I love Overturn, this sort of ground is no good for him.
0945: Albert Pearce has staked an early claim for the prize of being our most remote geographically-remote correspondent by emailing in from Queensland, Australia. Albert goes for Zarkandar in the Champion and Champagne Fever in the Supreme, having secured fancy prices on both. Even 12000 miles is no obstacle to snapping up some value in these modern transglobal times.
0925: Next up is Paul Wright, who says: "Morning Will, 'twas a bit alarming to see 'Yes' on Betfair's 'Will racing go ahead market?' drift out to 1.7 this morning! But here in southern Cheltenham, it feels much warmer than yesterday... reckon we'll be okay, but will have fun either way - good memories of spending the day in the pub on the last called off day before the fantastic 12-race card! Good luck to all! Loch Ba looks to have everything in its favour in 2.40 - value bet of the day for me." I must admit Loch Ba was not even on my longlist Paul, as I wasn't sure he'd appreciate the rough and tumble of that race, but it would be nice to see Henrietta in the winner's enclosure again - let's just hope the Best Mate song doesn't make a comeback...
0915: Good morning to Damon from Selby, bravely battling the elements to get to work in order to keep the nation moving - and to get on to the internet and get their bets on! Damon says: "Simonsig and Quevega today to get my Lucky 15 ball rolling and then the beast that is Pont Alexandre tomorrow and my banker of the meeting albeit at 5/2 and not the current 6/4. I am going to have to have a bet in the first race today also as one bookmaker is offering each-way a quarter odds on the first five in the race must be a gimme with there being only 11 runners in it and I do not fancy My Tent Or Yours anyway."
0910: As ever, this is as much your blog as mine (figuratively), so warm me up with an email or two and give me your fancies for the first day of the Festival. This is no time for doom-mongering, and this blog will be blindly ploughing on (nice snow metaphor) presuming that racing must be going ahead.
0905: There are no non-runners so far, but no runners at all at Sedgefield, where racing has been abandoned. No carefully-planned 'other meeting' plots there this year, although I do remember our columnist Richard Fahey landing a right touch on the corresponding card ay Southwell about 10 years ago, so it's always worth keeping an eye on the action elsewhere. Elsewhere might be all we have unless the sun comes out soon and temperatures start to rise.
0900: Good morning from the snowy wastes of Cheltenham, where the start of the year's greatest jumps racing and punting extravaganza hinges upon a 10.30am inspection. Using the very inexact science of asking everyone I have met so far today as to what chance they give racing of going ahead today, the general vibe is that racing probably will beat the -12C overnight temperatures (with windchill) and the frozen patches that has created in places under the frost covers. So it's not quite time yet to dust off the formbooks for the BAGS meetings at Crayford and Perry Barr. But Simon Claisse says he has never known anything like it and nor have I - even in the heated haven of the Press Room, I'm still struggling to get my frozen fingers to do what I want them to.
---
Click here now for completely free £10 bet on Cheltenham
---