Dave's Diary: Oh Mr Kettley
I usually like to serenade the chaps in the office as I prepare to leave for the Cheltenham Festival. A touch of John Denver normally does the trick.
Cheltenham Festival. Click here to bet.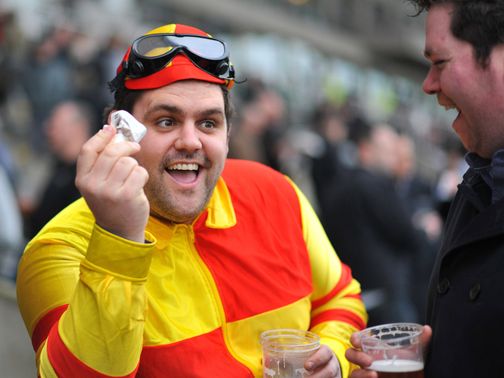 "All my bags are packed, I'm ready to go, I'm standing here outside the door, I hate to wake up you up say goodbye."
But this year the bags aren't packed. How could they be? Oh Mr Kettley, what have you done.
You see I've gambled my entire wardrobe on a warm Festival. Two new blazers, slacks that wouldn't look out of place at Henley, and shirt/tie combos that scream 'I'm in control of my team'.
But instead the scramble is on to find my fingerless gloves from 2009, the long johns and any wool jumpers I can lay my hands on.
I do have a marvellous tweed coat to keep out the chill, but that isn't the point - and only the four new 'blazer' shirts fasten at the collar.
There's no time for a re-think and a Monday shopping spree was called off after a routine car service resulted in the fitting of a new cam belt, rear brake disks and pads and various other 'sundries'.
No, I go with my spring look - and therefore am perfectly prepared to shiver.
However my problems have been put into perspective by two of the gang who I'm lucky to head down to Stow-On-The-Wold with struggling to get to the meeting at all.
Various work pressures have led to them scrambling to clear their diaries and make the four days they treasure above all throughout the year.
No let's make it very clear, anyone who is fortunate enough to be at the Theatre Of Dreams next week is blessed.
Unless my current chest infection worsens or the old Golf gives up the ghost on the M5, I'll be attending my 19th successive Festival next week and the sense of anticipation grows by the year.
Perhaps the spectre of the Fez casts too large a shadow over the rest of the National Hunt season now, but next week the champions of the sport are crowned. Accept no imitations.
I was with Grandouet for the Champion Hurdle on Thursday, switched to Rock On Ruby by Friday afternoon. Now he wears blinkers and I'm down for an eight count.
The key though is getting back up off the canvas and coming back for more.
More Guinness or cotswold ale than Dr Hilary would allow in a year, more pastry products than even Ginsters have dreamed up, more laughs than crackerjack Tim Vine can fit into a minute's mirth.
More losers than you'll care to admit to, but then there's the dream - the Festivals when you crack it, when the good guys have their day in the sun. The feeling on Saturday morning when you return home with more money than you left with.
It's only happened to me three times in the previous 18 attempts but here's to another Indefence, Fondmort or Blowing Wind. They're lurking somewhere.
And once I've tracked down my thermal undies with elasticated waist, I'll continue my desperate search for them.
Here's to a cracking and safe week for all. As my doppelganger Arnold Schwarzenegger once said "I'll be back". Tuesday, from the press room at Cheltenham.
Hope you'll be along for the ride.
---
Click here to send your e-mails to Dave
---
Click here for completely free £10 bet with Sky Bet & £5 free every week
---