Dave's Diary: Northern stars lift spirits
There was something life-affirming about Tuesday's visit to Donald McCain's magnificent Bank House stables.
Cheltenham Festival. Click here to bet.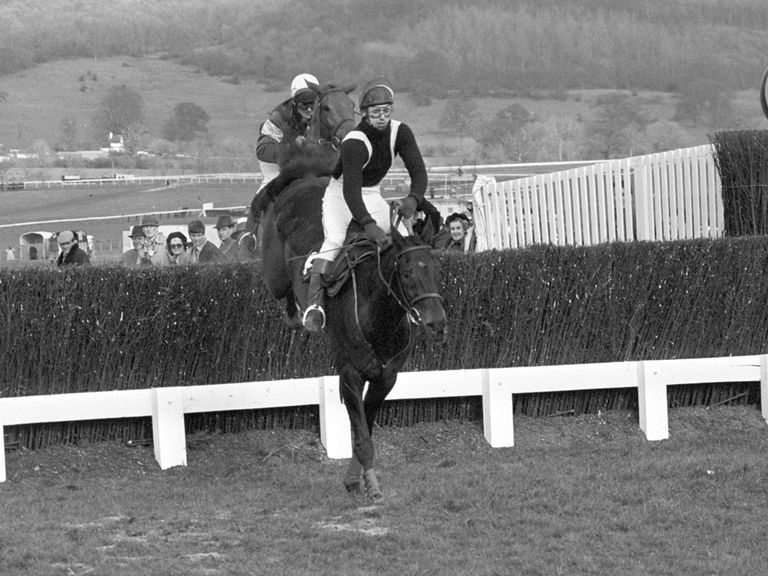 You see I'm a son of the North. I was raised during the glory years of Michael Dickinson at Harewood House. We had Silver Buck, Wayward Lad, Bregawn, Badsworth Boy, Rathgorman, Browne's Gazette and countless others to send south and plunder the big prizes.
We also had Night Nurse and Sea Pigeon with Peter Easterby, The Thinker at the remarkable Arthur Stephenson's. Even after they'd gone, One Man shone bright for Gordon Richards. We were spoilt rotten.
But in recent years - Inglis Drever and Tidal Bay apart - pickings have been somewhat slim.
Yes, Malcolm Jefferson registered a double at last year's Festival and remains a magnificent trainer, as is John Quinn who picked off the Triumph with Countrywide Flame. But in McCain we have a man who could just attract the firepower to sit at the very top table.
He's not there yet but as Overturn, Peddlers Cross, Cinders And Ashes and company paraded in front of us there was no mistaking this is a yard still on an upward curve.
The man himself insists there's no ambition to match Nicky Henderson and Paul Nicholls - he's quite content to be the top trainer in the north. But I wasn't convinced - and neither were the racing correspondents of The Times, Guardian and countless other national newspapers who'd travelled north. That in itself was testament to the quality of horse we were seeing.
There's definitely a little needle between the McCain and Henderson camps heading into the Arkle. Last week NJH was questioning whether Overturn would have the speed to lead Simonsig a merry dance through the early stages. Here DM was adamant that on good ground it will take a herculean effort to pass his stable stalwart up the hill.
Peddlers Cross will get to the second last of the World Hurlde on the bridle but even the trainer isn't sure what will happen after that while Cinders And Ashes, in a good ground Champion Hurdle, will carry a little more stable confidence than his starting price could suggest.
Our Mick is a handicapper the trainer feels go there with a particularly strong chance, She Ranks Me would have each-way claims in the mares' hurdle - but perhaps the sex allowance in the Neptune will be impossible to resist.
There's a strong team spirit at Bank House, a real buzz about the yard. The trainer's mum Beryl was on hand with some home baking and I'm happy to go on record that she produced the best chocolate brownies it's ever been my privilege to eat.
They had to be because I had, only 25 minutes earlier, vowed not to eat again all day.
The problem was the Tower Burger. Imagine my mum's pride when I tell her I was only the fifth person in the Crewe Nantwich Premier Inn to finish one. Michael Shinners came within a hair's breadth too, only to cry enough on the final two mouthfuls.
I merely took another breath, undid the belt, closed my eyes, and swallowed. It was a golden moment.
However I was still feeling the effects a mere 14 hours later when polishing off a Premier Breakfast. If it wasn't for the soothing tones of Ken Bruce, three Rennies and an extra strong mint I might not have made it to the stable.
I blame the meat sweats for missing the turn-off for the yard too. Instead the old Golf, now 13 years old and pushing 200,000 miles, powered down a private road which the further you went, the less it looked to be heading to a stables. Which was because it wasn't.
But all's well that ends well and despite skipping lunch at the pub in the village, today has been a very good day.
Tomorrow? Well it's the 'Cheltenham Countdown'. Phil Smith and his team of number crunchers talk us through the weights for the handicaps, we get the latest from track officials re the ground and ticket sales, and more trainers face the sportinglife.com video camera.
Oh, it's also the food highlight of the build-up too. In recent years we've been taken around the world by the onsite chefs, sampled the finest game pie ever to pass my palate, enjoyed a selection of curries and some beef that was so slowly cooked it could have been put on the moment the previous year's Festival finished.
I wonder what magic trick they have in store this time. I just hope it isn't a burger.
---
Click here to send your e-mails to Dave
---
Click here for completely free £10 bet with Sky Bet & £5 free every week
---