Racing battles against the elements
Ayr's meeting on Wednesday, an additional fixture arranged by the British Horseracing Authority, appears to offer the best chance for racing on turf to resume this week.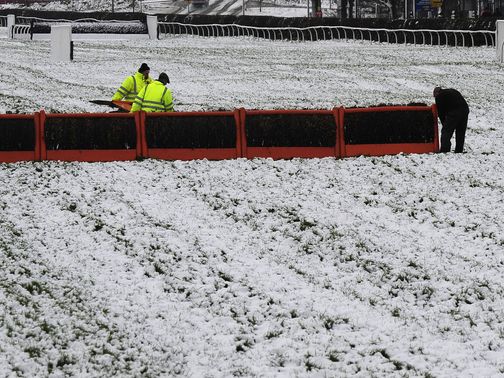 However despite the fact that only a very light snowfall has reached the course, forecast low overnight temperatures will force them to inspect in the morning at 7.30am.
Clerk of the course Emma Marley said: "The temperature dropped to -0.5C last night after a maximum of 2C yesterday.
"We have had 1.5 millimetres of rain, sleet and snow over the past 24 hours. There is a light dusting but there is no snow lying on the track.
"We are OK this morning, but we are forecast a sharp frost tonight and on that basis we have to inspect in the morning."
Exeter was abandoned after a lunchtime inspection on Tuesday, some snow had thawed but conditions weren't improving quickly enough.
Kempton's meeting on Wednesday is subject to a 10am inspection on raceday morning.
Officials at the Sunbury circuit must assess conditions as up to 4cm of further snow has been forecast on Tuesday evening.
Kempton's fixtures on Sunday and Monday were abandoned due to ice crystals forming within the Polytrack racing surface.
Catterick's meeting, also on Wednesday, has already been abandoned after an inspection.
Clerk of the course Fiona Needham said: "It has not actually been that cold over the weekend, but it's snowing again as we speak and it's not going to improve.
"Our next meeting is February 1 so let's hope things have improved by then!"
Turf meetings at Leicester and Wetherby on Tuesday had already been lost to the weather but all-weather cards at Lingfield and Wolverhampton will both go ahead.
Thursday's meeting at Fakenham was lost to snow 48 hours early.
Clerk of the course David Hunter inspected the track at noon on Tuesday but was forced to admit defeat.
Warwick's meeting on Thursday had already been abandoned after an impromptu 11am inspection was called by clerk of the course Sulekha Varma.
Varma said: "It was fairly simple really. We've got five to six inches of snow on the course and the forecast is suggesting we are going to be -4C or -5C overnight and not getting above freezing during the day.
"There is no prospect of it thawing out enough for us to be able to get on the track and get it fit for racing in time for Thursday.
"It was fairly easy to make an early call on it."
Varma is also the clerk at Huntingdon, which is due to race on Friday but will inspect at 9.30am on Wednesday.
"We are holding a watching brief there and hope things improve in time with the meeting being on Friday," she said.
"There is at least two to three inches of snow across the site which is enough to cause a problem."
Doncaster race on Friday and Saturday, with Friday's meeting subject to a 10am inspection on Wednesday.
Temperatures are not expected to rise above zero until Saturday now and with five inches of snow on the track, prospects appear slim.
"I'm nowhere near as confident as I was yesterday," said clerk of the course Roderick Duncan on Tuesday morning.
"The forecast yesterday predicted a rise in temperatures from Thursday onwards, with rain moving in Friday night into Saturday morning.
"Now they are saying the rain will not reach us until Saturday afternoon or evening.
"We are forecast daytime temperatures in the positives but we need a lot of help to shift the snow.
"There have been a few conversations about trying to rearrange the meeting but I don't think they have come to anything as it is logistically very difficult.
"We may get a different forecast this afternoon, we just have to hope they are wrong."
That leaves all eyes on Cheltenham, which is due to stage Festival Trials Day on Saturday.
Clerk of the course Simon Claisse is hopeful of beating the weather and a brief thaw on Monday allowed some snow to be brushed off the covers, but further snow is forecast.
"We remain hopeful and are crossing everything," said Claisse on Tuesday morning
"We had a little bit of a thaw yesterday which enabled us to get a little lightweight tractor on the covers with a brush to brush the remaining snow off. That is good news.
"We are still forecast one to two centimetres of snow tonight. We will cope with the lower end, we may have a big challenge if we get the other end because there aren't any real positive signs of thawing temperatures until Saturday.
"The crucial time for us is the next 24 hours as to what might further come out of the sky.
"We've been in discussion with the authorities and Jockey Club Racecourses since Friday, but we've always said in terms of timings and decisions, we need to get through the next snow event which is forecast for tonight.
"Then we will be in a better position to assess what our prospects are."
Also due to race on Saturday are Uttoxeter, whose clerk of the course reports four inches of snow covering the track.
"We haven't given up, but we need luck!" said Charlie Moore.
---
Click here for completely free £10 bet with Sky Bet & £5 free every week
---