Top 10 spats of 2013
We take a look at some of the most memorable sporting spats in the sporting world during the past 12 months.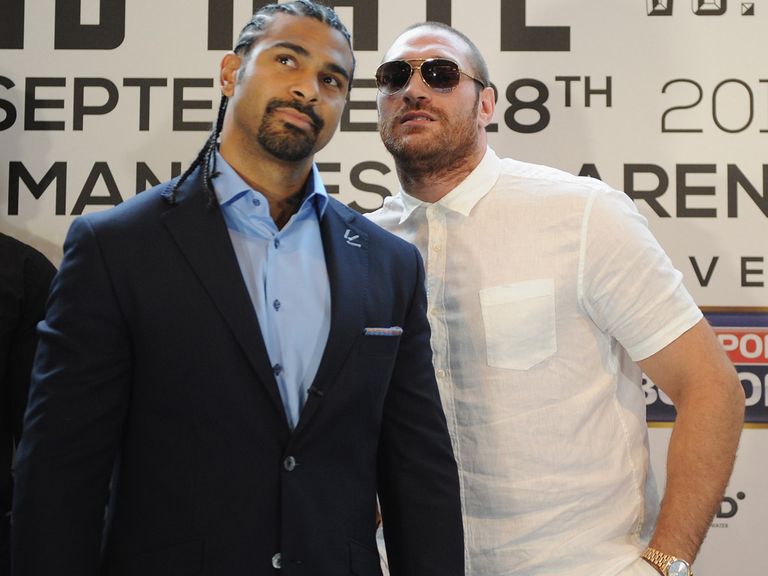 BRIAN COOKSON v PAT McQUAID
Cookson won an acrimonious and often farcical fight to replace McQuaid as president of cycling's world governing body the UCI, winning a decisive vote in Florence to finally bring an end to months of legal in-fighting over the legitimacy or otherwise of McQuaid's candidacy, all played out against the backdrop of the Lance Armstrong doping scandal.
DAVID HAYE v TYSON FURY
Fury lived up to his name when heavyweight rival Haye withdrew from their scheduled heavyweight fight in November with a cut eye. The verbal jousting reached overdrive approaching a new date in the new year - but it proved in vain when Haye pulled out for a second time with what was reported to be a career-ending injury.
STUART BROAD v DARREN LEHMANN
Broad's refusal to walk after edging Ashton Agar to slip in the first summer Ashes test at Trent Bridge drew fury from Australian coach Lehmann, who accused Broad of "blatant cheating". Looking ahead to the winter series in Australia, Lehmann added: "I hope he cries and goes home."
MARTIN O'NEILL v PAOLO DI CANIO
Di Canio began his disastrous reign at Sunderland by criticising the fitness of the players under his predecessor O'Neill. Di Canio lasted only 11 games and O'Neill responded saying: "Paolo ran out of excuses. I had a wry smile to myself."
ROBERTO MANCINI v MARIO BALOTELLI
The Italian pair's tempestuous relationship at Manchester City was encapsulated in January by a series of images which showed the pair engaging in a furious training ground bust-up. They made up to a point - but four months later Balotelli said he was "not surprised" by Mancini's sacking.
SERENA WILLIAMS v MARIA SHARAPOVA
Williams and Sharapova became embroiled in a brief war of words in the build-up to Wimbledon after Williams referred to the Russian's private life in a magazine interview. Sharapova responded in kind, before Williams sought to defuse the situation by offering a personal apology.
STEVE McNAMARA v THE PRESS
The Rugby League World Cup did not get off to the best of starts for England coach McNamara. He walked out of his first press conference after six minutes, after refusing to comment on selection decisions relating to a breach of discipline. McNamara said: "If you want to continue asking questions, we'll wrap it up now."
SEBASTIAN VETTEL v MARK WEBBER
World champion Vettel defied team orders to pass Red Bull team-mate Webber and win the Malaysian Grand Prix at Sepang. Vettel quickly apologised and the pair shook hands, but it was the latest incident in an acrimonous relationship and possibly hastened Webber's decision to leave Formula One at the end of the season.
TIGER WOODS v SERGIO GARCIA
Garcia responded to an on-course incident at the Players' Championship by making a controversial "fried chicken" remark relating to Woods. Woods described the comment as "hurtful" and "clearly inappropriate". Garcia subsequently insisted the comment had no racial intent, and left a hand-written note of apology.
ASSEM ALLAM v HULL FANS
Hull's triumphant return to the Premier League was blighted by a spat between fans and owner Allam, who wants to change the club's name to Hull Tigers. Responding to complaints from campaign group 'City Till We Die', Allam raged: "They can die as soon as they want".
---
New Sky Bet customers: Free £30 matched bet
---