Sports quotes of 2013
Our Andy Hampson takes a look back at some of the most memorable sports quotes of 2013.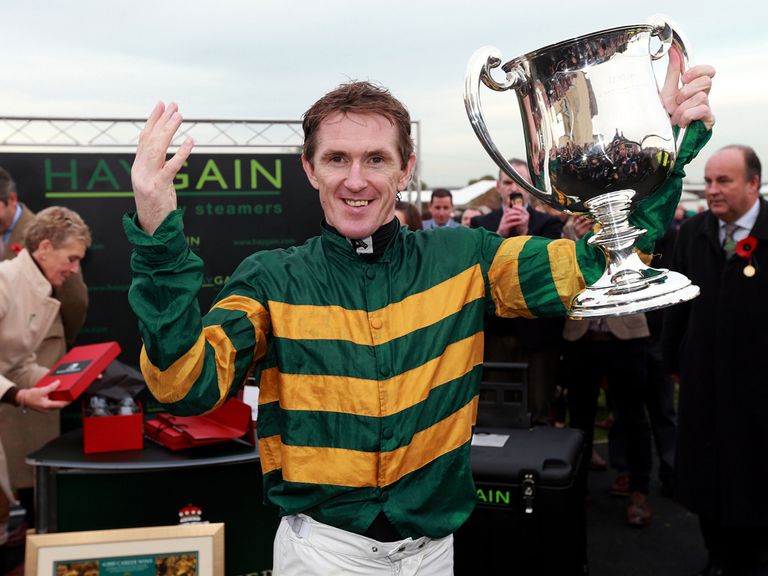 WINNERS
"Winning Wimbledon, I can't get my head around that. I still can't believe it's happened."
Andy Murray is in shock after ending Britain's 77-year wait for a men's singles winner at Wimbledon.
"I never thought in my career that I'd be able to achieve something like this."
Mo Farah celebrates his latest stunning success after adding the 5,000 and 10,000 metres World Championship double to the two long-distance gold medals he won at the 2012 Olympics.
"For it to all just work out for me, on such an emotional day, I couldn't help but look up to the heavens and think that my old dad Ken had something to do with it."
Justin Rose pays tribute to his late father after securing his first major title, at the US Open at Merion, on Father's Day.
"Crossing the line with (the) guys brought tears to my eyes. I expected it to be big but this is something else."
The enormity of winning the Tour de France hits Chris Froome.
"It was just amazing, it couldn't have worked out any better."
Tony McCoy, after victory on Mountain Tunes at Towcester saw him become the first jump jockey to ride 4,000 winners.
"At half-time we spoke about going to a place that not many players go to in terms of pushing your body to the limit - and the players did that and ran themselves into the ground."
British & Irish Lions coach Warren Gatland hails his team after an emphatic 41-16 win in the third Test against Australia in Sydney secured a first series win for the touring side in 16 years.
"I had Andrew in my mind a lot, certainly when I crossed the line. He would have loved it. It was a very special moment."
Ben Ainslie remembers his late colleague Andrew Simpson after playing an instrumental role in Oracle Team USA's remarkable comeback from 8-1 down to win the America's Cup.
"The crowds have been fantastic for all five Tests and I'm privileged to captain this group of guys. Winning this series is the proudest moment of my life."
England captain Alastair Cook enjoys his side's home Ashes series win over Australia.
"What an achievement. The dream has come true. This goes a long, long way to making up for my previous experience of the cup final when I was carried off."
Wigan owner Dave Whelan - injured playing for Blackburn in the 1960 FA Cup final - is a proud man after watching his side produce one of the competition's great Wembley shocks by beating Manchester City.
"I've gone from the worst moment of my career to the best in six months. It's a great feeling."
Wigan match-winner Ben Watson, who missed most of the 2012-13 season with a broken leg, savours his late goal against Manchester City.
"Every one is special. Especially after the disappointment of last year, losing out on the last day, it is a great achievement by the lads."
Ryan Giggs celebrates his 13th Premier League title with Manchester United.
"It has not been an easy season. From the outside people will think it was easy but it wasn't. To be booed when I have not done anything wrong was hard, but I think I answered it on the track, which I am very pleased about."
Sebastian Vettel claims his fourth successive Formula One world title was not as straightforward as it seemed.
"I intend to play in some smaller events just for the love of the game and come December or January I'll have a better idea of what I'm going to be doing or whether my heart's in it."
Ronnie Sullivan claims his fifth world snooker title but, yet again, refuses to commit his future to the sport.
"You don't want the stamp of a loser. Tonight I scored the goal. We did it and we can forget about the other things."
Arjen Robben sweeps away past disappointments for club and country in major finals by scoring the goal that clinches Champions League glory for Bayern Munich.
"I never thought that we would play so well in front of a great crowd. The boys were outstanding and everyone worked so hard for each other."
Man of the match Justin Tipuric reflects on Wales' record and title-clinching 30-3 Six Nations win over England.
"Sometimes you are lucky in those things - you envisage something and it comes off, but it doesn't always work out that way."
England manager Roy Hodgson reflects on his decision to select Andros Townsend for the crunch World Cup qualifier against Montenegro.
"Joy is short-lived in this job. Although I wouldn't suggest we intend to rest on our laurels, I think we have earned the right to enjoy the fruits of our labours. Instead we get this."
Hodgson is dismayed after his side's achievement in reaching the World Cup is overshadowed by the details of a joke he told the dressing room being revealed.
"I probably told a little white lie along the way that what happened in this final would not mean much against 2008. But standing out on the field after the match, a little bit of the disappointment from back then was erased."
Australia hooker Cameron Smith reveals the World Cup heartache suffered five years previously was removed after overpowering New Zealand 34-2 in this year's final.
CHEATS
"I view this situation as one big lie, that I repeated a lot of times. It wasn't as if I just said no."
After years of denials, Lance Armstrong, seven-times winner of the Tour de France, admits to using performance-enhancing drugs in a TV interview with Oprah Winfrey.
"I try to take myself out of this situation and look at it: you overcome the disease, you win the Tour de France seven times, you have a happy marriage, you have children. It's this mythic, perfect story and it wasn't true."
Cancer survivor Armstrong speaks more about the false fairytale he created.
"The thing that makes me most angry is the fact that they're trashing our history. It's like driving a bulldozer through a war cemetery."
Sebastian Coe is saddened after athletes Tyson Gay and Asafa Powell fail drugs tests.
FERGUSON
"The decision to retire is one that I have thought a great deal about. It is the right time."
Sir Alex Ferguson calls time on his remarkable managerial career after 26 years in charge at Manchester United, during which time he won 38 trophies.
"I want to say thank you to Manchester United. Not just the directors, coaching staff, medical staff, the players, the fans, but to all of you - you have been the most fantastic experience of my life."
Ferguson says a personal thank you to fans during a speech after his last game at Old Trafford.
"When I had bad times here, the club stood by me. All my staff stood by me, the players stood by me, you stood by me, and your job now is to stand by our new manager. That's important."
Ferguson also endorses his successor David Moyes.
MOVERS
"I heard so many people talking about 'you don't want to follow Sir Alex', lots of good managers said that, they said, 'who's going to take on that job?' but I think everybody would have taken the job because of what it is."
David Moyes admits the chance to take over at Manchester United was too good to turn down.
"I am the Happy One."
Returning Chelsea manager Jose Mourinho, after an unhappy end to his Real Madrid tenure, is pleased to be back at the club where he once proclaimed himself the 'Special One'.
"I would say I want to win five trophies in the next five years."
Manchester City chief executive Ferran Soriano makes clear the scale of the club's ambition to new manager Manuel Pellegrini.
"Es un sueno el jugar en el Real Madrid. Gracias por esta gran acogida. Hala Madrid."
Gareth Bale draws huge roars from the watching crowd as he addresses them in Spanish at his official unveiling as a Real Madrid player following his £86million move from Tottenham. "It is a dream to play for Real Madrid. Thank you for this great welcome. Hail Madrid," he says.
"I'm 24 so I've got a lot of rugby left in me, probably my best years to come. I want to do them in the toughest competition, which is the NRL."
Wigan star Sam Tomkins underlines his motivation following confirmation of his world record £700,000 move to New Zealand Warriors.
"Some are talking out of their backsides, a load of tosh. I'm not accepting it, as simple as that. I have certainly got more intelligence than them, that's for sure."
Newcastle's former manager and new director of football, Joe Kinnear, hits out at fans disgruntled over his appointment.
"I think I am the bad cop and I think he is the bad, bad cop."
Martin O'Neill discusses his appointment as Republic of Ireland manager with Roy Keane as his number two.
FAREWELLS
"Despite everyone's best efforts, the club has failed to achieve any of its stated targets this year, with the exception of qualification for next season's UEFA Champions League. This, combined with an identified need to develop a holistic approach to all aspects of football at the club, has meant that the decision has been taken to find a new manager for the 2013-14 season and beyond."
In what became a much-ridiculed statement for its use of the word holistic, Manchester City sack manager Roberto Mancini.
"Chelsea gave me the title of interim manager, which is a massive mistake. I'm the manager. The fans are not helping us. At the end of the season I will leave. They don't have to worry about me."
Interim manager Rafael Benitez hits out at Chelsea and the fans who never accepted his temporary appointment as he attempts to change the negative atmosphere at the club.
"I wanted to show them I will never give up. We have to keep together. I still believe in myself. I will never change. The players need to release the rubbish from their brains."
Paolo Di Canio vows to fight on after a defeat at West Brom prompted him to walk across and gesture in defiance to fans. It proved the final act of his chaotic reign. A day later he was sacked.
"Sometimes people have looked at certain other things that have gone on throughout my career, sometimes that's overshadowed what I've done on the pitch. As much as I say that doesn't hurt me, of course it does. I'm a footballer that has played for some of the biggest clubs in the world, played with some of the best players in the world, played under some of the biggest and best managers and achieved almost everything in football."
David Beckham hopes to be remembered as a footballer rather than a celebrity after announcing the end of his glittering career.
"I have been very fortunate in that my career has taken me on a journey I could only have dreamed of."
Former Liverpool, Real Madrid, Newcastle, Manchester United and England striker Michael Owen, after a frustrating final season at Stoke, announces his retirement.
"It has been a privilege and an honour to represent this great club for as long as I have."
Liverpool stalwart Jamie Carragher retires.
"We are sad for this but this is football."
Mancini, then still at City, is clearly saddened by the departure of controversial striker Mario Balotelli following his move to AC Milan.
"I am finally hanging up my boots for good."
Manchester United veteran Paul Scholes retires for a second time.
"I'm just a girl from Mansfield and I've done it."
Rebecca Adlington, a double Olympic gold medal winner, looks back on her career after retiring from competitive swimming.
"All my life, I have had a dream of playing cricket for India. I have been living this dream every day for the last 24 years."
India batsman Sachin Tendulkar admits the time has finally come to retire after 200 Test matches.
NON-MOVERS
"It is total lunacy because he didn't have permission to be at QPR. I think Peter has been very, very badly advised."
Former West Brom manager Steve Clarke is incredulous after striker Peter Odemwingie travelled to Loftus Road anticipating a deadline-day move to QPR that never materialised.
"They gave me their word a year ago and now I want them to honour that. And it is not just something verbal with the coach but something that is written in the contract."
Luis Suarez tries to up the stakes in his summer-long - but ultimately doomed - attempts to engineer a move away from Liverpool by accusing manager Brendan Rodgers of reneging on a promise.
"What do you think they are smoking over there at Emirates?"
Liverpool owner John Henry appears to dismiss Arsenal's £40,000,001 offer for Suarez in flippant fashion on Twitter.
"The person that started the story has to finish the story. For the good of everyone, it is time to finish the story."
Chelsea boss Jose Mourinho calls on Wayne Rooney to state clearly whether he wants to leave Manchester United or not after a summer of speculation linking him with Stamford Bridge.
FRACAS
"I struck Joe Root in the face, I'm here today to put my hand up and apologise publicly to Joe. I am responsible for my actions, extremely remorseful."
Australia's David Warner apologises after his clash with England's Joe Root in a Birmingham bar.
"We were playing a game and Mario kicked his team-mate. I told him, 'Go inside, leave the pitch'. He said no so I took his shirt and I pushed him off the pitch. There was no fight. The pictures made it look worse."
Roberto Mancini tries to explain extraordinary pictures of him grappling with Mario Balotelli on the Manchester City training ground.
"I am deeply sorry for my inexcusable behaviour earlier today during our match against Chelsea."
Suarez apologises for the bite on Chelsea's Branislav Ivanovic which earned him a 10-game ban.
CONTROVERSIES
"Like the players, umpires can also have good and bad days but we all know that the umpire's decision, right or wrong, is final and must be accepted."
ICC chief executive David Richardson acknowledges the on-field and third umpires in the first summer Ashes Test at Trent Bridge made a number of high-profile mistakes. These included Jonathan Trott being given out lbw incorrectly and Stuart Broad surviving after clearly edging to slip.
"I'm very relieved. I was confident because I know what happened and I'm glad the right result was made in the end."
Australia captain James Horwill expresses satisfaction after controversially being cleared for a second time - the original verdict was challenged - of stamping on Alun-Wyn Jones during the first Test against the British & Irish Lions in Brisbane.
"I am not political, I do not affiliate myself to any organisation. I am not a racist and I do not support the ideology of fascism."
After three days of controversy sparked by the resignation of David Miliband as vice-chairman in protest, Di Canio distances himself from fascism at the start of his ill-fated reign.
"I've flown out for some pre-planned downtime ... with a bit of punditry thrown in for a game I would have watched anyway."
Rio Ferdinand defends his decision to fly to Qatar to work as a TV pundit for an England international after rejecting a call-up to the team because of a "pre-planned programme" to manage his fitness.
"I've lost a game in the last minute to what I think is a handball and also got a boy going to hospital. The diagnosis will not be good because the tackle was so bad."
Newcastle boss Alan Pardew fumes after a defeat by Wigan overshadowed by an unpunished horror tackle on Massadio Haidara by Callum McManaman.
"I was accused of falling inside the box in a match, and it's true I did it that time."
Liverpool's Luis Suarez admits to diving.
"It was wrong, hurtful and clearly inappropriate. I'm confident that there is real regret that the remark was made."
Tiger Woods responds to comments from fellow professional Sergio Garcia which had racial connotations.
"We did go out to the middle of the pitch, all the lads, drinking beers, singing a few songs and enjoying each other's company. I think the call of nature might have come once or twice, but it was nothing untoward."
Graeme Swann on reports England players urinated on the Oval pitch while celebrating their Ashes victory.
"I'm not just disappointed, I'm furious."
Manchester City's Yaya Toure after he was subjected to monkey chants during his side's Champions League win at CSKA Moscow.
CENTURIONS
"Growing up, getting turned down at the FA's national school at 14, not getting picked for England under-15s. There were times when I thought I'd never even get one cap."
Steven Gerrard prepares to win his 100th England cap.
"There are not many international fathers and sons. It is something he'd normally shy away from but with a bit of pressing he has managed to get himself out there and I think he will be a very proud dad when he does."
Frank Lampard is pleased his father, Frank Lampard Snr, is involved in the ceremony to commemorate his 100th England cap.
"I'd like to thank the fans, because I didn't really expect the reception I got. It was very nice. I'm delighted and overwhelmed."
Ashley Cole, whose relationship with fans has been difficult, was moved by his reception after winning his 100th England cap.
"We've all made mistakes in all our lives. That's when you learn the most, and if I hadn't learned I wouldn't be sitting (here) on the eve of my 100th Test match."
England batsman Kevin Pietersen admits the path to his 100th Test has not been a smooth one.
TRAGEDY
"I fail to understand how I could be charged with murder, let alone premeditated murder, as I did not plan to murder my girlfriend, Reeva Steenkamp."
A statement from Paralympic 'Blade Runner' Oscar Pistorius, charged with murder, read out in court during his bail hearing.
OTHERS
"I thought I was on my way out. I looked like a corpse. I was a total wreck."
Paul Gascoigne on his time in rehab in Arizona.
"The thing I think is 'what's the big deal?' I haven't had the best six months, but it's okay. I'm fine, I've got a good life so it doesn't bother me."
Rory McIlroy calls for some perspective in face of criticism about his form.
"The team showed great determination but sport at the very elite level can be cruel."
England coach Steve McNamara bemoans his side's fate after conceding a last-minute try to New Zealand to lose their rugby league World Cup semi-final.
"I know it doesn't really help his feelings right now, but I should have behaved better."
Sebastian Vettel apologises for ignoring team orders by passing Red Bull team-mate Mark Webber to win the Malaysian Grand prix.
"Let all of them blast their shotguns. I'm still firmly of the belief, with all my heart and not letting it rule my head, that what I did at Hampden was the right thing to do."
St Mirren chairman Stewart Gilmour is unmoved by criticism after voting against plans to reform Scottish football.
"Celtic make a song and dance about everything, don't they? Paranoid FC."
Kilmarnock manager Kenny Shiels pulls no punches in dismissing Neil Lennon's anger over the lack of Celtic players on the Scottish PFA player of the year shortlist.
"It will take a couple of days. It's a tough pill to swallow at the moment. We had high hopes... of achieving something special."
England captain Alastair Cook is devastated by his team's five-run defeat to India in the ICC Champions Trophy final.
"I didn't do a lot wrong, I just didn't do enough right."
Lee Westwood reflects on his near-miss at the Open Championship at Muirfield.
"I forgot this was a friendly. It doesn't feel like that now. It's a long time since I've felt as bad as this."
Scotland manager Gordon Strachan finds defeat against England at Wembley tough to take.
"He's thrown a world title away through being a complete tactical numpty."
Alistair Brownlee is unsympathetic after seeing brother Jonny pipped on the line by Spain's Javier at the World Triathlon Grand Final.
"It didn't make great viewing. I've seen it now, I lost whatever dignity I had, and I have no intention of ever seeing it again."
Monty Panesar speaks of his shame after footage of him appears on the internet following an incident which led to him being fined for urinating on a nightclub bouncer.
"The way that Trotty got out today was pretty poor and weak."
Australia's David Warner personalises the Ashes battle Down Under with comments about Jonathan Trott, two days before the England batsman left the tour due to a stress-related condition.
---
New Sky Bet customers: Free £30 matched bet
---