Three killed at Boston Marathon
Three people have been killed and more than 100 injured following two explosions which took place during Monday's marathon in the city.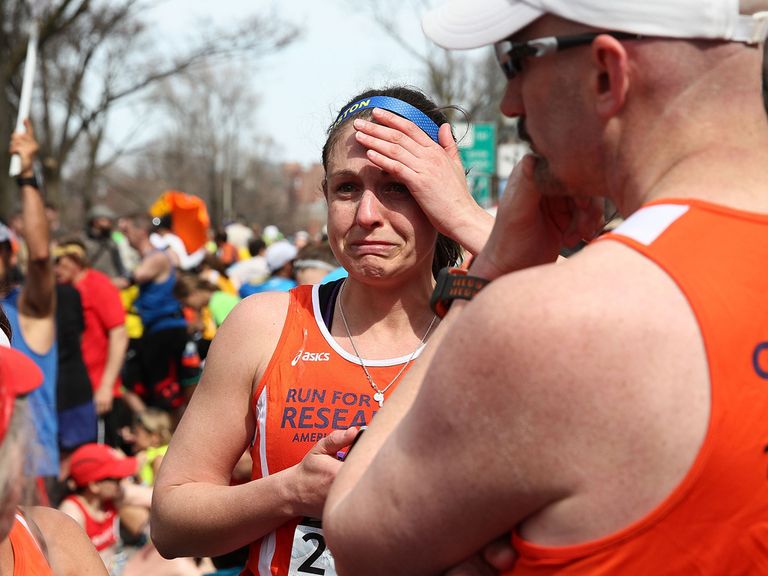 Police confirmed the fatalities following the incident on Boylston Street in downtown Boston.
The explosions took place after the elite race had finished. Lelisa Desisa of Ethiopia won the men's race with Rita Jeptoo winning the women's.
A statement from the organisers read: "There were two bombs that exploded near the finish line in today's Boston Marathon. We are working with law enforcement to understand what exactly has happened."
A Foreign Office spokesman pledged to look into the incident.
"We are aware of the incident and we are trying to gather information," said a spokesman, while Foreign Secretary William Hague Tweeted to say: "Appalled by news of explosion at Boston marathon. My thoughts are with everyone affected by it and all those waiting for news."
The race - the world's oldest annual marathon - is held each year on Patriot's Day.
The popular event attracts huge numbers of spectators and this year's race had around 25,000 registered entrants, with the official website listing 347 competitors from the United Kingdom.
The explosion took place as runners were still on the course, with those yet to reach the finish being held by police around the 26-mile mark.
Television pictures showed bloodied spectators and runners lying on the ground, emergency workers ripping away fencing and others carrying injured men and women from the scene.
Pictures also emerged showing casualties lying on the pavement on Boylston Street - the main road through the east coast city - and debris blowing around them.
US president Barack Obama later vowed to hunt down those responsible and bring them to justice.
The Boston race precedes Sunday's London Marathon which will now come under extra scrutiny from a safety point of view.
Nick Bitel, London Marathon chief executive, said: "We are deeply saddened and shocked by the news from Boston. Our immediate thoughts are with the people there and their families. It is a very sad day for athletics and for our friends and colleagues in marathon running.
"Our security plan is developed jointly with the Metropolitan Police and we were in contact with them as soon as we heard the news."
Met Police Chief Superintendent Julia Pendry said: "A security plan is in place for the London Marathon. We will be reviewing our security arrangements in partnership with London Marathon."
UK Athletics confirmed that none of their elite runners had taken part and added that Ross Murray, who ran Sunday's one-mile invitational was "absolutely fine".
Twenty-two-year-old Murray himself Tweeted: "Just so everyone knows, I'm ok and well , wasn't around the bombs. Xx"
Tatyana McFadden, who won three golds in London Paralympics, won the women's wheelchair race and later Tweeted: "I'm am okay my family and teammates are okay. Please please pray for those who were running and got hit by the bomb. Pray 4 family's-friends."
A number of paralympic athletes had been participating in the race ahead of this weekend's race, and International Paralympic Committee press officer Craig Spence said: "At the time of speaking we have everyone accounted for."