Fighting Irish to progress
Alex Ferguson provides the betting tips for the second day of college basketball's March Madness.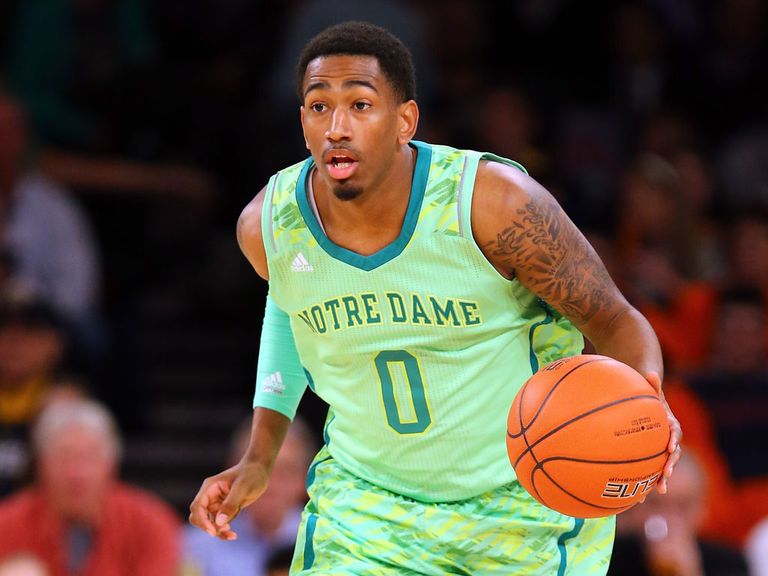 FRIDAY
Indiana (1) vs LIU-Brooklyn/James Madison (16)
Indiana are one of the best teams in the NCAAs, and therefore there's no reason why they shouldn't beat (and comfortably) the winner of the LIU-Brooklyn/James Madison game. Victor Olapido and Cody Zeller will give defences fits.
TIP: Indiana to win comfortably.
Kansas (1) vs Western Kentucky (16)
Kansas were lights-out in their win in the Big 12 Championship over local rivals Kansas State, and their team is a bona fide Final Four contender. Yes, the Jayhawks are that good, folks. Western Kentucky are just happy to have made it. Close this won't be.
TIP: Kansas, a 1/66 favourite, to win this. Although the 10/11 shot that Western Kentucky has to keep the margin of victory to under 19.5 isn't a bad one.
We've watched a lot of Duke this season, and it's undeniable that the smart kids from Tobacco Road have the talent to go to the Final Four - and possibly beyond - this year. Seth Curry, Mason Plumless and back-from-injury Ryan Kelly make this team a Blue Devil to play. Sorry, Albany.
TIP: Duke (1/50 favourites) to win, and win by MORE than the 17.5 spread (10/11 favourites to do that).
Miami has been the regular season Cindarella, mowing down Duke and North Carolina en route to an ACC title. We're happy for them. This team - featuring Shane Larkin (son of baseball legend Barry Larkin) - is ferocious on both sides of the ball, so God help Pacific, who are 13/2 outshot compared to Miami's 1/10.
TIP: Miami's a 12.5-point favourite, which we like in Pacific's favour. Don't get us wrong, we don't think Pacific will win, but we think their stingy defence might keep the score respectable.
Ohio State has beaten Indiana, Michigan and Michigan State, and its defence keeps teams to under 58 points per game. Watch out for future NBAers DeShaun Thomas and Aaron Craft, who will need to be excellent to suffocate the ferocious offense of Iona, which averages over 80 points per game.
TIP: Ohio State, a 1/12 favourite and 10/11 to win by at least 13.5 points, will come out of this, and we'll take the points, too.
Georgetown (2) vs Florida Gulf Coast (15)
Florida Gulf Coast's biggest win of their season was a 12-point victory over Miami, but do they have a prayer against the defense of Otto Porter and Georgetown? Sky Bet doesn't think so - that's why the Eagles are 7/1 and Georgetown are 1/12!!
TIP: Georgetown to win convincingly.
Florida (3) vs Northwestern State (14)
Like their football team, Florida's defence has made me a believer in how good the Gators are (they keep opponents to under 54 points per game). Offensively, Erik Murphy, Mike Rosario and Kenny Boynton all came back to Gainesville for a senior year, and they can kill from long range. Northwestern State scores a ton of points (81 per game average), so Florida will have to be on its toes to avoid a similar upset to the 2004 campaign, when they lost to Manhattan.
TIP: Florida's 10/11 to win the game by over 20.5 points. I like Northwestern State (10/11) to lose by less than that margin. But Florida (1/66) should win and win easily.
Kansas State (4) vs Boise State/LaSalle (13)
The Boise State/LaSalle match-up should be riveting to watch on Wednesday day night, but that's as far as the winners of that game will go. As outclassed as the Wildcats looked against Kansas in the Big 12 final, Kansas State is a very good team. They can score and defend excellently, which is going to hurt any of their opponents. This one for starters.
TIP: Kansas State to win.
Wisconsin (5) vs Ole Miss (12)
Marshall Henderson is the most fun player of the NCAA tournament. Sure, Ole Miss probably won't get through Wisconsin (who's playing exceptionally well down the stretch), but for interest's sake, I hope they do. Henderson's game - and his actions - are that much to watch. If Henderson's hot (especially from three-point range), the Badgers are in trouble. Having said that, Wisconsin's got the CV, beating Indiana and Michigan twice. Wisconsin's a 10/27 favourite, but Ole Miss is a tasty 11/5.
TIP: This could well be the game of Friday's competition. We're going with Wisconsin to pull out the victory, and beating the handicap of 6 points.
Minnesota has been atrocious lately, going 11 of their last 16. UCLA (11/8), with Shabazz Muhammad and Larry Drew are going to fired up, and have quality wins over Arizona and Missouri this season. If Minnesota (8/13 favourites) are going to win, they are going to have get their offensive rebounding game on, and think about what they did well in wins over Indiana, Michigan State, and Memphis.
TIP: I love UCLA to win this match, and particularly as a 3-point handicap underdog.
Notre Dame (7) vs Iowa State (10)
Iowa State are a dream to watch from 3-point range, but awful to watch defensively. Against Notre Dame, who simply doesn't make mistakes and have beaten Louisville and Syracuse this season, we simply don't see the Cyclones coming through. Sky Bet thinks its going to be close - the Irish are 5/6 favourites with a one-point handicap while Iowa State evens.
TIP: Notre Dame wins, and beats the handicap.
San Diego State (7) vs Oklahoma (10)
San Diego State has the player the experts have been talking about: Jamaal Franklin. He leads his team is assists, steals, rebounds and more importantly, points. In short, the boy can 'ball. If Oklahoma can suffocate Franklin, and get the ball to Romero Osby and Steven Pledger, San Diego might be going back to the sun quicker than some people expect. SkyBet thinks San Diego State will get through (7/10 favourite) and is a 2 ½ point handicap, but Oklahoma's a not-too-untidy 6/5.
TIP: Can't get it out of my head that this game's going to be exciting, but ugly at the same time. We're going with San Diego State and Franklin, but with reservations.
Creighton (7) vs Cincinnati (10)
Doug McDermott and Creighton are excellent from 3-point range, which could hurt a Cincinnati team that's lost heartbreakers to both Syracuse and New Mexico this year. Creighton's an 8/13 favourite, and is a 3-point favourite, while Cincy's 11/8. Sky Bet thinks this going to be close, and so do we - particularly bearing in mind the Bearcats' pedigree of playing in the Big East, the country's most competitive conference. In a season where anyone can beat anyone, this might be one of those where you take your breath, and toss a coin.
TIP: Cincinnati to score the upset.
It's strange to see Colorado play with the elite bearing in mind their laughably awful football team, but the Buffaloes are back, and there are 21/20 to beat the Illini, who's 4/5. Mind you, Sky Bet's not giving punters a lot (the handicap is just 1.5 in Illinois' favour), so that'll tell you how close this one's going to be. Despite not being a great team, Illinois pulled off the upsets of the year when they beat Indiana. Colorado's done away with Arizona, Colorado State and Oregon, and Andre Roberson is going to cause the Illini fits.
TIP: Colorado with the upset, beating the handicap in the process.
There is no doubt that the Wolfpack are a lot of fun. But the pity with them is that they give up too many points to have been a genuine contender for the ACC this season (despite rocking Duke). CJ Leslie is genuinely talented, but can they stop Temple's Khalif Wyatt, who's a great points scorer? One big point: Temple gives us 83 points per game on neutral courts. And where are they playing? A neutral court. NC State's 1/2 with SkyBet (and a 4 ½ point favourite), while Temple's 13/8.
TIP: NC State wins.
Villanova (8) vs North Carolina (9)
There's no doubt about it - North Carolina's one of the hottest teams in basketball right now, and James Michael McAdoo's a big reason for that. Villanova at the moment can't defend the three - and that's Carolina's strong point. Having said that, 'Villanofun' (as it's rudely called by the haters), has beaten Louisville, Georgetown, Syracuse and Marquette, but will they be good enough? North Carolina is 5/9 to win the game, and 'Nova is 9/4. North Carolina's a 4-point favourite.
TIP: North Carolina to win, and beat the handicap.
---
Click here for completely free £10 bet with Sky Bet & £5 free every week
---