Green light for Gonzaga
Thursday marks the opening day of the NCAA Tournament and Alex Ferguson gives you some tips to help you along the way. This is going to be fun!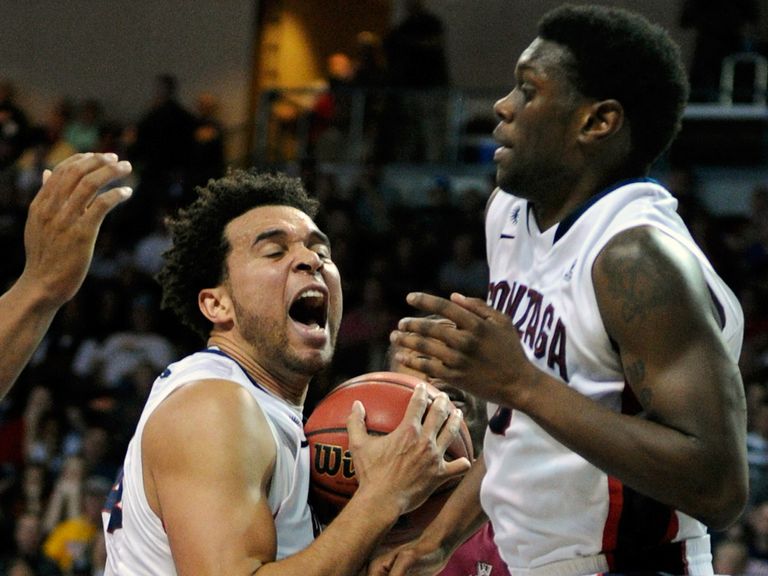 THURSDAY
Louisville (1) vs NCAT/Liberty (16)
We'll put this one out there. We expect Louisville to comfortably beat either North Carolina A&T or Liberty, who play each other Tuesday for the right to go head-to-head with last year's finalists. Louisville has far too much talent - starring future NBAer Peyton Siva, for one of these two to live with them come Thursday.
TIP: Louisville. Comfortably.
Just over a decade ago, Gonzaga was a conference nobody. In 1999, they made a deep March Madness run and instantly became the Cindarella story. They haven't looked back. Now, the Bulldogs are the No.2 team in the nation, have a No.1 seed, and haven't lost since January 19. They are a mammoth favourite over Southern. As they should be.
TIP: Gonzaga. Comfortably.
Michigan State (3) vs Valparaiso (14)
Considered one of the more non-No.1 seeds in the tournament, Tom Izzo's Michigan State Spartans are 25/1 with Sky Bet to win it all. The Spartans have beaten both Kansas and Michigan this season and will take advantage of a turnover-prone Valparaiso team.
TIP: Michigan State.
Marquette (3) vs Davidson (14)
One of the more interesting games of the opening round features a Davidson team that fires the ball exceptionally well from three-point range against a Marquette team that is frustrating to watch but has wins over Georgetown and Syracuse on its resume. Sky Bet has Davidson as a 29/20 bet to score the upset. We like it - if their players can stay out of foul trouble.
TIP: Davidson with the upset.
St Louis (4) vs New Mexico State (13)
St Louis is great against good teams featuring a 5-1 record against Top 25 teams. They've beaten Butler and VCU a combined five straight times and thrashed New Mexico too. This is a very, very good team. New Mexico, who are dreadful from 3-point range and turn the ball over too much, should worry.
TIP: St Louis, 10/11 to win by more than 9, will beat the spread.
Oklahoma State (5) vs Oregon (12)
One of the more fearsome and frightening of the first round match-ups for bettor, because these two evenly-matched teams will throw up a barnstormer. Oregon will be furious that despite winning the Pac-12 they've only been given a 12th seed while Oklahoma State will think that it has a legitimate chance for a deep run after wins over title contenders Kansas and Kansas State. Oregon are 11/8 to win this game with Sky Bet, and that looks quite the offer.
TIP: Oregon with the upset, in the best game of the round.
According to Sky Bet, the UNLV-Cal game's going to be one of the tightest of the day, with UNLV a 4/6 favourite and Cal a 5/4 shot in a game decided by under three points. Watch out for UNLV's Anthony Bennett, who is going to make a lot of noise in the future, to rule the roost. The Running Rebels are dangerous, folks.
TIP: UNLV to win by more than 3.
The Wildcats, a 1/2 favourite in this match-up were not on form in the last 10 games of the season, going 5-5 and looking fairly dreadful. Having said that, wins over Florida and Miami and Colorado in the early season prove that Arizona can do it. If Mark Lyons, Solomon Hill and Nick Johnson find their touch, Belmont - who aren't the biggest side in the tourney - are going to struggle.
TIP: Arizona to beat the spread
Pittsburgh (8) vs Wichita State (9)
Pittsburgh might have a lights-out defence but their record against better teams (ie Top 25 teams) was a poor 2-5 (although they have beaten Georgetown). Wichita State, which has one of the biggest teams size-wise in the tourney, has a win over VCU on its own CV. But both teams really don't score very much (around 70 points per game), but they don't let in a lot either. This game will be for defensive purists only. Pitts are 10/11 to win by 4.5 points, while Wichita State are 7/4 to win. We like....both.
TIP: I threw up my coin, and it came up on Pittsburgh. There you go
FRIDAY
New Mexico (3) vs Harvard (14)
One thing is guaranteed, New Mexico: Harvard is smarter than you are. Hoping to emulate Ivy League rival Cornell's run to Sweet 16 in 2010, the Crimson is an 11/2 outshot to beat 1/3 New Mexico. New Mexico has a bundle of talent, including Kendall Williams and we expect him to send Harvard to the books.
TIP: New Mexico
Michigan (4) vs South Dakota State (13)
Earlier this year, we were talking about Michigan being possibly unbeatable. By the end of the season, the Wolverines were a bit of a laughing stock, losing to a laughably awful Penn State despite having the talent of Tim Hardaway Jr, and Trey Burke. The maize and blue is 6-6 in their last 12 games, and will need all its firepower to over Nate Wolters and his Jackrabbits. Michigan are 10/11 to win by over 11 points. We like.
TIP: Michigan, but it's going to be close
There is no doubt that Syracuse has one of the most talented teams in the nation. But will the 'Cuse be the team that took apart Louisville for the first half of the Big East Championship or the 'Cuse that WAS torn apart for the second half of that game? Michael Carter-Williams and Brandon Triche are a lot of fun to watch but so are Montana, who can fire the 3 with the best of 'em.
TIP: Syracuse by more than 12.5 points
VCU are some people's favourite to go to the Championship Final (50/1 with Sky Bet) but they are going to be tested by Akron giants Zeke Marshall, Demetrius Treadwell and Alex Abreu. But if Shaka Smart's on his game, expect VCU to rumble.
TIP: VCU (10/11) to win by more than 7.5 points
This match-up of two smaller schools is going to be a lot of fun. Sixth-seeded Butler is 4/7 favourite and 11th-seeded Bucknell is a 29/20 shot but the spread is 3.5 so everyone's predicting a close game. Butler has beaten Gonzaga, North Carolina and Indiana, so should not be messed with, while people are talking up Mike Muscala and Bucknell's defensive prowess. This is going to be a war.
TIP: Butler wins, but bet on Bucknell to keep the margin to under 4.
Memphis (6) vs Middle Tennessee State/ St Mary's College(11)
Middle Tennessee State or St Mary's play on Tuesday night for a chance to have a pop at Memphis and both sides are dangerous enough to cause the upset. St Mary's is going to have the experience of going to the Big Dance before but will they have a chance against Memphis? The Wildcats haven't lost since mid-December and Joe Jackson, Adonis Thomas and Chris Crawford are frightening to play against. Make of that what you will.
TIP: Memphis wins this match-up
Colorado State (8) vs Missouri (9)
Missouri is 8/13 to win, while Colorado is 11/8. Everyone's talking about this one being close - the spread is just three points. Both Colorado State and Missouri are high-scoring (the combined team scoring average is 74.6 points per game), so this one should be fun. Colorado State will limit Missouri on the boards but Missouri's wins over Florida and VCU show they can beat top teams.
TIP: Colorado State in a fun one
---
Click here for completely free £10 bet with Sky Bet & £5 free every week
---