Armstrong: Success is one big lie
Lance Armstrong has confessed to using performance-enhancing drugs during all seven of his Tour de France victories, saying: "I view this situation as one big lie."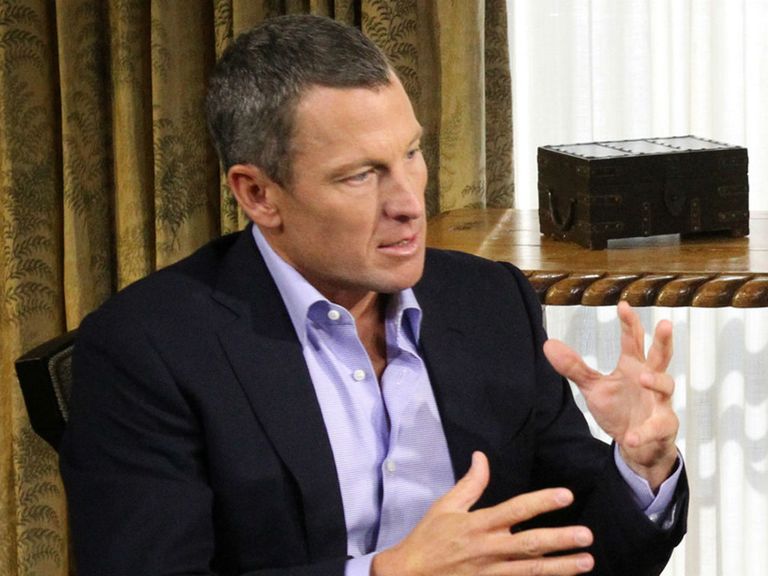 After years of denials, the 41-year-old American told Oprah Winfrey in a much-anticipated television interview that during his record run, from 1999 to 2005, he used blood-boosting agent EPO, blood doping, testosterone, cortisone and human growth hormone.
Armstrong, who was last October stripped of all results dating from August 1, 1998 and banned from sport for life, denied doping during his comeback from retirement in 2009, when he finished third in the Tour, and 2010 and refuted suggestions he paid off cycling's world governing body, the UCI, to cover up a positive test in 2001.
In hindsight he wishes he had co-operated with the United States Anti-Doping Agency investigation which proved his downfall.
"This story was so perfect for so long," Armstrong, who confirmed his doping in a series of answers to yes-no questions, told Oprah.
"I try to take myself out of this situation and look at it: you overcome the disease, you win the Tour de France seven times, you have a happy marriage, you have children.
"It's this mythic, perfect story and it wasn't true."
The myth of the cancer survivor turned serial winner, which Armstrong perpetuated, captivated millions.
Asked if it was hard to live up to that image, Armstrong said: "Impossible. The story is so bad and so toxic, a lot of it's true."
In the interview with talk-show host Winfrey, recorded on Monday in his home city of Austin, Texas, Armstrong was asked why he chose to confess his misdemeanours now.
"I don't know that I have a great answer," he said.
"This is too late. It's too late for probably most people and that's my fault.
"I view this situation as one big lie, that I repeated a lot of times. It wasn't as if I just said no and I moved on.
"While I've lived through this process, especially the last two years, one year, six months, two, three months, I know the truth, the truth isn't what was out there. The truth isn't what I said."
Asked whether he felt it was possible to win the Tour seven times in succession without doping, Armstrong said: "Not in my opinion."
Armstrong's drug use began in the "mid-90s", he said.
"I suppose earlier in my career there was cortisone and then the EPO generation began," said Armstrong, who won the world road race title aged 21 in 1993.
"I didn't invent the culture, but I didn't try to stop the culture. The sport is now paying the price because of that."
Armstrong's decisions were based on a "ruthless desire to win" and, he said, did not feel wrong to him at the time.
During an era where doping was prominent, Armstrong viewed his drug-taking, which began before his cancer diagnosis, as "a level playing field", rather than cheating.
Armstrong was able to bypass the testers by clever "scheduling".
He felt, due to his successful battle with cancer, he could excuse his use of testosterone.
He said: "My cocktail, so to speak, was only EPO, but not a lot, transfusions and testosterone, which in a weird way I almost justified because of my history, with having testicular cancer and losing (a testicle); 'Surely I'm running low'.
"There's no true justification for those (blood transfusions)."
Until now, Armstrong was vehement in his repeated denials and fought any allegations made, winning numerous lawsuits; his admission now opens him up to possible counter suits.
Armstrong's defence long relied on the fact he had never tested positive - a stance he maintains.
"I didn't fail a test," he said. "Stuff was retroactively tested. Technically, retroactively, I failed those. The hundreds of tests I took, I passed them."
Asked about the 2001 Tour of Switzerland and reports he paid off the UCI to cover up a positive test, Armstrong said: "That story isn't true. There was no positive test. There was no paying off of the lab.
"There was no secret meeting with the lab director. I'm no fan of the UCI. That did not happen."
Asked why he made a donation to the UCI, he said: "Because they asked me to."
"It was not in exchange for any cover-up," he added.
"I have every incentive to sit here and tell you 'yes, that's right, they're all crooked'.
"There are things which were a little shady. That was not one."
Armstrong announced his refusal to co-operate with the USADA investigation last August and was punished by cycling's world governing body, the UCI, in late October.
Armstrong denied USADA chief executive Travis Tygart's claims that the United States Postal Service team's doping programme was the leading one of its kind, believing the East German regime to be 'better'.
Given the opportunity again, he would take part in USADA's investigation, which was based on sworn testimony of witnesses and followed a two-year investigation by the United States Department of Justice which was dropped early last year.
"I'd do anything to go back to that day," he said.
"I wouldn't fight, I wouldn't sue them, I'd listen. I'd do a couple of things first."
He said he would have called his family, mother, sponsors and the Lance Armstrong Foundation (Livestrong).
"I wish I could do that, but I can't," he added.
Armstrong insists he is willing to co-operate with the authorities in future.
"If there was a truth and reconciliation commission, if they had it and I was invited, I'd be the first man through the door," he said.
Armstrong retired after his 2005 Tour win and believed his doping may never have been uncovered had he not made a comeback in 2009.
But he was adamant he did not dope or perform blood transfusions in his comeback seasons - 2009, when he finished third in the Tour, or 2010 - despite evidence to the contrary in the USADA report.
He said: "It's the only thing in that whole report that really upset me; the accusation and the alleged proof that I doped after my comeback is not true. The last time I crossed that line was 2005."
Armstrong was sporting a yellow Livestrong band on his right wrist. The bracelets were worn by many people during his era of dominance, but recently many have been defaced to read 'Lie-strong'.
He said: "I see the anger in people. And betrayal. It's all there.
"I will spend the rest of my life trying to earn back trust and apologise to people.
"I made my decisions. They are my mistake. I am sitting here today to acknowledge that and to say I'm sorry for that. I deserve this."
The second part of the interview will be broadcast on Saturday.
Lance Armstrong factfile:
1971: Born September 18, in Dallas.
1991: Signs with Subaru-Montgomery and becomes US national amateur champion.
1993: Crowned US national champion. Wins first stage in Tour de France but fails to finish. Beats Miguel Indurain to win World Championship.
1996: October 2 - Diagnosed with testicular cancer. The disease later spreads through his whole body. Founds Lance Armstrong Foundation for Cancer.
1997: Declared cancer-free after brain surgery and chemotherapy. Signs with US Postal Service team after being dropped by Cofidis.
1998: Wins Tours of Holland and Luxembourg.
1999: Claims first Tour de France title, winning four stages.
2000: Wins second Tour. Secures time-trial bronze in Sydney Olympics.
2001: July 29: Becomes only the fifth rider to win three Tour de France titles in a row.
2002: July 28: Becomes only the fourth person to win four successive Tour de France titles.
2003: Equals the record of five victories in the Tour de France.
2004: July 25 - Clinches record sixth Tour de France victory.
2005: July 24 - Wins his seventh Tour de France, two more than anyone else, before retiring.
September 6 - Claims he is considering coming out of retirement after being angered by drug allegations against him.
2008: September 9 - Announces he will return to professional cycling.
2009: March 23 - Suffers a broken right collarbone when he crashes out on stage one of the Vuelta a Castilla y Leon.
May - Appears in first Giro d'Italia, finishing 12th. Tour is marred by financial cloud over Armstrong's Astana team and the American is linked to a takeover.
June - Astana's financial issues are resolved and Armstrong is named in the Tour de France team, but with 2007 champion Alberto Contador of Spain as leader.
July - Contador and Armstrong endure a fractious relationship. Contador claims a second Tour title, while Armstrong finishes third. Armstrong announces he will launch his own squad in 2010, Team Radio Shack.
2010: January - Team Radio Shack make their debut at the Tour Down Under in Australia. Armstrong finishes 25th.
May - Armstrong's former US Postal team-mate Floyd Landis, who was stripped of the 2006 Tour de France title for doping, launches doping allegations at the Texan.
June 28 - Announces that the 2010 Tour de France will be his last.
July - Finishes final Tour in 23rd place, 39 minutes and 20 seconds behind winner Contador.
2011: February 16 - Announces retirement for second time.
May - Forced to deny claims made by former team-mate Tyler Hamilton that they took performance-enhancing drugs together.
2012: February 4 - An investigation into alleged doping by Armstrong is dropped by federal prosecutors in California.
June 13 - The United States Anti-Doping Agency (USADA) confirm they have initiated legal proceedings over allegations of doping against Armstrong.
June 30 - USADA confirm they will file formal doping charges against Armstrong.
July 9 - Armstrong files a lawsuit in a US federal court asking for a temporary restraining order against the agency. Armstrong also claims the USADA offered "corrupt inducements" to other cyclists to testify against him.
July 11 - Armstrong re-files lawsuit against the USADA after initial lawsuit was dismissed by a judge as being a "lengthy and bitter polemic", designed to attract media attention and public sympathy.
August 20 - Armstrong's legal action against the USADA dismissed in court.
August 24 - Armstrong announces he will not fight the doping charges filed against him by the USADA, saying in a statement he is "finished with this nonsense" and insisting he is innocent. He is stripped of all his titles and banned for life from cycling by USADA.
October 10 - The USADA claim 11 of Armstrong's former team-mates have testified against him. The organisation say the US Postal Service team "ran the most sophisticated, professionalised and successful doping programme that sport has ever seen", with "conclusive and undeniable proof" of a team-run doping conspiracy.
October 17 - Armstrong resigns as chairman of his cancer charity, Livestrong, on the same day that he is dropped by sponsor Nike.
October 22 - The UCI ratifies USADA's decision to ban Armstrong from cycling for life and to strip him of his seven Tour de France titles.
November 2 - The World Anti-Doping Agency announces it will not appeal the USADA's decision.
December 5 - The International Olympic Committee postpones a decision on whether to strip Armstrong of the bronze medal he won at the 2000 Sydney Olympics until the International Cycling Federation formally notifies him of their decision to annul all his results since August 1998.
December 17 - Armstrong is stripped of the BBC overseas sports personality award won in 2003.
December 23 - The Sunday Times announces it is suing the American for the damages and legal fees it paid him in settlement of a libel action he brought in 2004, in an action likely to total more than £1 million.
2013: January 5 - The New York Times claims Armstrong is close to confessing to his doping past.
January 9 - Armstrong announces he will break his silence over the allegations in an interview with Oprah Winfrey.
January 14 - Armstrong apologises to the staff at his Livestrong cancer foundation ahead of recording his interview with Winfrey.
January 15 - Winfrey claims Armstrong came clean to her about his use of performance-enhancing drugs during their interview, saying he was "forthcoming" when she asked him in detail about the allegations.
January 18 - Admits to doping in the recorded Winfrey interview.
---
Click here for completely free £10 bet with Sky Bet & £5 free every week
---