Felix seals London place
Allyson Felix put a week of uncertainty behind her to book her place on the United States team once and for all by winning the 200 metres at the Olympic trials in Eugene, Oregon.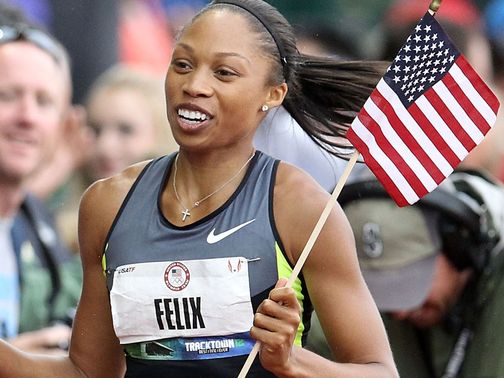 Felix, who finished joint third in the 100m final with Jeneba Tarmoh a week ago, today stormed to victory in a world-leading time of 21.69 seconds, ensuring once and for all she would be heading to London 2012.
"I'm so happy to be on this team. It's been an emotional couple of weeks," Felix told NBC.
The choice of who will be the third United States athlete in the 100m still has not been made, so Tarmoh must continue to wait as she could only finish fifth in the 200m final.
Second and third place went to world 100m champion Carmelita Jeter (22.11), who won last week's disputed race, and Sanya Richards-Ross (22.22), who won bronze in the 400m in Beijing four years ago.
Aries Merritt took 0.1 seconds off his personal best as he beat world champion Jason Richardson a world-leading 12.93 to win the 110m hurdles.
Richardson was second in 12.98, also a personal best, and Jeff Porter, whose previous best was 13.26, was third in 13.08.
David Oliver, who won bronze in Beijing, missed out as he finished fifth in a breathtakingly quick race.
World triple jump champion Christian Taylor booked his place with a leap of 17.63m, and he was joined by William Claye, bronze medallist in Daegu last year, who recorded 17.55m.
World indoor champion Chaunte Lowe jumped 2.01m to win the high jump.
Brigetta Barrett recorded the same mark, a personal best, and 36-year-old Amy Acuff joined them on the team by clearing 1.95.
Trevor Barron clocked a time of one hour 23 minutes and 0.1 seconds in winning the 20,000m race walk to secure his place in London.