WGC-World Match Play blog
Ben Coley provided full coverage of the WGC-Accenture Match Play final which saw Matt Kuchar beat Hunter Mahan.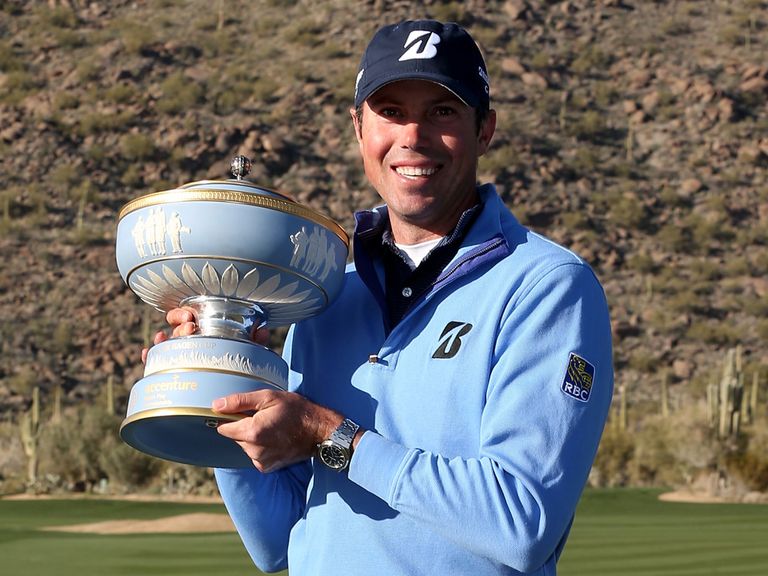 All times GMT - please refresh for updates
RESULT: Kuchar beats Mahan 2&1
2320: Well done to Matt Kuchar, who wins his first WGC title by beating defending champion Hunter Mahan 2&1.
Mahan put up a stout defence of his title and can take great heart from the performance, one which could well act as a springboard to bigger and better things.
Both men will now be looking to the majors as the next step in their respective careers, and we'll be keeping a close eye on them come the Masters in April.
Make sure you join us for extensive coverage from Augusta, but for now it's goodnight.
2316: Mahan's ball wasn't just in the desert, it was virtually inside a bush. He does well to extracate it but needs another shot to get onto the green.
With bogey now the best he can do, Mahan strolls over to Kuchar, takes off his cap, and we have a new WGC-Accenture Match Play champion.
2315: So Kuchar has around six feet to win the title, and he will have two putts if Mahan can't get up and down which appears unlikely.
2312: Mahan has 160 to the flag from what isn't a great lie and he'll play first.
It sounds like they've 145 to carry the desert and his caddie is not confident that they can make that, so they're looking left to where Poulter was. "You can make four all day," says caddie.
So, left is the aim, but the ball starts right and with a poor contact Mahan has hit the ball where he didn't want to - into the desert.
Kuchar now, from 157, and that's just about the shot of his life to around six feet. Wow.
2305: Interestingly, this is just the second time Kuchar has played 17 all week and the third for Mahan, such has been their superiority.
It's Mahan to drive first and if he can put this in the fairway, there's going to be some pressure on Kuchar. However, he's found sand and Kuchar knows that if he can hit the fairway, he's in a strong, strong position.
Kuchar wastes little time but he too finds the sand. They're separated by just the length of a driver, these two.
2303: Kuchar is just against the collar making this putt more awkward than would usually be the case, and on reflection it must be just outside of 15 feet.
He gives it a real go, but the putt dies left at the end and that's a bogey to see the gap reduced to one with a pair of tough par-fours remaining.
2301: The leader does a pretty good job to parachute his ball to around 12 or 14 feet, which is better than he might've expected after an incredible misjudgement from the tee.
Mahan can take care of business on his own, however, if he can make a 30-foot putt for birdie. It's going to turn right and after an initial downhill section it will slow at the hole, meaning he should leave it close.
Here goes...and that's excellent; a nice, simple par to ask a big question of Kuchar.
2300: It looks like Kuchar will have a shot of sorts on 16, but bogey is the more likely scenario and Mahan should make par comfortably.
2256: Mahan's approach to 16 is very good with a five-iron, right over the flag to some 30 feet. Kuchar needs to find the green but boy that isn't even close - his ball pitches in the grandstand, and bounces out the other side. That's going to be a long way from the green once he's had an official over to rule over it one would think.
2252: Day has missed putts for the match on 16 and 17, but makes no mistake on 18 for a one-up win over Poulter. In the end, the consolation match provided plenty of drama, although Day's lack of a celebration probably tells you all you need to know.
2251: There's life in the consolation match yet, as both Day and Poulter have work to do for par on 18 with the former one-up.
It looks like Day will putt first from eight or so feet and that'll be for the win.
2249: That's just exceptional from Kuchar, who wipes out the disappointment of the chip to pour in the birdie putt. He's found them when they've mattered all week long.
Mahan now and if he misses, Kuchar will be three-up with three to play. He doesn't, though, and the lead is two.
2246: Mahan's chip is first up and he plays it really nicely to get inside six feet or so.
Kuchar's aim should surely be to get inside that, but he fails to do so to the tune of three feet. That was a heavy-handed effort and perhaps the first real sign of nerves from a player searching for his first WGC win.
On 18, Poulter's second from 160-plus comes up short and Day really should win this match at last despite going long into sand.
2241: Mahan has a slight distance advantage on 15 but Kuchar is the better scrambler - this represents a fascinating hole and it really could go either way, I'd certainly expect one or both to make a three.
Mahan is first to fire and it's a good strike that just falls off to the right of the green, pin-high. Not easy, but far from impossible.
Kuchar next and his line is superb. It takes two bounces, threatens the green, before retreating to a couple of paces short on a perfect line. His is the easier shot.
2237: Day's bunker shot is described as "not bad" by his caddie, and the Australian has eight- or nine-feet for the match.
He misses, however, and now holds just a one-hole lead heading to the final hole.
On 14, Kuchar's third is outstanding but comes to rest two feet short, which means Mahan wins the hole as his approach was tight. That's Kuchar two-up heading to the driveable 15th.
2235: It looks like a seven-iron for Mahan and it's a phenomenal swing that produces a phenomenal result, with Mahan not four feet away in two on a hole that's produced carnage all week.
That should be a hole back before the pair head to the 15th tee.
Meanwhile on 17, it'll be par for Poulter after a fine pitch.
2233: Kuchar has 166 yards into the 14th green but needs to get his ball up quickly to avoid the lip.
He's done quite well to advance his ball to the front bunker guarding the green and par is a realistic possibility for one of the best sand-savers on Tour.
Mahan still has a window of opportunity though, with around 160 in.
2231: Poulter's second to 17 comes up short and he'll be chipping down the green with his third.
Day fails to take advantage, however, with his second coming up short and right in a bunker. It's a scramble for par for both, but par should do for Day who is two-up.
2229: The 14th is a tough par-four and it's just got even tougher for Kuchar, whose drive finds sand to the left of the fairway.
Mahan sniffs an opportunity, especially with the driveable 15th next, and he finds the middle of the fairway.
2227: Poulter finds sand from the tee on 17 and will be faced with a tough second.
It therefore looks advantage Day as he carries the sand with a towering drive, but his ball has run into a divot so it won't be easy for him to find the green.
2225: Mahan has to make this to remain two-down, you'd think, as Kuchar shouldn't miss from where he is.
The defending champion has 20 feet or so, with enough break to make it interesting and the wind blowing across the line.
It's just a par for Mahan and Kuchar converts for birdie and a three-up lead through 13 holes.
2222: Mahan is first to pitch and given what he had to work with, leaving the ball 20 feet past the flag isn't bad at all.
However, Kuchar has a chance to pile on the pressure and does so with a pitch that comes to rest three feet away.
2220: Day's putt is short so Poulter is now two-down with two to play in the consolation match as Mahan continues to try to work out a way to make birdie on 13.
2219: As Mahan walks up to the flag to check out his situation, Poulter makes par to leave Day with an outside chance of winning 3&2 with a par putt.
2217: Day is looking to close out the match on 16 but he's got around 20 feet for par, whereas Poulter has a birdie look coming - that match remains very much alive.
2215: Kuchar is first to play on 13 and, much like the eighth, the difficulty here is chasing the ball onto the green but not through it.
It's a soft bounce for Kuchar who is in a collection area and while no shot is easy given the conditions, it's a relatively straightforward pitch that should see him have a good birdie chance.
Mahan is next and he has an iron in hand, with 214 yards to cover to get to the front of the green.
He doesn't like it though and it's his second big pull on a par-five. He's on the fairway but faces the tougher of the two pitches.
2210: Day and Poulter trade birdies on 15 and that means Day is three-up with as many to play.
Back on 13, Mahan stripes a drive around 360 yards on the par-five but Kuchar also finds the fairway, albeit 20 or 30 yards behind.
2205: That is huge, huge stuff from Kuchar, who watches Mahan win two holes in a row and then get to six feet on 12, but gets his birdie putt in the hole first.
Now the pressure is on Mahan, and to his credit he shares the spoils with birdie. That's exceptional stuff from both players.
2204: Day is now three-up on Poulter and has driven down to the right of 15, as he bids to wrap things up. Poulter's reply is good, just failing to make the green.
2201: Kuchar knows he must respond and does with a shot that leaves 15 feet for birdie. Clearly, it's advantage Mahan but the momentum he's building could be stopped if Kuchar holes first.
2200: The tough 12th hole is next, a downhill par-three that measures in excess of 200 yards. We've seen players struggle to keep the ball on the green all week on this hole and club selection won't be easy with the wind swirling.
Mahan is first to go with an eight-iron and it's a stunning shot to around six feet. Huge momentum swing here.
2157: Mahan's putt is 10 feet or thereabouts, relatively straight, and finds the cup. Game on once more.
2155: Kuchar's chip is solid, inside five feet, and the onus is now on Mahan as he seeks to split the gap in two in the space of as many holes.
2153: Mahan's approach is very good, around 10 or 12 feet short of the pin leaving an uphill birdie opportunity.
Kuchar must now make his par to ask a question of Mahan, who at this stage looks like reducing the deficit once more.
2151: "So close to being really good," says Kuchar as his third on 11 comes up short and on top of a ridge, leaving him a downward pitch.
Mahan has a chance to with back-to-back holes here as birdie is still possible for him, whereas Kuchar must scramble for a par.
2148: Kuchar is first to play his second on the par-five 11th and he lays up to a wedge distance of his liking.
Mahan has a fairway wood and needs all of it to carry bunkers that guard the approach to the green.
He's unfortunate to get a bounce to the left having hit a good shot and will be playing from the edge of a bunker around 50 yards short of the green.
2143: Excellent drive from Mahan on 11 and there could be life in this match yet.
Kuchar appears happy enough with his drive but just runs out of fairway so it's advantage the pursuer.
2141: In the consolation match, Poulter makes a birdie putt of eight feet to remain two-down to Day through 13 holes.
2138: And that's what Mahan does with an excellent putt that finds the centre of the hole. For the first time in the final, he'll tee off first on 11.
2136: Kuchar is first up on 10 and if he holes, pressure turns firmly onto Mahan's shoulders.
However, his putt burns the edge and Mahan will have a chance to win his first hole of the final and reduce the deficit to three.
2133: It's a solid but unspectacular chip from Kuchar on 10, and he's got around 11 or 12 feet for par.
Mahan has a putt for the hole but from a long way he'll be happy to take par. His effort is heavy-handed and he'll have eight-feet left.
2131: Kuchar's approach to 10 comes up short of the green but he'll have a lot of green to work with.
Mahan hits on a better line and finds the green, but he's some 50 feet away from the pin and needs a mistake from his opponent.
2128: On 12, a scrambled par for Day is enough to go two-up on Poulter in the consolation match.
2127: Mahan follows him down and looks to have out-driven his opponent by 30 yards or so as he tries desperately to get back into a match which has seen Kuchar dominate from the fourth.
2125: Kuchar smokes another drive down the 10th as the championship match turns back into the breeze with Kuchar four-up.
2122: Mahan produces magic at last with his best shot of this final, inside three or so.
Kuchar plays an even better shot, getting inside a foot, and the scrambling produced by these two throughout the tournament is partly why they're here.
Mahan is asked to hole out and does so, making the turn four-down to Kuchar.
2117: Mahan is first up on nine and has 150 yards from the rough.
He produces a good swing but can't get spin on the ball and will arrive at the green to find it long and right, in a collection area some 30 yards from the pin.
Kuchar has a shot of sorts but it's one fraught with danger, as he has a bush in his way. Anywhere up by the green would be a result and he knows that Mahan isn't in a perfect spot himself.
He does well to punch the ball up to around pin-high, albeit quite a long way right. There's little to choose between his ball and Mahan's.
2108: On nine, Kuchar takes a metal and that's a rare mistake as his ball flies into the desert. He'll need luck to survive that.
Mahan has three-wood in hand and will need to take a little off this to avoid running out of fairway. He's fortunate to see the rough grab his ball before it runs into the desert and therefore holds the advantage.
2104: Another lip-out for Mahan and Kuchar has three or four feet for a four-up lead, which he takes care of without fuss.
2101: Mahan has a really tough pitch coming here, straight downwind. It seems he's going to try and pitch this in the rough to kill it, which looks his only hope of stopping the ball close.
It must be said, it's a phenomenal shot to get even 12 or 15 feet away, and one Kuchar is keen to compliment too which as always is nice to see.
Kuchar's shot is not easy either and if he gets inside Mahan's ball he'll have done well.
And well he has done - Kuchar takes a big swing, throws the ball into the sky and sees it come to rest inside five feet. Pressure on Mahan.
2057: Pars for Poulter and Day on 10 and the Australian is one-up.
2054: Kuchar has 261 to the green on eight and is able to hit iron downwind.
As we've seen a few times, he pitched on the back of the bunker and sees his ball scamper through the green, albeit in a decent spot.
Mahan will only need around a five- or six-iron from 250-odd, but hits a terrible looking low pull to find rough on the wrong side, leaving a very nasty pitch.
2050: Kuchar is driving the ball superbly and that's another fairway on eight, which will leave an iron or hybrid into the green on a par-five which plays straight downwind at the moment.
Mahan gets a nice hop, skip and jump to go about a dozen yards beyond Kuchar, with both in lovely spots to attack the green. Big hole this and at this stage you feel Mahan can't afford to lose another hole.
2047: As Day makes the turn one-up on Poulter, Kuchar lags his birdie putt to inside 18 inches for par on seven.
Mahan has a slow putt that won't break much, and it's a chance to be aggressive here which is what he needs at three-down.
It's maybe 12 feet, on its way...and lips out. That's unlucky, it was a good putt but he'll remain three-down.
2042: Kuchar is probably 40 yards behind Mahan on seven but with a good lie has a chance to apply more pressure by getting in close.
Remember, this is where Mahan began to assert last year as Rory McIlroy left his approach short of the green and failed again with his chip.
Kuchar has 147 yards left, downwind, and will be hoping for a nice soft landing with a wedge. Unfortunately for him, he carries the ridge and will have 50 feet down the slope.
For the first time, Mahan has an opportunity here. He has 105 yards downwind and there's a little back-stop to help him get this close, which is exactly what he does - he'll have 10 feet for birdie.
2034: Seven is straight downwind and you'd expect at least one of our finalists to have a good look at birdie.
Right now that man would appear to be Kuchar, who runs out of fairway left but looks to have drawn a good lie.
Mahan needs to eat into this deficit before the turn you feel and leaves nothing behind with his drive, hitting it just short of 360 yards and bang in the middle of the fairway. Stunning drive.
2032: Mahan misses for par and that's sloppy, putting no pressure at all on Kuchar who is now three-up.
2030: The consolation match could be about to take a big turn as Poulter hits it into the desert on nine whereas Day finds the fairway.
More important, though, is the action on six. Mahan has made two bogeys to go two-down to Kuchar, but this time needs to hole a birdie putt to avoid going three-down it would seem.
The defending champion has 45 feet or so, uphill at first before the ball rolls down and to the right at the hole. It's on its way...but well short and it's still Mahan to putt from 12 feet for par.
2026: Kuchar is turning the screw here, coming within three inches of an ace on the sixth. He's probably three feet away for birdie.
Can Mahan respond? The answer is no, as he comes up 45 feet short. Kuchar is looking like he's going to reach the seventh tee with a three-up lead.
2024: On eight, Day makes birdie on top of Poulter and the Englishman misses a shorter attempt so that match is all-square.
2022: Here's Mahan to halve the hole on five. This could be a massive boost for him after a poor drive and average second.
He has eight feet, down the slope, relatively straight...but misses to the right. Kuchar is two-up.
2020: Mahan has 77 yards and plays a great shot to eight feet. That was superb ball-flight control into the wind and turns the pressure onto Kuchar.
The Players' Champion has the answers though and will be given par having blasted to a foot or two.
2019: To underline how strong this wind is blowing, the consolation match has reached the eighth and Day has just hit a five-iron 265 yards to the bunker.
Poulter, whose drive went further, hit a similar club to the side of the green and both men will fancy their chances of making birdie.
2018: Mahan is first to go on five and his caddie thinks the front edge is possible with the club he has in hand.
However, he has 245-yards into the breeze and even with a decent lie he can only get the ball to around 75 yards short of the green.
Kuchar knows that if he can get his ball anywhere on the green, that could be enough for the hole.
It's a three-wood and he's found sand to the right of the green. From there he's got comfortably the easier shot but it's all to play for still.
2011: Five is a brutal hole - par will simply not lose it. Kuchar is up first on the tee and again finds the fairway. He's hitting some beautiful low draws at the moment and they're working.
Mahan is next and he loses it right into the rough. That looks to have settled down, too, and he may be struggling to reach the green in regulation on this long par-four playing straight into the wind.
2009: Kuchar has no difficulty rolling his birdie putt next to the hole on four to become the first man to lead Mahan since Zach Johnson in the first round last year.
On seven, Poulter misses and is one-up through seven.
2007: Mahan will putt for par first but it's low and left and that's a bogey, leaving Kuchar two putts from 15 feet at the most for the hole.
As he lines it up, Poulter recovers superbly with a creative, contour-hugging chip on seven. Day's putt for birdie fails and Poulter has five feet to stay two-up.
2006: Poulter's second is described as 'horrendous' by one commentator and that's fair, as he doesn't threaten the green.
Back on four, Mahan's third is short and he's going to face 25 feet for par. Once again Kuchar has the advantage, can he go in front this time?
2004: Mahan is first away on four and he has a lovely look at the pin from 104 yards, straight into this wind.
He's on the attack despite a tight pin and comes up short and right, giving Kuchar, who has 86 yards, an opening.
Kuchar does have to fly a trap and does so, managing to stop his ball on the back fringe around 12 feet away.
On seven, which is downwind, Day and Poulter both have wedges into the green following booming drives. Day is first and plays a lovely shot to eight feet.
1959: This wind is making the course play very differently, with Kuchar forced to hit driver on the short fourth having hit an iron earlier.
He's worried when it leaves the club but Kuchar has managed to find the far left square-inch of the fairway.
Mahan doesn't like his but he too is absolutely fine, albeit on the opposite side to Kuchar. Nothing between these two so far.
1957: Day makes a good save on six to remain two-down on Poulter.
1955: These putts could really be very important - it's unlikely both will make them, so who will take an early lead?
Mahan is first to go, and his putt will break from the left...at least he thought it would, but the wind keeps it high and that's a bogey.
Can Kuchar take advantage? If he doesn't he'll know this was a chance missed. His putt is downhill but into wind and just off the right edge...and again it stays high. Hole halved in bogey.
1953: Mahan's chip pauses on top of the ridge before making its way to around 10 feet.
Kuchar's birdie try from around 40 is short though, and he has a similar distance left. His effort was downhill into the wind and clearly he expected it to keep rolling, as all those watching appeared to.
1950: On the fifth, the consolation pair are motoring and share the spoils. Poulter remains two-up - it's noticeable that they're both being generous with gives and to be frank it's obvious that neither really wants to be playing golf this afternoon. I don't blame them.
1949: The pin on three is tricky, just five paces on from the right, with water short and right, sand either side and the wind coming across meaning that any shot getting close will either have to be cut into the wind or aimed over the water.
So, all of that computed, Kuchar reaches for six-iron and, after backing off the shot once, hits a nice shot to the back left corner of the green, 40 feet away. It just runs off the surface but that is absolutely fine.
Mahan is next and he'll likely be hitting one club less. In fact, the caption says it's two, so one would assume he's going to hit a cut into that wind to hold it up and land softly.
He's not keen on it though and is short and left of the green, facing a chip across the bunker. Advantage Kuchar.
1943: Kuchar is away on the second, and he's faced with a downhill putt that's into the breeze - inside three feet is good.
And inside a foot is even better! That was a lovely putt which briefly looked like it might turn in for birdie, but par is fine on just about every hole and that's what he'll get.
Mahan does have a putt for the hole but it's downhill, downwind and downright difficult. However, once again he rises to the challenge by lagging close to the hole to remain all-square.
1940: Kuchar is first up on the second and it's a fair shot, despite coming up 30 feet short of the hole.
Mahan managed to advance his ball to within 90 yards which is exceptional hitting into the teeth of the wind. With a good lie he throws the ball beyond the pin, but doesn't get any purchase and is also around 30 feet away.
Meanwhile, Poulter is two-up in the consolation match as Day understandably suffers a hangover from this morning. Don't forget, he was going for his first WGC title and it's no surprise he's deflated.
1935: How impressive is this? Not only has Mahan won his last 10 matches in this event, but he's not been behind since the first of those either!
That is a truly remarkable record. Kuchar has only been behind for four holes this year himself, which isn't bad to say the least.
Anyway, on the second, it's a lay-up for both; Kuchar is first and he finds the fairway to leave maybe 140 yards in. Hunter follows but although further along than Kuchar, he's in the rough.
1933: In the consolation match, Day is through the fourth green in three and Poulter has 60 feet for birdie. Neither man firing on all cylinders and they're not wasting any time either.
1931: Another nice drive from Kuchar on the second finds the fairway. He knows how to cope with these conditions, whose scrambling when winning the Players' last year was a joy to behold.
Mahan steps up with that beautifully rhythm of his and looks to have just come up short of the bunker, which makes that a fine drive too.
1928: Kuchar all-but chips in on the first for a straightforward par.
On the third, Day makes a par and Poulter does too to remain one-up.
Back on the first, Mahan also plays a really nice chip for a gimme and we move to the second tee all-square.
1924: Kuchar's second is left of target. It lands on the green but slowly falls left into a collection area, leaving a very tricky chip.
Mahan has 205 yards and has held on to the fairway after all. He likes it but it's slightly long, as we saw once or twice earlier, and he's going to face a delicate downhill chip from the rough.
1920: Mahan's drive isn't quite as good and falls off the fairway, but no real harm done there. In the consolation match, Poulter won the first after Day found the desert with his approach.
1917: And we're under way with Kuchar firing one down the fairway on the first. We should see a lot of fairways hit with these two despite difficult conditions.
1907: I will of course focus on the final and the latest score above refers to Mahan versus Kuchar. Updates on the third-place match will follow when possible.
1900: Welcome back to coverage of the WGC-Accenture Match Play Championship.
Ian Poulter and Jason Day are about to do battle for third place but the final match is what it's all about, and that is under way at 1915 GMT.
Here's Sky Bet's Ben Ragg with an update.
"A great result for bookmakers with the "King of Matchplay", Ian Poulter being outplayed by last year's winner Hunter Mahan.
"Fellow Americans, Mahan and Kuchar will meet in this evenings final.
"Windy conditions will make for an interesting match, can Kuchar go through the whole championship without going down the 18th?
"Mahan is 4/5 and Kuchar evens.
"As well as the match winner prices we will also be offering next hole winner and nearest the green in regulation.
"Whoever your money is on, good luck!"
1800: So, Kuchar will face Mahan in the final of the WGC-Accenture Match Play Championship.
Mahan is looking to defend the title he won 12 months ago and land a third WGC title, whereas Kuchar is after his first having been beaten by the eventual winner of this competition in each of the last two renewals.
Day and Poulter will go head-to-head in the third-place play-off match which seems a waste of time to me but there we go.
I'm going to take a break before the final in around an hour - make sure you're back with me then.
1756: Poulter makes his to ask the question of Mahan, but the defending champion has found the answers all day long and seals a 4&3 win to emulate Kuchar.
1753: Poulter is first to go and it's a good shot to five or so feet. However, Mahan chips even closer and will surely wrap up the win.
1748: Mahan produces one more superb drive just short of the 15th green and unless Poulter produces an eagle, this match is surely over.
The Englishman's drive is also excellent so that's not impossible, but even if he wins the hole you feel he's merely postponing the inevitable.
1745: "My strategy is playing the golf course first," says Kuchar, who is clearly delighted with the way he drove the ball.
He says par is a good score and having shot level through 15 for an easy win, that's clearly the case.
Meanwhile on 14, Poulter fails to get up and down and Mahan is now four-up with four to play.
1743: Day's birdie putt comes up short and right leaving Kuchar a putt for a 4&3 victory.
It's just outside five-feet, but never outside of the hole as Kuchar produces yet another convincing victory over the struggling Australian.
1740: Poulter again got lucky from the tee but can't find the green with his second, although he's in a good spot to get up and down.
Anywhere on the green has to be an acceptable result for Mahan, and although he eventually has to settle for the fringe that's fine.
On 15, Kuchar produces a fine pitch that uses all the green's contours before coming to rest seven or eight feet away.
Day's effort is awful by comparison, and he's three-times the distance from the hole. If he misses and Kuchar makes, it's all over.
1735: Ahead to the driveable 15th, Kuchar's drive is left and in rough but with the pin right of centre, that's no disaster.
You have to think that Day needs to find three birdies at least in the last four holes and a fine drive gives him every chance - he's just a few yards short of the green.
1733: It's another straightforward slice from Poulter on the 14th tee, and he'll be lucky to find a good lie once more in rough.
This venue has been described as a second-shot golf course, but the two leaders have made that shot much easier by driving superbly.
1731: As Kuchar lines up his putt, compatriot Mahan reaches for the driver and again finds the fairway. When he's on, there are none better from the tee.
Kuchar's effort is good for pace but just off-line and he remains three-up.
1730: Day is first to putt on 14 and needs to find magic because so far he's without a single birdie and that's just not good enough.
He remains that way after his latest lengthy attempt misses and Kuchar has a chance to go four-up with four to play.
1728: Poulter's third needs to be close with Mahan almost certain to make birdie, and it's just a terrific shot to within a foot.
Mahan has a putt for the hole but you have to feel he'll be happy to lag that hole-side and remain three-up.
Before that, Kuchar's second from 186 yards on the 14th is superb once more and he'll have not much more than 20 feet for birdie.
Day's response from 175 is solid but unspectacular, and he'll have 30 feet.
Back to Mahan, and his eagle try is on-line but tentative. He's only two feet short but is asked to hole it and does so.
1721: This is a real chance for Mahan to close the door on Poulter, who can never be written off. He's in the middle of the fairway and has to make birdie on 13 to ask another question of the Englishman.
His second is excellent too, right at the flag and no more than 45 feet away for eagle. Poulter is closer to the green after their tee shots but his second fails to clear sand.
On 14, another fairway for Kuchar and an all-American final is looking more and more likely, although Day's drive is also excellent.
1716: Day's bogey putt isn't anywhere close and that's a seven at best.
Kuchar therefore has three putts for the hole from 30 feet and although Day asks to see the first, he quickly concedes as Kuchar rolls it close.
Back on the tee, another sumptuous drive from Mahan finds the fairway and again he has the advantage, with Poulter finding the rough.
1713: Poulter can't find the response he needed and is three-down through 12 holes, facing a huge mountain to climb.
It's looking one-way traffic in the first match too as Day has now had five shots and still has 60 feet remaining.
Kuchar is asked to play his bunker shot and will have 25 feet for birdie, so we can mark this down as a hole to the American I think.
1710: Day has 83 yards to the pin on 13 and flies the ball a good 15 yards further than that - he could be in big trouble.
Meanwhile on the 12th, Mahan produes real fireworks to chip in for birdie! What a shot. Unless Poulter can find magic from 50 feet the defending champion will be three-up.
1705: Both Kuchar and Day are in sand after two shots on the par-five 13th, but it's very much advantage the American as he's greenside whereas Day is way back.
Up and down may do it for Kuchar.
1704: Day pulls his tee-shot on 13 just a tad and he's in the rough which may put the green out of reach.
Kuchar has found his driving again and pounds another down the middle.
Back on 12, Mahan again blasts one through the wind and will need relief from the greenside stand. That's not really a bad miss on a very hard hole in these conditions.
After much deliberation, Poulter's response is good, he's the only man to find the green even if he is 50 or so feet away.
1700: Day hasn't holed much today and again lets a chance go begging on 12, which is halved in bogey.
Mahan's second poor bunker shot of the day results in bogey on 11, and Poulter will have 10 feet or so to get back within one having failed to produce anything like his best so far.
But it's a let-off for Mahan too as Poulter's putt misses low.
1655: Poulter gets his first sniff in a while but isn't happy to pitch to 10 feet, which is what he has left for par.
Up ahead on 12, Kuchar's par putt threatens briefly but that's a bogey, and Day has a chance to claw his way back from three-down to just one.
On 11, Mahan's bunker shot is long to the tune of 30 feet and we could see big chances in both matches here.
1653: Poulter again has a shot on 11 despite two poor swings. He's 155 yards away in the second cut of rough but comes up short and left of the guarding bunker with his third, leaving a tough up and down.
Can Mahan take advantage? The answer this time is no as the wind knocks his ball into sand. All to play for.
On 12, neither Day nor Kuchar can stop their second shots but it's advantage the Australian, who is 10 feet away to Kuchar's 20.
1648: Poulter got lucky on 11 but fails to take advantage by again pushing his second way right.
Mahan produces another smooth swing to lay-up to around 95 yards and just hasn't made a mistake since the fourth.
Ahead on 12, a misjudgement with the wind sees Day find sand and Kuchar hits a similar shot that fails even to reach the bunker.
1644: On the tee, Mahan is first up and it's another very good drive to find the fairway.
Poulter is straight down for the tee peg but he's missed right with a big slice and has tree, cactus, path and rough trouble.
Back up ahead, Day's ball kept rolling to find the fringe, and he has to make do with par. Kuchar has a great chance to reassert but his putt slides past.
1641: Day's wedge gets a lively bounce on 11 and he'll have 20 feet for birdie.
Kuchar plays an absolute beauty though and is probably just inside 10 feet. He's put 10 out of his mind without hesitation.
1638: Aggressive stuff from Day on 11 as he reaches for driver off the fairway as the wind begins to really howl.
It's a decision vindicated as he knuckles one beneath the wind, just short of the bunkers which guard the approach to the green.
Kuchar goes for three-wood and that's fine, despite running into the first cut of rough a few yards beyond Day.
Back on 10, Poulter is first up for par and he steps it in confidently to put pressure on Mahan.
The defending champion responds though to remain two up through 10. Could we have an all-American final having only seen one US finalist in four years?
1634: Mahan is first to go on 10 and is pitching downwind across the length of the green.
It has to be said that's another super effort to around five feet and so far so good in every department for Mahan.
Poulter is swiftly behind his ball and it's a good one too, probably a few inches further away than Mahan but inside six feet or so.
1632: The first match are on 11 now and this brutal par-five will play very long into the wind.
Day goes first and it's perfect, down the right-hand side of the fairway, but he won't be making the green in three.
Kuchar had all sorts of problems on 10 but puts them behind him with a drive which is warmly applauded by those watching on. The two balls are not 10 yards apart.
1630: After a short delay, Poulter plays his approach to 10. It's dead into the wind and he comes up 20 yards short of the pin, albeit in the fairway.
Mahan's drive was again excellent and he has iron in hand from 183, although it's playing more like 220 into a wind that's blowing harder and harder.
If anything he catches it too well and flushes it through the breeze to the back of the green, leaving a very tricky chip down the hill.
1627: Another poor shot from Kuchar means he will struggle for bogey, and Day finds a good lie which enables him to pitch to 20 feet away.
Kuchar can't chip in and concedes to Day, who would've had two putts for the hole.
1622: After his drop, Kuchar is a wedge short of the green in three. Day takes four iron and makes a huge mistake, pushing it right into the crowd.
It looks like he's been lucky to avoid the desert but he's hit the ball in the one place he couldn't afford to having been in total control of the hole.
1619: Poulter still has a putt for the hole though and he's taken an age to convince himself of the line.
His putt is good and stone dead, and with Mahan's conceded the American turns two up.
1617: Big shot coming for Mahan from 74 yards. If he can get up and down he'll likely turn two up, but if not a one hole advantage won't feel like much against Poulter.
And what a shot he's produced, a pitch right out of the top drawer to around three feet.
On 10, Kuchar has found his ball but it's unplayable and he's working out where best to drop it.
1615: It's a first error of the day for Kuchar who finds desert on 10, but Day misses the fairway too.
On nine, Mahan lays up and his caddie describes it as 'perfect', which it just about is.
However, Poulter has a great chance to really get into this match from the centre of the fairway. His reaction says he's not done so and 40 feet away isn't what he had in mind.
1610: Mahan makes just about his first error of the day in taking three-wood off the ninth tee and finding the same bunker as Day, which means trouble with Poulter in the fairway.
Day himself makes a bogey but Kuchar's birdie try runs four-feet long to force him to hole out for the win.
He does so calmly to turn three-up.
1605: Poulter misses his birdie try and Mahan is closer than I thought; close enough for a concession and he's now two up through eight.
Ahead on nine, Day has 25 feet for par and Kuchar looks in control.
1604: Day has 206 yards on nine and is forced to lay up, and in doing so he again misses the fairway.
Poulter goes skywards with his pitch on eight and just misses a ridge to end up around 15 feet away instead of five.
Mahan definitely has an easier shot but still deserves top marks for getting inside five feet.
Back on nine, Kuchar has 167 downwind and it's another brilliant shot, 20 feet over the top of the flag. With Day in trouble, Kuchar could be about to go three-up.
1557: This is relentless from Kuchar, who finds the fairway again on nine with driver.
Day takes an iron but finds the fairway bunker, which rates as a big mistake.
Back on eight, Poulter hits hybrid and pulls it left, further away than Kuchar was a few minutes ago. Mahan goes the other way but is slightly closer and should have an easier shot, albeit both men will have to work hard for birdie.
1554: Mahan thrashes another drive down the eighth and will have an iron for his approach.
Poulter starts his ball over the bunkers and carries them too to find the fairway, a little behind Mahan but still in position to attack.
1552: As the wind gets up on eight, Day plays a heavy-handed chip that runs off the green to the tune of some five yards.
Kuchar responds with a fine effort from a tough stance and when Day is unable to hole his fourth, the American goes two up.
1548: On seven, Poulter's putt is good but he'll have five feet back up the slope for par.
With that in mind it's little surprise to see Mahan's attempt roll up within a foot or so without threatening the hole. That's a par.
Poulter stalks the line on his putt for a halve and smashes it into the back of the hole. He's having to work hard to stay with Mahan.
1546: I reckon it's time for fireworks. So far we've seen holes won largely because of a short miss or a bogey from an opponent, rather than anything exceptional - that's bar Kuchar's birdie on six.
That man is first to strike on eight with hybrid and that's not bad at pin high, in a collection area to the left of the green. His short game is good enough to see that up and in although I said that back on the second.
Day has iron in hand and it's another cut that catches the back of a bunker and shoots all the way through the green. Hard to say where the advantage is there.
1543: Poulter is first to strike on seven and he's in Kuchar territory, around 55 feet long.
Mahan should be able to control his ball from the fairway if he can judge the distance - he has 126 yards in and will hit a gap wedge.
With Poulter looking on, the American just hangs his ball out to the right and will have 35 feet for birdie.
1541: The par-five eighth is next for our opening match and it's reachable downwind.
Kuchar again goes down for the tee peg early having split the fairway once more. Faultless driving so far.
Day needs to put his last effort in the past - so far he's missed left and right, which has to be a concern.
He does so, hitting a lovely fade that goes a long, long way past Kuchar's ball and also finds the fairway.
1538: It's nine feet for Day on seven and another putt that slides past the hole, leaving Kuchar a chance to really assert.
Kuchar has a tricky six foot putt though and it also misses left by a whisker. That's a big let-off for Day given their respective tee-shots.
1535: Surprisingly, having seen the line courtesy of Mahan's putt, Poulter isn't able to take advantage and the defending champion remains one up.
Kuchar has two putts in mind on seven but from 55 feet or so his first effort comes up around five feet short.
Back on the tee, Mahan produces another sweet swing and finds the centre of the fairway. Poulter is repeatedly being put under pressure with the driver and tweaks this one left into the rough.
1533: The seventh could go either way with Day still scrambling for his par but Kuchar facing a difficult two-putt.
Day is first to go and faces a big rise in level to the green. It's a solid shot to around eight feet to stay in the hole.
While Kuchar prepares, we return to six to see Mahan's birdie try lip-out, leaving Poulter a chance to square up the match.
1530: Day is fortunate to have a shot from the base of a tree on seven and does an excellent job to get his ball within 20 yards of the green.
On six, Mahan's wedge is right over the pin and comes to rest 15 feet away. He's swinging superbly.
Back on seven, Kuchar tries to pour on the pressure but his nine iron is well long, leaving 50 feet downhill for birdie.
Poulter's reply to Mahan is to hit an even better shot, around 18 inches closer to the pin.
1527: Poulter's fourth is good and just inside Mahan's, so the hole remains alive for now...
Amazingly, you have to go back to the first round last year for the last time Mahan was behind in a match, and he pops in the par putt to go ahead here.
1525: Poulter had all sorts of cactus trouble on five and isn't able to find the green in three.
On seven, it's yet another fairway for Kuchar who is definitely playing the best golf of the four at present.
Day starts his drive well right and it stays there, which means he's in the desert and he'll do well to find it.
Back on five, Mahan's third is six feet short and he'll have that for the hole unless Poulter chips in from a tough lie.
1522: Day is first to putt on six, and leaving it a foot short isn't what he had in mind.
Back on five, Poulter takes a swipe with his hybrid and looks to have found the desert, allowing Mahan to take the upper hand despite coming up just short of the green in two.
Kuchar has a putt for the hole on six and pours it into the middle of the hole to take a lead in the match for the first time.
1517: On the tough fifth, it looks like Poulter has found sand and reaching the green in two won't be easy.
Mahan's slight distance advantage sees him carry that same trap and although in the intermediate rough, he should only have 220 yards or so in.
Ahead on six, the second par-three, Kuchar is first up and it's another nice looking shot, which finds a ridge and spins back to 12 feet or so.
Day follows at his own pace, hitting a wedge around 20 feet short of the pin.
1511: Mahan's bunker troubles come back to haunt him on four as he takes two to get out of sand, and still has 10 feet for bogey.
With Poulter just 30 feet away in two, we're about to return to all-square in the second match.
Ahead on five, both Day and Kuchar have work to do for par, with the Aussie six feet long and the American three feet short.
Day finds the cup with an excellent putt and then generously concedes to leave the match level.
And back on four, we get confirmation that Poulter wins the hole with par.
1506: Mahan and Poulter both down-club and find the fairway on four, with Mahan further back.
Ahead on five, both players are a long way back on the lengthy par-four. Day is first and his hybrid from 265 yards into a slight, cool breeze finds sand to the right.
Kuchar is closer by some 25 yards and also takes a hybrid, finding the front part of the green some 60 or 70 feet away from the pin.
Back on four, Mahan's wedge is poor and finds sand, opening the door for Poulter.
His approach from 117 yards is on-line but 30 feet short.
1500: Kuchar has the honour for the first time on the tough fifth and it's another superb drive. He's putting pressure on opponents with his driving accuracy at the moment, proving that you don't need to bomb it to compete.
Day's drive is fine, despite missing the fairway by a yard to run into the first cut of rough.
1458: Poulter plays a superb bunker shot on three and as Mahan's putt slides past, he's got a chance to halve the hole.
On four, Day's sloppy chip costs him the hole and the opening match are back at all-square.
Unsurprisingly, Poulter scrambles his par to remain one down.
1455: Day's chip is long by some seven feet and he'll be coming back down the hill.
Kuchar has a slightly easier shot and it shows as he gets inside three feet.
1454: Kuchar is first to play on the fourth but it's a poor effort which comes up short of the green.
However, Day also fails to get the yardage right and does the very same thing.
Mahan puts some pressure on Poulter with a stunning effort on three, one which gets inside 10 feet. Poulter's response is long and sandy, so again the defending champion holds the advantage.
1450: Poulter hasn't conceded Mahan's putt on the second but knows really that he needs to make his birdie attempt to remain level.
For once, he leaves his attempt short and Mahan has no problem tidying up to go one up through two holes.
1448: The tee is up on four but Day takes iron, finding the fairway to leave a wedge into the green.
Kuchar also takes an iron, albeit after deliberation, and he too finds the short stuff.
1446: Kuchar has a knee-knocking par putt but makes no mistake to remain one down through three.
Back on the second, Mahan is faced with a relatively straightforward bunker shot but clearly this is the area of his game that is lacking.
However, it's a good effort this time to within three feet and it looks like he'll make birdie.
1443: Poulter was forced to lay up on the second but Mahan fails to take advantage, finding sand to the left of the green with his second.
Ahead at the third, Kuchar is first up and his delicate downhill effort comes up around three feet short.
Day follows, technically putting for the hole and he very nearly manages it, shaving the hole for a gimme par.
Meanwhile back on two, Poulter's third from 129 yards is no more than average and he'll have 25 feet for birdie.
1440: Day has the honour on three and his six-iron finds the green, albeit some 40 feet from the dangerous pin position.
Kuchar takes a club more and it's a similar shot, which leaves a very similar distance to the hole.
Back on the second, Mahan finds the fairway off the tee with a typically excellent drive. Poulter aims over the bunker but may not have made the carry so a lay-up looks likely.
1437: Sky Bet's Ben Ragg brings us news of the firm's position with the semi-finals under way.
"Many punters latched onto the 20/1 for Ian Poulter at the start of the week after his heroics in the Ryder Cup and is by far the worst result in our book (went off 7/4 before the semis)," he said.
"Hunter Mahan's form is peaking at just the right time and will hopefully prove too much for the charismatic Englishman.
"The other semi-final see's Matt Kuchar take on Jason Day. Kuchar has yet to go down the 18th this week and with that in mind is the 11/4 second favourite to win in Arizona.
"Both semi-finals are available to bet on live in play now and include "next hole winner" markets."
1435: Day putts for the hole on two but his effort lacks pace and it's just a par.
Kuchar has around 12 feet on reflection and it's a slow putt to halve the hole, which misses left. He's taken four shots from five yards in effect and is down by one.
1433: Day has no shot on two really and does well to get to around 18 feet. Kuchar should be able to better that.
However, one of the Tour's best bunker players makes a big mistake, leaving his first in the sand. His fourth is better but from a great birdie chance he now has 10 feet for par.
Back on the first, Mahan makes a simple par leaving the door open for Poulter, who this time fails to take advantage as his birdie putt stays high. He's asked to make the return and does so.
1428: Really unfortunate second from Kuchar on the par-five, he's only 20 feet away but in sand.
Day found a reasonable lie and hits two-iron, leaving nothing behind, but he's short and right. He'll have work to do to get up and down.
On the first, Mahan is roughly pin-high in two but some 30 feet away after a slight pull with his second.
Poulter hits a delightful approach which uses the contours to get just inside 15 feet, so he'll have an excellent look at birdie.
1424: Poulter and Mahan are under way, the latter finding rough on the left whereas Mahan is down the right-hand side of the fairway.
Advantage Mahan as he'll have full control with his approach.
1423: Two drives, two pulls from Day so far and he's found rough on the long par-five second.
No such problems for Kuchar though who finds the middle of the fairway once more. He looks in full control of his swing at the moment.
1420: Day's bunker shot is lovely and he makes par, one which Kuchar can only match after his birdie putt rolls next to the cup at a perfect pace.
Back on the tee, Poulter and Mahan are readying themselves.
1414: The pin on the first is slightly right of centre, giving both Day and Kuchar perfect angles to attack.
The Australian is first up, closing his eyes to visualise the shot ahead. It's from 178 yards and in the cold of morning that's around a seven-iron, which he isn't keen on as it finds sand short and left.
Kuchar has 156, probably a smooth nine, and it's on-line but some 40 feet short of the pin. Par won't lose the first it would seem.
1407: It's a metal wood off the first for Day and he's just found the fairway despite looking less than pleased with his first swing of the morning.
Kuchar takes driver and is straight down for the peg having also found the left-half of the fairway, some 20 yards closer to the green than the Australian.
1400: Good afternoon all, Ben Coley here all set to take you through the final day's play in Arizona.
Reports from the course suggest there's no delay to play which means that Jason Day and Matt Kuchar will begin in five minutes, followed soon after by Ian Poulter and Hunter Mahan.
So, who's your money on? Get your predictions, comments and questions in to bencoleymj@hotmail.com and I'll work through them as the day progresses.
For what it's worth, Kuchar is the man I'm on from the start and I do fancy him to beat Day, who was involved in a scrappy quarter-final against Graeme McDowell and may need to improve to beat impressive Kuchar.
As for Poulter versus Mahan, this one looks really hard to call and close to a coin toss job. It may simply depend which gets off to the better start but if pushed I'd lean towards Mahan at the prices. He's now won his last 10 matches in the event and remains underrated to an extent.
1200: Welcome along to our coverage of Championship Sunday at the WGC-Accenture Match Play in Arizona.
Your host Ben Coley will be here from 1400GMT to take you through the day's action starting with the semi-finals - Ian Poulter against Hunter Mahan and Jason Day v Matt Kuchar.
Here are the early odds for the last-four match-ups with Sky Bet - Poulter 4/6 v Mahan 6/5 while it is Kuchar 8/11 v Day 11/10.
The outright betting to lift the trophy with Sky Bet has Poulter as the 7/4 market leader followed by Kuchar at 11/4, Mahan at 16/5 and Day the outsider currently on 7/2.
So have a punt and get involved in the debate with Mr Coley, who I guarantee will keep you entertained right through to the trophy being lifted!
---
Click here for completely free £10 bet with Sky Bet & £5 free every week
---