Our Million Dollar Arm giveaway!
Enter our fantastic competition to win a collection of Jon Hamm-signed memorabilia from Disney's new film Million Dollar Arm.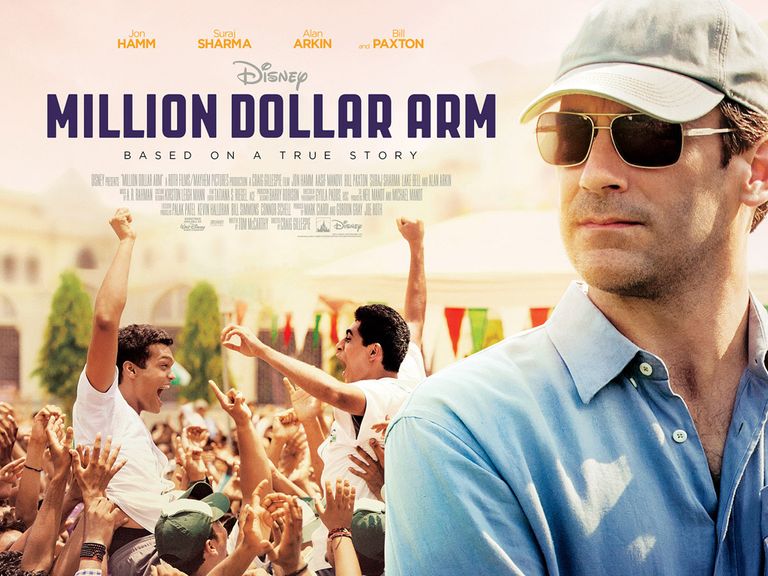 The winner of this special giveaway will be sent a Rawlings baseball bat (black "big stick") and ball as well as a book, soundtrack and poster which will all be signed by Jon Hamm, who plays the leading role of struggling US sports agent JB Bernstein in Million Dollar Arm, which is released in the UK on Friday August 29.
To be in with a chance of scooping the lot, email us at editorial@sportinglife.com with the answer to the following question to .
Question: In which hit American drama series did Jon Hamm play advertising executive Don Draper.
Is it: a) X Men b) Mad Men or c) Two and a Half Men
Closing date: 2300 BST on Sunday August 31. The winner will be announced on Monday September 1
Click here for our full terms and conditions of competition entry.
Based on a true story, Million Dollar Arm tells the story of how JB Bernstein (Jon Hamm) travels to India in a last ditch effort to save his career by finding a young cricketer to turn into a major sports star. With the help of a cantankerous retired talent scout (Alan Arkin), he sets up a national contest called "The Million Dollar Arm" and discovers Rinku (played by Life of Pi's Suraj Sharma) and Dinesh (Slumdog Millionaire's Madhur Mittal), two 18-year-old boys who have a knack for throwing a fastball.
Hoping to make a quick buck he brings them to LA to train, however the boys, who have never left their rural villages before, struggle as they try to adjust to their new life and cope with the pressure being heaped on them. His livelihood on the line and relationship with the boys at stake, with the help of his friend Brenda (Lake Bell) JB realizes that family and friendships are more important than sealing the deal.
Watch a full trailer by clicking here.
UK Release Date: 29 August 2014 / Running Time: 124 minutes / Cert: PG