Rooney heads home GB one-two
Martyn Rooney recovered from the disappointment of missing out on a Commonwealth medal by leading home a British one-two at the European Championships, where teenager Matthew Hudson-Smith underlined his undoubted talent by taking 400 metres silver.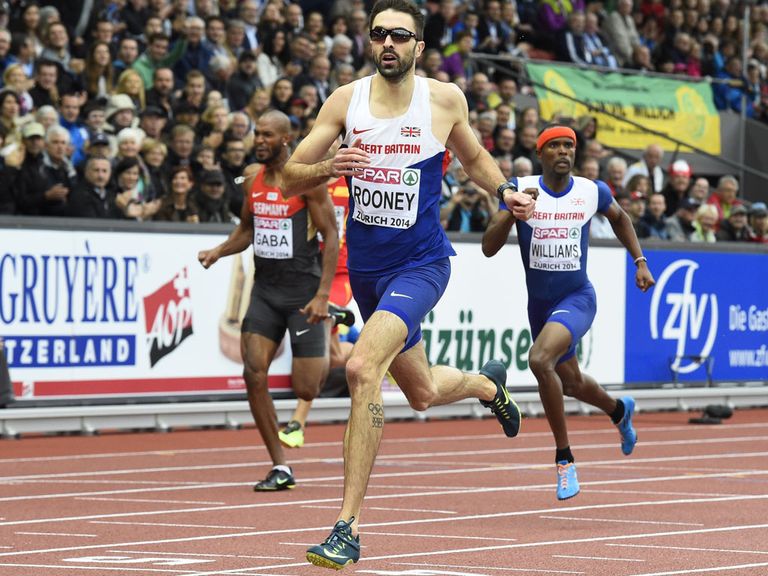 Having won all three semi-finals, there had always looked a strong chance of British success over this distance at the Stadion Letzigrund.
The fact Belgium's Jonathan Borlee did not start increased those odds of success and they did not disappoint, despite a jittery start from Hudson-Smith.
It had looked like the 19-year-old, who so impressively anchored England to 4x400m glory in Glasgow, would not have a shot at glory for a false start but, after a nervy wait, avoided disqualification.
Hudson-Smith was instead shown a yellow card for not being stable in the set position - a punishment that did not appear to distract him.
The teenager produced a wonderful race, setting a new personal best of 44.75 seconds to win silver behind team-mate Rooney's European lead of 44.71secs.
It was the 27-year-old's first gold medal at a major championship and one which bodes well for the future.
"I'm delighted to win it," Rooney told BBC Two. "It's been a long time coming, never won a championships in my life, only British trials, so it's great to win on this stage. I'm pretty happy.
"It wasn't effortless. I've got an incredible team around me and without their support we couldn't be here. I've been part of the system for a long time and it's starting to pay off."
Hopes of a British one-two-three did not come to fruition as 32-year-old Conrad Williams crossed the line fifth, while another of the British team's older members finished outside the medals in the women's event.
A year after winning the world title, Christine Ohuruogu missed out on a 400m medal by less than a hundredth of a second.
Having followed Olympic silver at London 2012 by winning the World Championships in Moscow, the 30-year-old decided to dramatically scale back her schedule this year.
Despite being short of preparation, Ohuruogu decided to compete at the Europeans and came agonisingly close to another medal.
Favourite Libania Grenot of Italy won the race comfortably, with just 0.02s separating silver medallist Olha Zemlyak, Indira Terrero in third and the Londoner.
"I'm disappointed to finish outside the medals, but not heartbroken," Ohuruogu said.
"I was here for something to do. Training at home gets tedious so I thought I would come out and test myself. It's foolish to have a complete year out which I would like ideally.
"We started the year planning just to do the relays at the Commonwealths and Europeans, but I thought this might be my only chance to come and compete on the European circuit and I thought I would give it a go. I was better than Wednesday (in the semi-final) but it wasn't enough to get on the podium."
Great Britain would not have to wait long for another medal, though, as Laura Weightman produced a fine run to win bronze in the 1,500m.
Two weeks on from taking silver at Hampden Park, the 23-year-old was the only one to stick anywhere near overwhelming favourites Sifan Hassan of Holland and Sweden's Abeba Aregawi when they made their move down the back straight.
Hassan eventually won the battle of the Ethiopian-born pair, with Weightman holding tight as the chasing pack closed in, crossing the line in four minutes and 6.32 secs.
"I'm really pleased with that," Weightman, whose British team-mate Hannah England came sixth, told the BBC.
"I was nervous in the warm-up and didn't know how to play it, but with 600m left no-one was doing anything so I wanted to push it along.
"At the bell I knew Hassan and Aregawi were going to come past and I couldn't go with them but I'm really pleased to hold on to that bronze.
"I wanted to go with them and hang on for as long as possible and be in a strong bronze, not have anyone coming back to me down the home straight."