Thomas wins cycling gold
Geraint Thomas travelled to Glasgow 2014 in the name of national pride and with few expectations, but returns as a Commonwealth Games champion after a sensational victory in the men's road race.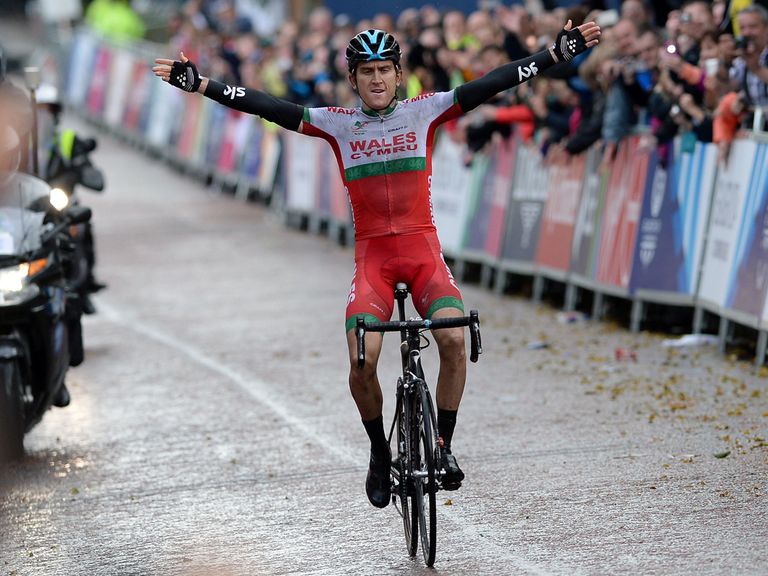 Thomas was told by Welsh coach Darren Tudur before the start of the 12-lap, 168-kilometres undulating course that he would be Wales' flagbearer for the closing ceremony.
And the bronze medallist from Thursday's road time-trial ensured he would lead the team as its fifth gold medallist by escaping to victory on the last lap, a week after finishing the Tour de France in Paris.
The 28-year-old from Cardiff said: "Riding the Tour before it just adds to how good it feels to come away with two medals. I really didn't expect it.
"I was coming purely out of national pride and wanting to ride for Wales. I never really expected to medal, if I'm honest.
"To come away with a win and a bronze is more than I could've dreamt of.
"It was an amazing feeling to come down the home straight with this Welsh jersey on and win."
There was plenty of drama in the torrential rain as Thomas had to overcome an early mechanical and a puncture inside the final 6km.
Fortunately for Thomas he had enough of an advantage to absorb the inconvenience to win by one minute 21 seconds as Jack Bauer of New Zealand beat Scott Thwaites of England to silver, the Yorkshireman having to settle for bronze.
Thomas, twice an Olympic champion in the team pursuit on the track, said: "When I felt that front wheel going down, I can't say what I was saying, I was swearing, saying 'what have I got to do?'
"It felt like an eternity for that wheel change. I'm sure it wasn't that slow.
"Fortunately I had a decent enough time gap."
It was the second home nations triumph of the final day after Lizzie Armitstead earlier led an England one-two ahead of retiring team-mate Emma Pooley in a thrilling women's road race.
The Isle of Man's Peter Kennaugh, who won the island's only medal of the 2014 Games with points race silver on the track, broke away on his own for 116km, ultimately in vain.
Kennaugh had animated discussions with Mark Cavendish, his fellow Manxman who was in the team car following shoulder surgery last month.
The 25-year-old, who finished eighth, said: "Initially he (Cavendish) was just saying 'what are you doing?'
"I thought someone would come with me. I knew I was going to get caught at some point; I didn't think I'd stay out there as long as I did."
Thomas, Bauer and Thwaites bridged the gap to Kennaugh with 49km to go before dropping him.
The trio led at the bell and it was just a matter of 14km to decide their final podium placings, but Thomas did not wait long to make his move.
"I wanted to catch them by surprise," added Thomas, who attacked on St Vincent Street, with 11.5km to go.
"Those two are fast guys and I don't have any acceleration, I'm just a massive diesel engine.
"I needed to go early. Luckily I had the legs to take it all the way to the line."
Thwaites said: "I was happy I was guaranteed a podium, as long as I stayed upright. It's a shame I ended up with bronze, but I'm happy with that.
"Geraint was so strong. He was unbelievable today."
Just 12 of the 139 starters completed the race, with David Millar of Scotland 11th.
Millar, who is retiring at the end of 2014, said: "I realised about two-thirds in that it wasn't happening. I was just getting weaker and weaker and that's a lack of racing. I didn't really stand a chance.
"I'm so glad G (Thomas) won. He's an amazing bike rider and I think he deserved that."
It was a rare individual triumph for Thomas, while Armitstead is relieved to finally be able to call herself a champion.
Pooley, in her last race before switching to endurance triathlons, played a brilliant selfless role in the 98km, seven-lap event and finished with silver. Bronze went to South Africa's Ashleigh Pasio.
Armitstead finished with silver behind Australia's Rochelle Gilmore in Delhi four years ago and claimed Britain's first medal of London 2012, with Olympic silver behind Marianne Vos of Holland.
Now she has the title she has long craved.
"I just feel like I deserve it," said the 25-year-old from Otley, who praised her support team of Laura Trott, Dani King, Lucy Garner, Hannah Barnes and Pooley.
"Once you've got a big title you can call yourself a champion finally.
"The psychologists tell you it should never be a relief when you win a race, but to tell you the truth it is."
Pooley has had a distinguished career, including 2008 Olympic silver in the Beijing time-trial, after helping Nicole Cooke to road race gold, and victory in the 2010 World Championships time-trial.
The 31-year-old, who won time-trial silver behind New Zealand's Linda Villumsen on Thursday, was in tears as she crossed the line.
"It's a nice way to finish, with a medal in your last race," she said.
"To hang on for silver was fantastic and unexpected."