Road race glory for Armitstead
Lizzie Armitstead led an England one-two ahead of retiring team-mate Emma Pooley in a sensational Commonwealth Games women's road race on the final day of Glasgow 2014.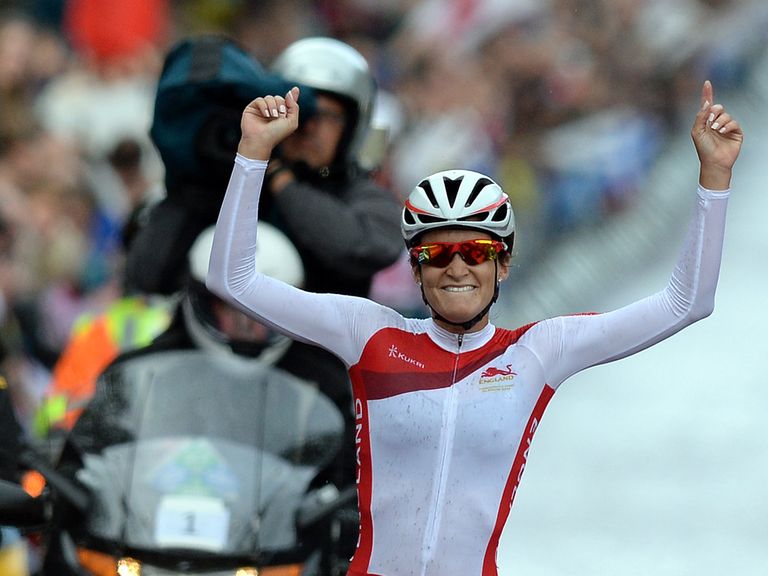 Armitstead took the silver medal behind Australia's Rochelle Gilmore in Delhi four years ago and claimed Britain's first medal of London 2012, with Olympic silver behind Marianne Vos of Holland.
Now the 25-year-old from Otley has the title she has long craved.
Armitstead, a 2009 team pursuit world champion on the track, won the 2013 British title on the same Glasgow course, albeit with an extra lap, and was confident heading into the race, determined to shed her perennial runner-up status.
Pooley initiated the burst which led to the formation of a select group of seven riders on the fifth lap.
Pooley continued to attack in tactics which played into English hands. If she could go alone, she would; if she was chased, Armitstead was present.
Armitstead, who crashed out of contention in last Sunday's La Course by Le Tour in Paris, had wanted a tough race and difficult conditions and the rain began to fall on the penultimate lap.
Pooley attacked alone and Armitstead joined her on Great George Street before accelerating ahead alone at the point where she made her move in the British Championships.
Armitstead then soloed to a stunning triumph, with a tearful Pooley 25 seconds behind.
Bronze went to South Africa's Ashleigh Pasio in a photo finish ahead of Australia's Tiffany Cromwell.
Scotland's Katie Archibald fell out of contention on the final lap.
A few stragglers from nights out were on the course when the race began at 0800 BST on the final day of the Games.
It soon became apparent that there was an elite group among the 63 starters, with England and Australia particularly prominent in the first two laps as a peloton of 33 riders passed through with five laps to go.
The riders in green and gold continually tried to launch attacks, but each time a rider in red and white followed their wheel.
On the third lap it was Laura Trott, Armitstead's successor as British champion, who shadowed Shara Gillow.
Armitstead had the support of a stellar team - Trott, Dani King, two-time world junior champion Lucy Garner, Hannah Barnes and Pooley - but even followed attacks on her own, perhaps to show she was feeling strong.
Pooley and Armitstead were part of a group which tried to break clear on the third lap as the leading bunch was reduced to 21 by the relentless pace.
New Zealand's Linda Villumsen, the time-trial champion on Thursday, launched a short-lived attack entering the fourth lap, when the 21 - featuring all six English riders - remained together.
Pooley was prominent on the fifth lap, dragging away four others on St Vincent Street with 40km to go.
Pooley, Armitstead, Villumsen, Cromwell and Pasio were soon joined by Archibald and Australia's Grace Elvin.
The presence of England, Australia and New Zealand in the front group left others responsible for the chase, aiding the seven escapees' chances.
Pooley pushed on again, Elvin going with her, but the group were together with an advantage of one minute 20 seconds over the 14-rider second group with two laps to go.
Archibald was hanging on, drifting back on every ascent and eventually finished seventh.
Pooley sat back on the penultimate climb of Montrose Street before accelerating towards Glasgow Green.
Elvin then tried to make the pace and Cromwell made the next move in an Australian double, but still it was seven together at the bell.
Pooley went again on the final ascent of St Vincent Street, stretching the group on the slick wet roads and making quite a gap.
The English team-mates' tactics worked to perfection as Armitstead bridged to Pooley before racing to glory as her team-mate bowed out on a high.
Armitstead is relieved to finally be able to call herself a champion."I just feel like I deserve it," Armitstead said.
"I've trained so hard. I'm always on the podium, I don't win that many races.
"It's just a confidence thing. Once you've got a big title you can call yourself a champion finally.
"Hopefully it will bode well for the rest of the season.
"The psychologists tell you it should never be a relief when you win a race, but to tell you the truth it is."
Armitstead wanted tough conditions and a difficult race and she got it, a rainbow greeting her arrival in the finishing straight.
An emotional Pooley followed 25 seconds behind, while bronze went to South Africa's Ashleigh Pasio in a photo finish ahead of Australia's Tiffany Cromwell.
Armitstead had the support of a stellar team - Laura Trott, Dani King, Lucy Garner, Hannah Barnes and Pooley - but even followed early attacks on her own, perhaps to show she was feeling strong.
Trott said: "It worked out perfectly. A good team plan and it paid off. That's exactly what she wanted to do and for Emma to come second was incredible."
Pooley has had a distinguished career, including 2008 Olympic silver in the Beijing time-trial, after helping Nicole Cooke to road race gold, and victory in the 2010 World Championships time-trial.
The 31-year-old, who won time-trial silver behind New Zealand's Linda Villumsen on Thursday, was in tears as she crossed the line.
"It's a nice way to finish, with a medal in your last race," she said.
"I knew my family and friends were watching somewhere, and that means a lot to me.
"I was pretty sure Lizzie had the legs to win, but plans don't always go to plan. To hang on for silver was fantastic and unexpected."