Bolt blazes to Hampden gold
Usain Bolt landed his first Commonwealth Games gold medal by anchoring Jamaica to 4 x 100 metres glory at Hampden Park.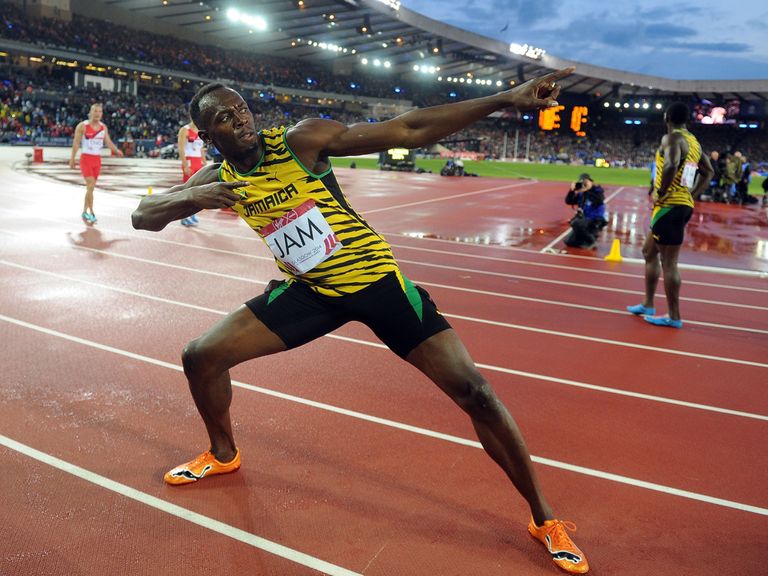 The world's fastest man ended his controversial stay in Glasgow by powering down the home straight to bring his team home in 37.58 seconds, a Games record.
The 27-year-old would have had every reason to grumble about the weather on Saturday night after rain hammered down and puddles littered the track, but he received the baton in the lead and powered away to the roars of the crowd.
England took a hugely impressive silver, their quartet of Adam Gemili, Harry Aikines-Aryeetey, Richard Kilty and Danny Talbot producing three slick changeovers as they held off Trinidad and Tobago, clocking 38.02secs.
Bolt lapped up the acclaim on his lap of honour, posing for selfies with members of the crowd all around Hampden, with a Jamaican flag and a Scottish Saltire draped over his shoulders.
He also donned a tartan hat and scarf as he joked around with his adoring fans.
The controversy over his alleged slur on his experiences in Scotland, which the man himself denies, had not dented his standing in their eyes.
Any doubts about that were ended in the heats on Friday when he received a rapturous reception and it continued for the final, the star attraction closing the athletics programme in style. Hampden had its superstar and were determined to enjoy him.
Bolt said of his victory: "It means a lot. It's the only thing missing from my collection.
"I'm happy to be here and sorry I didn't manage to run the individual events because the energy out here is wonderful."
Speaking of the lap of honour, Bolt added: "Way too much selfies, but it was good, I had fun.
"It's making the lap of honour longer and harder.
"It used to be autographs; now all they want is selfies."
He is determined to make at least one more major statement in his track career, and has earmarked a jaw-dropping 200 metres as the target.
Bolt added on BBC Radio 5 Live: "I just hope I can stay injury-free next season.
"I want to run sub-19 (seconds) and that's one of my biggest goals and biggest dreams.
"My main aim is the 200m. I think I've done enough in the 100m.
"I love my 200m and want to do something special in 200m."
With his 28th birthday approaching later in August, Bolt said: "I've just got to work a little bit harder, put more work in and don't go out as much as I used to.
"Just change it up a little bit in my life and everything will be okay."