Brilliant Daley dives to gold
Tom Daley will pursue gold and perfection at the Rio de Janeiro Olympics in 2016 after emphatically dismissing any suggestion he might retire following the Commonwealth Games.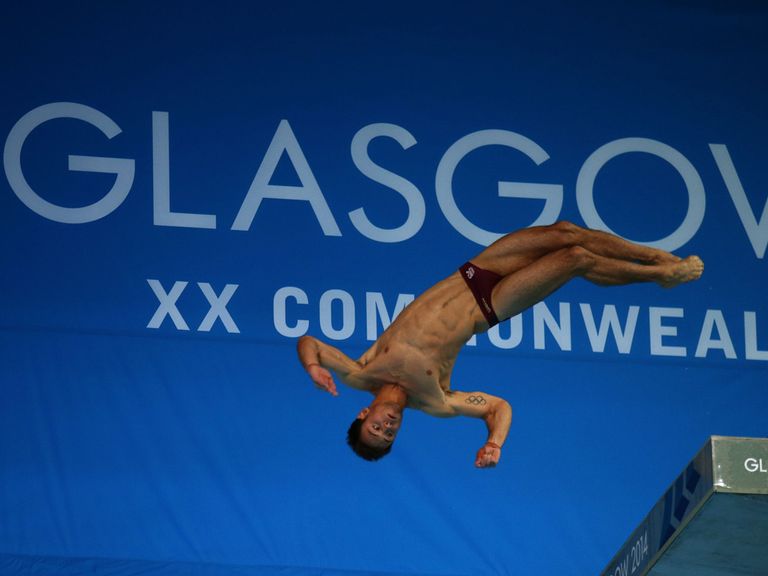 The 20-year-old from Plymouth successfully defended his men's 10-metre platform title as the Glasgow 2014 diving competition concluded at Edinburgh's Royal Commonwealth Pool.
Daley led throughout the final, winning his third Commonwealth gold after two in Delhi four years ago, with a score of 516.55.
The margin of victory was a huge 82.85.
Daley's win took England's tally from 10 events to 10 medals, four of them gold, before he stated his intention to bid for gold in Rio, following recent claims he might be ready to stop.
Daley, a London 2012 bronze medallist, said of the Olympic aim: "Of course. I don't quite know where that rumour came from. I came back from (the World Cup event in) Shanghai and all of a sudden I saw that I was retiring after the Commonwealths. I was like - 'news to me'."
Daley was thrilled with his performance, with Malaysia's Ooi Tze Liang finishing second on 433.70 and Canada's Vincent Riendeau third with 429.25.
"It's quite a big margin," he said.
"It's always tough to go into a competition when you're ahead because when you're ahead you've got to make sure you keep your standard up. If you slip, someone's going to catch you.
"I just had to keep imagining that someone was right on my heels to make me step it up.
"I don't want to go out there and just do average diving. I want to do perfect diving."
And Daley now wants to take on the world's best.
"There's every possibility that I can mix it with the Chinese now," he said.
"I wouldn't mind if I never beat the Chinese until 2016. You've only got to do it once and you've got to do it when it counts.
"Hopefully they'll be able to see that I'm coming to get them."
Daley's mother Debbie, two younger brothers and partner Dustin Lance Black watched his brilliant performance.
He will spend time at home in London before travelling to the European Championships in Berlin later this month.
Daley, who has starred in TV show Splash!, insisted his head was not being turned by celebrity and that sport remains his focus.
"Diving is my number one priority," he added.
"I used to do school full-time and no-one used to worry about me going to school, saying it was a distraction and I shouldn't be doing it.
"Because I'm not doing any school any more and I haven't got any TV shows, possibly I want to start a course in Spanish, sociology, politics, something like that, just to keep my mind away from it.
"If your mind is constantly on diving, it will melt. It's always good to have a distraction from it."
Daley was in need of a distraction on Saturday afternoon after qualifying in first place and returning to the hotel for some rest.
"I had my nap, although I kept waking up with my heart beating a million miles an hour thinking about tonight," he said.
"It's very different diving in a prelim than it is to be able to step it up for a final."
His main concern was his second dive, which he has described as his "demon".
Daley has had trouble when it comes to the 'twister' - a back two-and-a-half somersault with two-and-a-half twists - and scored just 37.80, after landing with quite a splash, in qualifying before responding with the rest of his repertoire.
He had also been unhappy with his opening dive - an armstand back triple somersault - in the preliminaries, but in the final he delivered and was awarded 94.50 to take a clear first-round lead.
Then came the twister, which Daley produced en route to London 2012 Olympic bronze when a camera flash distracted him and he asked to re-perform the dive.
It has haunted him since and his performance was improved in the final, with 64.80 to see him remain top, and a medal was secured before he plunged from the platform for a sixth time.
"It's really nice to go into the last round of a dive and know that you don't even have to do it to get a medal," said Daley, who was in third place after all his rivals had completed their schedules.
"It's been a very long season. There it was about who could hold it together in their heads.
"My twister was better. I'm pretty happy with the way it went.
"I'm just happy to finally have something to show for all the hard work.
"It's shown that I'm right up there with the world's best divers."
James Denny, who won synchronised silver alongside Daley on Friday night, was sixth with a total of 397.65.
Matthew Dixon, the 14-year-old from Plymouth, was ninth with 366.15.