Anger drove Dowsett to gold
Anger drove England's Alex Dowsett to Commonwealth Games gold in the men's road time-trial on Thursday after illness ruined his hopes of competing in a first Tour de France.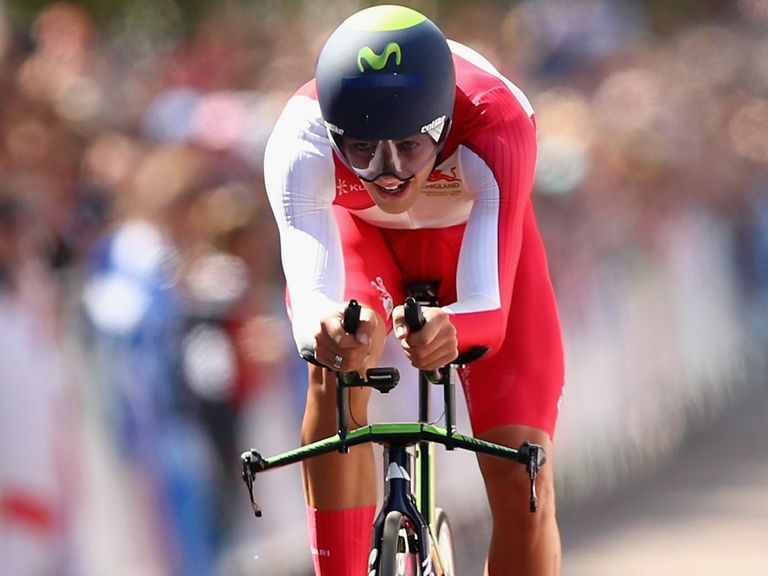 The 25-year-old could not watch the UK stages of the Tour, which began in Leeds and rolled through his home county of Essex, after a bout of bronchitis saw him omitted from Movistar's line-up.
Dowsett refocused on Glasgow 2014 and the 38.4-kilometre time-trial, which began and finished at Glasgow Green, achieving an upgrade on the silver medal he won in Delhi in 2010.
"I fought like I've never fought before - no-one wanted that more than me today," Dowsett said.
"It was a bitter disappointment not being selected for the Tour de France. I spent the whole month fairly angry, not at anyone in particular, just angry at the situation.
"Commonwealth Games was a big target for me anyway but it suddenly became a huge target.
"It was my next focus and I really wanted to do something big after the disappointment of the Tour de France.
"I've always been the same, since I was a kid, I usually pull something fairly big out the bag when I'm really angry.
"I had a point to prove to myself. I know I was worthy of that Tour place, I was unlucky in when I got ill."
Dowsett came from behind to finish in 47 minutes 41.78 seconds and take gold by 9.3secs.
Australia's Rohan Dennis, who had led for much of the race, was second in 47mins 51.08secs, and Wales' Geraint Thomas four seconds further behind in third in 47:55.82.
Scotland's David Millar, the defending champion, was eighth in 49:56.23.
England's Emma Pooley, who is to retire after Sunday's road race, was second in the 29.6km women's event, six seconds behind winner Linda Villumsen of New Zealand, who clocked 42:25.46.
For Dowsett it was a career high, ranking about his Giro d'Italia stage win in 2013.
"This is bigger (than the Giro win)," Dowsett said.
"I think a lot of nations that aren't in the Commonwealth don't understand just how big the Commonwealths are.
"I didn't give it the credit that was deserved before Delhi and that silver medal there just proved to me just how massive the Commies are.
"This will be a career highlight for me, regardless of what I do from here on in."
Millar is retiring at the end of this season and was last down the ramp.
It soon became apparent he would not be challenging for gold in a strong field.
Dowsett led at the first and second time checks, but was third after 32km, with 6.4km to go, with Dennis leading Thomas by four seconds and the Englishman by five.
Thomas crossed the line first and had to wait to see how his rivals would do, with first Dennis and then Dowsett bettering his mark.
"I thought it was all over," Dowsett said.
"I was struggling in the last 10k, but everyone was struggling. Gladly everyone was struggling a little bit more than I was.
"I can't describe just how happy I am with that today. It goes a lot deeper than simply winning the gold medal of the Commonwealth Games. It's a personal victory.
"Everything's just come together and I've really been able to channel the disappointment in the right way."
Thomas was the only one of four British riders to start the Tour in Leeds on July 5 to finish last Sunday in Paris and was uncertain how he would perform in Glasgow.
The 28-year-old from Cardiff said: "I felt strong. I didn't feel zippy or fresh."
Thomas also told the BBC: "Before the next time-trial I do I'm going to send Alex Dowsett some flowers. Make sure he is happy."
Millar will have another opportunity in Sunday's road race, where his tactical experience will help his hopes.
Sunday will see Pooley race for the final time before she turns to a career in endurance triathlons.
The 31-year-old London-born rider, 2008 Olympic silver medallist and 2010 world champion, was content with silver.
"You can't be frustrated when you've done your best," Pooley said.
"I'm not upset. Linda deserved to win. I don't really want to look back with regrets, because you can't re-race it. I'm thrilled to have a medal at all."
Villumsen has often come close to success and narrowly missed out, finishing second at the Delhi Games four years ago - when Canada's Tara Whitten won - fourth in the London 2012 Olympic time-trial and third in the World Championships later that year.
English riders shared the success as Villumsen is the partner of Emma Trott, the elder sister of double Olympic champion and Glasgow 2014 points race gold medallist Laura Trott.
Emma Trott, who retired after May's Friends Life Women's Tour, wrote on Twitter: "I am simply the proudest person right now! @LVillumsen makes me proud every day and I'm very happy to have you as my partner!"
Laura Trott wrote: "Wheyyyyyyy!!!!!! @LVillumsen you absolute beauty!!!!! #CommonwealthChamp X"
Scotland's Katie Archibald was fifth and Wales' Elinor Barker seventh.