Golden night for Georgia
Georgia Davies served up another Welsh swimming gold and England's men brought the Glasgow 2014 pool action to a close with relay glory as the final night of action at Tollcross met all expectations.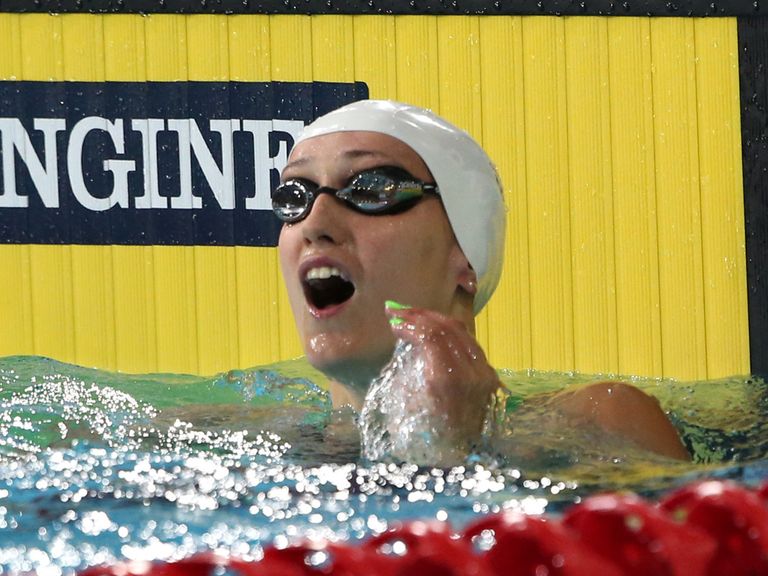 And there was more to celebrate for the home crowd as Daniel Wallace claimed his third medal - and Scotland's 10th in the pool - by taking silver following a brilliant comeback in the 200m individual medley.
Twenty-four hours after Jazz Carlin became the second Welsh woman to ever win a Commonwealth swimming gold, Davies followed when she touched home first in the 50 metres backstroke.
With Carlin earlier taking silver in the 400m freestyle, Davies' triumph took Wales past their previous best Games total of five swimming medals, and teenager Dan Jervis later made sure they went beyond a pre-tournament target when he added a seventh by finishing third in the 1,500m freestyle.
Plymouth teenager Ben Proud grabbed his second gold for England, who also won silver through Lauren Quigley, while Siobhan-Marie O'Connor landed her sixth medal of the Games by helping England's women to second place in their medley relay.
Her feat equalled a Games record but it was promptly broken by South African Chad le Clos.
The drama came thick and fast from the start. Davies broke the Games record for a third time in 36 hours, and her own British record in the process, by posting a time of 27.56 seconds, with Quigley 0.13 seconds behind.
The 23-year-old Davies, who won silver in the 100m, admitted the success of her friend and former training partner Carlin had inspired her.
"I'm so happy," Davies said. "Hearing that anthem, everyone cheering and my family, just makes all the training and effort I have put in worthwhile.
"Jazz set the standard. I heard the anthem being played for her right before my semi-final (on Monday) and I said to myself, 'I want to do that tomorrow'.
"I was really nervous because I put so much pressure on myself, especially with the time last night because I wanted to break the record again."
New Zealand's Lauren Boyle earlier turned the tables on Carlin following the 800m freestyle on Monday night, setting a Games record of four minutes 4.47 seconds to come in 0.69 seconds clear in their latest duel in the pool.
Scotland's Hannah Miley just missed out on a third medal in what was her sixth final, finishing 0.19 seconds behind Australia's bronze medallist Bronte Barratt.
Swansea swimmer Carlin said of her runner-up showing: "It was tough with the distances and doing back-to-back nights. I didn't get much sleep so it was just about making sure I got myself back up for the final. But to come away with another medal is amazing.
"I wanted another gold but that would have been a bit greedy."
Carlin's double gold challenge opened the night and Proud soon held off a strong Australian challenge in the 50m freestyle, coming home in 21.92 sec - eight hundredths of a second in front of Cameron McEvoy, whose team-mate James Magnussen took bronze.
The Plymouth 19-year-old had already won the 50m butterfly as well as a 100m freestyle relay bronze.
"Coming into the Games I wasn't expecting anything really," he said. "Just to gain some experience was all I was looking forward to. So it's been amazing to win two golds.
"The team has done so well and that success has become infectious. As soon as you see one person doing well you start thinking 'I really want that to be me'."
The home crowd had a Scottish record to cheer in the backstroke as 16-year-old Kathleen Dawson finished fifth in 28.47, but the next race produced an even bigger ovation as Daniel Wallace claimed his third medal of the Games by finishing second in the 200m individual medley.
Wallace rallied the crowd after coming out wearing a kilt and came back from last place at the midway point to pass Le Clos during a brilliant breaststroke length to finish behind Australian Daniel Tranter, who set a Games record of 1:57.83.
Jervis then knocked more than 11 seconds off his personal best to claim bronze despite spending all but five metres of the 1500 outside the medal positions.
The teenager edged past Australian Jordan Harrison by 0.38 seconds to record a time of 14:55.33, more than 11 seconds behind winner Ryan Cochrane.
Perth teenager Stephen Milne had pushed Olympic silver-medallist Cochrane all the way in his heat but the Scot had to settle for fifth.
O'Connor then helped England's women push Australia all the way in the 4x100m medley relay but Cate Campbell held off the challenge of Fran Halsall in the final leg to win by seven-tenths of a second in a new Games record of 3:56.23.
But England's men brought the action to a close in fittingly dramatic style by claiming their first medley relay triumph for 64 years with a Games record of 3:31.51.
Chris Walker-Hebborn, Adam Peaty, Adam Barrett and Adam Brown were the gold medal heroes as they dominated to consign the Australians to silver and claim their team's 28th swimming medal.
Le Clos helped South Africa to bronze to claim his record-breaking seventh medal of the Games.