Carlin jazzes it up for Wales
Jazz Carlin swept to Wales' first swimming gold medal at Glasgow 2014 as she broke her own Commonwealth Games record in the 800 metres freestyle.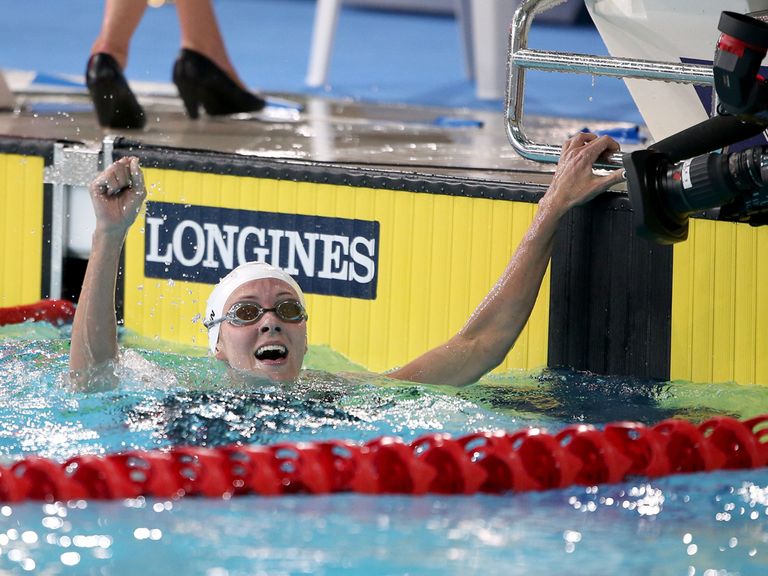 An emotional Jazz Carlin could not comprehend the enormity of her achievement after becoming the first Welsh woman to win a Commonwealth Games gold medal for 40 years.
Carlin took apart the 800 metres freestyle field to win her country's first swimming gold at Glasgow 2014 and their third in all sports.
The 23-year-old was the first of three home nations gold medals on the penultimate night of action at Tollcross.
Paralympic champion Ollie Hynd and Yorkshire teenager Sophie Taylor both took gold for England, who also saw Aimmee Wilmott and Adam Peaty win silver medals and Adam Barrett take bronze.
But Scotland suffered disappointment with no medals despite having representatives in five finals.
However, the night belonged to Carlin, who added gold to the silver and bronze she won in Delhi four years ago, and emulated the victory of her countrywoman Pat Beavan in 1974.
Carlin was crying even before she stepped up to the podium and wiped away tears throughout the medal ceremony.
"It is amazing," said Carlin, who next races in the 400m freestyle on Tuesday. "It has not sunk in yet. Hearing the Welsh national anthem was incredible. I was trying to sing it but I was way too emotional.
"Seeing my family, and everyone who has come to watch, it has been an amazing day and hopefully I can carry it on."
Carlin came home more than two seconds ahead of New Zealand's Lauren Boyle in eight minutes, 18.11 seconds.
She had also dominated the heats but said: "I didn't see myself as a favourite, I just wanted to go out there and do the best I could and come away with something that I am happy with and I am absolutely over the moon with a gold medal.
"When you come to things like this and come away with a gold medal, you really appreciate what you have come through and what you have overcome, so many hard times and real lows, and it really does make it so much more special and so emotional.
"I think that is why I was crying so much."
City of Leeds swimmer Taylor claimed personal redemption in the 100m breaststroke, breaking her own British record as she came home in 1:06.35, virtually a full second ahead of Australian Lorna Tonks, and exceeding her own expectations in the process.
The 18-year-old said: "After, in my eyes, a disappointing week, I just went for it and hoped that I could get a medal, even if it was a bronze or silver, I just wanted a medal.
"So I saw the end of sight and I said to myself that I would give it my all and I found a sudden burst of energy.
"It meant everything after just missing out on a medal in the 50 and not even making the final in the 200, I knew that I had to make a comeback and to get my mind refocused and positive again and so to come off with a gold and a British record means a lot to me."
Hynd earlier took gold in the para-sport 200m individual medley. The Paralympic champion, who has a degenerative muscle condition, finished more than eight seconds clear in the five-man field.
Hynd said: "It was really special. It never gets old, standing on the podium with the national anthem playing.
"The things dreams are made of. Apart from London I have never experienced anything like that. It was so special and I am proud to represent England and proud to do my best."
Middlesbrough swimmer Willmott soon secured her second medal of the tournament, claiming a silver in the 200m butterfly behind Canadian Audrey Lacroix.
And Barrett also won his second medal, another bronze, in the 100m butterfly final. The 21-year-old could not keep up with 200m champion Chad le Clos, who set a new Games record of 51.29, and came in behind Joseph Schooling of Singapore.
There was disappointment for many in the crowd in the men's 50m breaststroke final as South African world record holder Cameron van der Burgh pipped 100m gold medallist Peaty, while the three Scots finished outside the medals.
Van der Burgh came home in 26.76, two-hundredths of a second ahead of Peaty, while Scot Mark Tully was one-hundredth of a second behind Australian bronze medallist Christian Sprenger.
Tully's challenge was the closest the Scots came, with 200m winner Ross Murdoch denied a third medal as he finished sixth, one ahead of team-mate Joe Welstead.
Elsewhere for the host nation, Hannah Miley had two top-six finishes but did not seriously challenge for a medal while Craig McNally and Ryan Bennett came in fifth and sixth but could not threaten an Australian clean sweep in the 200m backstroke, which was won by Mitch Larkin. And Katie Armitage finished eighth behind Taylor.
England's Fran Halsall just missed out on her 11th Commonwealth medal as she failed to break the Australian dominance of the women's 100m freestyle. Cate Campbell took gold ahead of sister Bronte, with Emma McKeon completing a clean sweep and Halsall 0.39 seconds adrift of the medals in fourth.
The night's two semi-finals both produced new Commonwealth Games and British records.
England's Ben Proud continued his impressive week by beating a strong Australian contingent in the 50m freestyle semi-final. The 19-year-old, who has won gold and bronze already at Glasgow 2014, came home in 21.76secs.
Wales' Georgia Davies then broke the 50m backstroke Games record for the second time in a day - the previous mark had stood for 36 years.
Davies finished in 27.61 with England's Laura Quigley second fastest. Kathleen Dawson set a Scottish record of 28.55 to join England's Lizzie Simmonds in the final.