Injury blow for Yohan Blake
Yohan Blake's return from injury ended in agony as the Jamaican sprinter crashed to the floor clutching his hamstring at the Sainsbury's Glasgow Grand Prix.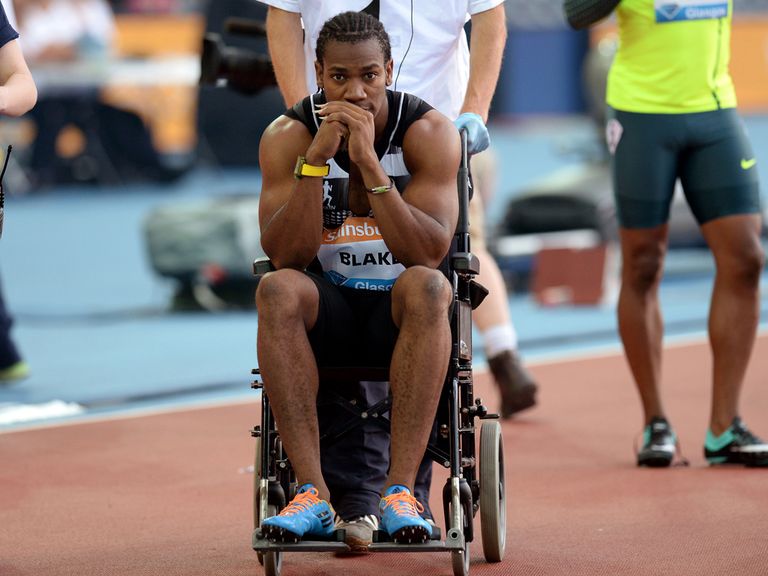 The second fastest man in history has been plagued by fitness issues for much of the past two years and they resurfaced in just his second race this season at Hampden Park.
The 24-year-old was slow out of the blocks in the Diamond League 100metres final and looked uncomfortable as the race reached midway.
The Olympic silver medallist then suddenly pulled up and fell to the track as his compatriot Nickel Ashmeade edged out American Michael Rodgers by a fraction to claim the 10,000 US dollars (£5,844) first prize after both finished in 9.97 seconds.
Fellow Jamaican Nesta Carter was just a hundredth of a second behind as the fastest 100 meters ever run in Scotland ended with three men under 10 seconds.
Blake had been accused of chasing cash over medals after he snubbed this month's Commonwealth Games in the city in favour of running at the money-spinning Diamond League meet.
But his warning that he was not fit enough to run in both competitions proved correct after he left the track in a wheelchair.
Britain's James Dasaolu - who finished fourth on a season's best time of 10.03 seconds - said: "I didn't really see what happened to Yohan. We sprinters are taught to focus only on what is going on in our own lane.
"But this event requires maximum effort and his fall just shows what happens when you are carrying these types of injuries.
"You have to go at 100 per cent and anything out of place slightly can blow. You are very delicate but you have to be just right when you are running against sub-10 guys."
A shadow had been cast on the event after London 2012 hero Mo Farah pulled out last week.
The double Olympic champion - who still hopes to make Glasgow 2014 in a fortnight's time - had been scheduled to run in Saturday's two-mile race but withdrew when he was struck down with abdominal pains while training in the United States.
But home favourite Elidh Child gave the 12,000-strong crowd at Hampden - looking resplendent after its transformation from a football venue - a night to remember as she recorded the second quickest 400m hurdles ever run by a Scottish female.
The Perth athlete impressively outclassed a high-quality field, including three rivals who had personal bests quicker than her own.
The 27-year-old put down a fine marker ahead of the Commonwealths by finishing in 54.39 seconds - just 0.17 off her own Scottish record.
"I'm delighted to have got that win," she said. "It was a good quality race and a lot of good Americans were out there too. It showed I'm in great condition. It's my second fastest time ever. It's not far off my PB and everything is going in the right direction.
"I can go back into some hard training and hopefully taper down for the Games. I've been in hard training so hopefully come the Games, I'll run a bit faster then."
She added: "It was amazing running at Hampden. I didn't expect such a loud cheer at the start and that's with the stadium not even full.
"To have that, I only wonder what it's going to be like in a couple of weeks when the Games actually start. It was just incredible."
Heptathlete Katarina Johnson-Thompson showed why she is favourite for gold at the Commonwealth Games with a personal best 6.92m to finish second in the long jump.
The Liverpool athlete continued her stunning form this year to come within three centimetres of the British record.
Shara Proctor, the holder of that record and now the only woman above Johnson-Thompson on the British all-time list, had to settle for third with 6.82m.
Will Sharman claimed some major scalps in winning the 110m hurdles, equalling his personal best of 13.21 in the process, with Jamiaca's world number one Hansle Parchment among those beaten.
The evening started with Paralympian Stef Reid setting a new world record in the F44 long jump with her 5.47m leap.
There was more British success when David Weir eased to victory in the T53-54 1500m wheelchair race after speeding away from the field with three quarters of a lap to go, finishing in 3:08.78.
Panama's Alonso Edward was triumphant in the 200m, while Javier Culson demolished a 400m hurdles field that included double Olympic champion Felix Sanchez, who could only finished fourth.
The women's 400m was won by Francena McCorory in 49.93.