Froome denies Wiggins snub
Chris Froome has insisted he had no involvement in the omission of Sir Bradley Wiggins from Team Sky's Tour de France squad.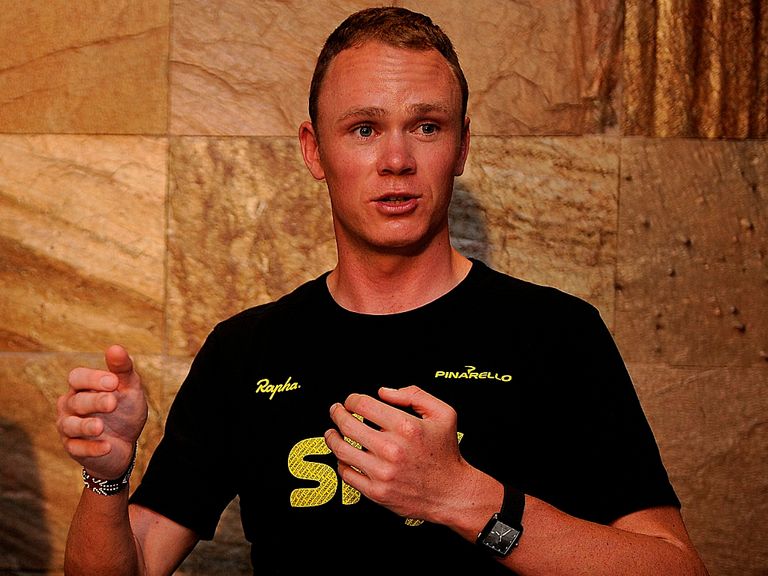 Speaking upon his arrival in Yorkshire ahead of Saturday's Grand Depart, Froome revealed he was consulted by team principal Sir Dave Brailsford but did not give an instruction to leave Wiggins out.
The two riders have had a famously acrimonious relationship since the 2012 Tour, when Froome attacked Wiggins on a mountain stage, and although they have since ended their dispute, they remain far from friends.
Froome, however, was adamant that keeping the same team-mates he has raced with throughout this season was the main factor in Wiggins being left out.
"Knowing Daryl's character, he has always been very outspoken against doping, so it is a big shock to me."
Chris Froome
He said: "Just to make it absolutely clear, I do not have a role in selection. I do speak to Dave Brailsford about the group of guys I have been racing with, but if you look at how a Tour team is generally selected, the guys doing a Tour will be doing altitude camps together really quite early on in the season, racing together as a group. We really are a tight-knit group."
Asked if he would have objected to Wiggins being in the team, he added: "Not necessarily. It would definitely change the dynamic of the team having Bradley on the team, but that is bike racing. You are not always going to be best friends with everyone on the team all the time."
Froome has arrived in Yorkshire on the back of a heavily disrupted build-up to the Tour, with a crash at last month's Criterium du Dauphine setting him back physically and the furore surrounding his use of an inhaler in the same race proving a burden mentally.
Any hopes Froome may have had that the worst was behind him were then dashed on Wednesday morning, when it emerged his friend and former team-mate Daryl Impey had tested positive for the banned diuretic Probenecid.
The revelation is another damaging blow to cycling's reputation just three days out from the start of the Tour, and Froome admitted it had hit him hard.
He added: "It was quite shocking this morning to have the news about Daryl, someone I know really well. He has been a team-mate with me on Barloworld [in 2008 and 2009].
"I did send him a message when I found out this morning. I just said I was really shocked to read the news and I hope things get resolved.
"Obviously, I don't really know the details of the case. I don't know if it is something that can be resolved on his side or if it is 100 per cent definite. Knowing Daryl's character, he has always been very outspoken against doping, so it is a big shock to me."
One positive for Froome is that he is back to full fitness following his crash on stage six of the Dauphine, the effects of which saw him lose the leader's jersey on stage seven and then fall to 12th overall on the final stage.
"I'm more or less recovered," he added. "It definitely was a knock to me. It did take me a while to start feeling normal again on a bike after that crash. I'm confident that's behind me now.
"It definitely was a setback but I have come through that now and, if anything, it is going to mean I'm that bit fresher coming into the Tour. It was definitely a reminder that anything can go wrong at any time, especially this first week of the Tour."