Chambers wins British title
Dwain Chambers shocked his young rivals by beating them to the 100 metres crown at the Sainsbury's British Championships in Birmingham on Sunday - and afterwards admitted his career would have been all but over had he lost.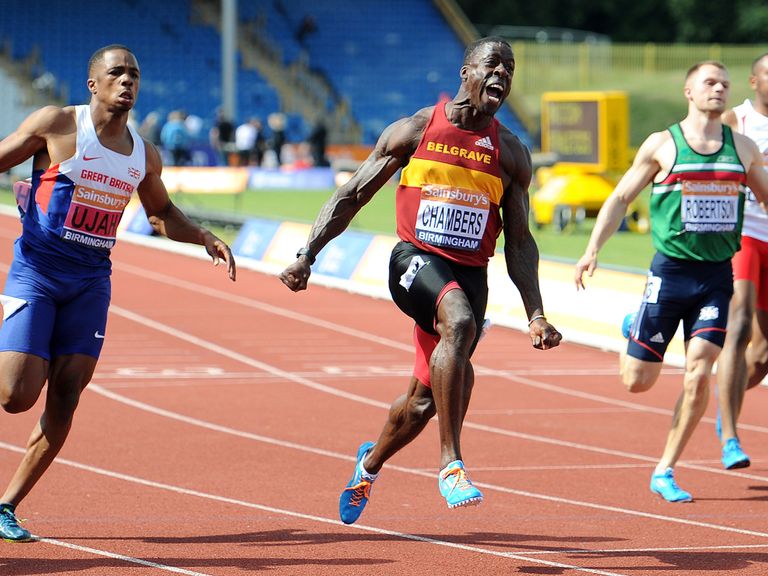 The old man of British sprinting held back the tide of young domestic talent to claim his fifth straight title and guarantee his place on the team for the European Championships in Zurich in August.
It is 16 years since the 36-year-old's first Europeans and Chambers came into the weekend ranked only 10th in the country, with a host of rivals vying for his crown, headed by 20-year-old Chijindu Ujah with 9.96 seconds.
But, with his young family watching from the stands at Birmingham's Alexander Stadium, the experienced campaigner beat them all, crossing the line in 10.12secs to edge out Harry Aikines-Aryeetey by just 0.02s. Favourite Ujah was third in 10.18.
"Earlier in the season, things weren't going well and, if it didn't go well today, I knew it was done," said Chambers. "I would have had to seriously review my situation.
"You could say I was running for my career. I was running for everything. I wanted to still compete this year, I was running for the opportunity to compete.
"Doubts do cross your mind, but you have to learn to just remove them. When that gun went bang everything disappeared. I just ran - and it worked out.
"Experience again paid off, something I've got in abundance. And I've still got a little bit of ability in my body.
"I knew the pressure with the youngsters, I knew, with CJ having already run 9.96, there was a lot of pressure on me."
Chambers' relief at the finish was clear for all to see as roared with delight and punched the air. He is in England's 4x100m team at the Commonwealth Games in Glasgow next month and is now set to be one of the favourites for gold in Zurich, although he admitted he preferred "the underdog position".
After the athletics season last year Chambers climbed Mont Blanc in support of the charity Teens Unite and he revealed the experience had given him the mental strength to keeping racing.
'I've climbed many mountains, haven't I? And fallen down a few," he said. "But I still keep standing.
"Climbing that mountain was for a different cause, but it showed me a lot about myself. That was a lot of pressure. I was scared, because any false slip I was a goner. I had to keep my wits about me. But doing that made me believe and understand that I can do anything.
"I was totally out of my comfort zone, walking 250m up an hour. It normally takes me about 25 seconds to do that. But it was a real test of character for me and it's given me the ability to still come out here and compete."
Next year, though, remains up in the air.
"Let's get this year out of the way first. Then I'll decide," he said.
Aikines-Aryeetey's second place also booked his spot for Zurich, with Ujah having to rely on the discretion of the selectors for the third spot.
James Dasaolu, who ran 9.91 here last year, missed the event this time around through injury and so could miss out on selection for the Europeans, having also failed to make England's Commonwealth team.
Ujah revealed his hip flexor had cramped up early in the race, but accepted Chambers' racing nous had been key.
"It was a good experience," he said. "I would have loved to win it, but experience came through in the end. I adapted to someone else's rhythm and it's all down to experience.
"I didn't feel the pressure at all, but after getting cramp I was kind of panicing a bit. It happens."
Asha Philip won the women's 100m crown in 11.11, the time aided by an illegal tailwind, while William Sharman won the 110m hurdles title in a windy 13.18.
The British Championships double as the trials for the Europeans, with the top-two finishers in each event sealing their place on the team, provided they have the required standard.
Martyn Rooney did just that by claiming the 400m crown for the fifth time, edging out Conrad Williams down the home straight to win in 45.78.
So too did Eilidh Child, Scotland's Commonwealth Games hope, who won the 400m hurdles title in 55.58 ahead of Meghan Beesley.
She said: "I'm absolutely delighted, I think everyone thought I was the favourite because (the injured) Perri (Shakes-Drayton) isn't here, but Meghan has been a rival of mine since we were young so it was never going to be easy."
Twenty-year-old Emelia Gorecka pipped 40-year-old mother-of-two Jo Pavey to the 5,000m title, winning by just a quarter of a second in 15:40.65.
Lynsey Sharp, who will defend her European title in Zurich, claimed a dominant 800m victory in 2:01.40, with British number one Jessica Judd fading to fourth.
Katarina Johnson-Thompson (long jump), Lawrence Clarke (110m hurdles) Ashleigh Nelson (100m), Charlie Grice (1500m), Goldie Sayers (javelin), Steve Lewis (pole vault), Sophie Hitchon (hammer), Chris Baker (high jump) and Julian Reid (triple jump) were the other athletes to book their spots on the team on Sunday.
The British team for the Europeans will be selected on July 14 and named the following day.