Spy can forward Derby claims
Ian Brindle looks ahead to Tuesday's William Hill Greyhound Derby quarter-finals at Wimbledon.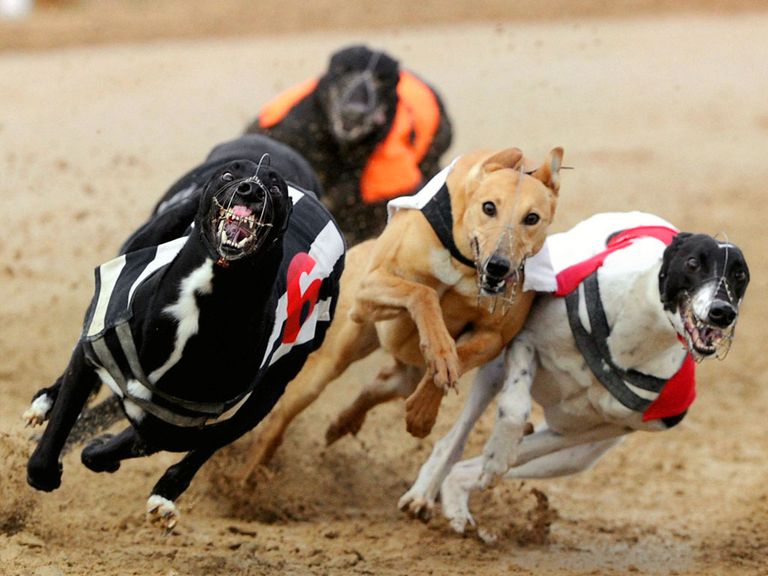 The first three in each of the heats will qualify for Saturday's semi-final stage and the races will be shown live on Sky Sports 4 and SIS.
20.19 Quarter Final Heat 1
1 Brother John
Undoubtedly capable of a big run but missed the kick and met trouble on Saturday and big question as to whether he can recapture the brilliance of his trial stakes run.
2 Salad Dodger
Cracked out in his best sectional to date last weekend and while draw is fine, this is a very hot race.
3 Aero Nemesis
Still unbeaten in Derby and made light work of rivals on Saturday. A winner from this trap when trained in Ireland and a realistic chance of a clear run from this position.
4 Vanrooney
Market was notably weak ahead of Saturday's run and he never really got to grips with the task. All hopes rely upon the gaps arriving at the right time.
5 Thatchers Champ
No fluke about his victory on Saturday though boxes are reversed with Fiery Splendour and the loss of stripes a negative.
6 Fiery Splendour
Made an unusually slow break by his high standards in the last round and no margin for error here.
Verdict: Any race featuring four wide seeds will invariably feature a hard luck story but operating as a middle runner shouldn't faze AERO NEMESIS, and the presence of Vanrooney in trap four can facilitate the necessary elbowroom to the first bend. The stats are against Fiery Splendour making the final though it's a little early to be dismissing him on the basis of one below par run. 3-4-6
20.34 Quarter-Final Heat 2
1 Crokers Champ
Showed he's not just about early pace with a gritty run in the third round and connections have no cause for complaint with this draw.
2 Sidarian Teejay
Has appeared a little out of sorts in this competition and recent sectionals suggest he'll need to have found plenty improvement over the last 72 hours.
3 Blackrose Vic
Still yet to win away from Henlow but posted his best figures at Wimbledon on Saturday and looks a big price from a berth that won't inconvenience.
4 Kincraig Rory
Lost time in his third round heat and looks up against it at this level.
5 Holdem Spy
Crowd-pleasing run on Saturday was not without danger and his stunning middle pace should see him through.
6 Laughil George
No chance once led up by Roxholme Ted on Saturday though entitled to be competitive from this draw.
Verdict: A rematch of last Saturday's scrap between Crokers Champ and HOLDEM SPY and this second installment is unlikely to disappoint. The Irish raider should lead up on the inside but Carol Weatherall's inmate is fancied to dodge a couple of potential problems in the central boxes to take victory. Laughil George wouldn't be the greatest of finishers but he can qualify granted a clear run. 5-1-6
20.49 Quarter-Final Heat 3
1 Ballymac Loch
A complete credit to his connections with his performances in the Derby and sure to run his heart out at another big price.
2 Jaytee Hawaii
Spectacularly quick from the boxes though frailties over the trip have become cruelly exposed on more than one occasion.
3 Metro Jack
Landed a gamble in the third round despite appearing a little hesitant at the opening bend. Not short of pace but best chance could come from another late swoop.
4 Jet Stream Duke
Largely unheralded despite his victory on Saturday evening and will need to reproduce a similar sectional in order to secure any chance of a run.
5 Mind The Net
Confirmed positive impression of earlier rounds to post a smooth success on Saturday in what was the fastest time by some margin. Not stopping at the finish and hard to oppose if arriving in same form.
6 Ecclestone
Likeable sort that may have finished closer to Aero Nemesis had he not met significant trouble last week. Back in six and not out of it if trapping out on terms.
Verdict: There will be no hiding place as Jaytee Hawaii booms out of the boxes but he's likely to set it up for a closer and MIND THE NET has been an ideal draw to work from. Ecclestone has been somewhat underestimated in this competition and he can qualify alongside Metro Jack. 5-6-3
21.04 Quarter-Final Heat 4
1 Jordans Brianna
Keeping the Lister flag flying and gave another good account of himself from this trap on Saturday. Should have first use of rail on Tuesday.
2 Droopys Ward
Stayed on from another hopeless position to book his ticket for the quarter-finals and expect to see him flying on again at the death.
3 Farley Chicken
Much more assured performance to break his duck in Britain and should appreciate move to a more central box. Stays on well.
4 Farloe Trent
Difficult to recommend and his contribution could potentially be that of being an inadvertent spoiler if he gets off to a bingo break.
5 Roxholme Ted
Not yet two-years-of-age but maturing quickly. Sectionals have improved with every run and bookies won't be taking any chances.
6 Up To It
Isn't the most aesthetically pleasing of starters though no disguising his resolve and he's sure to give his backers another honest run at a price.
Verdict: ROXHOLME TED has done everything that's been asked of him so far and Hayley Keighley's puppy has to prove that he has the constitution as well as the necessary speed. Jordans Brianna should have an uncontested run on the inside while Farley Chicken and Droopys Ward appear the obvious closers. 5-3-1