Title is Tapner's to lose
Australian Paul Tapner is within sight of winning the Mitsubishi Motors Badminton Horse Trials for a second time after dominating an intense day of punishing cross-country action.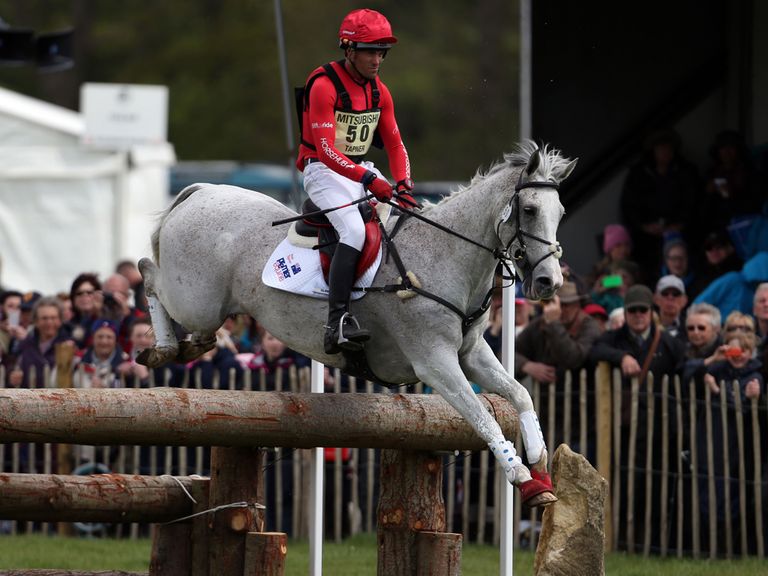 The Swindon-based rider, who triumphed on Inonothing four years ago, leads with Kilronan heading into Sunday's showjumping finale and the chase of an £80,000 first prize.
But Italian designer Giuseppe Della Chiesa's course proved the real conqueror after none of the 78 combinations jumped clear inside an optimum time of 11 minutes 21 seconds.
Soft going and a major four-star jumping track took an inevitable toll - world number one William Fox-Pitt and number two Andrew Nicholson were among those who crashed out - but Tapner moved into pole position, taking a score of 56.4 penalties forward to Sunday's showjumping finale.
He has a showjumping fence in hand over second-placed New Zealander Tim Price, on Ringwood Sky Boy, with Frenchman Pascal Leroy third aboard Minos De Petra.
Yorkshireman Oliver Townend, who won Badminton in 2009, is the leading British rider with Armada in fourth place, but Tapner can afford to have a fence down on Sunday and still win.
"It was hard work out there," Tapner said. "It was a battlefield.
"It didn't go exactly according to plan. I knew I had to conserve energy until I got through through the Huntsmans Close challenge. When I knew the horse was starting to get tired, I just took the pedal off.
"It was about getting the job done, getting clear and getting home. That became Plan A, such was the competition we were presented with today. It was an amazing day.
"I knew the course was going to be influential. It was not easy for anyone out there.
"He is a very reliable showjumper, so we will see what happens. I have just got to do my job to the best of my ability each day."
Townend, meanwhile said: "It was very challenging. For the first time ever, I felt we ran out of petrol, but he jumped through The Quarry then pricked his ears like all good horses do.
"I thought the course was fantastic. Giuseppe has done an exceptionally brave job. I thought it was an extremely fair test.
"It's the biggest event in the world. For me, Giuseppe did an unbelievably accurate job and made Badminton back to what it was."
Britain's Pippa Funnell is two places behind Townend in sixth, after her four-star debutant Billy Beware coped superbly and suggested they could challenge for a World Equestrian Games place in the Great Britain team later this year.
"I was going to set out not with the time in my head today. We had never done the trip before, but he certainly helped me at a few fences," Funnell said.
"When he had a few awkward moments, he really dug in deep. At Huntsmans Close, probably 15 out of 20 horses wouldn't have kept going, but when things got tough he kept digging deep.
"That is what's so exciting about him. I am absolutely delighted.
"He is mature beyond his mileage. He had never done this distance before, and he has not had these conditions, either. He's a big jumper, and that is why I thought he could be a Badminton horse."
Less than half the cross-country field will go forward to showjumping after Della Chiesa's course claimed plenty of casualties.
Nicholson retired Quimbo and then fell from Nereo, while Fox-Pitt looked to be challenging for top honours until he parted company with Parklane Hawk three from home, which ended his challenge.
A total of 35 combinations will now contest the showjumping phase, but the title is very much Tapner's to lose.
---
New Sky Bet customers: Free matched bet up to £30
---