Farah ready to test himself
Two Olympic gold medals, three more at the World Championships and another three at the Europeans makes Mo Farah one of the most decorated runners currently on the circuit.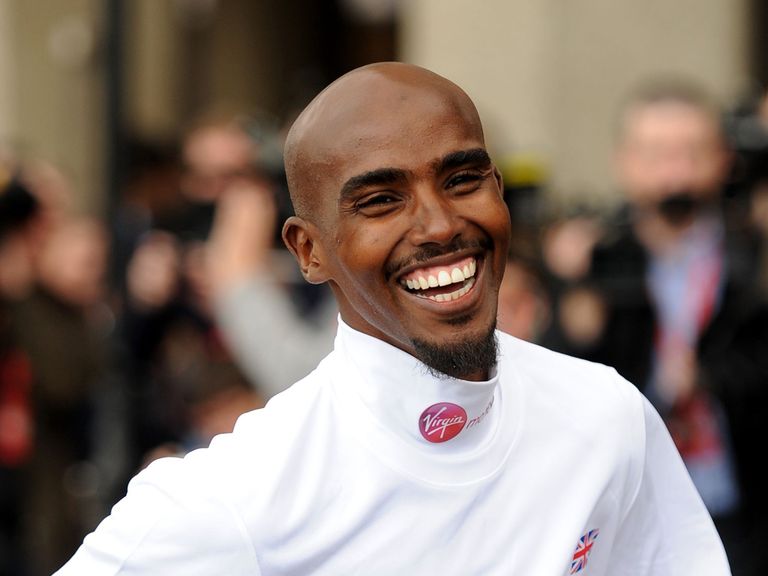 But when the 31-year-old takes to the start line of the Virgin London Marathon on Sunday he will be feeling like a beginner again.
For the British public, Farah will forever be remembered for London 2012 as he surged to victory in both the 5,000m and 10,000m at the Olympic Stadium.
The fans will be cheering him on again on Sunday but can the Olympic golden boy, running his first ever competitive 26.2 miles, set their pulses racing once more? Farah is stepping into the unknown.
"If you look at the field in terms of the athletes, which athletes in there are running their first marathon?" he said.
"Pretty much none. Hardly any of the runners are running their first marathon so they know what it feels like.
"I'll give 100 per cent and try not to disappoint the crowd - it's about finding out what can I do? That's the question."
In one of the strongest fields in recent memory, Farah is up against four of the 10 fastest marathon runners in history.
A glance across the start-line at Greenwich will see reigning champion Tsegaye Kebede, world record holder Wilson Kipsang, course record holder Emmanuel Mutai, as well as Olympic and world champion Stephen Kiprotich.
The uncertainty will be unfamiliar for Farah.
"It is strange feeling like a novice," he said.
"In track races you know if you go to the front you can control a race.
"It's the distance more than the race - as a track runner you can constantly cover the distance in training.
"But in this one I just don't know what's going to happen - I'm really looking forward to it and now it's just about finding out if I'm good or not."
There was glee and excitement on Farah's face rather than fear. After two years of adulation, the champion seems giddy to be a challenger again.
He can also take heart from fellow track great Kenenisa Bekele's debut victory at the Paris Marathon last Sunday.
Bekele and Farah are the only two athletes to have won back-to-back Olympic and World 5,000m and 10,000m titles.
"It does give me good confidence," Farah said. "If he can do it then why can't I?"
Steve Jones' British record of two hours, seven minutes and 13 seconds, which has stood since 1985, is Farah's primary target.
If he can stay with the leading pack, he has a good chance especially given the race's pacemaker, Haile Gebrselassie, has been instructed to set up a world record attempt.
It will be distance though, rather than pace, that is the challenge.
Doubts about Farah's staying power intensified after the New York City half-marathon last month, when he fell early on, collapsed upon crossing the finishing line and had to be led away in a wheelchair.
Farah brushed off the idea New York was a cause for concern and insists there will no letting up on Sunday, particularly with the home crowd behind him again.
"My plan is to go hard or go home," he said.
"Racing in London and having the fans and the crowd it gives me a massive boost - that's what excites me.
"A race is a race but to have the support and the crowd is incredible."
The other Britons in the elite race are Scott Overall, Craig Hopkins and debutants Chris Thompson and Ben Livesey.
There is another high-profile debutant in the women's race as reigning Olympic and world 10,000m champion Tirunesh Dibaba runs her first marathon.
Dibaba, from Ethiopia, will have a tough field to contend with as she goes up against last year's winner Priscah Jeptoo of Kenya as well as Ethiopia's London 2012 champion Tiki Gelana whose hopes were ended last year by a collision with a wheelchair racer.
The British challenge meanwhile will be led by Amy Whitehead and Emma Stepto.
In the men's wheelchair race, David Weir will bid for a record seventh title, while American Tatyana McFadden, fresh from winning a cross-country skiing silver medal at last month's Winter Paralympics in Sochi, is the hot favourite to take the women's title.