Jamieson wins British title
Michael Jamieson claimed his fourth British 200 metres breaststroke title in five years before declaring he is right where he wants to be before this summer's Commonwealth Games.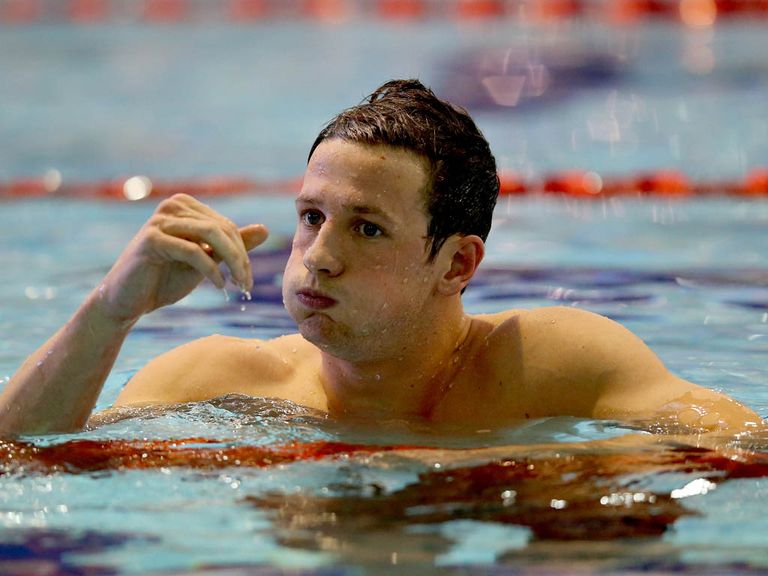 The Bath-based Glasgow athlete delighted the Scottish crowd at Tollcross International Swimming Centre as he took gold on the opening day of the British Gas Swimming Championships in his home city.
The 25-year-old Olympic silver medallist was slow off the mark as he trailed English rival Adam Perry at halfway but finished strongly in the final 50m to streak almost two seconds clear in a time of two minutes 07.79 seconds.
That was two tenths of second quicker than he had managed last week when he comfortably broke the Glasgow 2014 qualification standard time for Team Scotland at the Scottish National Open Championships.
With the host city organisers pinning their hopes on Jamieson being one of their faces of the Games, the Scot admitted he felt frustrated with that display as the pressure builds ahead of the July opening ceremony.
But he was far happier after his latest pool outing.
He said: "Last week I was just a bit frustrated. My heat swim at the Scottish had been really good technically and I was happy with it. But I got a bit carried away going into the final because it can be tough to swim those times at a national meet when, to an extent, you are on your own a bit.
"So it was important to go faster tonight and I'm happy where I am now. I'm right where I want to be with just over 100 days to go.
"Tonight was about sending out a message. I have finished number two in the world rankings the last couple of years and now it is time for me to step up.
"I have had a great couple of years and improved a great deal. But I don't want that to stop. With the Games being here in my home city, I have to take advantage of this opportunity - it will never happen again.
"It will be a hell of an event to be part of but I'm just relieved with that time tonight because it shows that I'm on the right track."
Day one of the championships - being staged in Glasgow for the first time - also proved a highlight for Millfield's James Guy as he broke David Davies' 2009 British record while triumphing in the 400m freestyle final.
Last year's bronze medallist held off Sheffield swimmer Nicholas Grainger to set his new benchmark of 3mins 45.15secs - nine hundredths of a second quicker than the previous British best - and secure his place in the England team for the Glasgow Games.
Guy told Press Association Sport: "I'm a bit shocked to be honest. I didn't think that would happen but it is a great feeling.
"I've come close to that kind of time in training a couple of times but I never thought I'd manage to do it today."
For the able-bodied competitors, it was the last glimpse of their Tollcross surroundings before the Glasgow 2014 heats get under way on July 24.
It was also the last chance saloon for English swimmers looking to qualify but Middlesbrough's Aimee Willmott started off the evening's action with a dominant display to book her slot.
She built up an early lead before cruising over the line to claim gold in the 400m individual medley final with a time of 4:35.94 - beating the mark required by the England selectors by almost three-and-a-half seconds.
Bath's Siobhan-Marie O'Connor also claimed her place as she started off strongly before powering home in first place in the 200m freestyle final in 1:56.59.
"Coming up here I wasn't sure I would be able to swim a top-three time for the Commonwealths but I felt strong and finished well," she said.
"It was nice to get a look at the venue before the Games too. I swam here quite a few years ago but it's a lot different. It makes a massive difference getting to see the place and get your bearings before the actual Games get under way."
---
New Sky Bet customers: Free matched bet up to £30
---