Side with Michigan State
The 'Sweet 16' of the NCAA Men's Basketball Tournament continues on Friday with the last four match-ups.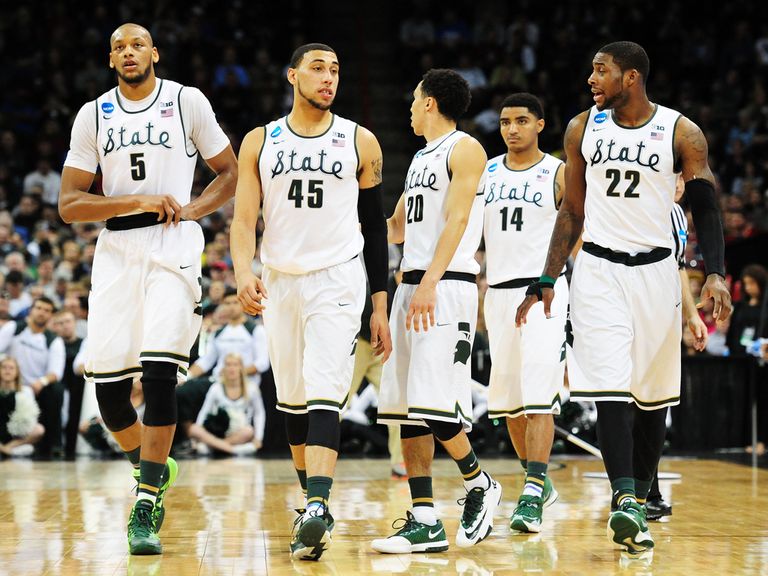 Our US sports expert Alex Ferguson has the previews for the games, which you can bet on with Sky Bet.
FRIDAY
No.1 Virginia vs No.4 Michigan State
This is the game of the 'Sweet 16'.
Virginia's last game against Memphis was meant to be close. It wasn't. They won by 18. In the same way as they were meant to struggle to beat their ACC foes in the regular season (they didn't, and won the conference).
Well, against Michigan State, they are going to need their super shooting efficiency and their defensive excellence. Mike Tobey and Akil Mitchell will be tasked with the heroics.
While for Michigan State, Gary Harris, Adreian Payne and Branden Dawson will continue to be the Spartans' triple threat against the Cavaliers.
TV analysts have talked about the pace. Virginia likes to keep games as a slow pace, while Michigan State can do both – play fast or grind out the game.
For the sake of our viewing, we hope it's the former!
Sky Bet's got Michigan State at 10/13 while Virginia's 1/1. In other words, they think it's going to be close too!
PREDICTION: We're going for Michigan State to win by over 4 points (5/4).
No.2 Michigan vs No.11 Tennessee
There's no-one hotter in this tournament that the Tennessee Vols. They are playing fast, they are playing with a smile on their faces, and they had to win a play-in game against a pretty good Iowa team to get into the tourney in the first place….and have won their two games over the weekend in pretty convincing fashion.
We love the attitude out there. We really do. And the Vols are going to need all they can get against an experienced Michigan team who has been playing great on defence (they held both their previous opponents to under 40% shooting) and have a player in Jordan Morgan who's playing brilliantly at the moment, as well as leader Nik Stauskas, who was here with the Wolverines last year and will be looking to go one better.
On Tennessee's side, they've got the advantage on the glass (they can rebound better than Michigan), with Jarnell Stokes leading the way.
But hey, if Michigan can get its shooters going – especially from three-point range- then this could be a problem for a Tennessee side who is an horrific three-point shooting team.
Michigan's 4/6 with SkyBet, while Tennessee's 23/20.
PREDICTION: Start playing 'Rocky Top', people. We're going with the upset here, with the Volunteers beating Michigan in a classic. Go Orange.
No.3 Iowa State vs No. 7 Connecticut
UConn has been on fire lately with Shabazz Napier, who helped his Huskies to send old rival – and No.2-ranked- Villanova home in the second round. And if playmaker Napier, who scored 25 in the victory, can get it going again, then Iowa State's in some trouble.
Iowa State on the other hand squeaked by North Carolina 85-83 in the last round through some heroics from DeAndre Kane, and they are going to be reliant on him again on Friday night to get his team through against Connecticut – particularly as top scorer Georges Niang is out with a broken foot for the tourney.
And if Iowa State can't deal with Napier from three-point range, they are in big, big trouble.
PREDICTION: Connecticut's 21/20 with SkyBet to win this one while Iowa State's a 5/7 favourite. We're going with the Huskies in an upset.
No. 4 Louisville vs No.8 Kentucky
If there's two teams in the Sweet 16, which the rivalry is about as 'sweet' as Arsenal vs Spurs, it's these two.
The last time they played Kentucky came out the winners 73-66 in a pretty good game, but Louisville has regrouped since then and the 2013 NCAA Champion is beginning to flap its wings by rebounding after a poor opening round performance against Manhattan to beat St Louis handily 66-51.
But Louisville's playing a Kentucky team that's playing fast, loose, and already has one of the biggest upsets of the tournament under its belt when it ousted No.1 Wichita State on Sunday.
We can't wait for this one. It's going to feature two of the best players in college basketball in Julius Randle (Kentucky) and Russ Smith (Louisville)….if Smith's on his game – which he hasn't been all tourney long. However, Louisville's has a man on his game in Luke Hancock, who scored 21 points.
What's interesting to note is that Louisville has been pretty ordinary so far this tournament. On paper they beat St Louis comfortably, but in practice they committed 19 turnovers. They were lucky that the opponents turned the ball over 18 times and couldn't hit a barn door from three-point range. Kentucky will not make the same mistakes.
Oh, and we also can't wait for the match-up between the two coaches: Louisville's Rick Pitino and Kentucky's John Calipari…two of college basketball's future Hall of Famers.
Kentucky's 13/8 with Sky Bet and Louisville's 5/11.
PREDICTION: We're going with Kentucky in our third upset of the Sweet 16 in another classic. Bring your bourbon.