Tygart: Bolt let down by JAAA
US Anti-doping Agency boss Travis Tygart believes Usain Bolt is being failed by Jamaican athletics chiefs.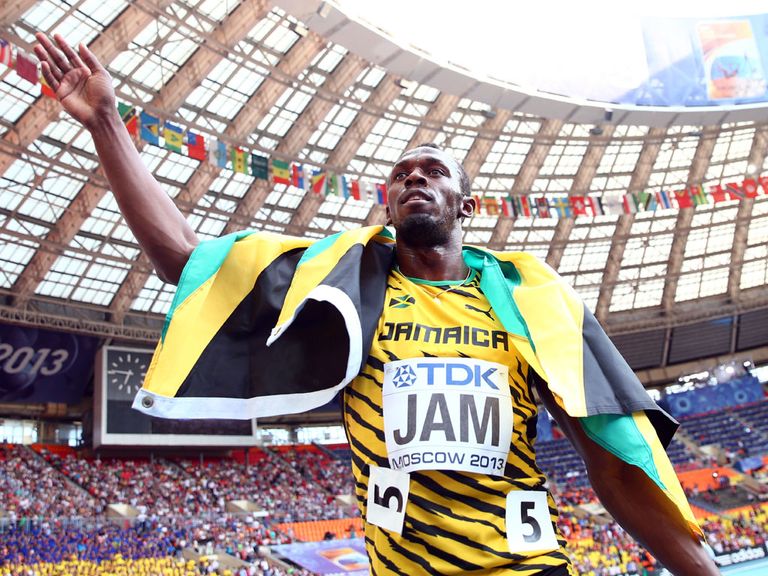 Jamaican athletics has recently come under global pressure to revamp its under-fire drugs testing regime following a number of high-profile cases.
And USADA chief executive Tygart believes the Jamaica Athletics Administrative Association's lack of action only serves to condemn stars like Bolt to doubts and scrutiny of his stunning sprint record.
Tygart has long since been lobbying the JAAA for change and warned Bolt will continue to suffer unfounded rumours and accusations until a robust testing policy is in place.
"Absolutely it lets him down," said Tygart of Jamaica's lacklustre anti-doping policy.
"It's really unfair to question athletes' performances just because of an inspiration story or whatever it may be, there's a legal process for that.
"That said, it happens unfortunately, and I think it's really unfair to those athletes that it does happen."
Sprint supremo Bolt's 9.58seconds world-record time over 100 metres and his 19.19s 200m landmark set him apart for intense scrutiny around the world.
Tygart said athletes should not have to spend their entire careers batting away unsubstantiated accusations simply because of supreme performance.
And that is where he has called for first-class anti-doping regulations to end such arguments once and for all.
Tygart criticised Jamaican athletics bosses for failing to give Bolt and his team-mates the means with which to dispel question marks over outstanding performances.
"Those athletes ought to be able to stand up, and in addition to being able to say they are clean, also have people believe that.
"Furthermore they ought to be able to say 'I am held to the highest standard, so there's some credibility and cooperation behind my statement that I am clean'.
"And that's where athletes are being let down by the Jamaican authorities.
"They deserve to have the right to be able to do that.
"Every athlete and all of us who love sport ought to be pushing for change."
Meanwhile Tygart also believes cycling chiefs face a race against time to purge the deep-seated "sophisticated scheme to defraud" that underpinned the Lance Armstrong drugs scandal.
Under-fire world governing body the UCI has set up the Cycling Independent Reform Commission in a bid to eradicate systemic doping from the sport.
Tygart supports the CIRC's mission, but warned it is "doctors, team owners and directors" who could warrant greater forensic scrutiny than individual riders.
"Time is of the essence, we've been pounding this issue in the press, in front of the senate, the EU and the German parliament," said Tygart at UK Anti-Doping's Tackling Doping in Sport conference.
"Now is the time to take and fulfil the promise that the UCI leadership made at that point to take decisive and transparent action.
"In my opinion another day can't go by until it's put in place in a proper fashion and the process starts. It took baseball close to two years in the early 2000s.
"I don't think it needs to take that long, it can be done in a shorter period of time.
"Athletes are going to support it. They have seen the example that they are not absolutely destroyed, but in fact protected: but that can only last so long."
Tygart believes the increased commercialisation of cycling played a part in the creation of a win-at-all-costs approach among some of those with a vested interest in the sport.
"This was a sophisticated scheme to defraud, they raised a lot of money, had incredible cash flow, and all based on victories in a sport and an incredible story," Tygart added.
"But I'm also not convinced it was just limited to an Armstrong story, I think American enterprise decided to come over and capitalise financially on the Tour de France in the US.
"And you saw an explosion in the sport, whether it's helmets, bikes, gear, you saw cycling take off in a way that I don't think anyone could ever have projected.
"I'm interested in the people behind Lance Armstrong - that might be outside of sports jurisdiction, team owners, agents, lawyers, who may have participated in this.
"We've had numerous meetings, numerous conversations with him and his people.
"I don't think a lack of co-operation would compromise the CIRC: most of the material and information that he has, it's already been brought out."
Tygart revealed USADA will pass 37 "unredacted names" of cyclists under doping scrutiny to the CIRC, admitting the UCI's new regime cannot afford for the scheme to fail.
"There's a lot of information out there that ultimately would be helpful in cleaning up the system," Tygart said.
"Make no mistake, anyone who has committed violations and have evidence of, we have finalised the case and announced that.
"Certainly where there's evidence of violations we will bring cases.
"I'm hopeful that the UCI's new CIRC process will deal with all of that, and it will all be public and we can finally put a stake in the ground and move forward so that this never happens again.
"We've had discussions with the CIRC about it, so that's the entity that's dealing with those concerns now.
"We want to encourage athletes to come forward, we fully support a process by which athletes are incentivised to come forward and be truthful.
"Once the honeymoon period is over, the new regime can't afford not to do it right, and in fact came into office on a promise to do it right.
"Just because you change the top, the dirty system does not necessarily change.
"When you've doped in the past with success, as a doctor, team owner, coach or director, and you've never been exposed, the likelihood that you'll continue that practice and not get caught is huge.
"We have to incentivise and empower the athletes to come in now, yes it's going to be public, but let's get that information.
"The people in the system are not subject to the testing, they are preying on the athletes.
"As long as those people stay in the system doping without getting caught, the odds of them changing their behaviour are not very high when the spoils of victory are so high."