GB curlers going for gold
A review of Wednesday's action at the Winter Olympics involving British athletes, with the men's curlers in the final.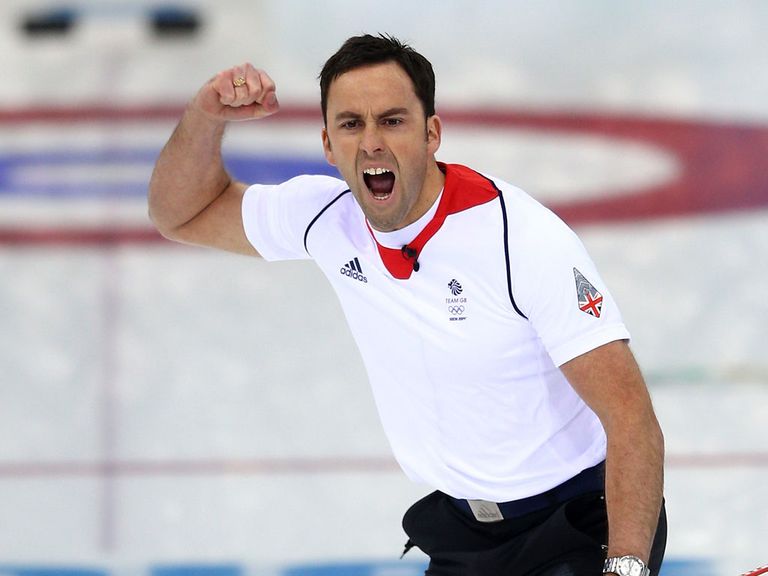 Great Britain's curling men, led by in-form skip David Murdoch, will be gunning for gold at the Winter Olympics on Friday after beating Sweden 6-5 in a compelling semi-final in Sochi which had the most dramatic of endings.
After the GB women's team had lost to Canada in their last-four game at the Ice Cube Curling Center earlier in the day, the pressure moved on to Murdoch's all-Scottish rink to take the final step and he came through with flying colours.
And by winning with his final shot, Murdoch guaranteed that GB would at least match their Winter Olympic medal haul from Garmisch, 1936 - one gold, one silver, one bronze.
GB play Canada in the final - at 1730 local time (1330GMT) on Friday - after Brad Jacobs' rink beat China 10-6 in the other semi-final, and on this form will fancy their chances.
Swedish skip Niklas Edin made several mistakes during the match and the momentum appeared to be going Britain's way as they forged ahead by one in the eighth.
Sweden grabbed a two in the ninth to go 5-4 up to set up a tense final end with Edin's last throw, slack again, leaving Murdoch a chance for glory by taking a two.
The GB skip, who had a thrilling last-stone win in the tie-break against Norway, was once again bang on the money to the cheers of the small knot of British fans.
"I can't believe after all those years we are in a final now," said a delighted Murdoch. "It pays off eventually."
Earlier, Britain's women curlers went down 6-4 against Canada in Wednesday's first women's semi-final in Sochi, and will be determined to battle their way to a bronze on Thursday against Switzerland to avoid leaving Sochi empty-handed.
Jennifer Jones' unbeaten rink proved just too strong for GB, who were never in the lead at any time.
Skip Eve Muirhead got off to a bad start when she missed a take-out after her stone appeared to pick up some debris on the ice, leaving the Canadians two ahead.
Jones stole one more in the next end, Britain then pulled two back and trailed 4-3 at the halfway point, but again Canada restored their two-point lead in the sixth end.
Muirhead blanked the seventh end in order to retain the hammer and go for two in the next end.
A misjudged shot by Canada's Jill Officer in the eighth allowed GB an opportunity to restore parity at least, but Jones rescued the situation with a great penultimate double take-out shot, leaving Muirhead with little option but to blank the end again and keep their opponents' two-point lead intact.
The sense of British desperation had risen by the start of the ninth end and they could only take one to go into the final end 4-5 down.
With Jones having the last shot, it was asking a lot for GB to level and, indeed, the Canadian skip slid the last stone in to secure a deserved place in the final.
The British girls are due to face the Swiss in the bronze medal match at 1230 local time Thursday (0830GMT).
British cross-country skier Andrew Young was forced to withdraw from the men's team sprint classic after a pre-existing heart condition flared up.
Young was taking part in the first semi-final alongside team-mate Andrew Musgrave, but the pair did not finish the race.
While the 22-year-old suffers from tachycardia, where the heart rate exceeds the normal range, and has pulled out of races before, it is a condition that does not trouble the Scot very often.
"It happens two races a year, so now and then it happens and it's happened today," said Young, who was diagnosed with the condition at the age of 15. "(It started to occur) at the start of the second leg."
Ireland's Conor Lyne crashed out during the first run of the men's giant slalom at the Rosa Khutor Alpine Center. Lyne injured his left shoulder in training on February 8 but was cleared to take part in Wednesday's race.
British pair Paula Walker and Rebekah Wilson fell short of their aim of a top-10 finish as they finished 12th in the women's bobsleigh, 1.87secs adrift of Canadian gold medallists Kaillie Humphries and Heather Moyse, who defended their Olympic title with United States pair Lauryn Williams and Elane Meyers taking the silver and team-mates Jamie Greubel and Aja Evans claiming bronze at the Sanki Sliding Center.
Walker said: "No athlete comes in wanting to come 12th at the Olympics but, to put it into perspective, both Rebekah and I have had a long, long journey in different ways but we have made it to the Olympics, and I think we have done ourselves proud."
The curtain came down on Jenna McCorkell's Sochi 2014 campaign and, it would seem, her Olympic career after the Briton's short programme proved not quite enough to see her through to the women's free skate, with her finishing one place and 0.22 points short of the cut.
Fifth up of 30 competitors at the Iceberg Skating Palace, McCorkell produced a performance that drew a score of 48.34 points and the 27-year-old from Northern Ireland eventually finished in 25th, directly below the top-24 qualification cut-off point.
McCorkell said just prior to the start of the Sochi Winter Games that she would make a decision on her future after next month's World Championships, and she looks set to call time on a career in which she has accumulated 11 British titles.
She will look back on this competition with a degree of disappointment at not securing the chance to perform her free routine, but McCorkell insisted she was pleased with her display on Wednesday.
''I skated the best I could and I performed all the elements, so I'm not disappointed, " she said.
''The triple toe wasn't as perfect as it possibly could have been, but it was there, it was done - I didn't fall. I did my best, so I was pleased with it.''
Defending Olympic champion Kim Yu Na came first with a score of 74.92.
---
New Sky Bet customers: Free matched bet up to £30
---