Christie back on track
Short track speed skater Elise Christie got her Winter OIympics back on track with an impressive win in her 1000 metres heat in Sochi, before then admitting she had considered quitting Russia after two nightmare races and threats on Twitter.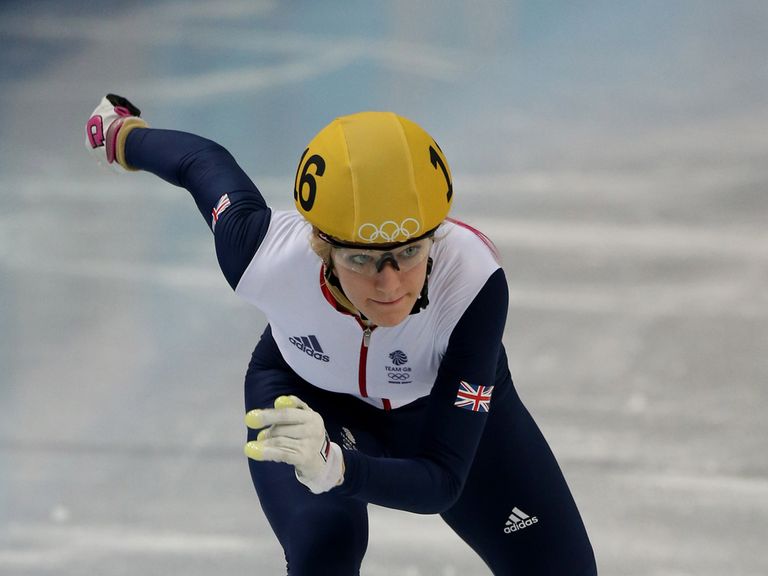 The 23-year-old revealed last week she had received threatening messages on social media in the wake of her disqualification from the 500m final, when she collided with Korean rival Park Seung-hi.
Then, in her 1500m heat, she was judged to have failed to finish the race for crossing inside the finish line, despite being involved in an apparent photo for first place.
However, returning once more to the Iceberg Skating Palace for her favourite distance, Christie showed her mettle after a careful start to win with ease, and then told of how backing from people in Britain had stiffened her resolve to win a medal.
"I spent a few days feeling quite down and struggling psychologically," she said.
"I came here to train yesterday and found that really difficult. It was quite emotional.
"I was then told about all the good support back home and that really boosted me.
"I have not seen a lot of them (messages) as I am not on social media, but people have read them out to me and they have been backing me.
"I smiled for the first time in a while when I heard that, so I can't get across how thankful I am because I was considering not getting back on (the ice), and the support I have had is what has pushed me to get back on.
"Today I felt on, I felt ready to go and really confident, and I just wanted to make everyone who supported me really proud."
Asked if she had seriously considered pulling out, Christie, who clocked at time of one minute 30.588 seconds, said: "I did after the 1500. I thought, 'I don't want to do this', but I would never pull out really because I always have that grit in me that keeps me carrying on.
"But I was feeling pretty low, the lowest I have felt in my career."
Christie admitted it was the social media problem - and the prospect of travelling to Pyeongchang for the Olympics in four years time - which had affected her the most.
"I know disqualification comes with short track and I have to accept that, but I felt I had a lot of people against me," she said.
"It's horrible to get abuse on social media.
"My main worry was the next Olympics being in Korea and I got really stressed about that.
"At the start there was a couple of thousand messages of negative stuff from Korea, but when the Koreans saw what was happening a lot of them did come on to say the opposite and say that their country is not like that.
"I know it is not because I speak to the team a lot, and me and the girl get along really well.
"She came up and hugged me and went to the media and said that she doesn't blame me.
"It was nice to see there are people out there who understand the sport and aren't going to be horrible about it, I guess.
"But now I have the whole of Britain behind me that's all gone. I'm coming back up now and it's nice to have everyone supporting me. It has just been amazing."
While Christie confirmed her medal credentials with an impressive performance which saw her bide her time at the back before striking for the front, there was mixed fortune for Team GB in the men's 500m heats, with Jon Eley going through to Friday's quarter-finals while Jack Whelbourne missed out.
Eley, the British flagbearer at the opening ceremony, was up against home hopeful and 1000m Olympic champion Victor An in heat five and followed the Russian through for second place, clocking 41.554 seconds.
Whelbourne, competing in heat four, came home fourth in a time of 42.513secs.
Eley was pleased with his performance, having failed to come through his 1000m heat.
He said: "I've been waiting for a while to get out there after Thursday's performance (in the 1000m).
"I didn't quite get it right for the 1000m but I did today
"It was a good start, I tucked in behind the Russian and I'm very pleased to come through in second. Come Friday I will be tuned into the same performance, it couldn't have gone any better for me."
Whelbourne, however, admitted he had looked at the draw and known he was doomed.
He said: "When I saw where I was drawn and who I was drawn against I just laughed.
"It was a hard field, we had two silver medallists and a guy who has won a B final, so it was a very high calibre race to be part of.
"However, there are no excuses, you have to beat everyone.
"I'm not the fastest starter and they turned the pace on early.
"I just had to bide my time and unfortunately when I tried to make my move it didn't open up for me."
---
New Sky Bet customers: Free matched bet up to £30
---