Christie suffers heartache
Elise Christie's short track coach Nicky Gooch fears she may struggle to recover from a Winter Olympics nightmare which has seen her crash out of two events in three days and revealed she has suffered threats on social media.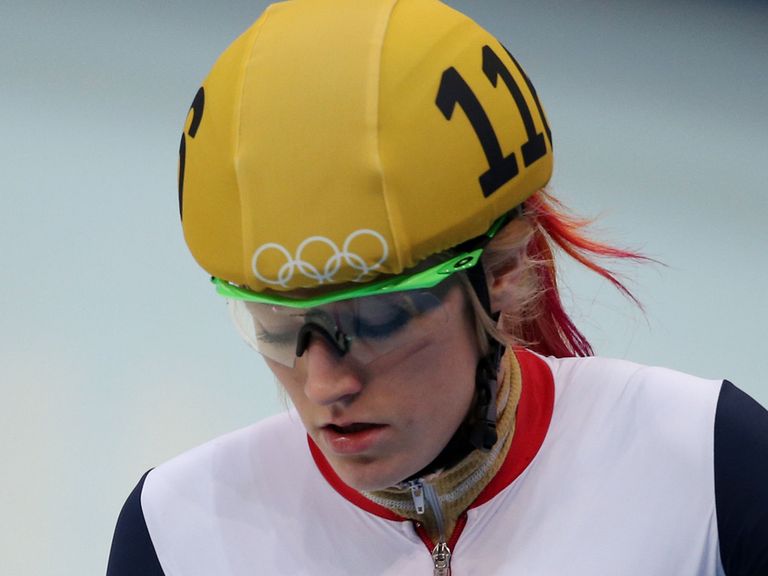 Christie had already suffered the bitter disappointment of being disqualified in the final of the 500 metres on Thursday for crashing into Italy's Arianna Fontana.
And the 23-year-old Scot was visibly distressed after a second knockout blow on Saturday, with the referee of her 1500m heat ruling that she had failed to finish her race at the Iceberg Skating Palace.
In a six-woman contest where the top three qualified for the semi-finals, Christie and Fontana were neck and neck at the finish. But the delay in making the result official was not to check who had crossed the line first. It was instead to confirm that Christie had not crossed over the black finish line and had therefore technically not completed the race.
In the mixed-zone afterwards, before she knew exactly the reason for her latest setback, a tearful Christie told of how she had been the victim of threatening messages on social media since her first calamity.
"I have had a few people threatening me," she told the BBC.
"It's been a tough few days. I'm finding it quite hard."
On missing out on another medal chance, she said: "I'm gobsmacked."
Christie has now got to somehow recover her composure for the 1000m heats on Tuesday, but GB short track coach Gooch spoke of "a force" working against his athlete, while admitting the pressure to win a medal in her favoured event could be too much.
"The referee said Elise didn't cross the line," he said.
"She has crossed inside the finish line and he's ruled that that is off-track. Therefore he's saying she hasn't finished the race.
"It's been called before but it's not something that normally happens. I was shocked. I looked at the video and you're talking centimetres. It's rubbish but, in the letter of the law, I guess it's right.
"I think she'll find it really hard to come back and she'll feel a lot of pressure for the last distance.
"I know she was really hoping to come up with a result before that to take the pressure off.
"She's in the shape of her life, she's skating great but it just seems there is a force working against her or something.
"It doesn't matter what she's doing, it's not working out for her.
"But we have to keep focused on the positives. She's skating well and she's strong enough to win."
Christie finished her mixed-zone interviews in tears of frustration and certainly not sounding like an athlete confident of turning it around when she next performs.
"I'm really looking forward to getting out there for the 1000 but I'm struggling now to bounce back," she said.
There was more disappointment for Team GB in the next heat. Gilmartin, who reached the quarter-finals of the 500m earlier in the week, also failed to finish in the top three.
The 23-year-old from Nottingham, current European 1500m bronze medallist, finished fifth out of six.
---
Bet on the Winter Olympics with Sky Bet
---