Yarnold is the ice queen
A review of Friday's action at the Winter Olympic Games in Sochi involving British athletes.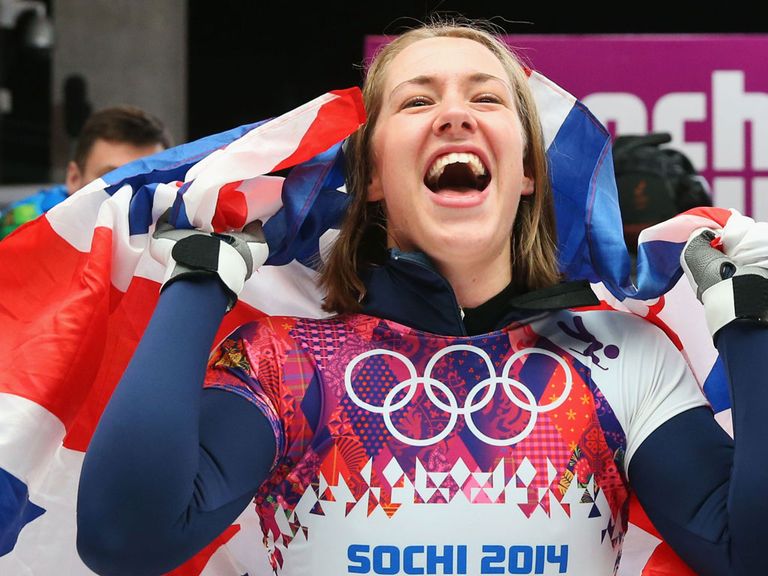 Lizzy Yarnold became Britain's latest skeleton 'ice queen' as she slid to Olympic gold in the mountains above Rosa Khutor on Friday.
The 25-year-old from Kent smashed the track record in her third run, clocking 57.91 seconds, and went on to post a combined time of three minutes 52.89 seconds.
Yarnold had stormed to gold by 0.97secs from American rival Noelle Pikus-Pace, who had to settle for silver, and Russia's Elena Nikitina, who took the bronze.
Yarnold had gone into the final two runs at the Sanki Sliding Center with a commanding 0.44 second advantage over Pikus-Pace after a commanding performance on Thursday.
And despite inevitable fears of how she might cope with the pressure of holding such a big overnight lead, she responded with a sensational run when she went first in the third run.
Just as Amy Williams had set a track record in her third run four years ago to effectively rubber-stamp gold, Yarnold's effort left her 0.78 clear of Pikus-Pace going into the final run.
Yarnold clinched victory with a final run of 58.09 and celebrated by running towards the British fans at trackside holding aloft the Union Jack.
A jubilant Yarnold told BBC One: "I don't think it's going to sink in for a long time. I'm pleased that I could show the world what I'm capable of. I wanted to do myself justice and I can't believe I did it."
Yarnold's overnight lead had seemed to justify her status as the strongest British favourite for a Winter Olympic gold medal since Torvill and Dean triumphed in Sarajevo 30 years ago to the day, and her victory makes her the fourth consecutive British woman to win an Olympic skeleton medal after Alex Coomber, Shelley Rudman and Williams, who took gold in Vancouver.
Yarnold's parents Clive and Judith, her two sisters Katie and Charlotte, and her boyfriend James Roche, who is a sled technician with the British bobsleigh team, were present to witness her triumph.
Shelley Rudman finished in 16th place with a combined time of 3:56.47.
In the men's skeleton, Kristan Bromley was moderately happy with his first two runs which left him placed in joint eighth position, nearly seven tenths of a second off bronze. Bromley's Team GB team-mate Dominic Parsons was 0.14 seconds further behind in joint 10th place.
Russia's Alexander Tretiakov will take a huge 0.56 second advantage into Saturday's final runs after two blistering performances in front of his home fans. World Cup leader Martins Dukurs lies in second place with two Americans - John Daly and Matthew Antoine - in third and fourth places respectively.
Britain's women's curlers chalked up their third round-robin victory, beating Japan 12-3 at the Ice Cube Curling Center to move to joint-third in the table with the top four to progress to the semi-finals.
Starting with the hammer, GB went 2-0 up in the first end and 4-2 up in the third, before a five-point steal in the seventh prompted their opponents to concede the match.
With that effort in the seventh, Team Muirhead equalled the highest number of points stolen in a single end of an Olympic fixture since curling, in its current format, was introduced to the Games programme in 1998 - matching a feat that Canada's men are the only other team to have achieved.
Great Britain's men's curling team produced an impressive comeback to beat Denmark 8-6 and keep their winning run going.
The Danes had the hammer first and were 5-1 up after the fifth end. But GB bounced back with three points in the sixth and two in the eighth that levelled the score at 6-6, before a steal in the ninth took them 7-6 ahead.
Denmark failed to take advantage of the hammer in the 10th, with skip Rasmus Stjerne Hansen's final shot handing Murdoch's men another stolen point and victory.
In the men's cross country 15km classic Britain's Andrew Young finished 37th in 41 minutes 29.6 seconds, 2mins 59.9secs adrift of Swiss gold medal winner Dario Cologna. Young's Team GB team-mates Andrew Musgrave and Callum Smith finished 44th and 67th respectively, Musgrave clocking 42:25.7 and Callum Smith registering 44:14.7.
Britain's Amanda Lightfoot finished 71st in the women's 15km individual biathlon, 11mins 18.5secs behind gold medal winner Darya Domracheva.
---
Bet on the Winter Olympics with Sky Bet
---