Yarnold on course for gold
A review of Thursday's action at the Winter Olympic Games in Sochi involving British athletes.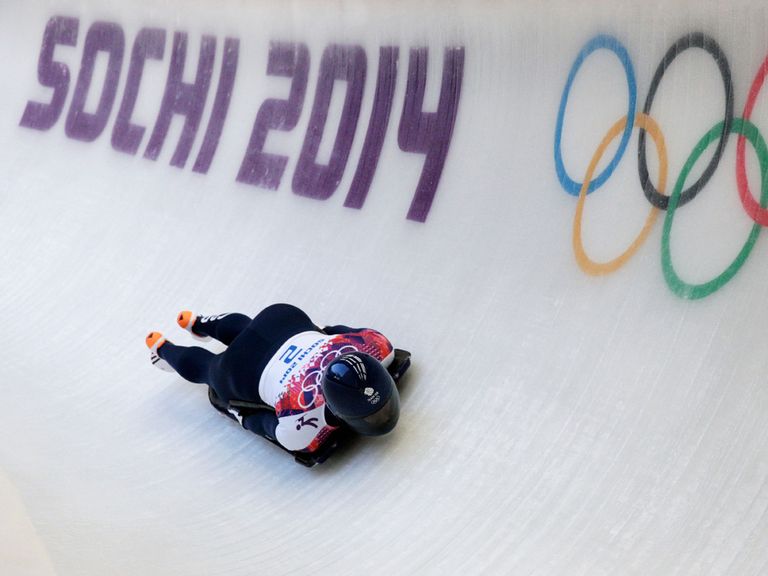 Lizzy Yarnold is firmly on course for skeleton gold after Thursday's opening two runs saw her build a lead of almost half a second over American arch rival Noelle Pikus-Pace.
Britain's gold medal favourite justified that billing with runs of 58.43 seconds - a course record - and 58.46secs to carry a 0.44secs advantage over Pikus-Pace into Friday's final two runs at the Sanki Sliding Center.
Russian challenger Elena Nikitina was only 0.05secs adrift after the first runs but lost time in the lower part of her second run and is 0.55secs adrift of Yarnold at the halfway stage.
Yarnold's Great Britain team-mate, Turin silver medallist Shelley Rudman, struggled with the technical Sochi track and finished her two runs a full 1.90secs behind Yarnold in 11th place.
Yarnold said: I don't feel the pressure and I've not been thinking about other people's expectations at all.
"I have such high expectations of myself anyway that I just want to get better and better as an athlete."
Yarnold pronounced herself "very happy" with her first two runs, but added: "You'll never have a perfect run and it is about knowing how to react and being a very fast-thinking athlete.
"I will go back tonight and do my stretching and eat lots of good food and do the normal athlete thing and try to improve it again tomorrow."
There was heartbreak for Elise Christie, who looked to have a great chance of claiming Britain's second medal of the Games when she booked her place in the final of the women's short track 500m.
After a false start by Korea's Park Seung-Hi, Christie made a confident start from lane three but then appeared to cut across the line of Italy's Arianna Fontana, taking both of them out. Fontana's fall also took down Park, leaving China's Li Jianrou to skate away unopposed to the gold medal.
Park and Christie picked themselves up and the 23-year-old Scot, whose speciality is the 1000 metres, overtook Park to cross the finish line second but, inevitably, she was swiftly dropped to fourth place by the judges.
Christie told BBC Sport that she felt her foot had been clipped first, prompting her to fall.
"I was hit on the foot and then hit everyone else," she said.
"There was a little gap and I knew I had more speed at that point. I used my instinct and went for it. Now I'm regretting it.
"It was a 50-50 call, but everyone has different opinions. I thought she hit me. I was not sure if it would go my way. I did not think it would be me [to be penalised] but it was. You have to respect the decision."
Charlotte Gilmartin, making her Olympic debut, went out in the 500m heats, finishing last in her quarter-final.
Jon Eley, Richard Shoebridge and Jack Whelbourne also bowed out of the men's 1000 metres after failing to progress from their respective heats.
James Woods missed out on a medal but defied a hip injury to earn an impressive fifth place in the first ever Olympic men's ski slopestyle final, as the United States claimed an impressive sweep of the podium spots.
The Yorkshireman, who has been struggling for fitness since falling awkwardly in training last Friday, gave Britain hope of a second medal in Sochi with a score of 86.60 that left him fourth after the first run in Rosa Khutor Extreme Park.
While he could not better that second time around, a top-five finish represents an amazing achievement for the 22-year-old from Sheffield.
Joss Christensen won gold with a score of 95.80, with fellow Americans Gus Kenworthy (93.60) and Nick Goepper (92.40) earning bronze and silver respectively.
Afterwards, Woods revealed he almost didn't compete due to his hip problem.
"It's fair to say there maybe were a couple of times when I thought that," he said.
"There were certainly a couple of times where I thought 'I'm not sure I can carry on'.
"So much mass goes into every single movement, it does really hurt.
"But the doctors, the physios, my coach Pat (Sharples), and everyone back in the UK, have been so behind me, it'd have been pretty rubbish for me to wuss out now.
"I'm a bit sore but ultimately very, very happy and proud to have been representing Great Britain in such an incredible event.
"Fifth place at the Olympics, four of my best mates up in front of me, probably shouldn't have even have been skiing - so it's not bad."
Britain's women curlers got their qualification bid back on track with a 8-7 round-robin win over China.
Eve Muirhead's all-Scottish rink had suffered two defeats in their first three matches so it was a timely victory.
Two down after the first end against China, GB levelled immediately and forged ahead before they were pegged back 7-7 in the ninth, but Muirhead took advantage of the hammer in the final end to grab the game-winning point with her final stone.
The men's team continued their solid form as they secured a 5-3 round-robin win against the United States - their fourth in five round-robin matches.
David Murdoch's all-Scottish rink, who were 3-0 up after three ends, started the eighth 4-2 ahead before seeing out their third win in a row.
Posy Musgrave finished 66th in the women's cross-country 10km classical in a time of 36 minutes 18.5 seconds, while Lee Jackson was 42nd in the men's 20km individual biathlon.
---
Bet on the Winter Olympics with Sky Bet
---