Deng set for GB return
Luol Deng plans to return to play for Great Britain in the EuroBasket qualifiers this summer.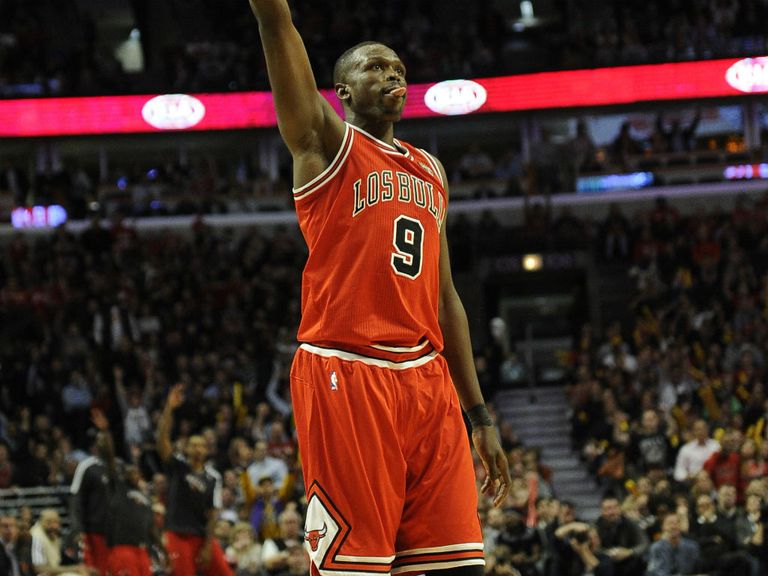 News of the NBA star's commitment - subject to his contract situation in the United States - was one of a series of announcements made by British Basketball on Wednesday.

"I had a really good discussion with British Basketball around Christmas and had some good feedback from the players about how Joe (Prunty) coached last summer," Deng said in a statement released by British Basketball.

"I'm really excited about playing with Great Britain again and hope to get my free agency sorted so I can make this happen. I'm eager to get back in that GB jersey and on the road to Rio 2016."

Deng, who was traded from the Chicago Bulls to the Cleveland Cavaliers earlier this month, becomes a free agent in the summer and would need to sort out his next move before he can fully commit to Prunty's team.

"It's a family, we understand those things are important, are very important, and it's a big year for Lu, so we know how committed Lu is to the GB cause, and I think all of you do here as well," said British Basketball chairman Roger Moreland at a press conference in London.

"He's made a huge investment over the last few years to the programme, and we're delighted that he's able to give us that commitment, subject to the free agency which I know you'll all be aware of."

Prunty - who is in town in his role as the Brooklyn Nets' assistant coach ahead of their game at the O2 Arena on Thursday night - confirmed he has agreed a new deal to lead the team through the qualifying campaign.

Prunty led a depleted British squad - missing not only Deng but the likes of Joel Freeland and Pops Mensah-Bonsu - to two wins at last summer's EuroBasket after officially taking the job last June.

With British Basketball's funding future uncertain ahead of a further review by UK Sport, it was unclear if he would return but he said he is looking forward to the challenge once again.

"I like where we are as a programme and every summer, we're working on getting better, " Prunty said. "We had a very good summer last year across the board with Great Britain. Look at the U20s and the women's teams as well as the men.

"For us specifically, we are still continuing to build and get better off the back of last year. We want to have a great summer this year and we know we've got a lot of work ahead of us."

Portland Trail Blazers centre Freeland has confirmed his intention to return for Britain next summer, and Prunty is aiming to add further NBA players in the form of Byron Mullens and Ben Gordon.Charlotte Bobcats guard Gordon acquired a British passport in 2010 but is yet to play for the team, while Los Angeles Clippers forward Mullens got his passport before the Olympics but failed to join up with the squad. Mullens' agent has stressed that the 24-year-old is keen to play for Britain.
"There is a GB family and that's what we have stressed from the beginning," Prunty said. "We want to make sure we're providing the best opportunity for everybody that's involved in the programme. And it's not going to change. If you're a GB family member, why wouldn't we (have them with the team)? It makes perfect sense to be part of it."

The draw for the EuroBasket qualifiers will be made in Barcelona on February 3. While Prunty will return, national teams director Warwick Cann said the position of women's coach would be opened up, with incumbent Damian Jennings encouraged to re-apply for the position.

"I would expect him to be an applicant and for him be interviewed for the position," Cann said. British Basketball was last year awarded conditional funding on appeal from UK Sport, and that is now under review once more, with a presentation made to the UK Sport board last week.

"We will do our damnedest to persuade people that things are genuinely moving, that our vision of putting Great Britain into the medal zone consistently at international championships is a real one, but we need the support to help us realise that," Cann said.